Is the Disney Plus app not working on your Insignia Fire TV? There are several factors that can cause this problem such as a poor internet connection, server outage, Disney Plus app glitch, or even a TV system error. To fix this, you will need to perform several troubleshooting steps.
You will usually find the Insignia TV brand can usually be found in Best Buy stores. It's no surprise as this consumer electronics retailer manufactures and distributes this TV brand. Insignia Smart TV models usually target the budget consumer looking for an affordable TV to use with any streaming service. There are several models to choose from ranging from 24 inch LED TVs all the way up to 75 inch LED 4K UHD Smart Amazon Fire TV.
Why is Disney Plus suddenly not working on my Insignia Smart TV?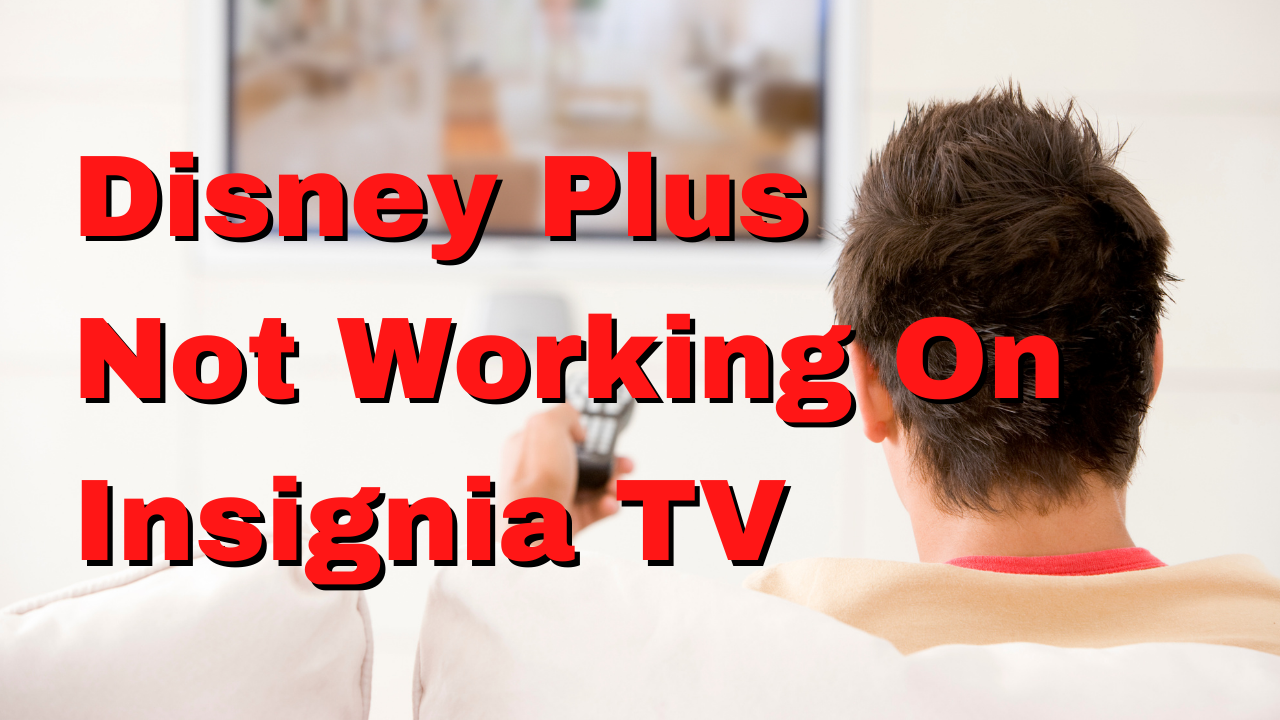 One of the issues that you might experience on your Insignia Smart TV is when the Disney Plus streaming app does not work. The app might freeze, buffer, or stop working at all preventing you from watching your favorite shows.
Here's what you can do to fix the Disney Plus app issue you are experiencing on your Insignia Smart TV.
Solution 1: Power cycle your Insignia Smart TV
The first you should do when dealing with streaming service issues on your Insignia TV is to do a restart. This will refresh the TV software and eliminate any temporary glitches that could be causing the Disney Plus app problem you are experiencing.
Power cycling Insignia Fire TV
Unplug the Insignia TV power cord from the power outlet and wait for a full minute.
Hold the power button on the TV for at least 10 seconds to discharge any residual power.
Plug the Insignia TV back and turn it on.
Try to check if you can now watch Disney Plus shows without any issues.
Solution 2: Check the internet connection
You need to make sure that your Insignia Smart TV has a good internet connection from your Wi-Fi network. If your internet connection is slow then you will be experiencing issues running streaming channels such as Disney Plus.
Checking your internet connection speed
Open a browser on your TV or mobile device connected to the same Wi-Fi network as your TV.
Go to speedtest.net. This is an online speed test tool that is free to use.
Click on Go. This will start the speed test.
In order for the Disney Plus app to work properly you should have a fast and stable internet connection based on the internet speed test. The results should match your subscription plan from your internet service provider.
The recommended speed to view shows on Disney Plus are as follows:
5.0 Mbps for High Definition content
25.0 Mbps for 4K UHD content
If you have no or slow internet connection then you can check if this is caused by an issue with your Wi-Fi network.
Turn off your Smart TV.
Unplug your Modem and Router from the power source.
Wait for a minute then plug your modem and router back into the power source.
Wait until the lights turn back on.
Turn on the Smart TV.
Reconnect the Smart TV to the internet.
Try to check if the Disney Plus app now works.
Here's what you can do to get a stable internet signal.
Try to disconnect other devices connected to the Wi-Fi router while you use Disney Plus app. This will allow the Disney Plus app to use the maximum internet bandwidth.
Move the Smart TV closer to the router . This will allow the device to get a much stronger Wi-Fi signal strength.
If you have a dual band router try to connect your TV to the 5Ghz band instead of the 2.4.
Solution 3: Check for Disney Plus service outage
If you are unable to watch Disney Plus shows then this might be due to a server outage due. An outage prevents the streaming service from working preventing you from watching your favorite movies.
You can check the status of the Disney Plus server by going to a third party server checker such as DownDetector.
Another way to check for the status of Disney's servers is by checking the social media accounts of Disney Plus such as Twitter. The company will usually post updates regarding any server issues.
If there is a reported outage then you will have to wait for this to be resolved on Disney's end.
Solution 4: Clear the cache and data of the Disney Plus streaming app
There's a possibility that corrupted cached data in the Disney Plus app is causing the problem. To fix this you will need to clear data and clear cache of the app.
Press home button on the remote control then go to Settings.
Scroll down and select Applications then to Manage applications.
Select the Disney Plus app and press ok.
Select Clear Cache and Press ok.
Go back then select Clear Data and press ok and wait for the Insignia TV to clear Disney Plus app cache and clear data.
Turn off your TV then wait for a minute. Turn on your device and check if Disney Plus is working.
Solution 5: Reinstall Disney Plus
If the Disney Plus app in your Insignia TV is corrupted, then you will need to uninstall this and perform a fresh reinstallation.
Press home button on the remote control then go to Settings.
Scroll down and select Applications then to Manage applications.
Select the Disney Plus app and press ok.
Click on Uninstall to completely uninstall Disney Plus.
Go to apps section and find Disney Plus and download and install the app.
You will need to login you your Disney Plus account before you can use the app.
Solution 6: Update the Insignia TV software
You should make sure that your Insignia TV is running on the latest software update as this will usually have several improvements as well as bug fixes that could address the error message you are getting on the Disney Plus app.
To update the TV firmware, you need a:
High-speed Internet connection
USB flash drive
Updating Insignia TV software to the latest version
On the Help menu, select System Info, then write down your model, revision, and firmware information.
Insert USB drive to your computer.
On a computer, go to www.insigniaproducts.com, then click Support & Service.
Locate the firmware that matches the Model and Rev id of your TV.
Click on the applicable firmware link , a pop up box appears select "Save" and
choose a destination other than your USB drive (i.e. desktop).
Verify the file has downloaded to on your selected destination.
Open the folder; copy the .BIN file from the folder to the root directory of your USB
drive.
Once the file move is complete, safely remove your USB drive.
Power off your TV.
Insert USB device into the SERVICE or USB PORT; located in one of 3 places, back,
side or bottom. The correct port will be labeled either Service or USB.
Power on the TV with your remote control or by using the power button on the TV.
The TV will automatically start the firmware upgrade process follow the instructions that
the TV displays.
Solution 7: Check if you are in a geo-restricted area
The Disney Plus service only works in certain territories around the world. If you live in an area that is not being serviced by Disney Plus then you can still access this by using a VPN. Just download a VPN app then have the VPN running before accessing your Disney Plus account.
Solution 8: Factory reset your Insignia TV
If Disney Plus problem persists, then you will need to perform a factory reset. This will restore your TV back to its original default settings. It's usually performed when the TV software is corrupted, the TV has some settings issues, or certain apps you installed is affecting the performance of the TV.
Full factory reset Insignia TV
Navigate to your TV "Settings" using the TV buttons.
Select the "System" option.
Select the option "Reset to Factory Defaults", and your TV will revert to its factory settings.
After performing the factory reset try to check if this fixes the Disney Plus app issue on your Insignia TV.
Frequently Asked Questions
Disney Plus suddenly stopped working on my TV.

Try to confirm first if the Disney Plus servers are online. If the servers are online, then proceed with the usual troubleshooting such as restarting the TV, checking the internet connection., and reinstalling Netflix.

Why does the Netflix show keep buffering?

This is most likely caused by a slow internet connection. Try restarting the router and your TV then check if the issue still occurs.

Is there a way to get Disney Plus on an older Insignia TVs?

The three alternative solutions to get Disney Plus on an older TV is by using Roku, Amazon Firestick, or Chromecast.

Why am I getting Disney+ Error 83?

If you're seeing this error message, it means there's a device compatibility issue. Essentially, Disney+ isn't cooperating with the particular device you're trying to view content on.

Why am I getting Disney+ Error 73?

This seems to be impacting subscribers who are attempting to stream Disney+ in countries where it's already available. The first step would be to reset your internet connection by rebooting your modem if you're on a home network, or by refreshing your network connection by turning airplane mode on and off again if you're on a mobile device.