Are you having trouble playing online on COD Warzone or Modern Warfare because of 664640 error? In this troubleshooting article, we'll explain to you what this error means and what are the possible solutions that you can try to fix it.
What is Call Of Duty Warzone error code 664640?
Error code 664640 appears to be a connection problem between a console or PC and Activision servers for either Modern Warfare or Warzone. It prevents players from playing Warzone, or any online multiplayer mode of Call Of Duty Modern Warfare. It's definitely one of the many connectivity issues in Warzone so there's a number of factors that can come into play.
The entire error shows up as the following:
"You have been disconnected from Call Of Duty: Modern Warfare servers. Please try again or visit https://support.activision.com/mwstatus for updates. Error Code: 664640."
You then an option to press the OK button to proceed. However, pressing the OK button does not actually fix the issue. Rather, it simply brings you back to the previous screen, or forces the error to show back up again.
Causes of COD Warzone error 664640
If you're getting the Call Of Duty Modern Warfare error code or the Warzone error code 664640, it may be caused by one of the following reasons:
Random game bug.
Some error codes can be random ones. There's no perfect game and sometimes, game coding issues may result to connectivity troubles that may end up showing on one's screen as a random error. If you are getting the error message as shown above, or if COD Modern Warfare error code 664640 pops for no apparent reason, it may be due to a glitch in the game.
Server troubles.
For others, COD Warzone or Modern Warfare error code 664640 can be a direct result of an issue with the game servers. You can check the Warzone or Modern Warfare server status to know if this is the case.
Home internet connectivity issue.
Some people may experience error code 664640 if their own network has a problem. Make sure that your router is up and running. Better still, try to reboot it to ensure that it has not stopped working unexpectedly. Some routers may become unresponsive if left running for a long time.
We've also received anecdotal reports that that some players were able to fix error code 664640 by resolving an on-going slow connection problem on their end. While we are yet to confirm if the error can be caused by a slow connection, it's still good practice to always maintain a healthy internet speed whenever you are playing a shooter game online.
Another angle that we're looking at is the possibility of a DNS server issue. Some PS4 players have reported to have fixed this error by using more reliable third party DNS servers and not their ISP-provided ones.
Account issues.
Some players have reported that the main cause of their Call Of Duty Modern Warfare 664640 error was their account. We don't have more details about this yet but you can always double check by logging out and logging back into your account in your device to see if that will help.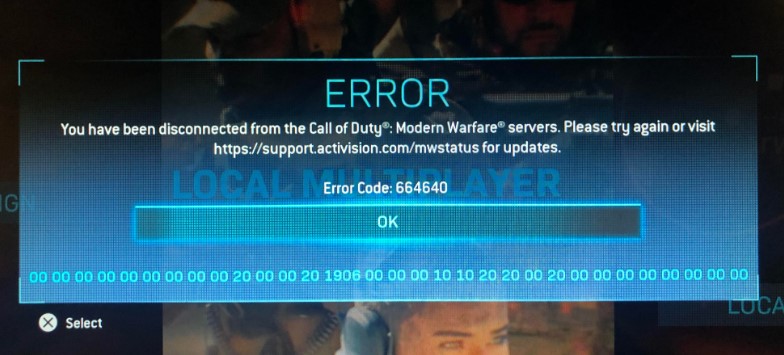 How to fix COD Warzone 664640 error?
If you are wondering how to fix error code 664640 when playing Call Of Duty Modern Warfare, Warzone, or even Black Ops Cold War, these solutions might help.
Fix #1: Restart the game.
In case the main reason for your COD Warzone or Modern Warfare error code 664640 is a random glitch, try to close the game and fire it back up. In some cases, doing this simple trick is enough to get rid of minor errors.
Fix #2: Check for server issues.
Certain connectivity errors are the direct result of problems from server side of things. Make sure that you check for current server problems. To do that, visit the official Activision server status page.
Fix #3: Make sure the game and software are updated.
Keeping everything in your PC or console up-to-date is one way of keeping bugs at bay. If there's no on-going server troubles and restarting the game does not help, make sure that you check if there are any game updates that you are yet to install at this time.
If you play on PC, you also want to make sure that your system software are updated as well as the hardware drivers.
Fix #4: Power cycle your router.
Another simple trick that might help you fix your Call Of Duty Modern Warfare error is by ensuring that your router is refreshed. You need to perform a full power cycle on your router by turning it off and unplugging it from the power source for 30 seconds. Then, turn it back on and check for the problem.
Fix #5: Check for slow connection.
If your home internet is slow when playing online, it may result to poor experience and even severe issues or errors. Try to run a speed test on your device and see if there's something you need to do to improve. If your download and upload speeds are way below the speeds you're paying for, talk to your Internet Service Provider for help. Before doing the call, you might also want to check if you can improve the bandwidth on your PC or console by disconnecting other devices from your network. Having too many devices using the internet at the same time you're playing online can be the reason why you have poor experience.
Fix #6: Manually change your DNS settings.
Some players have successfully fixed this error by using another set of DNS servers. There are times that the DNS servers of your ISP may fail or suffer some downtimes. To see if you have such an issue, change the DNS settings on your console or PC and see if that will help. If you have no idea how to do this, use Google search for instructions.
Fix #7: Re-login to your profile or account.
You can also try to see if refreshing the game client by closing it then logging out of your account will fix the issue. 
OTHER INTERESTING ARTICLES:
Visit our TheDroidGuy Youtube Channel for more troubleshooting videos and tutorials.