If you've been looking at getting into the Neo cryptocurrency, it might've looked a little daunting to start buying it. Where does one even start? This can be especially difficult for beginners getting into cryptocurrencies. That's why we're going to take you step-by-step through the whole process — it's truly easier than it looks!
Keep in mind that we're not offering any investment advice here, we're simply showing you how you can trade in your mainstream cryptocurrency (e.g. Bitcoin, Ethereum, Litecoin, etc) for Neo, the open source blockchain project based out of China. Follow along below!
Get into a mainstream cryptocurrency
As we already implied, you need to buy a mainstream cryptocurrency to obtain Neo. This is because Neo is extremely difficult to acquire with your country's fiat (legal tender) — it's much easier to simply buy Bitcoin or Ethereum and then exchange it for Neo.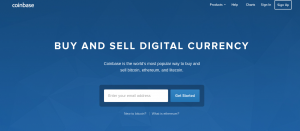 You'll need to use an exchange to buy Bitcoin (BTC), Bitcoin Cash (BCH), Ethereum (ETH) or Litecoin (LTC). We recommend using Coinbase — it's available in 32 countries, has ID verification, and you can purchase with credit, debit or bank transfers. You can sign up here. You'll have to verify your ID by providing your photo ID, phone number and verifying your bank account, but once you've been verified, you're all set to start buying cryptocurrency.
Again, you can use a credit or debit card, but that comes with higher fees, so we recommend using bank transfers instead.
Exchange your mainstream coin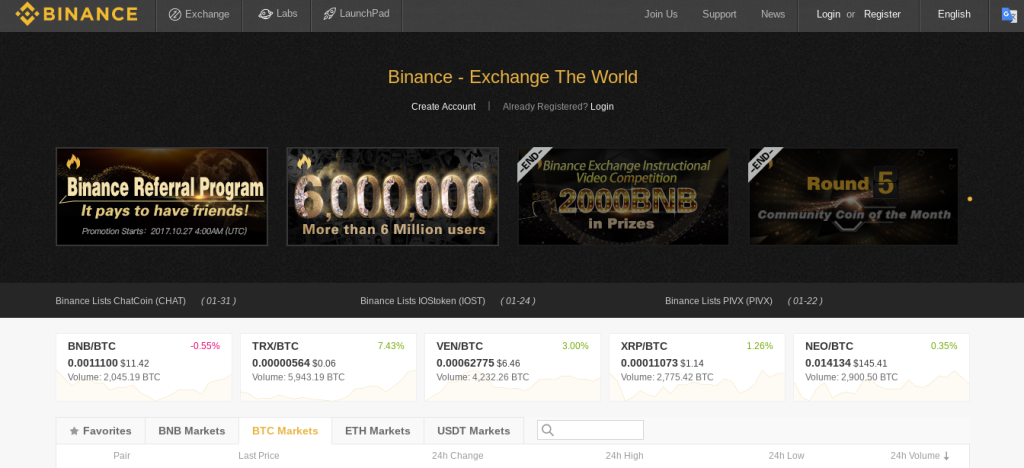 Once you've obtained a mainstream cryptocurrency, we need to take that and exchange for Neo cryptocurrency. We recommend using Binance. It's one of the largest exchanges out there when measured against daily trade volume. You can sign up for it here. You can sign up for it by clicking "Register" near the top right corner on the navigation bar.
You'll go through the usual process when signing up for an account, along with needing to verify your email. Be sure to sign-up for two-factor authentication when you get a prompt as well. Two-factor authentication could never be more important than here, as you don't want a hacker getting your info and stealing your investment.

After you log into Binance, hover over the "Funds" tab and click on "Deposits." Search for your mainstream currency (such as Bitcoin or Ethereum), and you'll be given a deposit address. It's a long string of numbers and letters, and you'll want to keep this safe for later.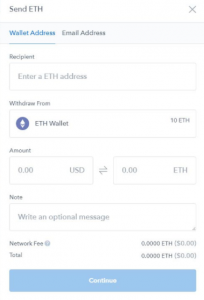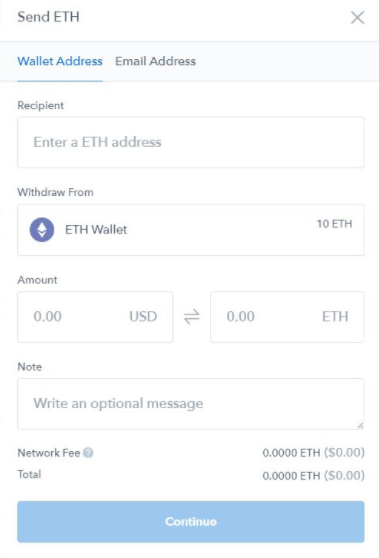 You'll want to go to Coinbase, and under "Accounts," you'll want to find the mainstream cryptocurrency you want to trade for Neo. Click the "Send" button. A pop-up will appear — under the "Recipient" address, you'll want to paste your deposit address and choose how much of your chosen cryptocurrency you want to send to Binance. Once you're done, finalize the transaction, and it should show up in Binance within an hour.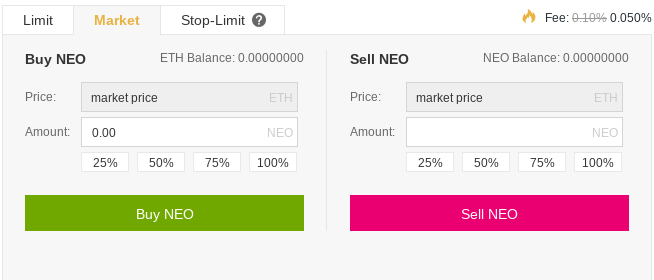 Next, we want to trade our mainstream cryptocurrency for Neo. You can click here to go straight to the exchange market for Neo. The simplest way to buy it is to click on the "Market" tab. This is a more automated way of buying Neo, where Binance will do most of the legwork for you, purchasing it at the best available price. You can choose how much you want to buy in the "Amount" box. If you want to purchase as much Neo as you can with your available cryptocurrency, you can click on the "100%" box to use 100% of your cryptocurrency for Neo. Once you've filled all that out, it's as simple as click on on the "Buy Neo" button.
Get a secure wallet
Lastly, you need a secure wallet to store all of your cryptocurrency (not just Neo, but any leftover mainstream cryptocurrency as well). We recommend using the Ledger Nano S. You can buy it relatively cheaply from Amazon. After you plug it into your computer, you can go through the firmware setup process. Keep in mind that the Ledger Nano S is only available to hold four cryptocurrencies at one time.
It's fairly simple to transfer your Neo (and other cryptocurrencies) over to the Ledger Nano S. In Binance, it's as simple as going through the withdrawal process under the "Funds" tab we talked about earlier. You'll need to enter your wallet's destination address to start the transfer process. Do keep in mind that you may need to download companion apps for cryptocurrency wallets onto the Nano Ledger S, but the firmware should take you through that process.
Closing
And that's all there is to it! If you ever want to exchange your Neo back to a mainstream cryptocurrency, simply reverse the steps in this guide. For example, withdrawal your Neo back to Binance, exchange for a mainstream cryptocurrency, send back to Coinbase and exchange for your country's fiat.