Bitcoin and Ethereum are the two most talked-about cryptocurrencies in the world, especially when you have the best bitcoin app android. They are also what cryptocurrency newbies and seasoned veterans alike are most likely to hold for profit and use to make financial transactions. in 2022, there are several excellent Bitcoin and Ethereum wallets for Android that allow you to access your digital funds from anywhere while providing robust security measures to deter money-hungry cybercriminals, who are now focusing on cryptocurrency holders more than ever before.
Best Bitcoin and Ethereum Wallets for Android
1) Coinbase (Bitcoin and Ethereum)
Coinbase is a digital currency exchange headquartered in San Francisco, serving 32 countries around the world and more than 13 million users. The exchange is accessible from the web, but many of its users prefer to use Coinbase Bitcoin Wallet for Android, which is the most recommended way how to buy, sell, and store Bitcoin and Ethereum on Android.
Buying cryptocurrencies with the Coinbase wallet for Android is as simple as it can be. Simply link your credit card to your Coinbase account (you can also use PayPal if you live in the United States) and select the amount you would like to purchase. Coinbase Bitcoin Wallet for Android additionally features real-time price charts, support for instant price alerts, and highly secure authentication mechanism which ensures that your funds remain protected even if you lose your smartphone.
2) Bitcoin Wallet
The Bitcoin Wallet isn't a bad choice for purchasing all types of Bitcoin — Bitcoin Cash and even Bitcoin Core (BTC). This one is supposed to allow you to send and receive either of the two variants of Bitcoin currency with anyone, anywhere in the world. Not only can you send and receive existing Bitcoin type currencies, but Bitcoin Wallet also allows you to purchase your crypto right within the app, too.
One of the cool things about Bitcoin Wallet is that you can use it to pay for various services. They've actually partnered with some various travel services that allow you to book hotels, villas, and apartments with over 40% in discounts, but only when you pay with Bitcoin Cash (BCH), not Bitcoin Core (BTC).
Download it now: here
3) DoWallet
DoWallet is one of our favorites, coming with a modern interface that makes it easy to navigate around. One of the goals of DoWallet is total privacy and security. If you want to keep your crypto assets secure and away from prying eyes like hackers and malicious actors, DoWallet will keep you safe. DoWallet developers themselves don't even have access to those funds.
One of the cool things about DoWallet is that you are able to send and receive Bitcoin (BTC), Litecoin (LTC), Ethereum (ETH), Bitcoin Cash (BCH) and other top crypto assets with it. Many other apps out there are pretty limited in that sense. Additionally, DoWallet allows you to connect with popular crypto exchanges like Coinbase, Binance, and Gemini. This gives you a nice dashboard view of your assets!
Download it now: here
4) Coinomi (Bitcoin, Ethereum, and Others)
Coinomi is a modern, lightweight, secure Android wallet with support for multiple cryptocurrencies, including Bitcoin and Ethereum. The wallet has been designed from scratch with security and usability in mind. It relies on strong wallet encryption and cryptography to guarantee that your funds will remain safe and under your ultimate control even if someone targets your device, intending to steal your cryptographic assets.
Thanks to Coinomi's partnership with ShapeShift and Changelly, you can instantly convert between cryptocurrencies from within the best bitcoin app android. What's more, Coinomi automatically anonymizes every request you make to hide your real IP address so that your privacy is always protected. To read the full list of coins supported by Coinomi, visit the official website of this innovative wallet.
Download it now: here
5) Xapo (Bitcoin Only)
Xapo is a Hong Kong-based company with headquarters in the United States. Xapo's Bitcoin wallet with a cold storage vault combines convenience and industry-leading security, allowing anyone to trade cryptocurrencies without having to worry about the underlying technical intricacies of blockchain-based crypto assets.
Xapo also offers its Xapo Debit Card for in-store and online purchases. You can top it up with cash, bank transfers, and, of course, Bitcoin. Just keep in mind that some of the features of Xapo's Bitcoin wallet may not be available in your country.
Download it now: here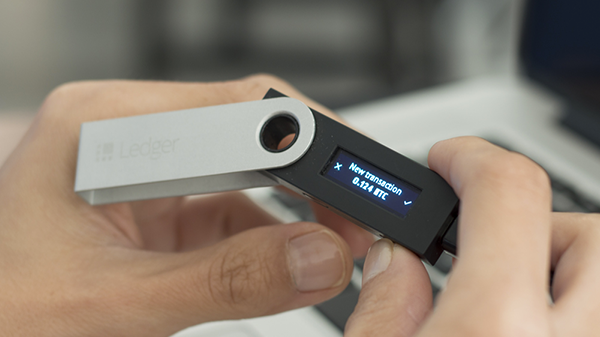 6) Bitcoin Hardware Wallets
If you would like to take the security of your cryptographic assets to the next level, you should consider purchasing a Bitcoin hardware wallet such as the Trezor or Ledger Nano S. Compared to software wallets, hardware wallets store the user's private keys in a protected area, preventing them from being transferred out of the device in plaintext. Yes, a reliable hardware wallet is not a small purchase, and you might be tempted to spend your money on Bitcoin instead, but it's perhaps the best purchase you can make if you ever want to take cryptocurrency trading seriously.
Buy it now: here
7) Copay (Bitcoin Only)
Copay is a secure, open source, multisignature wallet from BitPay, a global bitcoin payment service provider headquartered in Atlanta, Georgia. Thanks to Copay's support for multisignature wallets, Copay users can share finances securely with other users without having to worry about fraud or theft.
Even though Copay supports many advanced features, such as hierarchical deterministic (HD) address generation or Bitcoin testnet wallets, the wallet's well-designed user interface hides all the complexity away from view, elegantly exposing only those options that users really need to know about. Of course, those who would like to play with more advanced settings have the option to do so.
Verdict on The Best Bitcoin App Android
As you can see, you have a ton of choices as far as Bitcoin and Ethereum wallets go, it's easy to pick the best bitcoin app android. Some of these are Bitcoin only, but others give you a ton of different options for holding other crypto assets as well.