Do you experience PowerWash simulator crashing issue? PowerWash simulator players will experience this issue because of outdated graphics drivers, outdated Windows systems, or your PC not meeting the system requirements, to name a few. To fix PowerWash simulator crashing issue, several troubleshooting steps will be needed to do.
PowerWash simulator is a simulation game with online coop and cross-platform multiplayer support that is available on several platforms such as Microsoft Windows on the Steam and Xbox PC Game pass, and an Xbox version console for the Xbox series. The game was developed by FuturLab and was published by Square Enix. In PowerWash simulator you let the calming sounds of high-pressure water wash away your worries. Start your power washer, then use it to remove any dirt and grime you can discover. Create your own power-washing company to gain access to new equipment, upgrades, and more. Have excellent, wholesome fun whether you play online co-op alone or with pals in a single player. Your assortment of washers, nozzles, cleaners, and extensions can handle every type of grime. Everyone can pick up and play to feel immersed, from casual, neat freaks to those eager to dive into the nitty-gritty.
PowerWash Simulator crashing issue? Here's how to fix the issue
One of the issues that PowerWash simulator players might experience while playing is the PowerWash simulator crashing issue. This can happen before you play or when you play it and can be a frustrating experience especially if you have made a lot of in-game progress that has not been saved.
Here's how to fix PowerWash simulator crashing on PC.
Fix #1 Check system requirements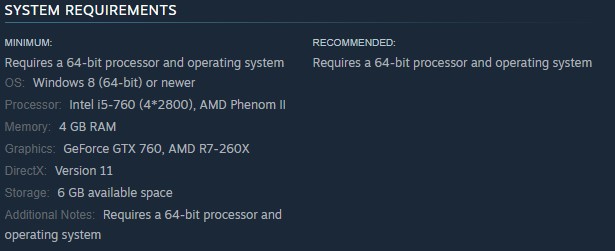 When playing PowerWash simulator, one of the first things you should do is make sure your computer meets the hardware to run the game. The recommended and minimum system requirements required for the game to run are both mentioned on Steam. At the very least, your PC should be able to meet the minimum requirements.
Fix #2 Update graphics drivers
The next thing to do is to make sure that your graphics drivers are updated. The optimal use of your PC's video card is made possible by the graphics driver. Your GPU manufacturer will often offer new driver updates in order to improve their products and fix problems discovered in prior driver versions. This will also fix potential issues you might encounter with the game.
Time Needed : 3 minutes
Installing graphics drivers
Type Device Manager in the search bar on your desktop and then click the Device Manager icon that appears in the results.

This will open the device manager.


Click the Display adapters icon.

The list of display adapters will be expanded.


Right-click the dedicated graphics card you are using to play and then select Update driver.

This will allow you to update your driver.


Choose Search automatically for drivers.

This will search online for any new drivers and automatically download it then it will install on your computer.

After you have updated your graphics driver, try to check if PowerWash simulator crashing issue still occurs.
Fix #2 Update Windows OS
Make sure that the most recent update is installed on your computer. The performance improvements, security patches, and bug fixes in these software updates will fix the crashing problem of PowerWash Simulator. Downloading and installing the most latest update for your PC is advised.
Updating Windows OS
Step 1: Right click the Start button.
Step 2: Select Settings.
Step 3: Select Windows Update found on the bottom left menu of the new window that appears.
Step 4: Select Check for updates.
Fix #3 Power Options
Check your computer's power settings to see if it's in balanced or high-performance mode. To achieve the greatest results and boost performance, use the High-performance mode to avoid PowerWash simulator crashing issue.
Adjusting power setting
Step 1: On the search bar on your desktop, type Power & Sleep Settings and click it from the search result. Alternatively you can type control panel and click power options.
Step 2: Click Additional Power Setting.
Step 3: Choose High Performance.
Fix #4 Close unnecessary background programs running
If you have too many background programs open when you play PowerWash Simulator, you will have a crashing problem. make sure no other Windows programs are running, since they may consume system resources, leaving PowerWash Simulator with less CPU, GPU, and RAM to work with. If you close these background apps using the task manager, your memory and disk usage, as well as GPU workload, will decrease, resulting in less latency and improved performance.
Closing background programs
Step 1: Right click on the Start button. This can be found on the left pane of the screen.
Step 2: Select Task Manager. This will open Task Manager.
Step 3: On the pop up window, Click processes tab. This will allow you to show the running program.
Step 4: Right-click on the running program then select end task. This will allow you to close unused program.
Fix #5 Disable in game overlay
Overlay programs are useful, but because they operate in the background and use system resources, they cause crashing when you play. Steam overlays, third-party overlay software, and game bars, such as the NVIDIA overlay and Xbox game bar, should all be disable for the game to run smoothly because they may be causing crashing problem.
Disable Steam overlay apps
Step 1: Open the Steam client.
Step 2: Click on Steam found on the upper left side of the client.
Step 3: Click Settings.
Step 4: Click In-Game.
Step 5: Uncheck Enable the Steam Overlay while in-game box.
Step 6: Click OK.
Disable Xbox game bar
Step 1: Click the Start button.
Step 2: Click Settings.
Step 3: Click Gaming.
Step 4: Turn off the switch for Xbox Game Bar
Disable NVIDIA GeForce Experience overlay
Step 1: Open NVIDIA GeForce Experience.
Step 2: Click Settings or the gear icon.
Step 3: Turn off In-game overlay.
Fix #6 Verify game files
Every time a game file in the installation folder is corrupted or missing, it will crash. Use Steam to check the game's integrity and see whether any game files need to be replaced. The several corrupted and missing files will be immediately downloaded and installed by the servers in order to resolve PowerWash Simulator issues and replace game data.
Verifying game files
Step 1: Open Steam client.
Step 2: In your Steam launcher, click Library.
Step 3: Find the game then right-click the game in your Library and select Properties.
Step 4: Choose the Local Files tab and click Verify integrity of game files.
Fix #7 Reinstall PowerWash Simulator
In the event that none of the above troubleshooting methods have worked, PowerWash Simulator may need to be uninstalled and then reinstalled. Other problems with PowerSimulator will also be resolved by reinstalling the game.
Reinstalling
Step 1: Run Steam launcher.
Step 2: Go to the Library
Step 3: Right click PowerWash Simulator then click on Manage then uninstall.
Step 4: Click Uninstall.
Step 5: Right click PowerWash Simulator then click on install.
Step 6: Click next to proceed with the installation.
Frequently Asked Questions
Is PowerWash Simulator a horror game?

No, it is not a horror game. As the title implies, it is a simulator cleaning game.

What is PowerWash Simulator available on?

Steam, Xbox PC Game pass and Xbox series consoles.

Is PowerWash Simulator worthwhile?

Yes it is a good and relaxing game.

Is PowerWash Simulator free?

If you are subscribe to Xbox PC game pass you can play the it for free.

How many levels are in PowerWash Simulator?

Currently there are 31 levels.