One of the security features of the Samsung Galaxy Z Fold 4 is the ability to unlock it using your fingerprint. Just place your registered fingerprint on the side key where the fingerprint sensor is located, and the phone will unlock. In this latest tutorial, we will show you how to add fingerprints to your phone.
The Samsung Galaxy Z Fold 4 is a flagship Android smartphone that's best known or its foldable form factor. You can use it just like an ordinary smartphone but when unfolded its display becomes larger making it ideal for various productivity tasks or gaming.
Technical Specs:
Display: 7.60″ Foldable Dynamic AMOLED 2X inner display, 120Hz, HDR10+, 1200 nits (peak), 1812x2176px resolution, 10.8:9 aspect ratio, 373ppi; outer display: 6.20″ Dynamic AMOLED 2X, 120Hz, 904x2316px, 23.1:9, 401ppi.
Chipset: Qualcomm SM8475 Snapdragon 8+ Gen 1 (4 nm): Adreno 730.
Memory: 256GB 12GB RAM, 512GB 12GB RAM, 1TB 12GB RAM; UFS 3.1.
OS/Software: Android 12L, One UI 4.1.1.
Rear camera: Wide (main): 50 MP, f/1.8, 23mm, 1.0µm, Dual Pixel PDAF, OIS; Telephoto: 10 MP, f/2.4, 66mm, 1.0µm, PDAF, OIS, 3x optical zoom; Ultra wide angle: 12 MP, f/2.2, 123˚, 12mm, 1.12µm.
Front camera: Under-display: 4 MP, f/1.8, 2.0µm, under display; Cover camera: Wide (main): 10 MP, f/2.2, 26mm, 1/3″, 1.22µm.
Battery: 4400mAh; Fast charging 25W, 50% in 30 min (advertised), Fast wireless charging 15W, Reverse wireless charging 4.5W.
Setting up fingerprint security on your Samsung Galaxy Z Fold 4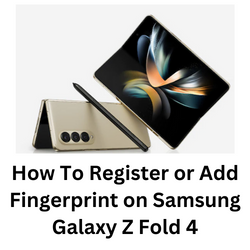 One of the best security features of your Samsung Galaxy Z fold 4i s its fingerprint unlock feature. Since no two fingerprints are exactly the same it makes more sense to add a fingerprint sensor on Galaxy devices.
The Samsung Galaxy Z fold 4 fingerprint scanner location is located on the side key itself. This means that when you tap the key using a registered fingerprint it will unlock the device.
Set up and use fingerprint security
In order to use this biometrics security feature on your Samsung Galaxy Z Fold 4 you must set it up first.
Setting up fingerprint security credentials
Open the Settings app on your device then tap Biometrics and security.
Tap Fingerprints.
Enter your screen lock credentials. If you do not have a screen lock set up, you may be prompted to create one at this point.
Follow the instructions found on your phone screen to register your fingerprint. When registering your fingerprint, make sure to fully cover the fingerprint sensor with your finger to prevent strong light from entering the fingerprint sensor.
Tap Done.
Turn on the switch next to Fingerprint unlock.
To unlock your phone using your finger just press the Side key. Then, place the registered finger on the fingerprint scanner, wherever it's located. The phone will automatically unlock if it recognizes your fingerprint.
If your Samsung Galaxy Z Fold 4 restarted or if you have not used the device for more than 24 hours, you will need to use your PIN, pattern, or password to unlock the phone instead of your fingerprint.
Add additional fingerprints on Galaxy Z Fold 4
You can add different fingerprints to unlock your Galaxy Z Fold 4. This is helpful if you use the phone in another hand or in a different orientation.
Adding fingerprints
Navigate to Settings.
Tap Biometrics and security.
Tap Fingerprints.
Enter your secure screen lock credentials.
Tap Add fingerprint.
Use the on-screen prompts to add the fingerprint, and then tap Done.
Remove fingerprint from Galaxy Z Fold 4
You can easily remove any registered fingerprint from your Galaxy Z fold 4 so that the fingerprint sensor will no longer recognize it. If you remove all registered fingerprints, then the fingerprint unlock feature will automatically be turned off.
Removing fingerprints
Navigate to Settings.
Tap Biometrics and security.
Tap Fingerprints.
Enter your security credentials.
Tap the fingerprint you want to delete and then tap Remove.
Tap Remove again to confirm.
Troubleshooting Fingerprint sensor not reading fingerprint issue
Sometimes you might experience issues where the fingerprint sensor of your Galaxy Z Fold device appears not to be working. When this happens, you will need to perform some basic troubleshooting steps.
Before proceeding you should make sure that the registered fingerprint is not dirty. You should also try cleaning the fingerprint scanner of your phone by wiping it with a cloth.
Consider removing the registered fingerprint from the Galaxy Z Fold 4 then add it again. This will usually help fix issues concerning the fingerprint scanner.
Solution 1: Soft reset your Samsung Galaxy Z Fold 4
One of the most common causes of the fingerprint sensor not working is a software glitch. To fix this you just need to do a soft reset. This refreshes your phone's operating system and will remove any corrupted data that could be causing the problem.
This process will reboot the operating system of the phone and reload all of its services. Your personal data, files, and apps will remain unchanged.
Soft reset Samsung Galaxy Z FOLD 4
Simultaneously press and hold the Power key and Volume down button on the right edge for approximately 15 seconds.
Release the buttons when the Samsung logo appears.
Once your Samsung Galaxy Z Fold 4 starts try to check if the sensor can now detect your fingerprint.
Solution 2: Check for the latest Samsung Galaxy Z Fold 4 software update
One of the reasons why Android devices will experience issues with fingerprint sensors is because of a bug in its current software version.
You need to manually check for any new system updates available for your Samsung Z device and apply them immediately. It's best to manually check for the latest version regularly as sometimes the automatic update feature is delayed.
Go to your phone Settings.
Scroll down and tap on Software update.
Tap Download and install.
The Samsung Galaxy Z Fold 4 will search for any new software updates available. It will automatically be downloaded, and the previous version will be replaced.
With the new software update installed on your Samsung Z Fold 4, try checking if the issue gets resolved.
Solution 3: Perform a hardware test using the Samsung Members app
If a hardware component in your phone is is faulty, such as the fingerprint sensor, then this can result to unlock issues on your phone. In order to check if your phone hardware is functioning properly, you can use the Samsung Members app.
To perform a hardware test
Open Samsung Members.
Tap on Get help.
Under Diagnostics tap on Start.
Choose all possible selections.
Tap Start to run the test.
If the test fails, then you need to contact the nearest Samsung service center in your area.
Solution 4: Perform a factory reset on your Samsung Galaxy Z Fold 4
If the issue persists then you should consider doing a factory reset on your Galaxy Z Fold 4. The factory reset will erase your phone data and bring it back to its default factory settings. Any corrupted data stored in the system which could be causing this problem will be completely removed.
Before proceeding with this step, you need to back up your phone files. Any photos, files, contact lists, or notes that you have saved in your phone will be deleted so make sure to make a backup copy of these.
Factory reset Samsung Galaxy Z Fold
Turn off your Samsung Galaxy device.
Simultaneously press and hold the Volume up and side buttons until the device vibrates and the Android Recovery screen appears then release all buttons. Allow up to 30 seconds for the recovery screen to appear.
From the Android Recovery screen, select Wipe data/factory reset. You can use the volume buttons to cycle through the available options and the side key to select.
Select Factory data reset. Allow several seconds for the factory data reset to complete.
Select Reboot system now. Allow several minutes for the reboot process to complete.
Set up your Android phone.
After the factory reset has completed do not install any apps in your phone. Try checking first if the problem is fixed.
Frequently Asked Questions
How do I set up a screen lock on my Galaxy phone?

The basic screen lock is a password, PIN, or pattern. From Settings, swipe to and tap Lock screen. Then, tap Screen lock type and select your desired type of lock. Follow the on-screen tutorial to set it up.

What is the size of the internal display of the Z Fold 4?

The internal display size is 7.3 inches while the cover display is 6.2 inches.

What is the resolution of the main screen of the Z Fold 4?

The main screen has a resolution of 2176×1812 while the cover screen has a resolution of 2316×904.

How do I reset app preferences on my Samsung Galaxy Z Fold 4?

Launch your Settings > Apps.
Tap on Choose default apps.
Select a Default App option.
Select your preferred default app, then tap the back arrow key to apply changes.

How do I enable power saving mode on Samsung Galaxy Z Fold 4?

Open Settings.
Tap on Battery and device care.
Tap on Battery.
Tap on Power saving mode and toggle it On.