When you are in an emergency situation you will want your Samsung Galaxy Z Fold 4 to make your emergency contacts readily available. To do this you can create an emergency contact list. Other people can access this list without unlocking your phone in case you're incapacitated.
The Samsung Galaxy Z fold 4 is a premium Android smartphone that's best known for having a foldable display form factor. It's a big device that can perform not only as a smartphone but as a small tablet as well. When unfolded, its 7.6-inch display becomes ideal for multitasking between different apps as well as multimedia consumption. Some of its best features include its use of a Snapdragon 8 Plus Gen 1 chip, 4400 mAh battery, and has a storage of up to 1TB.
Use your Samsung Galaxy Z Fold 4 in emergency situations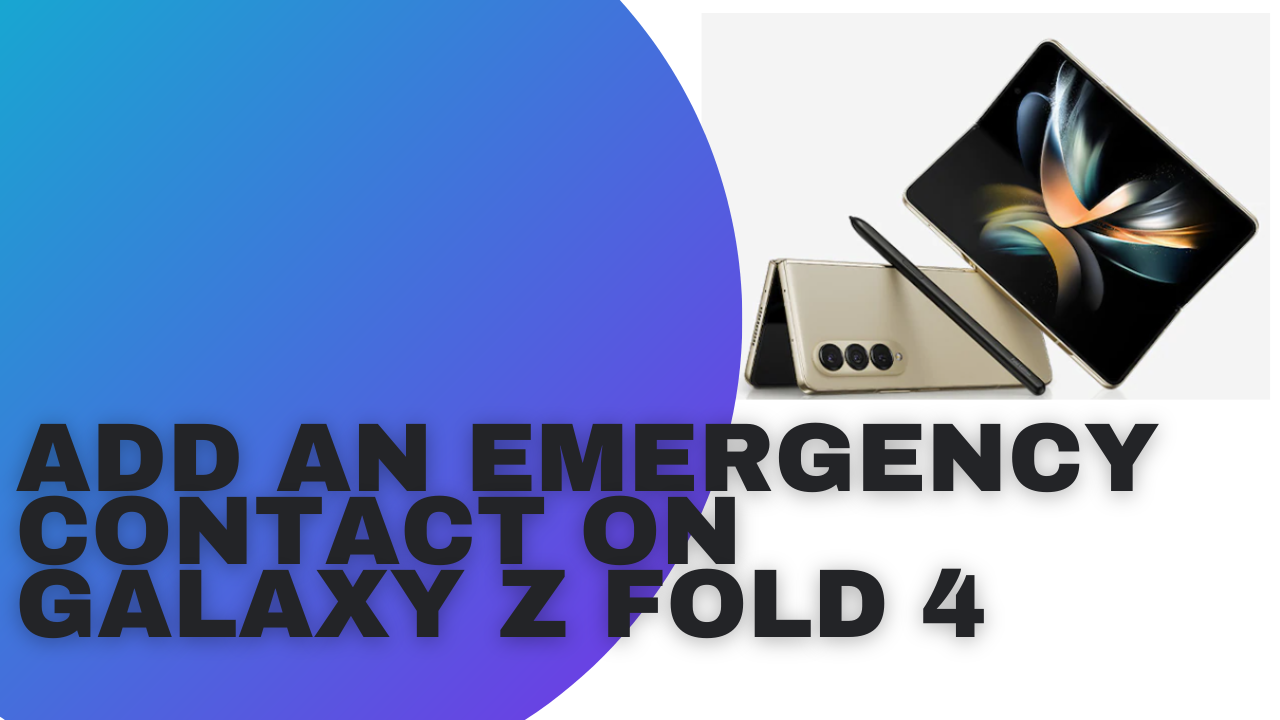 Adding emergency contacts on your phone makes it easy for you or others to contact them in case of emergencies. Once you have set up the emergency contacts list you can then proceed to send SOS messages or make an emergency call.
Here's how you can add emergency contacts to Samsung phones.
Adding emergency contacts
You can add emergency contacts on your phone so that it's easier to send them an emergency message or an emergency call. It's best to add family members or people close to you so that they will immediately know what to do.
Open the Settings app.
Scroll down and tap Safety & emergency.
Tap Emergency contacts.
Tap Add contact.
Select emergency contacts from your contact list. If you wish to add someone who's not on your contacts list, add them through the Contacts app first.
Add medical information
You can add your medical information so that first responders can access the information even when the phone is locked. The emergency information you can add are your medical conditions, allergies, current medications, blood type, and others.
Open the Settings app.
Scroll down and tap Safety & emergency.
Tap Medical info. You can then edit your medical information for others to see.
Send SOS messages feature
Once you have already set up your emergency contacts you can now use the emergency SOS feature of your Samsung smartphone.
Open the Settings app.
Scroll down and tap Safety & emergency.
Toggle the Sens SOS messages switch
When the emergency SOS is turned on it will let people know you need help. To activate this feature, you can press the Side key 3 or 4 times depending on what you set.
Other features available in the Sens SOS messages section are as follows.
Auto call: This allows you to select someone to call after you send SOS messages.
Attach pictures: Take pictures with the front and rear cameras which will be included in your SOS messages.
Attach audio recording: This allows you to record up to 5 seconds of audio and include it in your SOS message.
Turn emergency mode on
You can turn emergency mode on by following these steps. This feature allows you to extend the battery life of the Samsung Galaxy phone for as long as possible. When activated the screen's brightness will be reduced and some of the functionalities of the phone will be limited.
Press and hold the Power button until you see the power menu options.
Tap Emergency Mode.
If you are using Emergency Mode for the first time, you will need to accept the Terms and Conditions
Tap Enable OR Turn On
You will now see the Emergency Mode interface, including an estimate of your battery standby time.
When your phone is running on Emergency Mode it will have a simplified home screen. Most connectivity features settings won't be accessible. As long as your phone is connected to a mobile data, your cellular network, or Wi-Fi network then you will still be able send SOS messages or use the phone in emergency situations.
Turn emergency mode off
Here's how to turn emergency mode off when you are done using it.
Tap the three dots on the top right corner of the screen.
Select Turn off emergency mode or Disable Emergency Mode.
Select Disable.
Frequently Asked Questions
How do I use the emergency calling feature of Galaxy Z Fold 4?

You can make emergency calls by tapping the Phone app to access all of your contacts, so you can still make a call to family members and friends. The Keypad is also available if you need to dial a new number. Tap Emergency call at the bottom of the Home screen to dial 9-1-1. Tap Yes to activate the call.

How do I make an emergency call from the Lock screen of my Galaxy Z Fold 4?

During emergencies you won't have time to unlock your phone. You can make an emergency call right from the Lock screen. Just swipe up on your device's screen to be taken to the Lock screen, and then tap Emergency call. A dial pad will appear where you can enter your desired number.

What is included in the emergency mode interface?

Flashlight: Turn the flashlight on or off.
Emergency alarm: Your phone will turn on a loud alarm.
Phone: Launch the Phone app to make calls.
Message my location: Share your location with a recipient of your choice.
Internet: Launch an internet browser, such as Samsung Internet.

What are emergency contacts in Galaxy Z Fold 4?

These are contacts that you can easily call or send messages to during emergencies. Emergency services will also be able to immediately contact the people on the list when needed.

Can I make an emergency call without a SIM card?

As long as you have a network signal nearby, even if it is not your carrier, you can contact 911.