Do you want to know how to restart your Samsung Galaxy Z Fold 4? There are several ways to do this such as by using the physical buttons or by using the quick settings menu. In this tutorial we will be showing you how this is done.
The Samsung Galaxy Z Fold 4 is a premium Android phone that has a 6.2-inch cover display and a 7.2-inch foldable display. It's ideal for individuals looking for a powerful smartphone that has a large display and can easily handle multitasking tasks with ease. Some of its best features include its use of a Snapdragon 8 Plus Gen 1 chip, 4400 mAh battery, and has a storage of up to 1TB.
How do you soft reset a Samsung Galaxy Z Fold 4?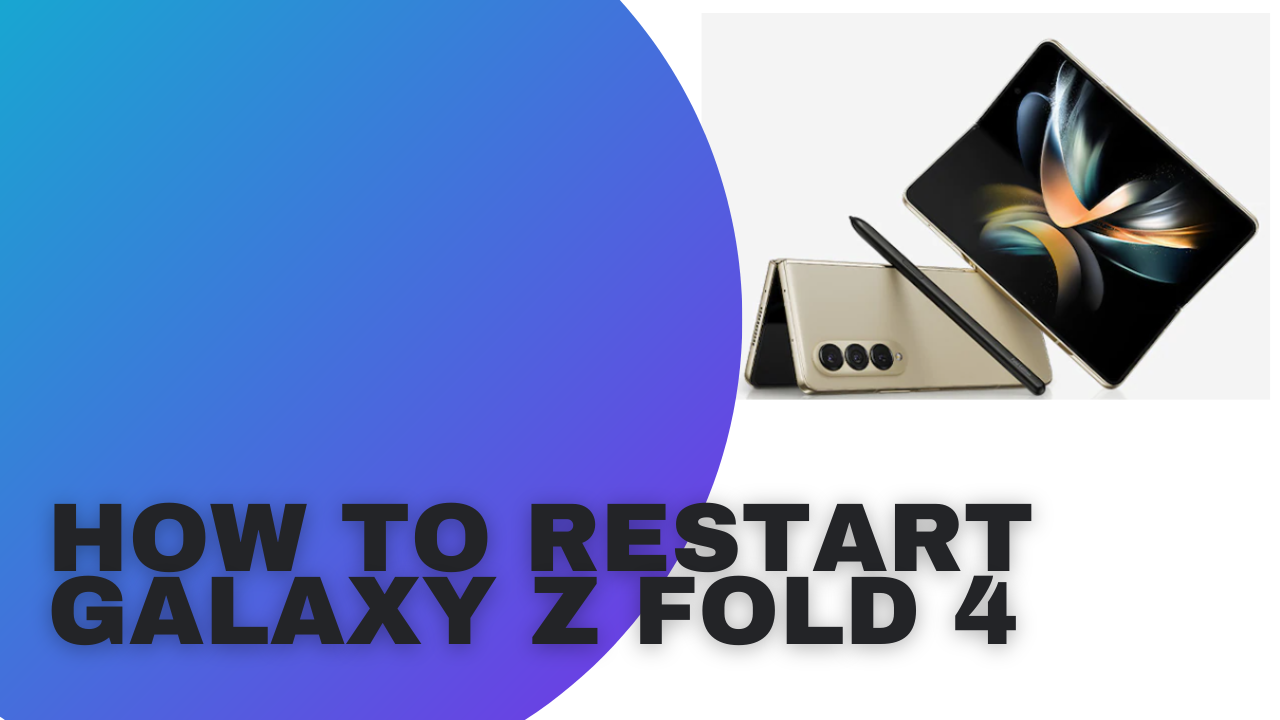 When facing minor software glitches with your Samsung Galaxy Z Fold 4 the quickest way to fix such issues is by doing a restart. This turns off the Android phone then turns it on again which refreshes the operating system and get rid of any corrupted data stored in the device RAM.
Here are the different ways you can restart Samsung Galaxy device.
Restart Samsung device using physical buttons
The quickest way to restart your Samsung phone is by using the physical buttons.
Press and hold Power key and Volume down key for a couple of seconds.
On the power menu that appears select restart.
Tap Restart one more time to confirm.
After the reboot process has completed your phone software will be refreshed.
Restart Samsung Galaxy Z Fold 4 from Quick Settings panel
Another way you can restart your Android device is from the quick settings panel.
Swipe down from the top of the screen with two fingers to pull down the Quick Settings Panel.
Tap the Power icon located at the top right corner. This opens the Power menu.
Tap Restart and then confirm that you want to reboot your phone.
Force restart your Samsung Galaxy Z Fold4
Sometimes you will experience freezing issues on your Galaxy Z Fold 4 device. When this happens, you will need to do a force restart.
Press and hold the Volume Down button and the Power key for 8 seconds. Your phone will shut down. Continue pressing both buttons.
When the Samsung logo shows, release both keys and allow your device to continue the boot process.
Restart your Samsung Galaxy Z Fold4 automatically
You can make your device restart automatically at a scheduled time and date and have this repeat it. This is one way of making sure that your phone will run smoothly.
Take note that this only works when during the set schedule if the screen is off, the phone is not used, the battery is above 30%, and the SIM card lock is off.
Open Settings app.
Tap General management.
Tap Reset at the bottom of the screen.
Tap Auto restart at set times to have access to its settings.
Tap the Switch to enable it.
Set the time of the day as well as the days you want your phone to restart automatically.
Frequently Asked Questions
How do I factory reset the Samsung Galaxy Z Fold4?

Turn off your Samsung Galaxy device.
Simultaneously press and hold the Volume up and side buttons until the device vibrates and the Android Recovery screen appears then release all buttons. Allow up to 30 seconds for the recovery screen to appear.
From the Android Recovery screen, select Wipe data/factory reset. You can use the volume buttons to cycle through the available options and the side key to select.
Select Factory data reset. Allow several seconds for the factory data reset to complete.
Select Reboot system now. Allow several minutes for the reboot process to complete.
Set up your Android phone.

How do I wipe the cache partition on my Samsung Galaxy Z Fold4?

Press and hold the Volume Up key, then press and hold the Side key.
When the green Android logo displays, release all keys ('Installing system update' will show for about 30 – 60 seconds before showing the Android system recovery menu options).
Press the Volume down key several times to highlight wipe cache partition.
Press Power key to select wipe cache partition.
Press the Volume down key to highlight yes, them and press the Power key to select.
When the wipe cache partition is complete, Reboot system now is highlighted.
Press the Power key to restart the device.

How do I reset network settings on my Samsung Galaxy Z Fold4?

Open the Settings app.
Scroll down to and tap General management.
Tap Reset to view the reset options.
Tap Reset network settings.
Tap Reset settings and if prompted, enter your security lock.
Tap Reset to proceed with the network settings reset.

Will the restart delete my phone data?

Restarting the phone will not delete any saved data.

How do I enable power saving mode on my Samsung Galaxy Z Fold4?

Open Settings.
Tap on Battery and device care.
Tap on Battery.
Tap on Power saving mode and toggle it On.