Does the contacts app on your Samsung Galaxy Z Fold 4 keep on stopping? This can be due to a number of factors such as a bug in your phone software, corrupted app cache, or even interference from a third-party app. To fix this you will need to perform several troubleshooting steps.
The Samsung Galaxy Z Fold 4 is a premium Android phone that's best known for its foldable display form factor. It's actually a phone that can also act as a tablet allowing for easier multitasking between different apps. Some of its best features include its use of a Snapdragon 8 Plus Gen 1 chip, 4400 mAh battery, and has a storage of up to 1TB.
Why does my contacts app keep closing on my Samsung Galaxy Z Fold 4 phone?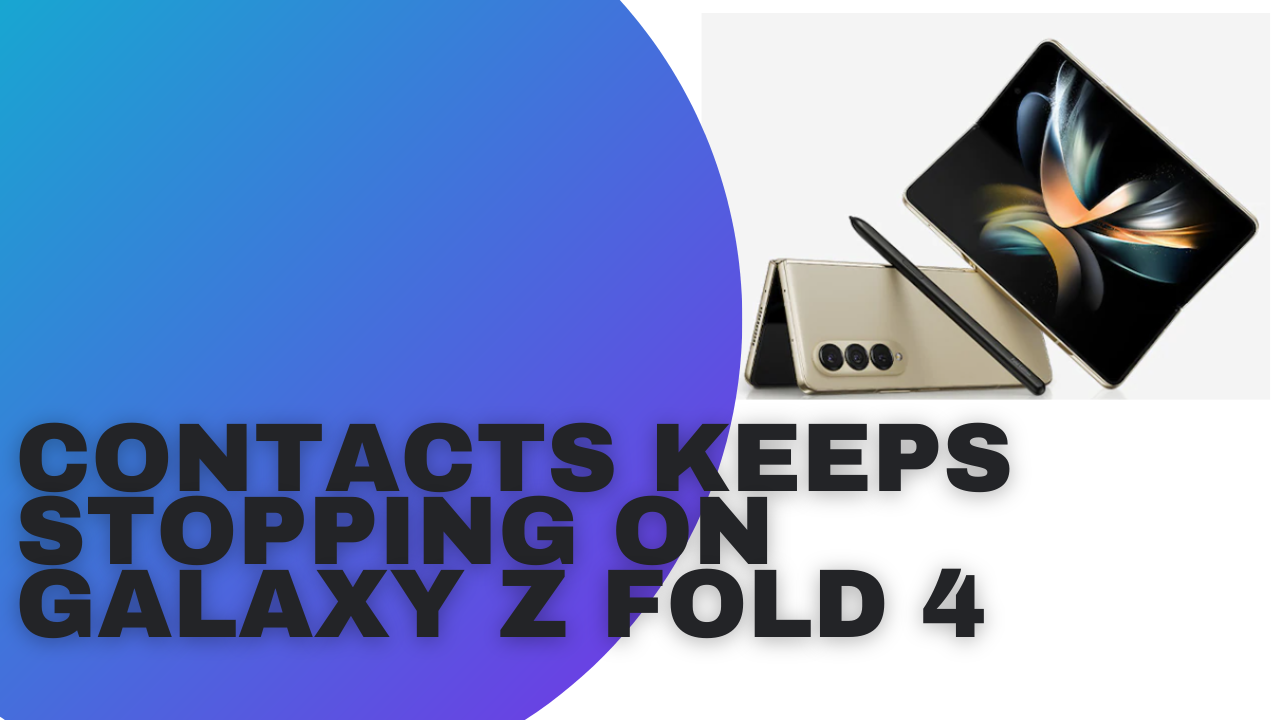 One of the issues that occurs on Galaxy devices is when the contacts app keeps stopping. This can be an annoying experience as sometimes you won't be able to use your phone to make calls or send text messages.
Here's the troubleshooting guide to fix the contacts app stopping or crashing issue.
Solution 1: Soft reset your Samsung Galaxy Fold 4
The first thing you will need to do when Android phones experience app stopping or crashing issues is to restart the device. This refreshes the phone's operating system and will fix any problem caused by a firmware crash or software glitch.
The soft reset will reboot the operating system of the phone and reload all of its services. Your personal data, files, and apps will remain unchanged.
Soft reset Samsung Galaxy Z Fold 4
After the device finishes restarting try to check if the issue still occurs.
Solution 2: Clear the Contacts app cache and data
The contacts app will keep stopping or crashing if it has some corrupted cached data stored.
To get rid of this corrupted data you will need to clear its cache and data. Take note that after performing this step the app will revert back to its default configuration.
Clear cache clear data of contacts app
Open Settings app.
From the Settings menu, tap Apps
Select Contacts from the list of Apps.
On the Contacts App info, tap Storage.
Tap Clear cache at the bottom to clear cache from the app.
Tap Clear data to delete all residual data accumulated when using the contacts app.
Try to check if the issue still occurs after performing these steps.
Solution 3: Check for software updates
One of the common causes of the contacts app stopping or crashing is a software bug. You need to make sure that your phone is running on the latest software version as this will likely have fewer bugs.
Take note that you need an internet connection to get the software update. It's best to use a WiFi connection and not a mobile data connection as the former is more stable and faster.
Manual software update
Open Settings and scroll all the way down.
Find and tap Software update.
Tap Download and install to check for a new update.
After installing the update try to check if this fixes the problem.
Solution 4: Start the Galaxy Z Fold 4 in Safe Mode
Sometimes certain third-party apps downloaded from the Google Play Store can interfere with the contacts app. In order to check if a downloaded app is the culprit you will need to start the Samsung phone in Safe Mode.
Safe Mode will only allow the default apps to run in your Galaxy Z Fold 4 making it easier to determine if a third-party app is the culprit.
Safe Mode
Press and hold the Power key and Volume down button (right edge) until the 'Power off' prompt appears on the screen then release.
Touch and hold Power off until the 'Safe mode' prompt appears then release.
To confirm, tap Safe mode.
Wait for up to 30 seconds for the process to complete. When your device reboots "Safe Mode" will appear on the lower left side of the home screen.
Try observing if the contacts app still crashes while in this mode.
In case the issue does not occur then you will need to find out the specific app that is causing this problem and uninstall it.
After uninstalling the app, you can exit from safe mode.
Exit Safe Mode
Press and hold the Side key.
Tap Restart > Restart.
The device will restart in standard mode, and you can resume normal use.
Solution 5: Perform a hardware test using the Samsung Members app
Although this is rare, there are times when a faulty hardware component can cause your apps to stop working. In order to check if your phone hardware is functioning properly, you can use the Samsung Members app.
To perform a hardware test
Open Samsung Members.
Tap on Get help.
Under Diagnostics tap on Start.
Choose all possible selections.
Tap Start to run the test.
If you get an error report and the test fails, then you need to contact the nearest Samsung service center in your area.
Solution 6: Perform a factory data reset on your Galaxy Z Flip 4
In case the problem is caused by a corrupted system software then a factory reset is highly recommended.
Before proceeding with this step, you need to back up your phone files.
Factory reset
Turn off your Samsung Galaxy device.
Simultaneously press and hold the Volume up and side buttons until the device vibrates and the Android Recovery screen appears then release all buttons. Allow up to 30 seconds for the recovery screen to appear.
From the Android Recovery screen, select Wipe data/factory reset. You can use the volume buttons to cycle through the available options and the side key to select.
Select Factory data reset. Allow several seconds for the factory data reset to complete.
Select Reboot system now. Allow several minutes for the reboot process to complete.
Set up your Android phone.
When the master reset has completed don't install any third-party apps yet. Try checking first if the stopping or crashing issue still occurs.
Frequently Asked Questions
Why does my contacts app keep on crashing?

There are a number of factors that can cause this problem such as a corrupted software, phone not running on the latest version of Android, or even interference from a downloaded app.

Is there a third-party contacts app I can use on my Samsung Galaxy device?

There are quite a number of contacts app you can download and install from the Google Play Store. Most of them provide quite a number of useful features that are not found on the stock contacts app of your device.

How do I uninstall apps in my Galaxy device?

Open the Play Store.
Tap the profile icon.
Tap Manage apps and device.
Tap Manage
Tap the required app.
Tap Uninstall.
Tap Uninstall again.
Press the Home key to return to the home screen.

How do I force stop an app in Z Flip 4?

You can perform this procedure by going to Settings > Apps > Select the App > Force Stop at the bottom > OK.

What is the default app to use for messaging in the Z Flip 4?

The default app for messaging on your phone is Samsung's very own Messages app. It also has the Google Messages app which you can use.