This post shows how to activate the Galaxy S21 Lift to Wake gesture. Read on if you need help how to configure your new Samsung smartphone to wake up or turn the screen on every time you pick it up.
Samsung Lift to Wake
High-tiered smartphones are not only bringing major features but also come with a number of small yet useful features. And one of these is the so-called lift to wake gesture that's preloaded in new Galaxy phones.
As the name implies, lift to wake gesture works by unlocking the device by simply lifting it. For example, when you remove your phone from your pocket or pick it up from a table, the screen turns on without pressing any buttons. It is by far the most effortless way to unlock or wake up your device. 
To make use of this feature on your Galaxy smartphone, you will need to turn on the lift to wake switch from the motions and gestures menu.
In case you're wondering how to get this done on your new Samsung Galaxy S21, I've mapped out a quick walkthrough as follows.
Here's how to activate the Galaxy S21 lift to wake gesture.
Easy Steps to Activate the Galaxy S21 Lift to Wake Gesture
The following steps are also applicable when enabling lift to wake gesture on other Samsung Galaxy smartphones that are running on the same platform or Android version with that of the S21.
1. When ready, access the Apps viewer by swiping up from the bottom of the Home screen.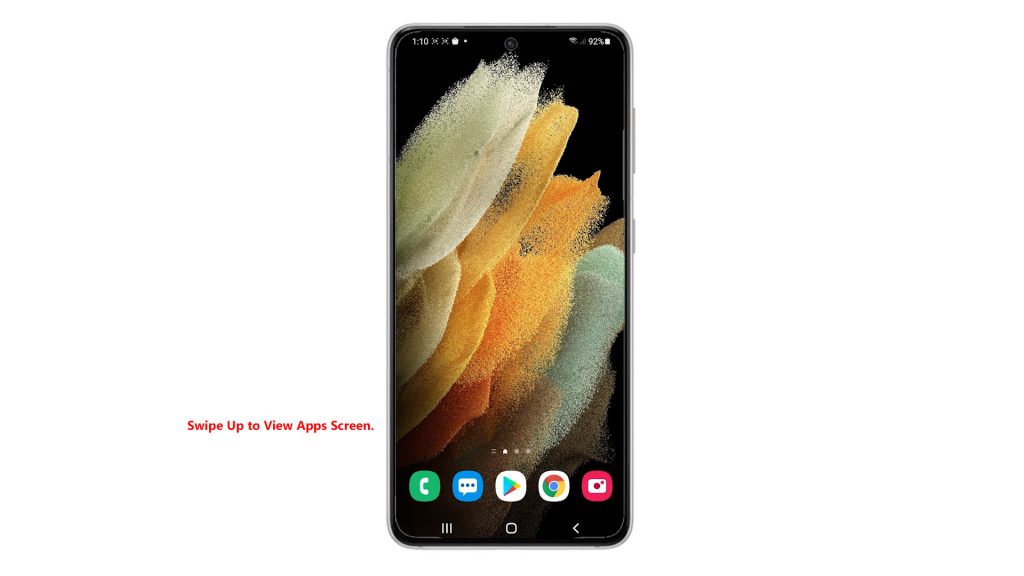 Different app icons and shortcut controls will load up next.
2. Locate and then tap the Settings icon.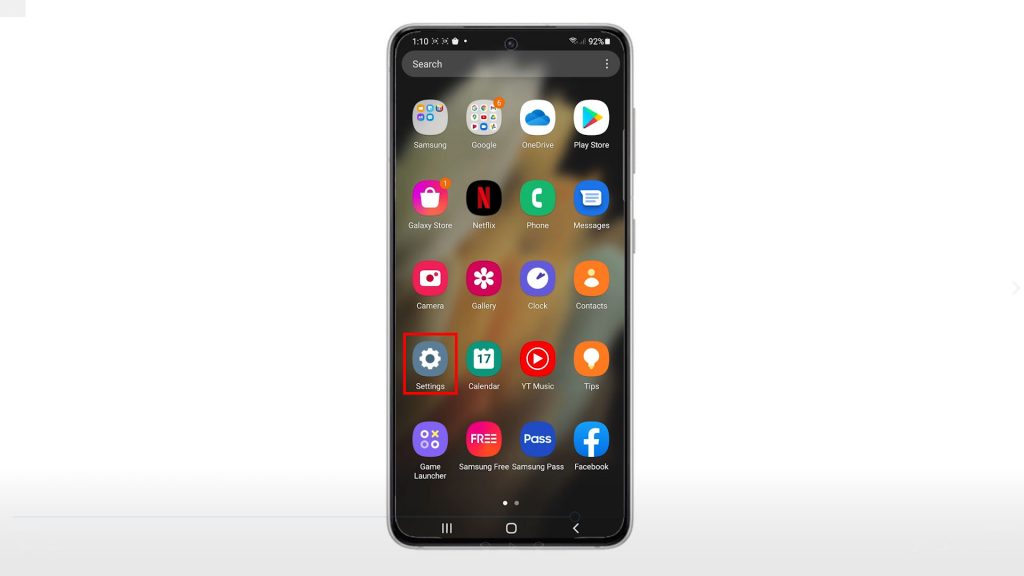 Doing so will launch the main settings menu, highlighting all basic and advanced features you can use and manage.
3. Scroll up or down and then tap Advanced features.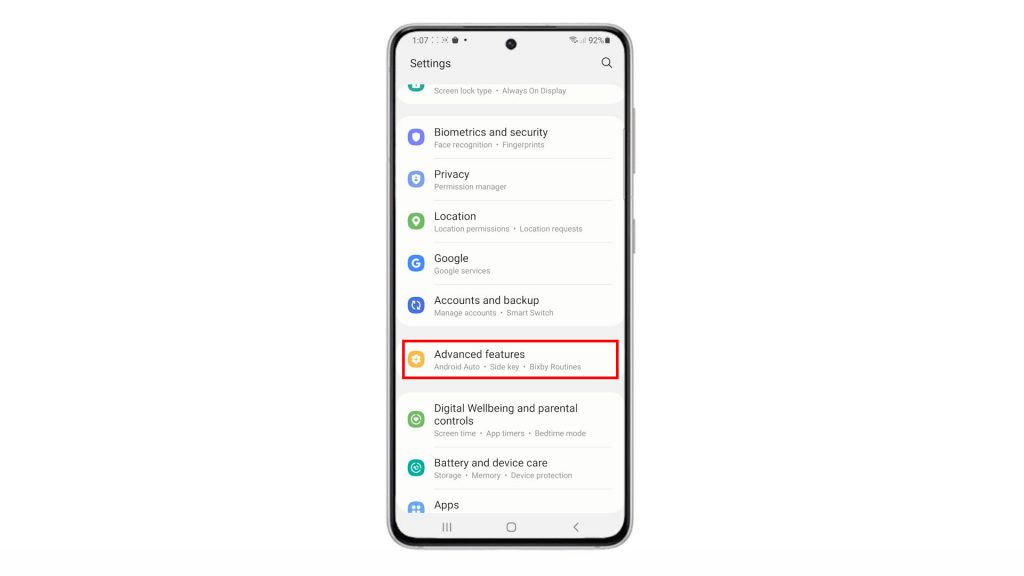 Another menu will launch, highlighting all the advanced features of your phone.
4. Locate and then tap Motions and gestures.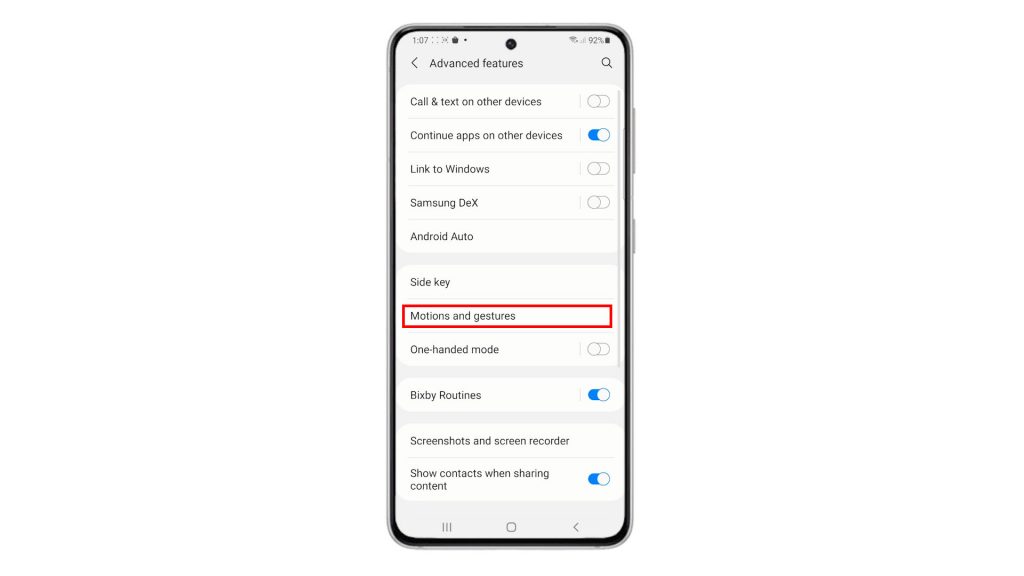 Relevant features will load up on the next display.
5. To activate the feature that turns on the screen when you pick up the phone, tap to enable the Lift to wake switch.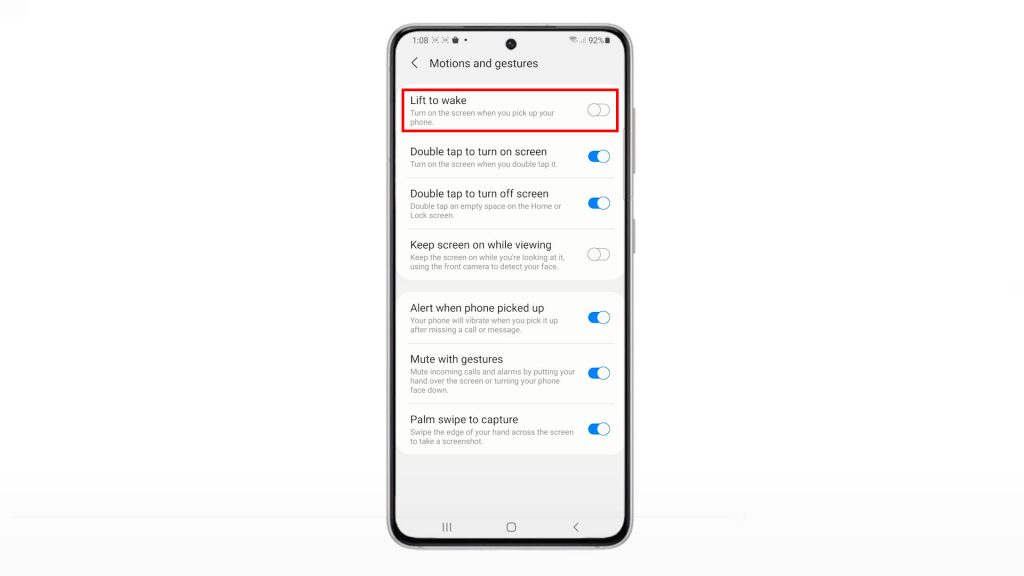 When enabled, you wake up or unlock the display without having to press any hardware keys. Simply pick it up from where it's placed and the screen should wake up automatically.
To see if it works, lock your phone screen by pressing on the side key. While the phone is locked, place it on a table or inside your pocket. Then, pick it up and see if the screen actually wakes up. That indeed makes the unlocking process way faster than the typical method.
Lift to Wake Not Working?
The Lift to Wake gesture should work as intended when it's enabled on the device. However, there are some factors that can trigger some issues. If all is good with the hardware, then it should be something within the software layer that's preventing the lift to wake system from working properly. Oftentimes, random flaws like this can be resolved by performing a soft reset or reboot on the phone. Installing the latest software version available is also recommended to rule out stubborn bugs that caused the wake up gesture to glitch.
Hope this helps!
More Video Tutorials
To view more comprehensive tutorials and troubleshooting clips on different mobile phones and tablets, feel free to visit The Droid Guy channel on YouTube anytime.
You might also want to read: