Are you having a problem turning on your Xiaomi Redmi Note 11? There are several factors that can cause this issue such as a software glitch, battery does not have any charge, or even a hardware failure. You will need to perform several troubleshooting steps to fix this problem.
The Xiaomi Redmi Note 11 is a new mid-range Android smartphone released globally that offers several great features which is usually not found in its price range. It has a well built design, great battery life, and a good display. If you're not looking for a 5G phone or a device that takes amazing photos then you can't go wrong with this model.
Some of its key features include:
6.43-inch FHD+ (2400 x 1080) AMOLED display
90Hz refresh rate, 180Hz touch sampling rate
Corning Gorilla Glass 3 front
Qualcomm Snapdragon 680 SoC
Adreno 610 GPU
4GB, 6GB LDPRR4X RAM
64GB, 128GB UFS 2.2
microSD support (dedicated)
Quad-rear cameras
13MP F2.4 front camera
Dual-SIM
4G LTE
3.5mm audio jack
IP53 splash-proof
5,000mAh battery w/ 33W fast charging
What to do when Redmi Note 11 phone does not turn on?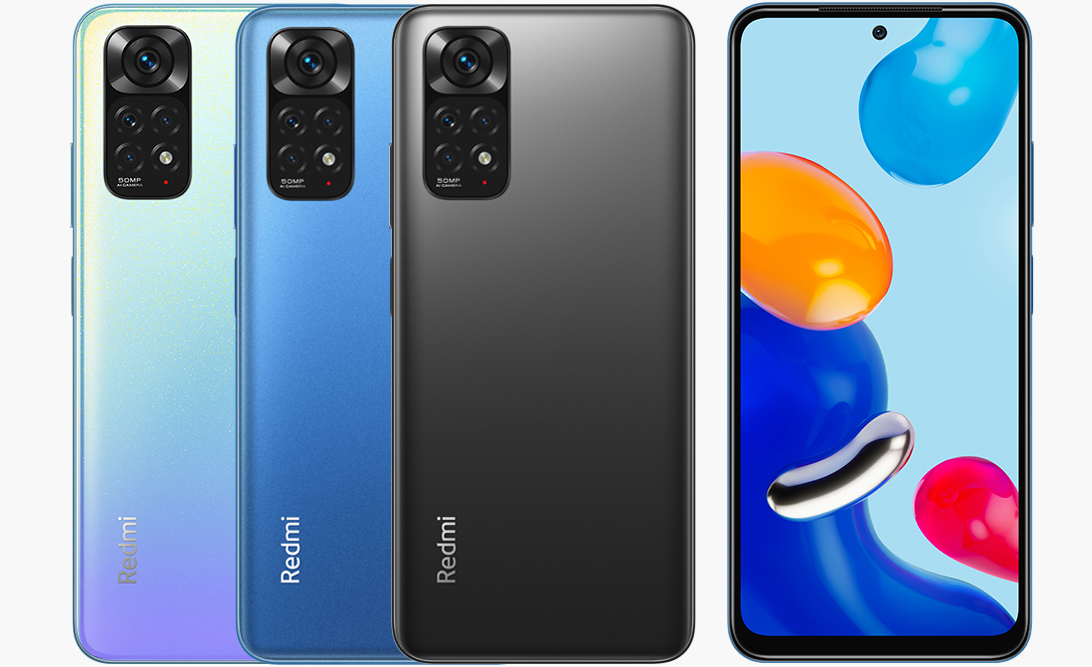 One of the issues that you might experience with Android smartphones is when it does not turn on. This issue can also happen Redmi Note 11. You will notice that it will only have a black screen and is unresponsive. This can be a frustrating experience as you won't be able to use the device when this happens.
Here's are some of the solutions for this particular problem.
Solution 1: Force reboot the Redmi Note 11
If this issue just happened randomly then there's a possibility that it is caused by a software glitch. Performing a forced reboot is basically a procedure similar to removing the battery of the device. Since this smartphone does not have removable batteries then this is the alternative procedure.
Time needed: 2 minutes.
Force rebooting the device
Press and hold the Power key for 10 seconds or more.

This should be located on the left side of the smartphone.

When the Mi logo shows, release the power key

Your device will continue the boot process and proceed to the home screen.
If you are still getting the black screen issue then proceed to the next step.
Solution 2: Charge your Redmi Note 11
There's a possibility that you are getting a black screen with the phone not responding because its battery is fully drained. You should try charging the phone first using its included charger for at least an hour then try turning it on.
Charge the device
Connect the power adapter to a working power outlet.
Connect the USB-C charging cord to the charging port of your phone.
Leave the phone charging for at least an hour.
Once the smartphone has fully charged try turning it on by pressing the power button then check if it turns on.
There are instances when you are unable the phone will not charge even when connected to its charger. When this happens try to perform the additional steps listed below.
Check charging port
There might be some lint, dirt, or debris present in the USB port of your phone. If you find any present then you should remove these using a toothpick or any sharp non-conductive object that fits in the port.
Try using a different charging cable
Sometimes the charging cord you are using has a loose connection or is damaged. Try using a replacement USB Type-C cable.
Try using a different power adapter
There's a possibility that the power adapter you are using isn't working anymore. Try using a different adapter. You should also try to plug the adapter to a different power outlet.
Solution 3: Check if the Redmi Note 11 can start in Safe Mode
Try checking if third party apps installed in your phone is causing this issue. This can be done by starting the smartphone in Safe Mode as only the system and pre-installed apps are allowed to run in this mode.
Redmi Note 11 Safe Mode
Turn off the phone completely.
With the phone off, press and hold the power button and volume up button at the same time for a few seconds.
When the phone vibrates and you see the Xiaomi logo, release the power button however continue pressing the volume up button until you see a menu appear.
Navigate to the Safe Mode option using the volume down button and select it using the power button.
Your phone will now boot in Safe Mode.
Does the device start in this mode? If it does then the problem is most likely caused by a third party app. You should find out what app this is and uninstall it.
To exit out of Safe Mode all you need to do is to restart your smartphone.
Solution 4: Perform a hard reset
In case the above troubleshooting steps fails to fix the problem then you will need to do a factory reset from the recovery mode. Take note that your data stored in the phone will be deleted so make sure you have a backup copy available.
Factory reset Note 11
Turn off your device.
Long press the Volume Up + Power buttons together until recovery mode screen appears.
Release the buttons once you see the Mi logo appear.
On the Recovery mode screen use the Volume down button to navigate to Wipe data then use the Power button to select it.
Use the Volume down button to navigate to Wipe All Data then use the Power button to select it.
Use the Volume down button to navigate to Confirm then use the Power button to select it.
Once the process has completed select Back to Main menu using the Power button.
Select Reboot then Reboot to system using the power button.
Solution 5: Contact the service center
If your Redmi Note still does not turn on then this is most likely caused by a faulty hardware component already. The device might have a damaged display, may need a new battery, or has suffered from water damage. You will need to bring the smartphone to the nearest service center and have it checked or repaired.
Feel free to visit our YouTube channel for additional support and troubleshooting guides on various devices