Football is finally back, with the NFL season starting next weekend and the college football officially kicking off this week. The good news for all owners of Android smartphone and tablets is that they don't have to be glued to a TV or computer screen to cheer for your favorite team. Your mobile device is all you need. In this article, we'll show you 5 ways how you can watch live stream NFL and college football from anyplace with an internet connection. Some methods cost nothing at all, while other require a subscription.
Ways to Watch Live Stream NFL and College Football This Season on Android Smartphone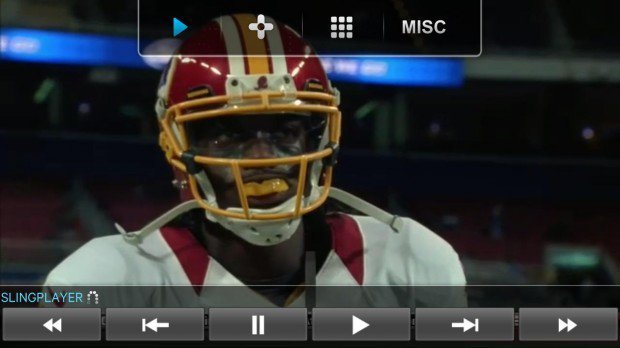 1) Get a Slingbox
Slingbox is a clever device that sits between your cable or satellite services set-top box and your TV and streams the signal from the set-top box to any Slingbox-compatible device. It debuted on the US market on July 1, 2005, and it has since then proved itself as a wonderful solution for everyone who would like to take his or her cable or satellite service on-the-go.
As such, Slingbox is perfect for sports fans who want to have instant access to live events from everywhere. But they are hardly the only demographic group that can find the service tremendously useful. Students can stream their cable connections from their homes directly to dorms rooms, travelers don't have to fight censorship or geo-blocking just to find out what's going on back home, and parents can use it to keep the kids entertained when visiting the in-laws.
To use Slingbox with an Android device, you need to download the Slingplayer for Phones from the Play Store, install it on your device, and sign in with your account. With the app, you will be able to watch live or recorded TV over 3G, 4G, or Wi-Fi. The app even allows you to play and schedule DVR recordings.
The Slingplayer app is also available on other supported platforms, including iOS (iPhone, AppleTV, and iPad), Kindle Fire, Roku devices, and Microsoft Windows tablets.
Buy on Amazon

2) Get the DirecTV Subscription
DirecTV, an American direct broadcast satellite service provider and a subsidiary of AT&T, has upgraded their satellite service for the 21st century. With DirecTV subscription, you can now enjoy all the fantastic content that was previously available only when sitting on a couch in front of a TV on your tablet or smartphone.
No NFL fan can't afford to miss on the NFL Sunday Ticket app, which is currently available on the Play Store. All you need is a subscription to NFL SUNDAY TICKET or NFLSUNDAYTICKET.TV and you can watch every live, out-of-market regular season NFL game every Sunday afternoon. Part of the deal is also an access to the DIRECTV FANTASY ZONE, fantasy analysis and real-time stats, and RED ZONE CHANNEL, which delivers the final yards of every scoring drive from around the league on one channel.
Buy on DirecTV

3) Twitter Will Be Live Streaming 10 NFL Games This Year
Twitter won the rights over Amazon and Verizon to stream NFL's Thursday night football games online, as reported by Fortune. This surprising partnership represents NFL's first steps into the digital world – a place they have yet to fully embrace. It's also a key moment for Twitter, a company that needs to reverse a recent stagnation in the growth of new users.
It will definitely be interesting to see how many out of 800 million registered and non-registered users of Twitter will tune in to watch the scheduled games for free.
Get on Twitter

4) Get the WatchESPN App
Cost: free with cable subscription
If you are a subscriber of AT&T U-verse, Bright House Networks, Charter, Comcast XFINITY, Cox, DirecTV, DISH, Google Fiber, Midcontinent Communications, Optimum, Time Warner Cable, or Verizon FiOS TV, you should be able to watch live games and studio shows with the WatchESPN app for Android.
The app gives you 24/7 access to ESPN, ESPN2, ESPN3, ESPNU, SEC Network, SEC Network Plus, ESPNews, ESPN Deportes, and Longhorn Network, depending on your TV provider. You'll be able to watch NFL Monday Night Football, NBA Regular Season and Playoffs, Major League Baseball, College Football and the College Football Playoff, and others.
Download on Google Play
You you ready for some football?
There are many ways how you can enjoy your favorite sport even when you can't sit in front of a TV. If you are an avid sports fan, you should really consider one of the paid options, as their quality of service is usually unmatched by free competition.