Sling TV and Hulu are both great video streaming services, but they both offer different types of content due to licensing, interest conflicts, contract duration, etc. As an example, due to Netflix's contract with Disney, you'll find all of the latest Marvel titles on Netflix. However, you won't find them on Hulu since Hulu doesn't have that license. However, Hulu might have some shows that Netflix doesn't have, such as Gordon Ramsay's The F Word. With that, we can know that different streaming services are valuable, depending on the content you're interest in. Follow along below, and we'll show you the pros and cons to Sling TV Vs. Hulu Live TV, as well as give you a bit of an overview as to what content they have available.
Sling TV Vs. Hulu Live TV Best Video Streaming Comparison Review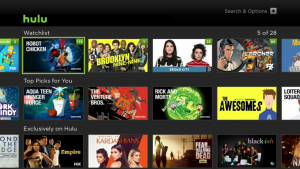 Hulu has an array of content that subscribers will love. The service's strength is primarily around TV shows. For example, Hulu has an arsenal of TV content that you wouldn't be able to find anywhere else, such as The F Word, The Mindy Project, This Is Us, Rescue Me, and many more. You can find a ton of old TV shows available on Hulu as well, including cartoons — including She-Ra, South Park, How I Met Your Mother, Seinfield and Full House.
Hulu does have movies available on the service as well, but not too many that are notable when you compare it to what Netflix has. Hulu's movies are also cheap to watch, since it's included in your subscription cost (around $6 a month) — with Sling TV, the movies you watch depends on the package you sign up for. And sometimes, Sling TV movies are rented at an additional cost.
The ability to watch all of Hulu's VOD content — the content that is similar to Netflix — is actually probably the most value for money in TV streaming packages. There are few packages out on the market that give you access to thousands of movies and TV shows on top of a live TV subscription. That said, Hulu with Live TV can be really worth it if you plan on using both sides of the service regularly.
Just recently, Hulu has started offering Live TV. They currently have around 50 channels available, including On Demand access to stations like ESPN to get your football fix. Hulu with Live TV is actually one of the better services that you can buy into in terms of getting your sports fix. And with this package, you'll be able to stay current on your favorite TV seasons, as you'll be able to watch, say, Game of Thrones, as episodes are being released. This package is considerably more expensive at $40 per month, very idea Sling vs Hulu option.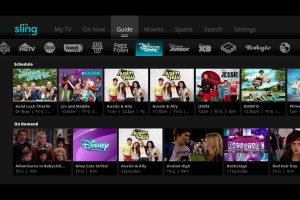 Sling TV operates very differently from Hulu in that it tries to be more of a cord-cutting TV service than a on-demand video streaming service. Basically, Sling TV is all about allowing you to watch live TV without the cable subscription. There's no long-term contracts, no hidden fees and no cancellation fees. You can start using Sling TV for $20 per month, and then depending on the type of content you like, you can add "extras" to your subscription package, whether that be the comedy channel or HBO, etc.
Sling TV has some other packages. One is called Sling Blue, which adds some additional channels you can watch if you aren't up to picking and choosing your channel lineup. In addition, there's a Sling Orange + Blue package that gives you all of the channels in the base package as well as in Sling Blue. This runs you $40 a month.
And what we really like on Sling vs Hulu, as we mentioned earlier, there are no long-term contracts, so you can cancel whenever you want without fees.
Sling TV has an awesome feature that they're calling Cloud DVR as well. Can't catch a show as it airs in real-time? That's no problem for Sling TV, just "record" it with your Cloud DVR, and you'll be able to catch that episode or airing anytime that you want. Think you're going to miss the next Game of Thrones airing because of last minute plans, or maybe a meeting is running late? Cloud DVR will ensure that you can watch it when you get home.
As far as movies go, Sling TV offers some free to its subscribers, but for the most part, you have to rent them at an additional cost. The price can differ from movie to movie, but the lowest rental fee is $0.99, but can go as high as $4.99 to rent a new release.
One of the "cons" about Sling TV is that it isn't very friendly to sports content. You're not always going to be able to catch the latest soccer or football games, and if you can, it comes at a premium.
One of the neat things about Sling TV is that, depending on your subscription, you can get yourself a free Fire TV Stick, a free Roku Express or a Roku Ultra at a steeply discounted price.
Sling TV is available on Amazon Fire devices (including the Stick and Fire TV), Android devices (including Android TV), Chrome, iOS, Roku devices and on Windows 10. Get started with Sling TV below.
VPNs
You can't use a virtual private network (VPN) with Sling TV, but you can actually use a VPN to your advantage in using Hulu. A VPN will bring you loads of awesome content that you wouldn't otherwise be able to watch. By connecting up to a VPN, you can spoof your IP as if it's coming from another market, or other geo-locations. This gives you access to content that is exclusive in different areas around the nation and world — for example, Hulu content in the UK can easily be accessed by connecting up to a VPN based out of the UK.
Sling vs Hulu Live TV Best Video Streaming Comparison Review Verdict
So, which video streaming service should you go for? Really, it ultimately depends on the type of content that you're seeking out. If you're looking for something to mimic what a cable provider would offer you, Sling TV is probably the way to go for now, as you'll have direct channels to popular options like HBO, HGTV, History and so much more. Hulu has recently started offering live TV, but doesn't have nearly as much to offer as Sling TV does yet.
But, if you're not really looking for a live TV experience and would rather catch up on on-demand TV shows (and some decent movies), Hulu is a great choice. Sling vs Hulu, both services have their strengths and weaknesses — Sling TV is great at live TV, but not necessarily on demand content. On the other hand, Hulu is great at on-demand content, but not necessarily live TV.
We will receive sales commission if you purchase items using our links.
Learn More
.