If you're a Valorant player who is experiencing a common, yet sometimes frustrating "couldn't start" error, this article is for you. In this guide, we'll explain to you the reasons why for this game error and the potential solutions that you can try.
What does Valorant couldn't start error mean?
The Valorant "couldn't start" error usually indicates that the application is unable to launch due to a bug, another running application or game, or your account is logged in another device.
This Valorant error is temporary and may go away after you've restarted the game client. At other times, more advanced troubleshooting may be required to successfully resolve it.
When this error occurs, a box with the message about the installation location as well as other details are shown.
CAUSES: "Couldn't start" error on Valorant
While there's a long list of Valorant errors that we've come across since the game was released in June 2020, there's not much official information on what to do if one encounters "couldn't start" error. This leaves the players doing a set of troubleshooting steps to find out which one will help them fix their case. This is because there are many reasons why this error can happen in the first place.
Below are the common reasons that might be causing the Valorant couldn't start error on your end.
Valorant launcher bug.
If you cannot launch Valorant when clicking the launcher, or when simply nothing happens after clicking it, it's possible that your PC is thinking that the game is already running. This is a common launcher bug for this game and can be easily fixed by force closing the launcher using Task Manager.
Software glitch.
Some people may experience the Valorant couldn't start error because of issues in their computer's software. Make sure that you are running the latest software version of Windows and your drivers are all up-to-date to lessen the chances of bugs. This is a common error fix for many who happens has a similar situation with other Riot Games applications.
Account is logged in somewhere.
If you are getting the "couldn't start" error and the message ends with "returned 5," this indicates that your Valorant account is logged in to another device.
Overclocking.
Some PC players may encounter the "couldn't start" issue on Valorant if they overclock their NVIDIA or AMD graphics card. Although this is not a widespread problem, you should consider reverting to the normal clock speed of your GPU if the problem persists.
Vanguard anti-cheat system glitch.
Another possible reason for this error can be the Riot Games Vanguard anti-cheat system that's needed to run Valorant. You may have to reinstall the program if none of the other solutions will work for you.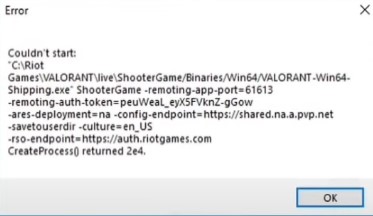 SOLUTIONS: How to fix Valorant couldn't start error
It is usually easy to fix Valorant couldn't start error and problem goes away on its own after you've refreshed your device. Below are the potential solutions that you can try to fix couldn't start error.
Close other applications or games.
When nothing happens after trying to load the game via the launcher, try to see if you are running another Riot application or game and close it. If there is, open Task Manager and force close it from there.
I've seen this happen when I forget to close League of Legends first before launching Valorant.
Restart your PC.
If there's no other Riot application or game that's running in the system, or if you're still having an issue to launch Valorant, the next good thing that you can do is to restart your computer by turning it off and starting it back up. This can sometimes be a good error fix in gaming.
Ensure that you log off your account from another device.
If you play on another computer, make sure that you sign out your Valorant game or account from it. This is an easy fix if you're getting the couldn't start: returned 5 error.
Run the game in elevated access.
Another way to fix some cases of Valorant couldn't start error is by running it in Administrator mode. Here's how to run as administrator:
Right-click on the Valorant shortcut.
Select Properties.
Select Compatibility.
Click Settings.
Ensure that you put a checkmark on both the Disable Fullscreen Optimization and Run this program as an administrator options.
Click Apply.
Click OK.
Check for the problem again.
Stop overclocking.
If you have an overclocked GPU, a quick way to fix Valorant couldn't start error would be to return the normal graphics card clock speed. Some players have reported having success doing this, so be sure to give it a try if none of the solutions above has helped so far.
Delete and install Vanguard again.
The Riot Vanguard anti-cheat system may sometimes cause launch problems with Valorant. Try restarting Vanguard first before launching the game. If error returns after that, close the launcher before you start Valorant again.
Reinstall Valorant.
The final potential solution that you must do if the error fix that you've tried so far has not helped is to delete and reinstall Valorant. Simply open the Control Panel, select the Add/Remove Programs option, and uninstall Valorant from there.
FURTHER READING:
Visit our TheDroidGuy Youtube Channel for more troubleshooting videos and tutorials.