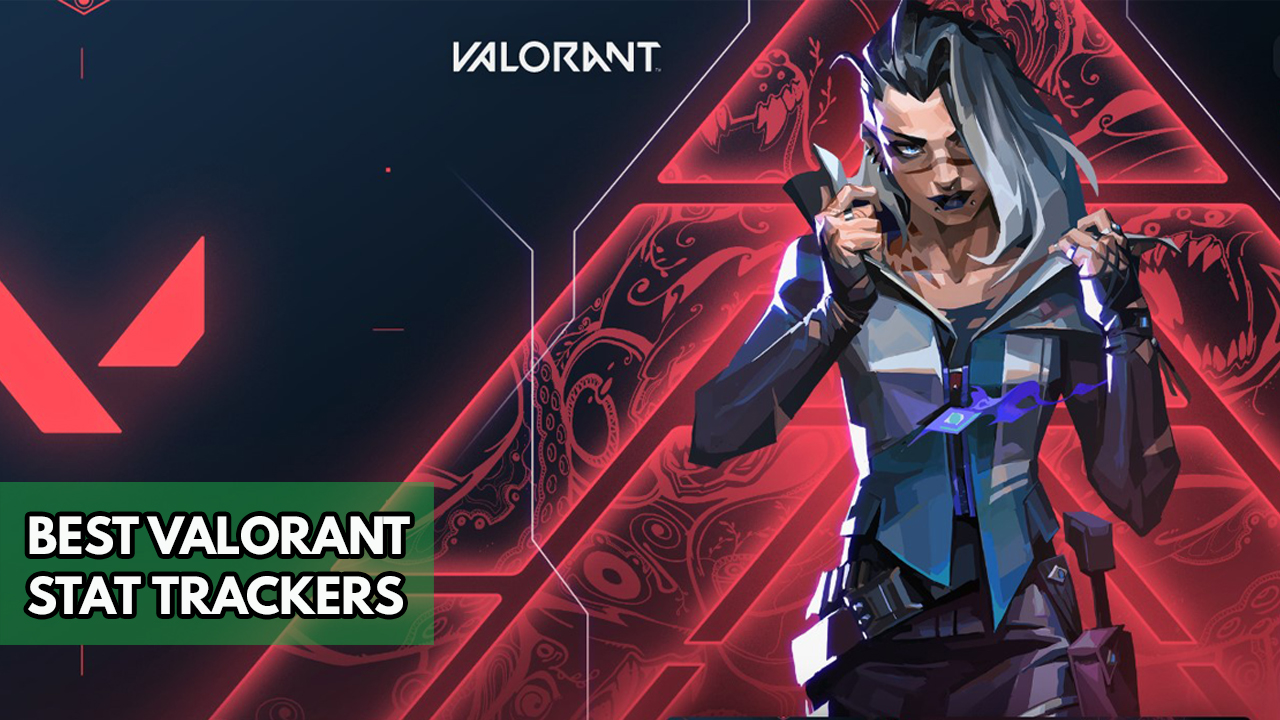 Valorant is one of the best competitive first-person hero game shooter developed and published by Riot Games. Valorant is inspired by the Counter Strike Global Offensive game and incorporates several mechanics such as purchase menus, spray patterns, and inaccuracy when shooting while moving.
There are currently relatively few websites that provide reliable information for the in game stats of Valorant players. In this article, we'll show you the top Valorant stats tracker for players who wish to keep track of their progress on a regular basis. The data provided from the valorant stats trackers is comprehensive with in depth statistics and as accurate as a third-party platform could possibly provide. This excellent Valorant stat tracker will tell you everything you need to know.
Riot Games Best Valorant Stats Tracker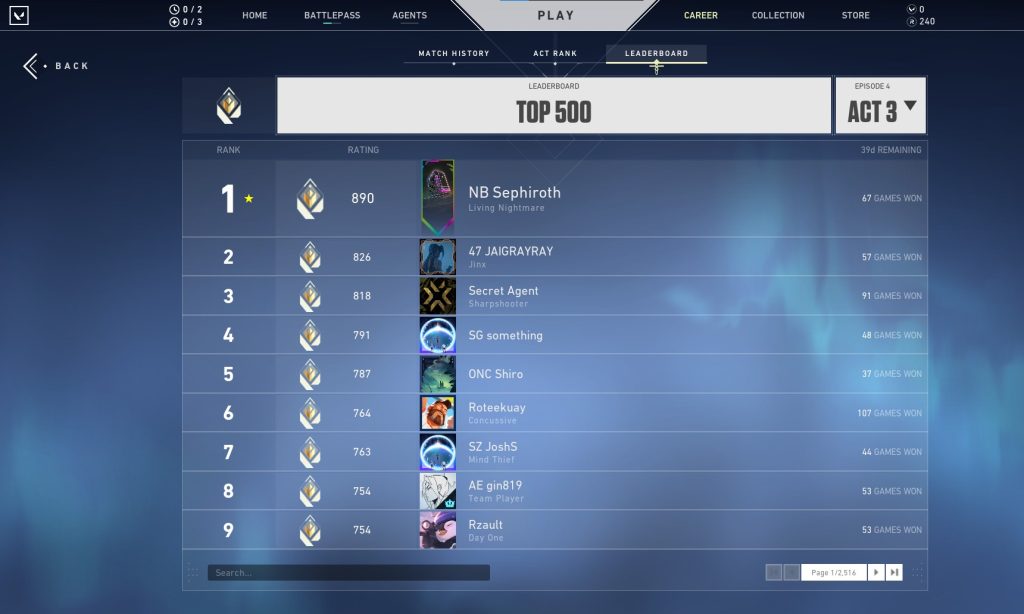 What exactly are Valorant stat trackers? A Valorant stat tracker is an in-game tool for tracking all your stats in real-time. They calculate your performance. You can tell if you're doing well by looking at the visual breakdown of your game such as match history, most played agents, weapon usage, headshot percentage, and win rate, just a few examples of the features. Some Valorant stat tracker also analyzes your teammates' and opponents' public stats to determine your odds of winning the match.
List of Valorant tracker
To use a stat tracker, you usually log in using the Riot account you used to play Valorant. You must also give the Valorant Stats application permission to access your information from your Riot account. Below are our list of Best Valorant stat tracker in 2023.
1.) Blitz.gg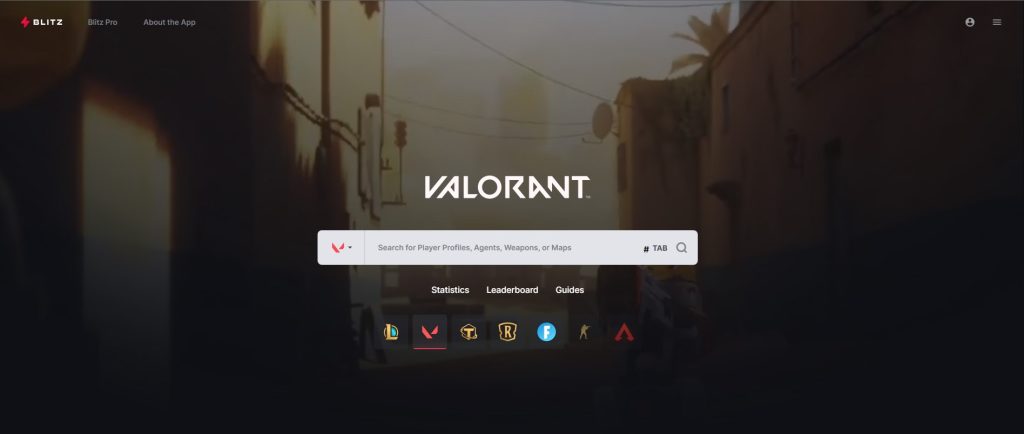 The Blitz app makes it easier to play challenging games by guiding you through each stage of your path to the top. One of the greatest Valorant Stat Tracker available today. To use this application, you must first download it and keep it running while playing Valorant. What is the process for connecting my Valorant account? Any Valorant account you're logged into will be immediately connected by Blitz. To make this connection, simply log in to your account while the Blitz app is open.
Blitz contains a database with maps, agents, and weapons stats. They're continually updating you on the most popular agents across all ranks, their victory rate on specific maps, the greatest team configurations, and much more.
Aside from worldwide statistics, Blitz provides a dashboard where you can see your previous games, shot percentage accuracy, and how well you've been doing in relation to your recent matches or match history.
2.) Tracker.gg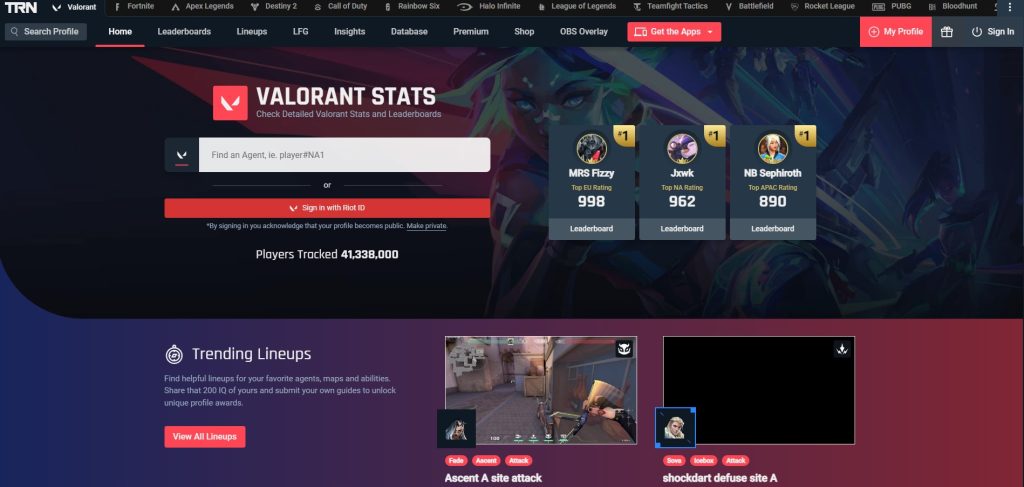 Tracker.gg is one of the easiest Valorant trackers to use. They got you covered whether you're scouting the opponents while playing the match with the all-in-one Tracker Live program for Windows PC and which you will see how your team stacks up against the opponent in real time. You can also do tracking on the go, or show Valorant stats for your audience if you are streaming. While playing, you can view detailed individual and match statistics. There is also a Custom overlays that display your metrics in real time. They also have an app for iOS and Android mobile devices which you can find data, leaderboards, and more for your favorite game Valorant.
3.) ValorantStats.xyz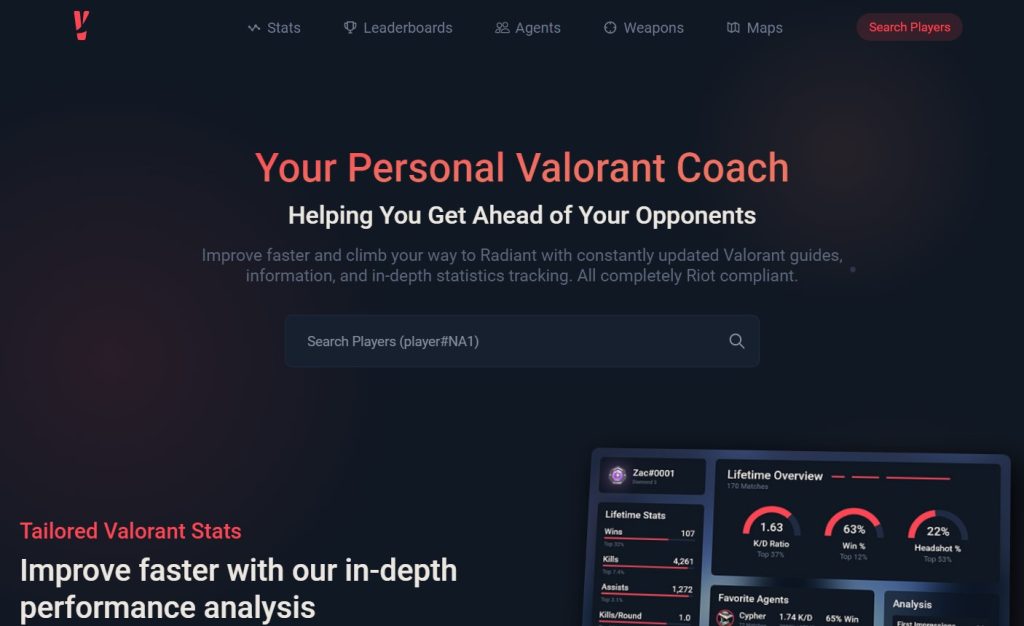 Valorant Stats is your personal Valorant coach, assisting you in gaining an advantage over your opponents. With regularly updated Valorant guidelines, knowledge, and in-depth statistics tracking, you may improve faster and ascend your way to Radiant. This is a Riot-friendly Valorant stats that wont get you ban. After each encounter, they provide you with a full post-game evaluation that compares your performance to that of prior games as well as future opponents. With their database, you'll be able to master agents and maps, and they'll give you with a wealth of game knowledge on Valorant and its features. They've got you covered whether you're facing issues with an agent, weapon, or map.
4.) Overwolf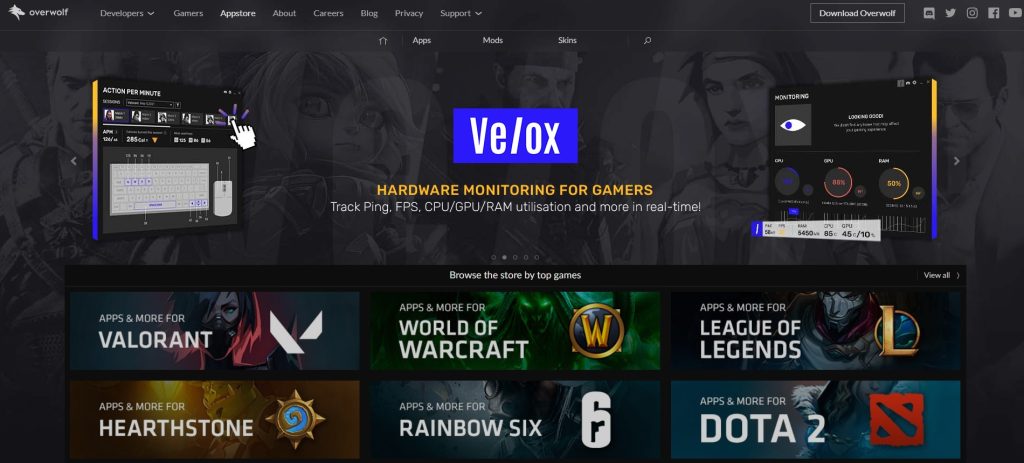 One of the best assistant in Valorant for stat tracking, which will give you an in depth analysis of your teammates and opponents. You can also track your lifetime stats, top agents, accuracy and the most weapons you use. With its match history you can analyze your play. There is also a guide for gameplay and this app is powered by Tracker network.
5.) Dak.gg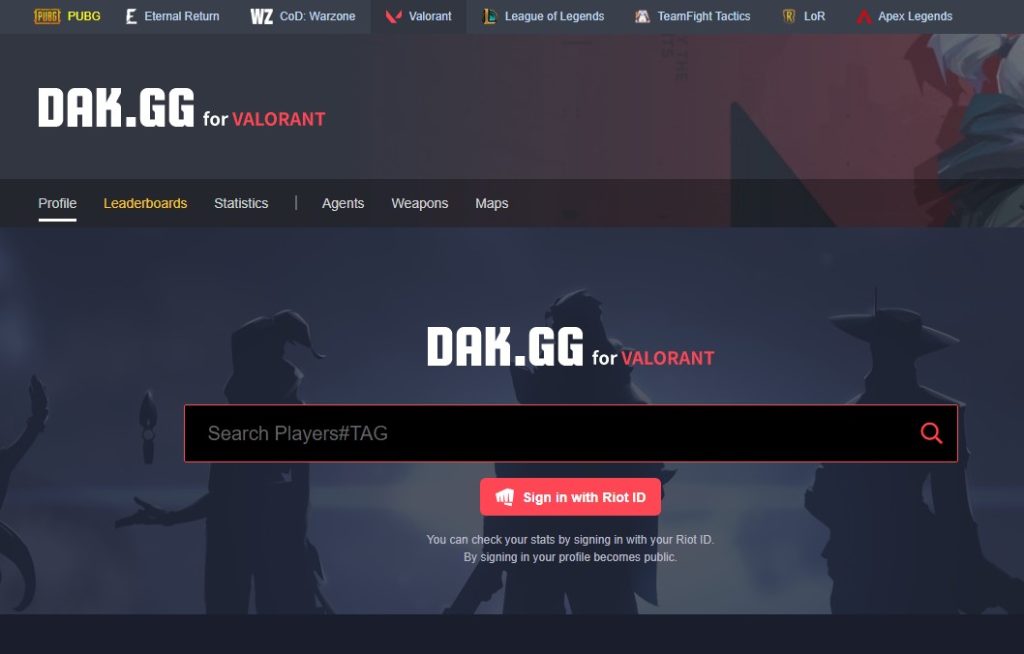 This Valorant stats focuses on battleground data statistics. Sign in with your Riot ID to utilize this and check your stats; once you sign in with your Riot ID, your profile will become public. It's a decent Valorant stat, although it misses a few of the capabilities that the other Trackers provide. Dak.gg does provide some useful statistics as well as an analysis of how well your recent matches have gone.
6.) Valking.gg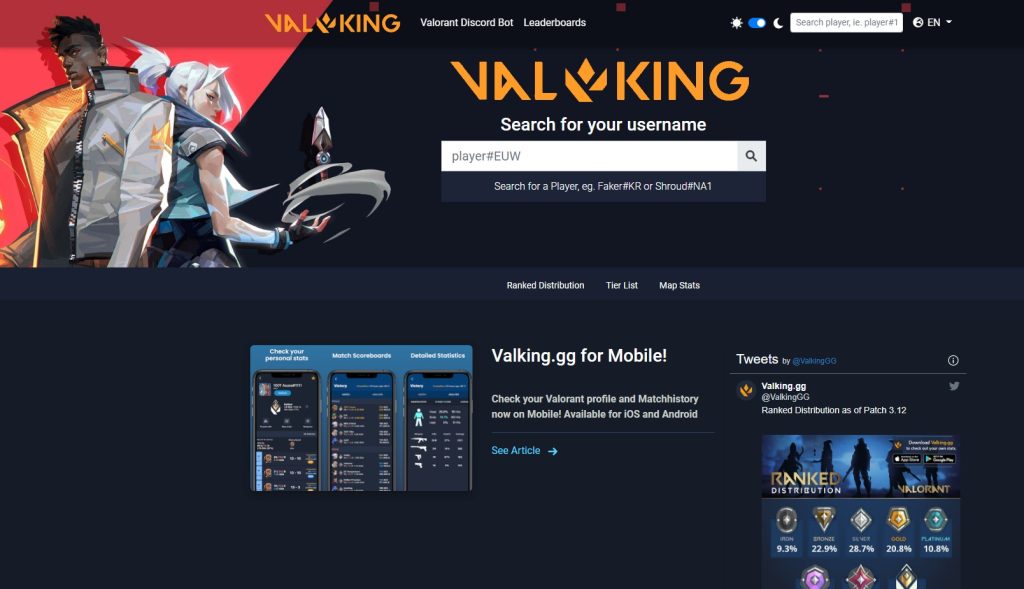 With Valking, you can look at your profile at any time. The Valorant stat site was created with mobile devices in mind. You can also look at various global information for Valorant, such as Ranked Distribution, Agent Winrates and Tier-Lists, or particular Agent Attacker/Defender Winrates. Global statistics update every few of hours, so make sure to check it out after a new patch that adds buffs/nerfs.
7.) Valoperf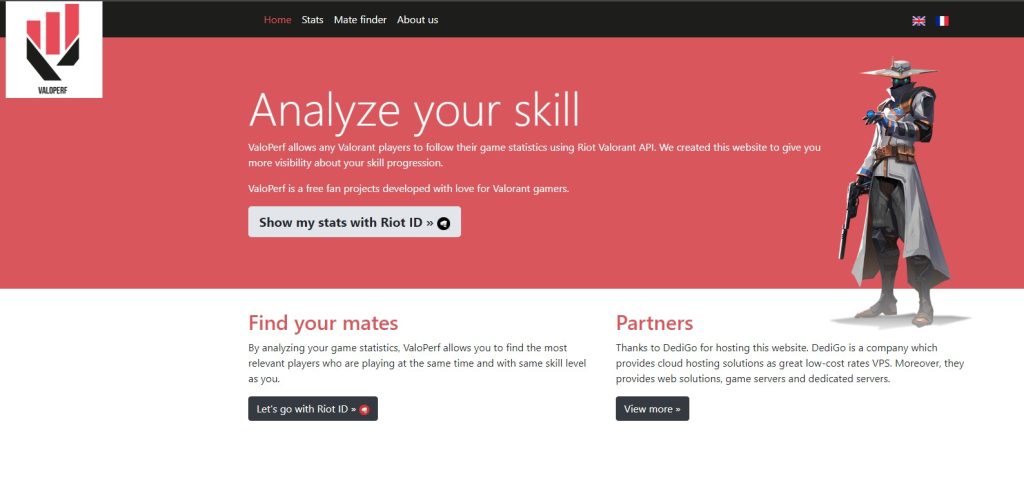 ValoPerf was intended to give Valorant players additional into their skill improvement by allowing them to track their game statistics via the Riot Valorant API. They allow Valorant players to track progress. It is critical because many websites today only provide actual player statistics.
Why Blitz.gg and Tracker.gg in the top 2?
These are the best and most comprehensive stats trackers available in 2023, although there are several more trackers out there but they are only the standard Valorant stat app.
What really distinguishes Blitz and Tracker.gg from the rest of the other Valorant stat app that is available out there is how the in-depth analysis they give you with your stats. Blitz.gg and Tracker.gg show you everything, not just your match history and they detailed everything.
Frequently Asked Questions
Is there a Valorant stat trackers?

Only unofficial ones.

Is Valorant stat tracker accurate?

Yes they are and they give detailed analysis on your performance.

What is the best stat tracker for Valorant?

Blitz.gg would be the best because of the features.