There are various factors that can cause your Unturned Steam game from being disconnected from the server. It could be due to your internet connection, a software issue, or even a setting problem. You need to perform several troubleshooting steps to fix this issue.
Unturned is a free to play zombie survival game developed and published by Smartly Dressed Games. You can play this game in single player mode or multi player mode. There are several game modes with the popular one being the survival mode where you spawn in an island. you will have to find weapons as well as supplies to help you survive against zombies or other players in multiplayer mode.
Fix Unturned disconnecting from server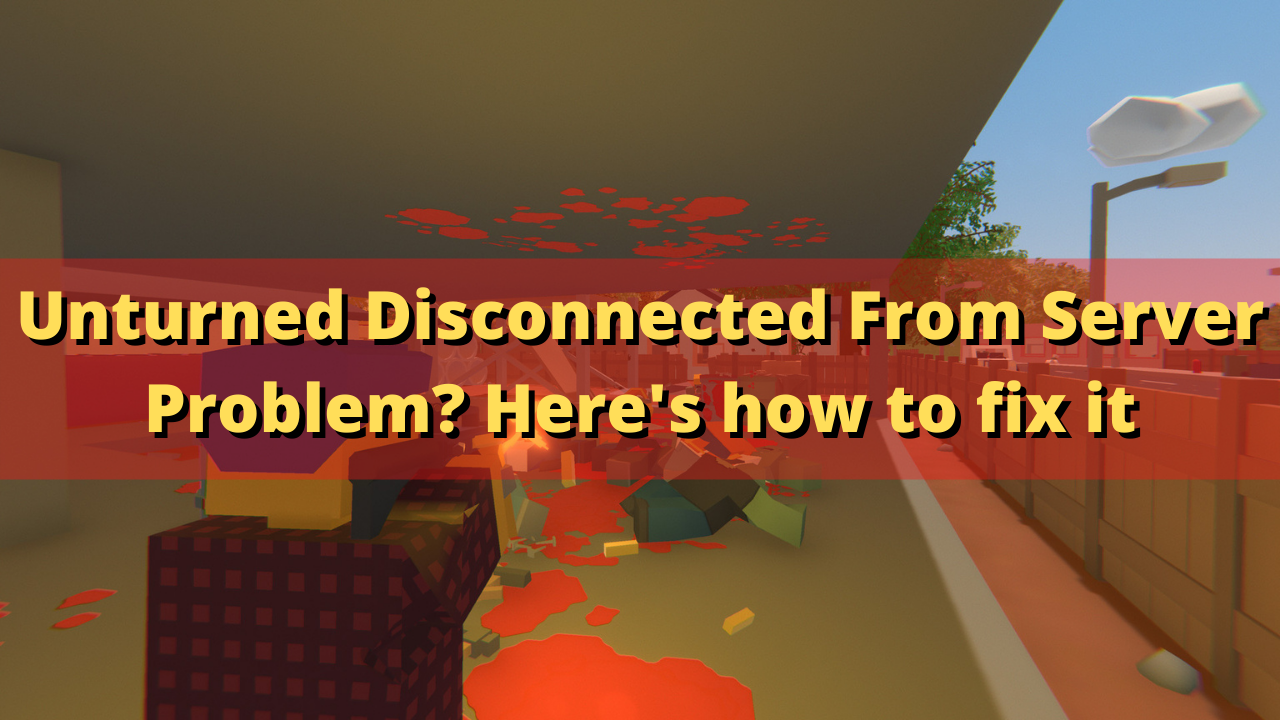 One of the issues that you might experience while playing Unturned is when you experience server disconnecting issues. This can happen before the game starts or even in the middle of the game.
There are various reasons why you keep getting disconnected from the server host.
High latency: This could be due to a high ping on your internet connection which causes the lost connection.
Wi-Fi internet connection is weak: You should try using a wired connection.
Corrupted game files: You should repair the game or reinstall it.
Here's what you need to do to fix this problem.
Solution 1: Check your internet connection
When playing the online multiplayer mode of Unturned you need to make sure that you have a good internet connection. If your internet connection quality is poor then there's a possibility that you will keep on getting disconnected from the server.
You can check the status of your internet connection by running a speed test.
Time Needed : 2 minutes
Check internet speed
Open a browser.

You can use any browser you want. I will be using Chrome for this example.

Go to speedtest.net.

This is an online speed test tool that is free to use.

Click on Go.

This will start the speed test.
Take note of the ping, download, and upload results. These results will determine if your internet connection is good.
A low ping between 50ms to 100ms is good to average. Anything higher than this will affect your online games and may cause disconnections. Your download and upload speeds should match what you are subscribing for from your ISP.
If there are issues with your connection then you check if it is caused by your networking equipment by following these steps.
Turn off your computer.
Unplug your Modem and Router from the power source.
Wait for a minute then plug your modem and router back into the power source.
Wait until the lights turn back on.
Turn on your computer.
Reconnect your computer to the internet. If possible try using a wired connection instead of a wireless connection.
Tips to prevent Wi-Fi connection issues
If you are stuck on using a Wi-Fi connection then you can at least improve it.
Try to disconnect other devices connected to the Wi-Fi router while you are playing Unturned. This will allow your computer to use the maximum internet bandwidth.
Move your computer closer to the router. This will allow your computer to get a much stronger Wi-Fi signal.
If you are using a dual band router try to connect to the 5Ghz band instead of the 2.4 GHz band.
In case the server connection issues still persists then you should contact your Internet Service Provider.
Solution 2: Allow Unturned through the Firewall
There's a possibility that your Unturned game can't connect to the server because your current firewall setting is blocking the incoming and outgoing connection of the game.
You should check your firewall settings and make sure that the game is allowed to pass.
Allow game to pass firewall
On the Windows search bar type "Firewall & network protection".
Click on Firewall & network protection result. This should open the Windows security window.
Click on Allow an app through firewall.
Search for Unturned on the list and make sure it has a check mark. You should also make sure that the Private and Public boxes of the app are checked.
Once the above steps are completed restart your computer then play Unturned and check if the server disconnection issue still occurs.
Solution 3: Verify integrity of game files
There's a possibility that the game gets disconnected from the servers because of corrupted or missing game files. You should use the Steam client to check the Unturned game files. If any corrupted files are found then they will be replaced with new ones downloaded from the server.
Verify game files
Open the Steam client.
Click on Library.
Find Unturned then right click it then select Properties.
On the new window that appears click on Local Files.
Click Verify integrity of game files…
Once the game file integrity has been fixed try to check if you still get server disconnection issues.
Solution 4: Reinstall Unturned
If after performing all of the troubleshooting steps listed above the same error persists there's a possibility that the game installation is corrupted. You have to uninstall Payday 2 and install a fresh version.
Uninstalling the game
Launch Steam Client.
Go to the Steam Library tab.
Right click on Unturned then click on Manage then uninstall.
Click on Uninstall again to uninstall the game.
Installing the game
Open Steam Client.
Go to the Library tab.
Right click on Unturned then click on install.
Click next to proceed with the installation.
Feel free to visit our YouTube channel for additional troubleshooting guides on various devices.