There are various factors that can cause your MIR4 game to get disconnected from the server. It could be due to your internet connection, a software issue, or even a setting problem. You will need to perform several troubleshooting steps to fix this.
MIR4 is an open world Asian fantasy MMORPG that's available to download for free over at Steam. It is available for different platforms such as the PC, Mac, Android, and iOS devices and features cross play functionality between these devices. You can play as a Warrior, Sorcerer, Taoist, or Lancer which allows you to hunt, gather, craft, or even join powerful clans to go on battles against other enemies.
Fixing the MIR4 login and connection issue on Steam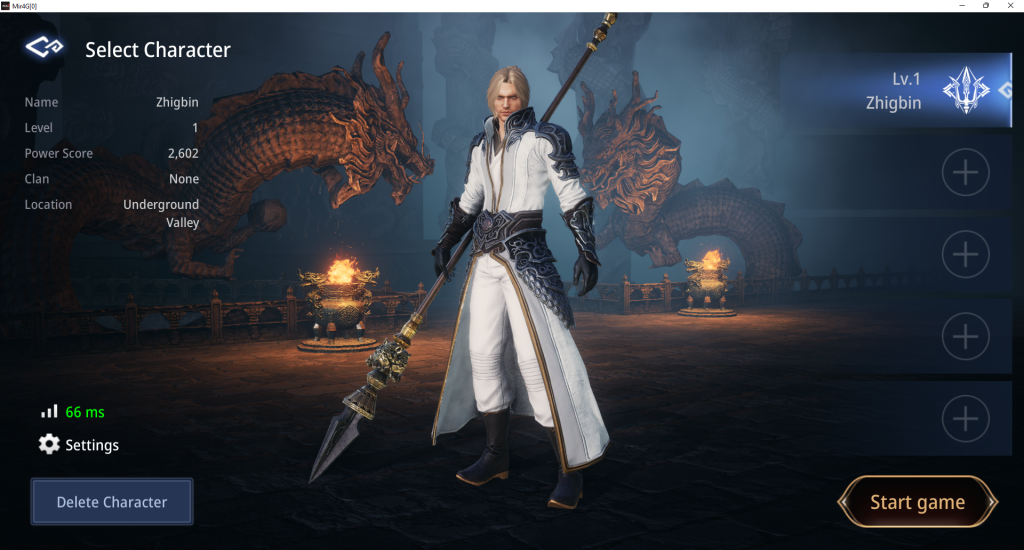 One of the issues that you might encounter when playing MIR4 is when you suddenly get disconnected from the server. This can happen before the game even starts or during the game itself and can be an annoying experience.
This issue is usually caused by a bad internet connection, high latency on your chosen game server, or even a corrupted game file.
Here's what you need to do to fix this problem.
Solution 1: Try switching to a different MIR4 game server
One of the common causes of your game getting disconnected frequently from the server is if you have chosen to connect to a server that has a high ping. you need to choose a server that has the lowest ping so as to avoid any lag or disconnection problems.
Time needed: 2 minutes.
Choosing a different game server
Open the MIR4 game.

You can do this by clicking on its shortcut from your desktop.

Click on Change server.

You can find this no the main screen.

Choose a server that has a low ping.

Under the All tab the first server usually has the lowest ping.
Solution 2: Check your internet connection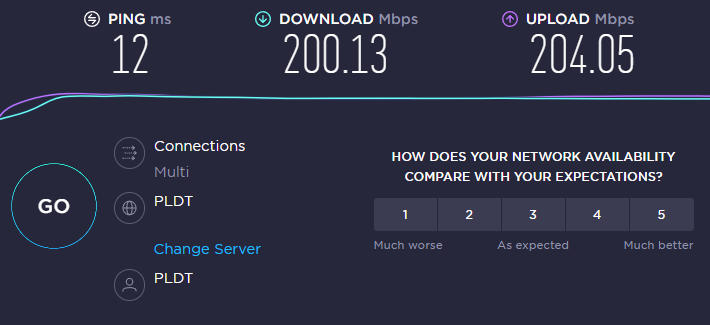 If you have a bad internet connection then you will most likely get disconnected from the game. You can check your internet connection by running a speed test using online website tools such as speedtest.net.
When running the test you should take note of the ping, download, and upload results.
The lower your ping the better it is for online gaming. Usually values between 20ms-100ms are acceptable. Your download and upload speeds on the other hand will depend on your subscribed plan.
In case you are experiencing issues with your internet connection then you should try restarting your networking equipment and computer.
Turn off your computer.
Unplug your Modem and Router from the power source.
Wait for a minute then plug your modem and router back into the power source.
Wait until the lights turn back on
Turn on your computer.
Reconnect your computer to the internet.
If the internet connection does not improve then you should contact your ISP regarding this matter.
Solution 3: Check for any MIR4 server downtime or maintenance
There are instances when the server will be undergoing some maintenance to improve the overall gaming experience. During maintenance you won't be able to go online with the game or you might get disconnected if you are in the middle of the game.
The first thing you should do in this case is to check the Steam server status.
You can do this by going to this link https://store.steampowered.com/stats/.
You can also check the official MIR4 Facebook support page, https://www.facebook.com/mir4global/, for any server maintenance updates.
Solution 4: Add an exception to Windows Firewall
There's a possibility that your Windows firewall is preventing MIR4 from communication with the game server. You need to make sure that the firewall is not blocking the game.
Create an exception
Press the Windows Key on your keyboard.
Type Windows Defender Firewall.
Press the Enter Key on your keyboard.
Select Allow apps to communicate through Windows Defender Firewall.
Scroll down until you findMIR4.
Check all boxes named MIR4.
Click the OK button.
Restart your computer then try to check if the connection issue gets fixed.
Solution 5: Make sure your PC clock is set to the correct time
If your PC does not have the correct time set then this will cause conflicts when you try to connect to the MIR4 servers. To avoid time conflicts you should set the time to automatic.
Right-click the clock on the Taskbar.
Choose Adjust date/time.
Toggle the On Switch for Set Time Automatically.
Toggle the On Switch for Set Time Zone Automatically.
Click Sync Now.
Once your PC has the correct time try checking if the issue has been resolved.
Solution 6: Repair MIR4 using the Steam client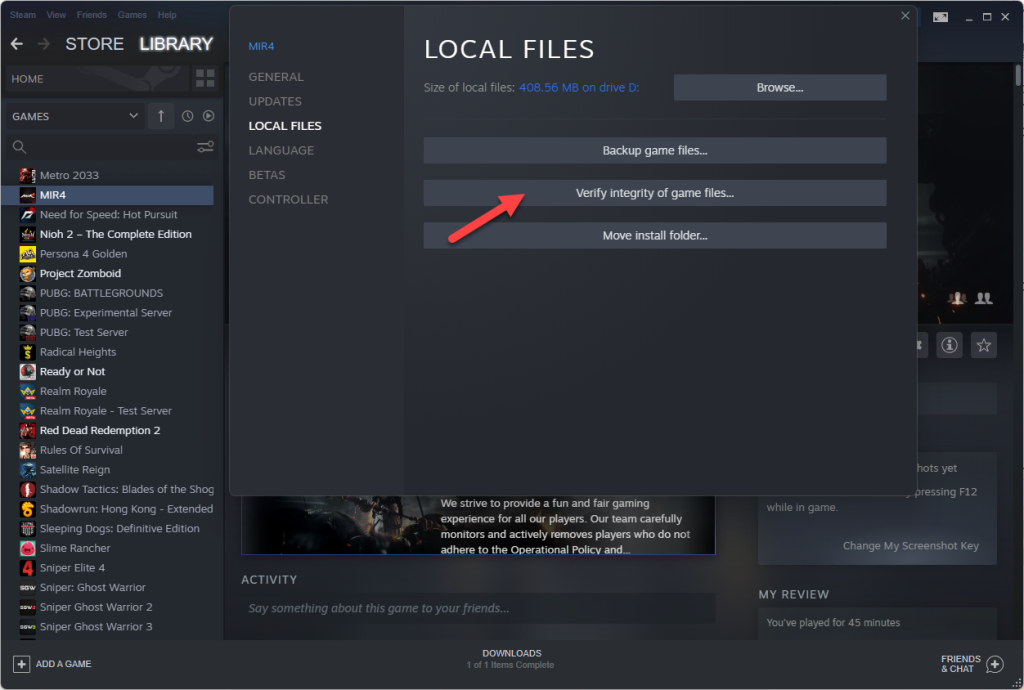 There's a possibility that the game is crashing or keeps on getting disconnected due to a corrupted game file. To address this issue you should verify the integrity of the game files using the Steam client. This scans all the MIR4 game files and fixes any corrupted files found by downloading replacement files from the server.
Open the Steam client.
Click on Library.
Find MIR4 then right click it then click on Properties.
On the new window that appears click on Local Files.
Click Verify integrity of game files…
Once this process has completed try to check if the connection issue still occurs.
Solution 7: Reinstall MIR4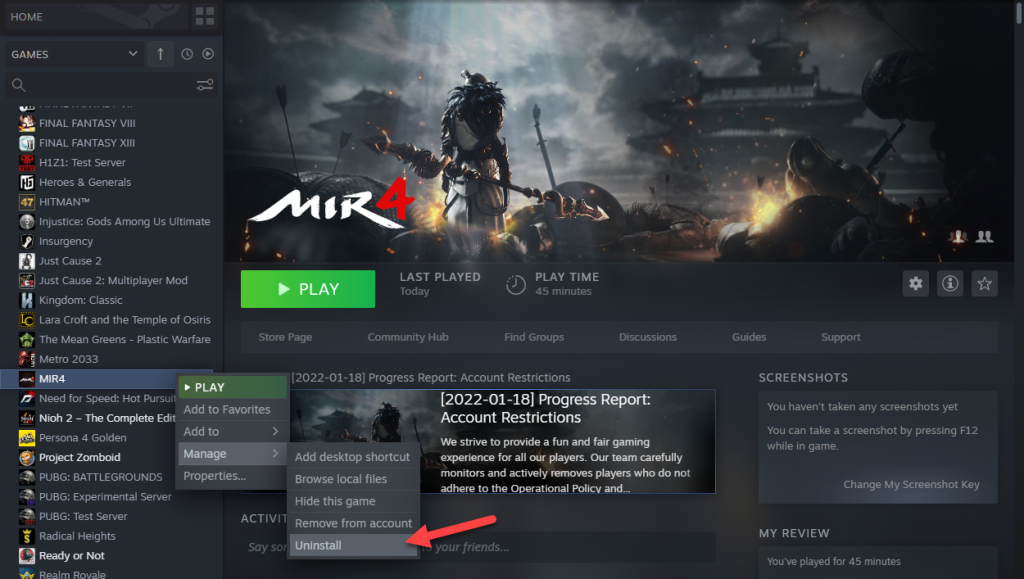 Sometimes the problem can already be caused by a corrupted game installation. To eliminate this possibility you will need to uninstall the game then install a fresh version.
Uninstalling the game
Open the Steam Client.
Go to the Library tab.
Right click on MIR4 then click on Manage then uninstall.
Click on Uninstall again to uninstall the game.
Installing the game
Open the Steam Client.
Go to the Library tab.
Right click on MIR4 then click on install.
Click next to proceed with the installation.
After installing a fresh version of the game log in to your account then check if you still get any disconnection error.
Feel free to visit our YouTube channel for additional troubleshooting guides on various devices.