Your Sea of Thieves Steam game may become disconnected from the server due to a variety of circumstances. It could be due to your internet connection problem or internet access, software problem, or a server error. To resolve this problem, you must go through several troubleshooting steps.
Sea of Thieves is a first-person action-adventure game, players can purchased Sea of Thieves on Steam right now. Players take command of a pirate ship and sail through an open landscape. Because the game is a shared-world adventure, players will frequently cross paths with one another, establishing friendships and even battling. The player takes on the role of a pirate and aims to become the greatest pirate legend by conducting excursions for various trading organizations.
Sea of thieves connection issue? Here's how to fix Sea of thieves sudden disconnection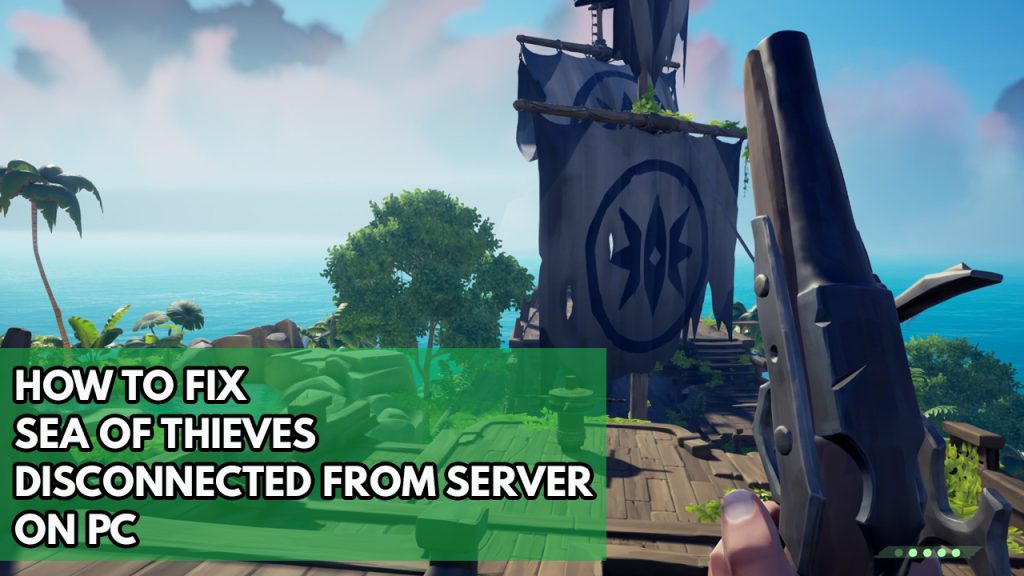 When you're playing Sea of Thieves, one of the problems you could run across is server disconnections. This might happen before the game even begins or even during gameplay.
There are a number of reasons why you are experiencing disconnected from server problem with Sea of Thieves. If you have been thru Sea of Thieves forums searching for answers and the Sea of Thieves support team was not able to help you then you can try the following steps below to re join your connection from disconnect from server issue.
Fix #1 Check internet connection
If you're going to play Sea of Thieves' online multiplayer feature, you'll need a rock solid internet speed. If the quality of your internet is poor, you may experience frequent disconnection or lost connection from the server.
A speed test can be used to determine the status of your internet speed.
Time Needed : 2 minutes
Checking for connection issue
Open your browser on your computer.

Choose any preferred internet browser you want.


Type speedtest.net to have your internet speed check.

Speed test site is one of the most popular web tools to check your connection speed.


Press the Go button.

Pressing Go button will start the speed test.


Wait for the results of the speed test to be completed.

Find out how fast you can download and upload.

If your network speed is poor or intermittent, try to reboot your modem and router to see if the problem is caused by your networking devices.
Step 1: Unplug power cable of your Modem and Router from the power source to power cycle the devices.
Step 2: Wait for a minute then plug your power cable of modem and router back into the power source.
Step 3: Wait until the blinking lights turn back on.
If you're connecting to the internet via a wireless connection or a wireless network device, use a wired connection for a more stable connection because wireless is more prone to interference.
If the issue is with your internet connectivity, you can contact your internet service provider to have a temporary fix immediately.
Fix #2 Check Sea of Thieves servers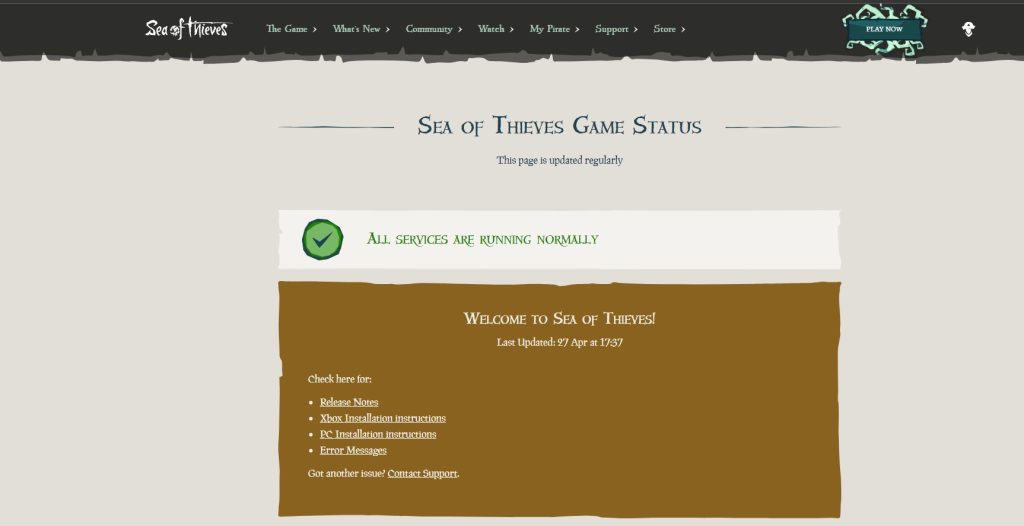 For most games, if the disconnect from the server issue just started happening, it might be due to game server maintenance. Its purpose is to improve the game's player experience while also fixing bugs and issues. If you are playing the game while the server is being maintained, you will be disconnected. You wont be also be connected to the server if there any outages
The first thing you should do is check the Sea of Thieves servers status on this link to see if there has been any game servers issue to know the reason for the disconnect from server issue.
Fix #3 Temporarily disable antivirus and firewall
Your antivirus program and firewall may be causing the Sea of Thieves services to disconnect from the servers by blocking the game file and blocking its connection with the server. Turn off your computer's antivirus software and firewall then play the Sea of Thieves online feature to check whether this is the reason for the issue. If the game does connect when the antivirus software and firewall are turned off, you'll need to add it to the antivirus software's exemption list and allow it on your firewall to fix the disconnect issue.
Turning off Antivirus
Step 1: Press Windows Start menu key.
Step 2: Click Settings.
Step 3: Click update & security.
Step 4: Click Windows Security.
Step 5: Click Virus & Threat protection.
Step 6: Click Manage settings.
Step 7: Turn off real-time protection.
Turning off Avast
Step 1: On the taskbar, look for the Avast icon.
Step 2: Right-click Avast icon.
Step 3: Select Settings.
Step 4: Select disable option from Avast Shields.
Turning off AVG
Step 1: Right-click the AVG symbol in the system tray.
Step 2: Select Disable AVG Protection temporarily.
Turning off McAfee
Step 1: In the system tray, double-click the McAfee antivirus icon.
Step 2: In the upper right corner, click the Navigation link.
Step 3: Select Real-Time Scanning and then turn it off.
Adding the game to the antivirus exclusion list
Step 1: Click the Start Menu button.
Step 2: Click Settings.
Step 3: Click Update & Security.
Step 4: Click Window Security.
Step 5: Click Virus & threat protection.
Step 6: Click Manage settings.
Step 7: Click Add or remove exclusions.
Step 8: Click Add an exclusion.
Step 9: Click Folder.
Step 10: Locate and select the game folder.
Adding as an Exception through Firewall exceptions
Step 1: Type Windows Firewall in the search bar on your desktop and then click the icon that appears in the results.
Step 2: Choose Allow an app or feature through Windows Defender Firewall.
Step 3: Scroll down until you find the game, then check all boxes.
Step 4: Click the OK button.
If you are still experiencing the same problem, follow the next solution.
Fix #4 Update Windows to latest version
When using outdated versions of OS there is usually a problem when launching applications, programs, or games. To avoid technical difficulties, make sure you have the latest version installed to avoid a disconnected servers issue with the game and same issues with other games.
Updating OS
Step 1: Right click the Start button.
Step 2: Select Settings. This will open Settings menu.
Step 3: Select Windows Update found on the bottom left menu of the new windows that appears which will take you to the Windows Update section.
Step 4: Select Check for updates to automatically download updates.
Fix #5 Verify game files
The game may become disconnected from the servers as a result of corrupted game files. To examine the game files, you should utilize the Steam client. If any files are determined to be corrupted, new ones will be downloaded from the server to fixed the files.
Verifying files
Step 1: Open Steam client.
Step 2: In your Steam launcher, click Library.
Step 3: Find the Sea of Thieves then right-click the Sea of Thieves your Library and select Properties.
Step 4: Choose the Local Files tab and click Verify integrity of game files. This will let you verify Sea of Thieves files.
Fix #6 Reinstall Sea of thieves
If the error remains after you've tried all of the troubleshooting procedures described above, the installation could be corrupted. Sea of Thieves must be reinstalled to have a fresh version.
Feel free to visit our YouTube channel for additional troubleshooting guides on various devices.