The Steam Deck crashing issue can be caused by several factors. It can be due to a software glitch on the operating system, using a fake micro SD card, game error, or a faulty hardware issue. To fix this Steam Deck crashing issue, you will need to perform a series of troubleshooting steps.
The Steam Deck is a portable gaming computer developed by Valve Corporation. The Steam Deck, which is now available, will function similarly to the Nintendo Switch in that it may be played handheld or by hooking up to a display. It is an x86-64-v3 system with built-in gaming inputs that can play every game in the Steam catalog, including Windows PC games thanks to the Linux-based Proton compatibility layer. Users can install other compatible games or other operating systems on the system because it is an open platform.
Steam Deck Technical Specifications:
Processor:
AMD APU
CPU: Zen 2 4c/8t, 2.4-3.5GHz (up to 448 GFlops FP32)
GPU: 8 RDNA 2 CUs, 1.0-1.6GHz (up to 1.6 TFlops FP32)
APU power: 4-15W
RAM: 16 GB LPDDR5 on-board RAM (5500 MT/s quad 32-bit channels)
Storage:
64 GB eMMC (PCIe Gen 2 x1)
256 GB NVMe SSD (PCIe Gen 3 x4 or PCIe Gen 3 x2*)
512 GB high-speed NVMe SSD (PCIe Gen 3 x4 or PCIe Gen 3 x2*)
Resolution: 1280 x 800px (16:10 aspect ratio)
Display size: 7″ diagonal
Brightness: 400 nits typical
Refresh rate: 60Hz
Touch enabled: Yes
Sensors: Ambient light sensor
Bluetooth: Bluetooth 5.0 (support for controllers, accessories and audio)
Wi-Fi: Dual-band Wi-Fi radio, 2.4GHz and 5GHz, 2 x 2 MIMO, IEEE 802.11a/b/g/n/ac
Channels: Stereo with embedded DSP for an immersive listening experience
Microphones: Dual microphone array
Headphone / mic jack: 3.5mm stereo headphone / headset jack
Digital: Multichannel audio via DisplayPort over USB-C, standard USB-C, or Bluetooth 5.0
Input: 45W USB Type-C PD3.0 power supply
Battery: 40Whr battery. 2 – 8 hours of gameplay
microSD: UHS-I supports SD, SDXC and SDHC
External connectivity for controllers & displays: USB-C with DisplayPort 1.4 Alt-mode support; up to 8K @60Hz or 4K @120Hz, USB 3.2 Gen 2
Fixing Steam Deck Crashing Issue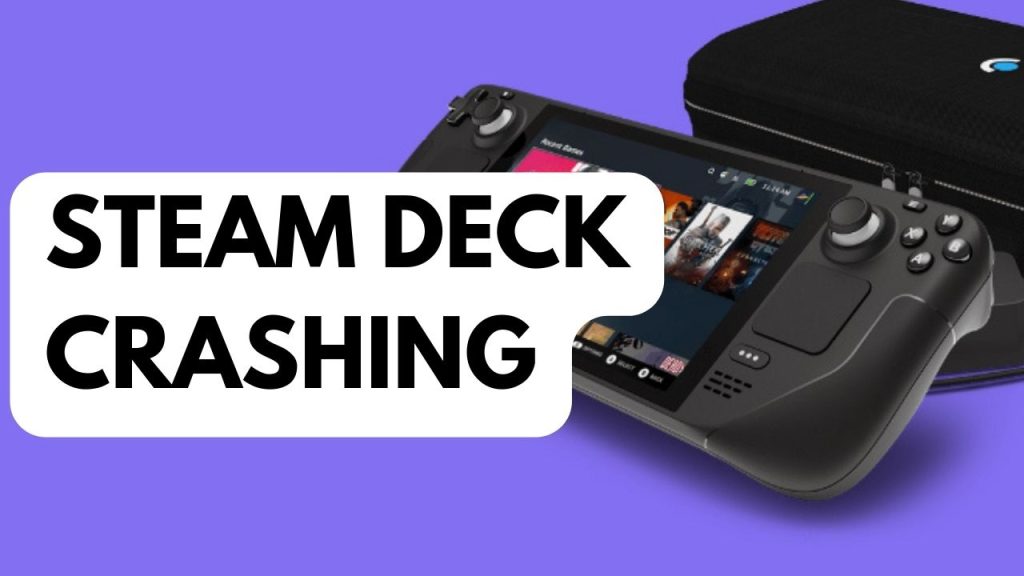 One of the common issues that some Steam Deck users are experiencing while using the device is when it crashes. The crash can happen at any time during the game making it quite annoying.
Here's what you need to do to fix Steam Deck Crashing issue.
Fix #1 Force Restart Steam Deck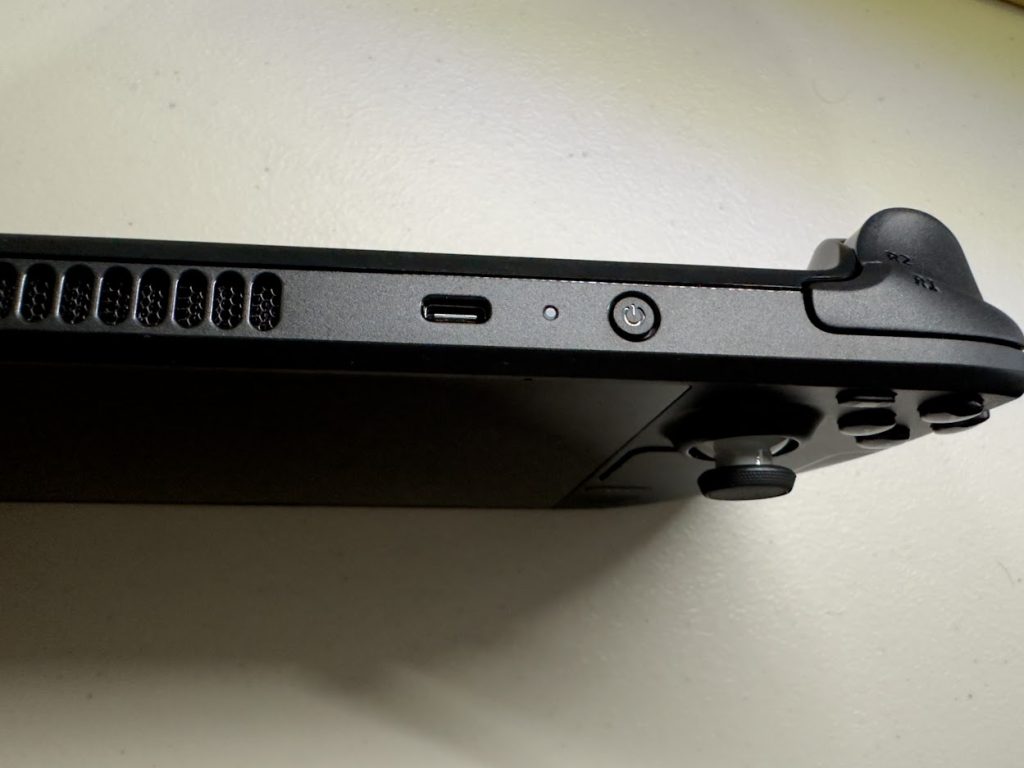 Performing a power cycle on the Steam Deck will refresh its system and remove any temporary glitch that could be causing the problem. If your Steam Deck is turned on but unresponsive, you can force a restart by pressing the power button for three seconds. If it doesn't respond after a while, there might be an OS problem. In this scenario, try pressing the power button for a 10 seconds.
Fix #2 Remove Micro SD and Reinsert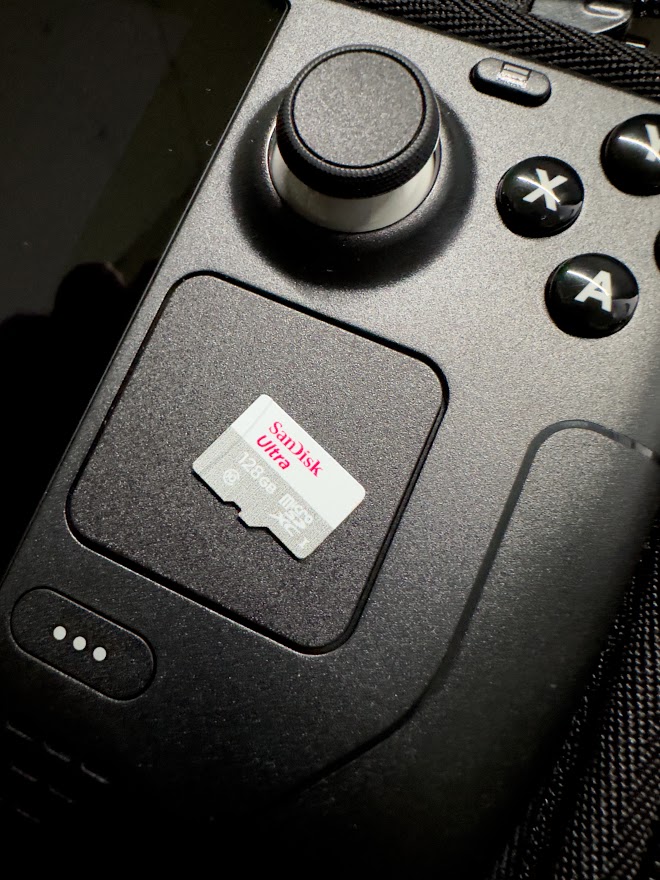 If a particular game on your micro SD card is causing your Steam Deck to crash, you should try removing the micro SD card from your Deck and trying running a different game from the internal memory instead. If you don't experience Steam crashing while playing games from internal storage, your micro SD card may be the problem. Make sure you have a genuine micro SD A2 so that you won't have any game crashes if you install games in your micro SD.
Fix #3 Reinstall the Game to your Internal Storage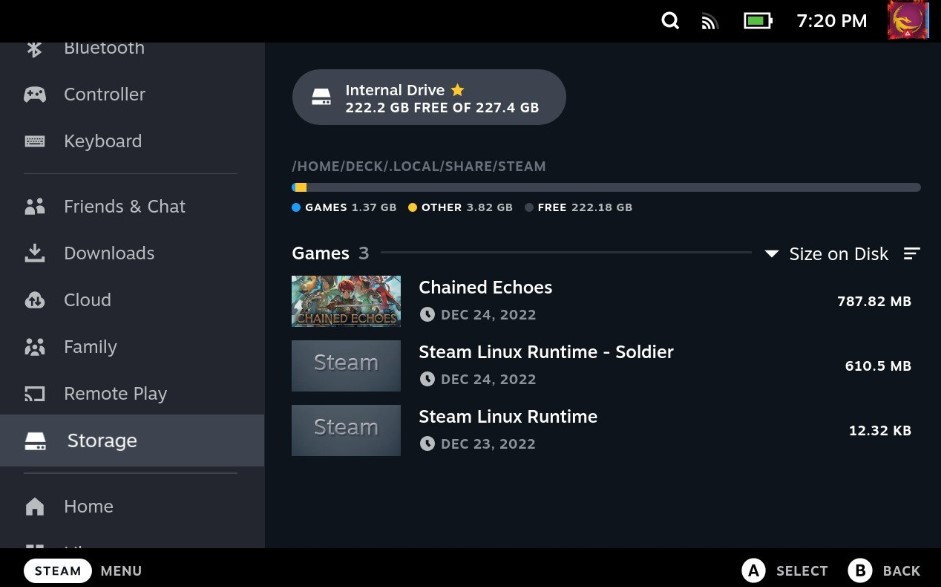 On micro SD cards, certain games have bugs that cause the steam deck to crash at random times especially if you are not using the recommended SD or you have a fake micro SD. Play your game without an SD card by shifting it to your device's internal memory.
Fix #4 Adjust Performance Settings or Graphics settings of Steam Deck and the Game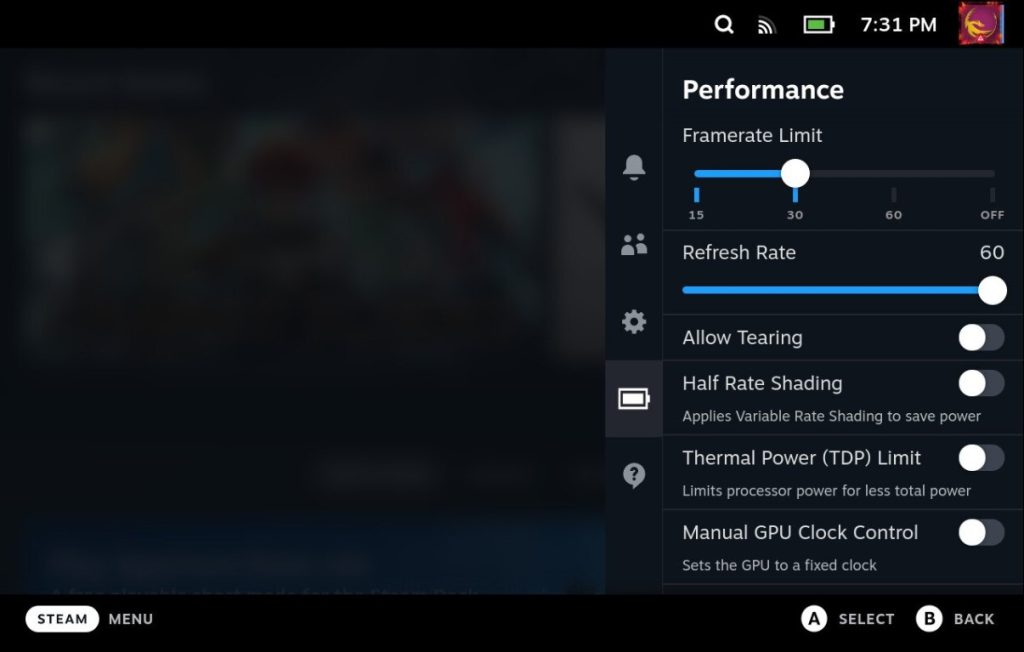 Your current graphic settings may be the cause of the crashing issue. To fix the issue, try adjusting the game graphics settings and also adjust the performance settings of Steam Deck. Your Steam Deck may not be able to run it in a higher settings so you need to adjust it.
Fix#5 Run a Verified Steam Deck Game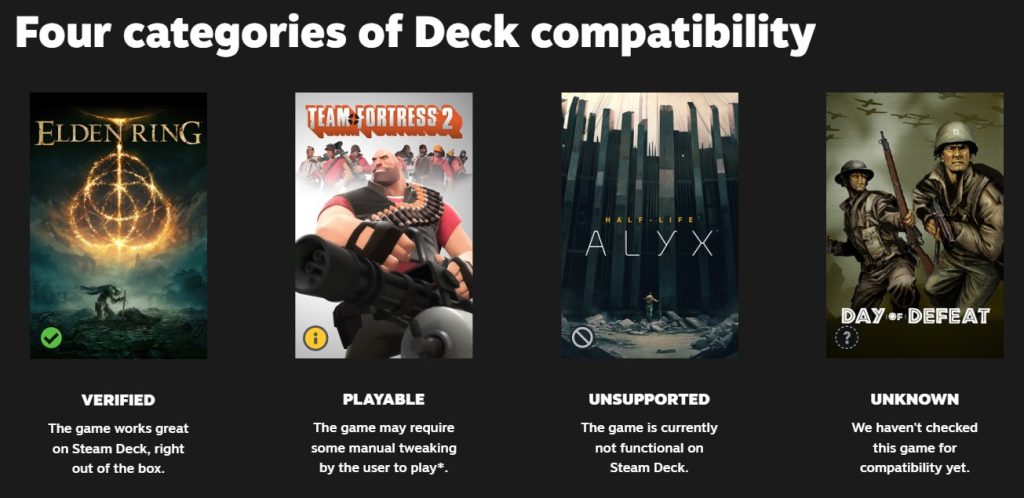 Your Steam Library can now be accessed from a portable gaming PC using Steam Deck. While many games work flawlessly on Deck right out of the box, this change implies that some titles won't work well on Steam Deck even though they might work flawlessly on a desktop PC. Check to see if your game is playable and a verified game. If you are playing an unverified game then it might be the issue with your Steam Deck crashing.
Fix #6 Update the Game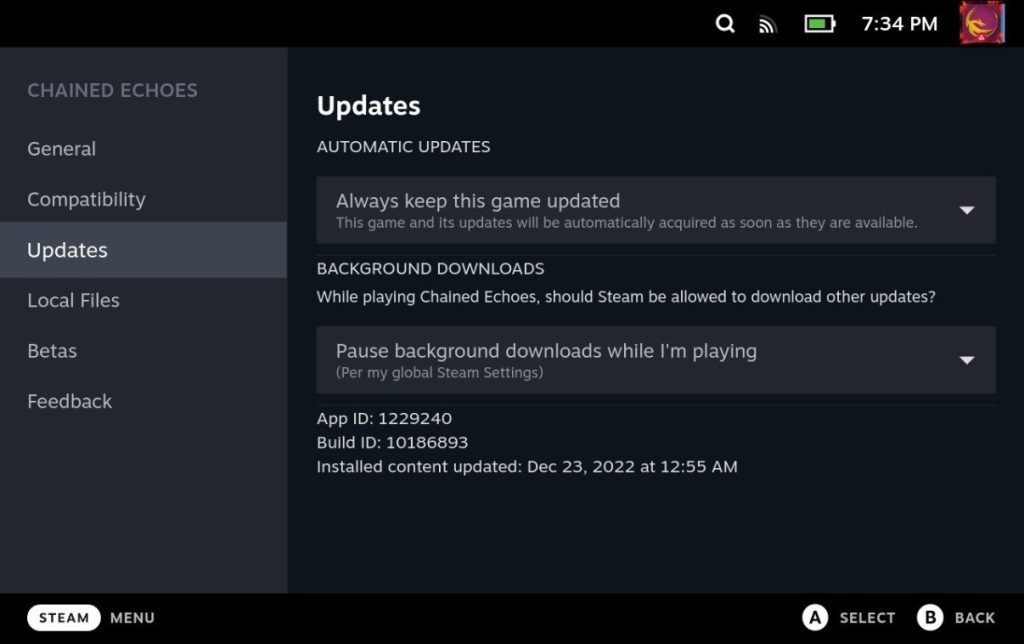 If the game is verified and it keeps crashing on your Steam Deck then you can try to update the game to the latest version and see if it will fix the issue. An outdated game might be the cause of the game crashes.
Fix #7 Update Steam Deck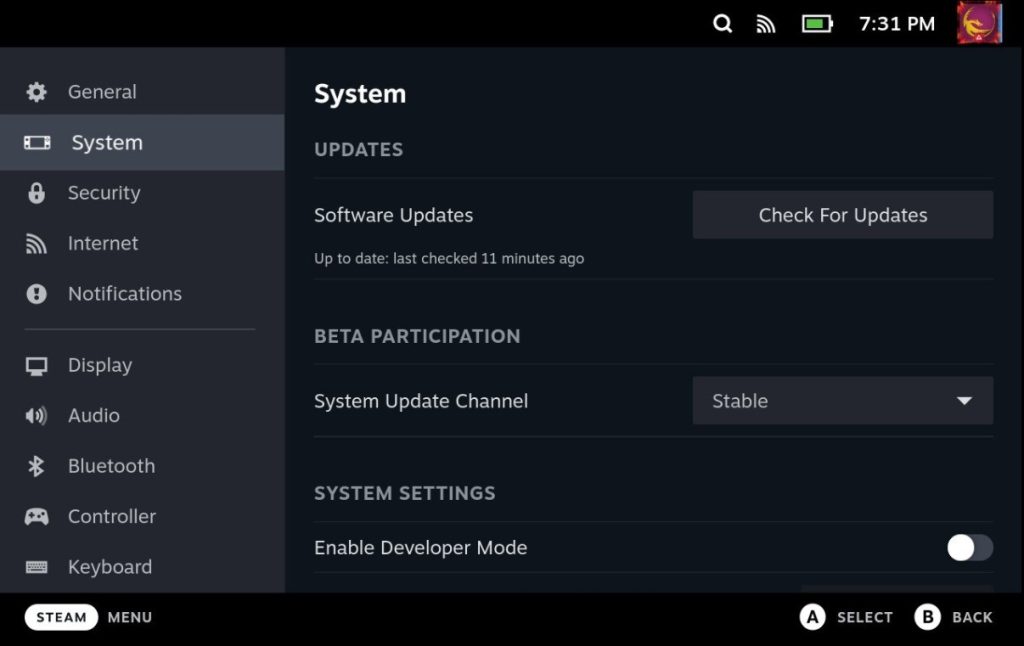 The next thing to do is to update your Steam Deck. You may be experiencing crashing issues because you have an outdated Steam Deck firmware version. You can try to update to the latest version of Steam OS and see if it fixes the crashing issues.
Updating Steam Deck
Step 1: On your Steam Deck, press the Steam Button.
Step 2: Go to Settings.
Step 3: Go to System.
Step 4: Check for any Software Update.
Step 5: Restart Steam Deck.
Fix #8 Change Proton Version
The Steam Deck can play Windows games without configuration thanks to Valve's Proton software layer. You may need to adjust it, though, occasionally. Proton is Valve's customized version of Wine, a layer of compatibility that allows Linux and the program to work together while simulating a Windows environment. You can try to change the Proton Version and see if it fixes the issue.
Changing Proton Version
Step 1: Go to game settings.
Step 2: Select Properties.
Step 3: Go to Compatibility tab.
Step 4: Select the Proton Version.
Try to check your Steam Deck if it still crashes.
Fix #9 Reinstall the Game
If you are still getting Steam Deck crashes when you play a specific game then what you can try to do is to reinstall that game that frequently crashes. A corrupted installation might be the cause.
Reinstalling the Game
Step 1: On your Steam Deck, press Steam button.
Step 2: Scroll down and select Storage.
Step 3: Find the game that keeps crashing.
Step 4: Select the game.
Step 5: Uninstall the game.
Step 6: Reinstall the game again.
Fix #10 Factory Reset Steam Deck
If at this point you are still getting the crashing problem with Steam deck then the next thing to do is to restore the Steam Deck to its default factory settings. This will clear any corrupted files issue that may be the cause of the crashes.
Resetting Steam Deck
Step 1: On your Steam Deck, press the Steam button.
Step 2: Go to System tab.
Step 3: Scroll down and select Factory Reset.
Fix #11 Submit a Support Ticket
If you are still getting crashes with your Steam Deck then you can submit a ticket to Valve Steam and report the issue with your device. You might have a defective device and if it is still in warranty then Valve Steam can offer a replacement.