Steam updates any corrupted or missing files when you verify your game files, ensuring that the game has all the data it requires. Your game might be missing one or more files if it is glitching, behaving weirdly, or failing to launch. In this article, we will be showing you how to verify integrity the game files on Steam Deck.
Steam Deck is a handheld device produced by Valve. You are able to play PC games on Steam Deck. You can access all of your purchased games by login into your Steam account, where your Steam Deck's library will be shown. You may also look up a game's compatibility rating to get a better idea of how playable it is. If you're looking for the compatibility of a specific game, you can dynamically filter any view in your libraries' libraries based on the compatibility rating. The full-size controls are nicely positioned for longer play sessions on the tablet, whether you use trackpads or thumbsticks.
Steam Deck Technical Specifications
Processor:
AMD APU
CPU: Zen 2 4c/8t, 2.4-3.5GHz (up to 448 GFlops FP32)
GPU: 8 RDNA 2 CUs, 1.0-1.6GHz (up to 1.6 TFlops FP32)
APU power: 4-15W
RAM: 16 GB LPDDR5 on-board RAM (5500 MT/s quad 32-bit channels)
Storage:
64 GB eMMC (PCIe Gen 2 x1)
256 GB NVMe SSD (PCIe Gen 3 x4 or PCIe Gen 3 x2*)
512 GB high-speed NVMe SSD (PCIe Gen 3 x4 or PCIe Gen 3 x2*)
Resolution: 1280 x 800px (16:10 aspect ratio)
Display size: 7″ diagonal
Brightness: 400 nits typical
Refresh rate: 60Hz
Touch enabled: Yes
Sensors: Ambient light sensor
Bluetooth: Bluetooth 5.0 (support for controllers, accessories and audio)
Wi-Fi: Dual-band Wi-Fi radio, 2.4GHz and 5GHz, 2 x 2 MIMO, IEEE 802.11a/b/g/n/ac
Channels: Stereo with embedded DSP for an immersive listening experience
Microphones: Dual microphone array
Headphone / mic jack: 3.5mm stereo headphone / headset jack
Digital: Multichannel audio via DisplayPort over USB-C, standard USB-C, or Bluetooth 5.0
Input: 45W USB Type-C PD3.0 power supply
Battery: 40Whr batteries. 2 – 8 hours of gameplay
microSD: UHS-I supports SD, SDXC and SDHC
External connectivity for controllers & displays: USB-C with DisplayPort 1.4 Alt-mode support; up to 8K @60Hz or 4K @120Hz, USB 3.2 Gen 2
Verify Integrity of Game Files in the Local Files Tab of Steam Deck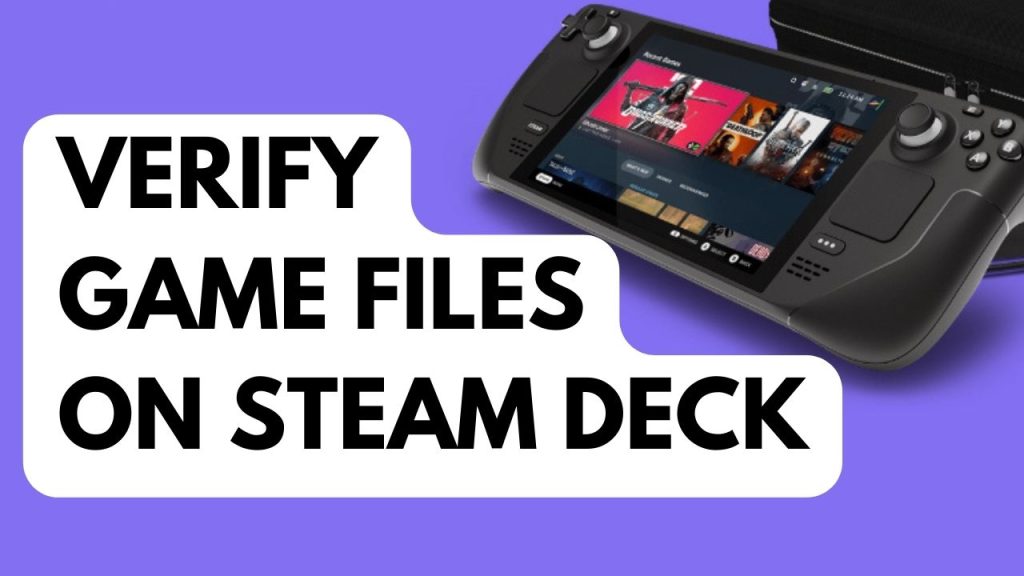 If you have issues with your game such as missing or corrupted files then you can use Steam verify integrity of game files for the game that has issue. When you select verify integrity for Steam game files it will check the Steam game files present for any issue.
Here's how to Verify integrity of all the games on your library folders.
Verify Integrity of Game Files
Step 1: Press the Steam Button.
Step 2: Go to the Library section of Steam Deck.
Step 3: Select the Game.
Step 4: Press the three line button of your Steam Deck.
Step 5: Select Properties.
Step 6: Select Local Files.
Step 7: Select Verify integrity of game files.
Steam check process will start for the game you verify in the library folders. If any files are found to have corrupt or missing game files then Steam will replace those with new ones from the server.
Frequently Asked Questions
How long does it take to verify integrity of game files on Steam?

The files in the game will be checked by Steam. It can take a while for this to complete. The Check Window will immediately shut down after the procedure is finished.

What is verify integrity of game files Steam?

In essence, checking the integrity of your game files will enable Steam to search your steamapps folder for any missing or damaged game files. Steam will automatically download the missing game files for your game. if it discovers any.

Why can't Steam verify my game files?

The simplest approach in diagnosing the error is to attempt a restart of the Steam client following a full task management shutdown. This can assist in reinitializing the program and potentially get rid of any faults or kinks that develop as a result of the client not loading properly.

What happens when you verify integrity of game files on Steam?

When you "verify" your game files, Steam ensures that the game has all the files it requires and replaces any that are missing. Your game may be missing one or more files if it is glitching, behaving weirdly, or failing to launch.