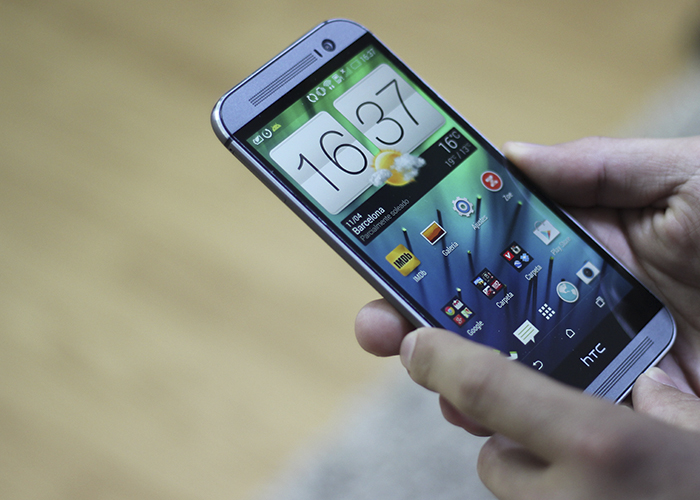 Have you ever wondered why a smartphone's battery suffers from issues and how to resolve them? Well, this troubleshooter series will gladly give you the answers. This post covers some of the early emails we receive from our HTC One M8 users who have issues keeping battery power at a manageable level.
If you want to contact us for your own Android issue, please use the link provided at the bottom of this page.
---
Problem #1: Why an HTC One M8 battery is losing battery capacity
Ok so I've had the Harmon Karden HTC One M8 for maybe a little over half a year at this point and it's been alright up until the past couple months. I moved and since then the phone loses charge much faster and when on the charger it gains and loses charge randomly. If I re-plug the charger it starts going up extremely slowly. I don't know if it's the battery, the micro USB port, or maybe the contacts in it because only certain ones will even fit snug in there. I have accidentally tugged the wire before a few times and don't know if it damaged it or not.
Also I'm in a place with terrible data connectivity so I don't know if it's working more and using more power. I could really use help on this cause it's rather annoying and I don't know what to do cause I don't know if I have a warranty on it. Please help me if there is anything else I can add to help then please let me know. — Reece
Solution: Hi Reece. Smartphones have become almost everyone's mainstay nowadays. They are packed with all sorts of features and functions to keep our lives a little more convenient, which is undoubtedly good. However, the main weakness of any smart device today, including your HTC One M8,  has always been the power source.
An M8's battery can lose battery power fast for a number of reasons but one of the most important, and often left out in many forums offering advice on battery drain problems, is the issue on battery capacity over the years. Keep in mind that if your phone's battery is the problem, that is, chemistry-speak the lithium ions moving back and forth between two electrodes have significantly diminished inside, your best bet is to simply replace the battery itself.
There are two electrodes inside a typical Lithium-ion battery (Lithium-Cobalt Oxide cathode and a Carbon anode). Charging the battery forces the ions to stay on the carbon anode, while using the phone pushes them to the cathode. This process, commonly called "cycling" has been the around for years and has been the basis of basic battery design.
The problem why batteries loses their charge after sometime is efficiency. The constant cycling day in and day out makes some Lithium ions to stick to the anode, effectively making the battery to lose capacity as time goes by. Ions that can't go to the cathode does not give power. The more you charge the battery, the more ions are bonded to the anode, the lesser it's future capacity becomes. Do that a few hundred times and you can say that battery goodbye.
If you have been using the phone for over a year now and, say, you charge it once every day since you got it, there's a big chance that the battery may have simply quit on you. The best course of action would be to have the battery replaced. I know it's easier said than done because the battery pack is non-removable (which sucks), but unless you try another battery, we really cannot say for certain whether or not other solutions will work for you.
Problem #2: HTC One M8 battery issue after using a third party charger
Hi, I saw your article on Drippler and saw you said that if someone has any problem with their phone we can email you. So I have one concern I'm looking for clarification on.
I own an HTC One M8 and haven't had a problem with it  until I used a charger (I think the brand was Sierra or something like that) and used it to charge my phone overnight. After I did this, I noticed that the battery life of my phone drastically decreased. I charge my phone overnight every night and have had no problems until I used this charger to do so. Was it possible that the charger caused my battery life to decrease? Thanks! — Aidan
Solution: Hi Aidan. We don't know if the mentioned third party charger is compatible or authorized by HTC to be used on their device so we can't say for sure if that's the reason for the problem now. If that was the only different thing you have done though, there's a chance that it may have compromised the phone's chip that controls battery charging.
Original chargers from manufacturers like Apple, Samsung, HTC, LG, Motorola, Google, etc have their own mechanism that regulate current and voltage levels to protect the phone and battery from damage. Unauthorized chargers, especially the cheap ones, may not have this critical mechanism in place. Consider having the battery replaced and observe if that will make any difference.
Problem #3: How to recalibrate your HTC One M8 battery
My battery was down to 50% so i charged it. But then I noticed that the battery level dropped from 70% to 7% when connected. And this always happens. I always charge if it becomes less 50% because it always shuts down without any warning. I don't know why… 🙁 — Jay
Solution: Hi Jay. Try to recalibrate your battery by doing the following steps:
Go to Settings and disable Fast Boot.
Turn off the phone.
Charge the phone using your HTC charger for at least two minutes.
While the M8 is charging, press and hold down the following buttons: Volume Up, Volume Down, and Power.
Continue holding the three buttons for at least two minutes. The phone will repeatedly turn on and off every 15 seconds while you're doing this.
After 2 minutes, release the buttons when the phone is on.
Let the M8 charge normally.
Recalibrating your phone's battery can improve its longevity and is a recommended maintenance tip. Try doing it once every month and you should be good to go.
Suggested reading: Best tips to extend battery life on your Samsung Galaxy S4 and S5
Problem #4: Possible malware causing HTC One M8 battery to lose power fast
Hi, I'm emailing in regard to a problem I have encounter with on my HTC one M8 device.
Firstly, the problem began when I had random pop ups occur, taking me to the Play Store to download games, i.e Candy Crush.
After some time, I had realized how quick my battery was draining also, so I thought it may have been due to the CM lock screen I had downloaded, so I deleted it. However despite this, the battery was draining as fast as it was when I had the lock screen. I had then realized this repetitive tune playing in the background of my phone when the sound setting was on loud, I thought it may have been someone trying to reach me through Viber or WhatsApp, so I restarted my phone. This had made no difference, the tune was still playing, on and off  continuously. I put my music and video sound low, to see if it was something I had left on. However, this wasn't the case. I think I may have a virus. I have a anti virus app, but it tells me nothing of the sort, and that my phone is fine.
Can you please help me find a solution? My battery is draining way too fast, and I've tried to uninstall a variety of apps, delete everything on my downloads, but nothing seems to work. It would be of a great assistance if you can advise me on the matter further, I'd really appreciate it, thank you. — Sharmin
Solution: Hi Sharmin. You may be right in your suspicion that your phone may be infected with a virus. We think that some of your apps may have let some adware or a piece of software or code that forces a devices to be redirected to a website to view advertising materials. This is not a recent phenomenon in Android environment so we always advise our readers to be picky when choosing apps to install. Security firm Avast has reported last February about some legitimate apps in Google Play spreading adware around. With thousands of apps in Google Play Store available for free download, it has become almost impossible to really know which app is clean or malicious. Some rogue apps are so advanced that they can even circumvent existing antivirus products available for Android users.
To fix your problem right now, please do a full factory reset. This will ensure that you have a clean firmware version. After doing so, we recommend that you stick to more mainstream apps to avoid getting infected again.
That your phone suffers from battery drain problem is also another indicator of a possible malware infection. Rogue apps can run indefinitely in the background, draining battery power and sometimes causing phones to overheat. If this phone is relatively new and assuming you take good care (no drops, no liquid-, direct heat- or water-exposure) when using it, there shouldn't be any hardware problems here. The main reason must be software in nature so performing a factory reset will definitely help.
If you haven't tried doing a factory reset before, here are the steps:
First, press and hold the Volume Down key.
Do the same thing for the Power key.
Release the buttons once the three Android images appear on the screen.
Go to Factory Reset option using the Volume Down button.
Press the Power key to confirm your selection.
Note: factory reset will delete all data stored in the phone's internal memory (but not the SD card). Make sure you have a backup of all your photos, videos, contacts, messages, etc before doing so.
To be safe, kindly unmount your SD card from the phone as well.
---
Engage with us
If you are one of the users who encounters a problem with your device, let us know. We offer solutions for Android-related problems for free so if you have an issue with your Android device, simply fill in the short questionnaire in this link and we will try to publish our answers in the next posts. We cannot guarantee a quick response so if your issue is time sensitive, please find another way to resolve your problem. 
When describing your issue, please be as detailed as possible so we can easily pinpoint a relevant solution. If you can, kindly include the exact error messages you are getting to give us an idea where to start. If you have already tried some troubleshooting steps before emailing us, make sure to mention them so we can skip them in our answers.
If you find this post helpful, please help us by spreading the word to your friends. TheDroidGuy has social network presence as well so you may want to interact with our community in our Facebook and Google+ pages.