If you have been an Android smartphone user for the past few years, you probably would have encountered some annoying pop-ups telling you that an app has stopped working like this short line from one of our reader, Renza:
"Unfortunately contacts has stopped" error message on phone.
Or perhaps this: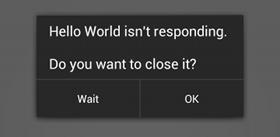 Brief but concise. A simple error yet totally annoying if it returns many times throughout the day. Some users may not get warnings like the one above but their apps simply fail to load, or do their thing. So how do we fix these problems and prevent them from ruining the rest of our day?
Before we proceed with the solutions, let us share other similar issues sent to us by other readers.
About every 30 seconds while I'm using it, a get a message saying my inbox has stopped working. I keep sending feedback, but I don't know how to fix it. This started shortly after I was prompted that, if I wanted to stop duplicate email notifications from inbox and Gmail, to tap that box, so I did.  Then the problems started.  Now, this morning, the phone is not lighting up like it does, or if it does, it goes dark soon after.  Help! — Patty
I recently (5/15/15) moved to Sprint and got a Galaxy S6 smartphone.  A problem I have had is that the email stops working and has done so 3-4 times.  I went to the Sprint store and the man there is able to get it working again by going to "Settings," then "Accounts," and selecting "Email," and then removing the account and then reinstalling the account.  I have even done this myself once.  But, it is a little bit of a pain and it seems a new phone should work better.  My wife has the exact same phone, bought at the same time and does not have the problem.  Hopefully, I am not the only one who has had this problem. — Ronnie
Thank you very much for your help. Before i was able to to upload my phone contacts to Facebook and Facebook messenger but recently it tells me unable to upload contacts. I can't figure out if it's a Facebook problem or the app's problem. Many thanks again — Ihsan
While few, these problems show us how troublesome they can be for some especially if you have come to rely on one particular app for, say, email or social networking.
App problems can take many different forms including, but not limited to, freezing, crashing, hanging, and slow loading times. The worst is getting the dreaded ANR (Application Not Responding) dialog box like the one pictured above. If you are wondering why, our previous post may be helpful.
We will not discuss the reasons why apps, like the ones mentioned above, behave the way they do. Instead, let's focus on the things that you can do to resolve them on your end. If a Galaxy S6 app suddenly becomes unresponsive, these are the potential solutions:
Delete app cache and data
Wiping an app's cache and/or data is the first thing a user must do to fix any app-specific problems. Provided there's no coding-related causes from the developer's side, any app problem can be easily fixed by doing this solution.
This is mostly effective if an app stops working in the middle of an operation or if it appears sluggish. The most likely reason for such behaviors can be attributed to a corrupted or outdated app cache. Your phone, like an old-school computer, needs to place frequently accessed data and other app-specific information to separate folder to efficiently open apps next time. That place is the cache. Sometimes, app changes or updates may create newer information or data that may not be properly reflected in the cache, creating a mismatch of some files. This can lead to issues later so forcing the phone to generate a new cache and data may help fix the problem. To delete a Samsung Galaxy S6 cache and data, just follow these steps:
Go to Settings.
Proceed to Applications.
Select Manage Applications.
Tap the All tab.
Choose the name of the app in question.
From there, look for Clear Cache and Clear data buttons.
Deleting an app's data may wipe important information like contacts, messages, emails, etc, depending on the nature of that app. Deleting a contact app's data virtually re-installs the said app so make sure that you have a back up for your contacts or any personal information before doing so.
Clear cache partition
Your phone has an app cache and a system cache, also known as cache partition. While the first solution above deals with app-specific cache, the next one addresses system-wide issues. Wiping your S6's cache partition is recommended if you have at least two apps having the same or similar problems. It is also a recommended maintenance tip to ensure the phone's cache is fresh and free from errors. If you haven't done this before, here's how to do it:
Shut down your Galaxy S6.
Press and hold these buttons: Power, Volume Up, and Home.
Once the blue recovery menu screen appears, use the volume rocker to navigate to wipe cache partition option.
After you have highlighted wipe cache partition, press the Power button to confirm.
Wait for a few seconds for the process to be completed. A yellow message line saying Cache wipe complete will be displayed at the bottom of the screen to confirm the process as completed.
Navigate to reboot system now option to restart the phone back to normal mode.
Restore the phone to its defaults via Factory reset
Hard reset, also known as factory reset, is an effective overall solution for all types of problems. As the name suggests, factory reset brings the phone back to its original software state. This process will delete everything stored in your Galaxy S6 internal memory so make sure to create a copy of your personal data like photos, videos, contacts, messages, etc. before proceeding.
There are two ways to perform a factory reset on a Samsung Galaxy S6. The first one can be done by going under Settings>Backup and reset.
The second method is done by using the hardware buttons:
Shut down your Galaxy S6.
Press and hold these buttons: Power, Volume Up, and Home.
Once the blue recovery menu screen appears, use the volume rocker to navigate to Wipe Data/Factory Reset option..
Scroll down to Yes, delete all user data, then press the Power button again.
Wait for the system to complete the process and until you see Data Wipe Complete notification is shown.
Press the Power button once again to restart the phone back in normal mode.
That's all of them! If you continue to have the same app problem after doing all these solutions, you can pretty much assume the issue is on the developer's side. Consider contacting them if you want a resolutions sooner.
---
Engage with us
If you are one of the users who encounters a problem with your device, let us know. We offer solutions for Android-related problems for free so if you have an issue with your Android device, simply fill in the short questionnaire in this link and we will try to publish our answers in the next posts. We cannot guarantee a quick response so if your issue is time sensitive, please find another way to resolve your problem. 
When describing your issue, please be as detailed as possible so we can easily pinpoint a relevant solution. If you can, kindly include the exact error messages you are getting to give us an idea where to start. If you have already tried some troubleshooting steps before emailing us, make sure to mention them so we can skip them in our answers.
If you find this post helpful, please help us by spreading the word to your friends. TheDroidGuy has social network presence as well so you may want to interact with our community in our Facebook and Google+ pages.