This quick demo will show you how to show hidden files on Samsung Galaxy Note 20. Feel free to refer to this walkthrough in case you need some input on how to get this done on your new Samsung device.
Secret Folders in Android
What you see on your smartphone may not be the only content it has. Having said that, there may be some sensitive files in any of these devices that are purposely hidden in a secret folder or directory for privacy or security reasons.
Aside from the built-in secure folder, new Android devices also have a system feature that is programmed to hide sensitive contents including private videos, photos, apps and other files.
Hidden files in Android smartphones, particularly Samsung Galaxy devices are usually named with a dot before the filename.
In this quick demo, I will show you how to access hidden system files from the new Galaxy Note without rooting or using any third-party app.
And here's how it's done.
Steps to Show Hidden Files on your Note 20
The following steps are specially carried out on the recently rolled Galaxy phablet's user interface but can also be applied to other Samsung Galaxy devices that are running on the same Android version. However, there may be some slight variations on the actual screens and menu items between device models and carriers.
1. To get started, launch the Apps viewer by swiping up from the bottom of the Home screen.
Different app icons or shortcut controls will load up on the next display.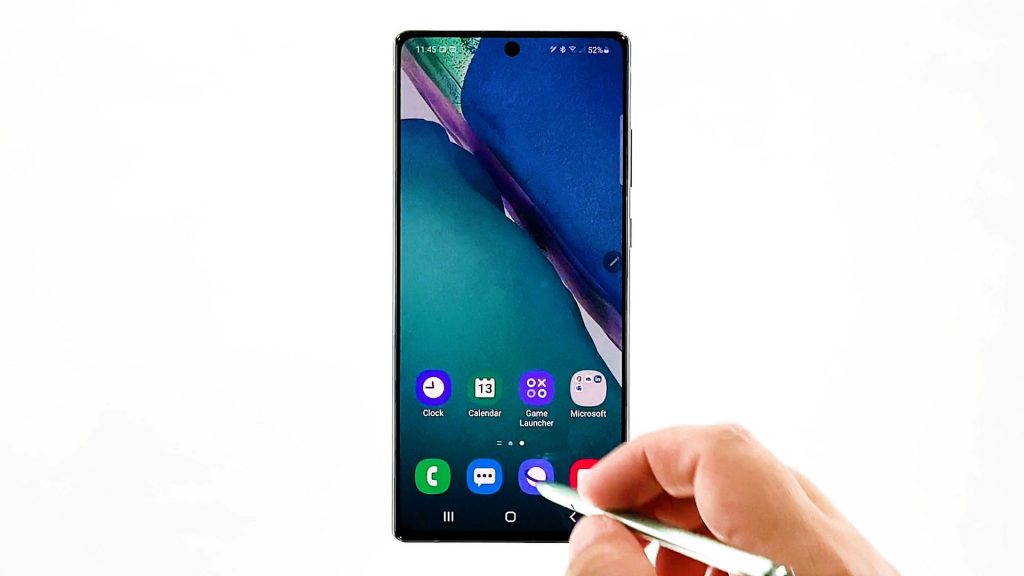 2. Locate and then tap the Settings icon.
Doing so will launch the main settings menu, which highlights all basic and advanced Android features to manage and utilize.
3. Tap Device care to continue.
Another menu opens with four main system components including battery, storage, memory and security.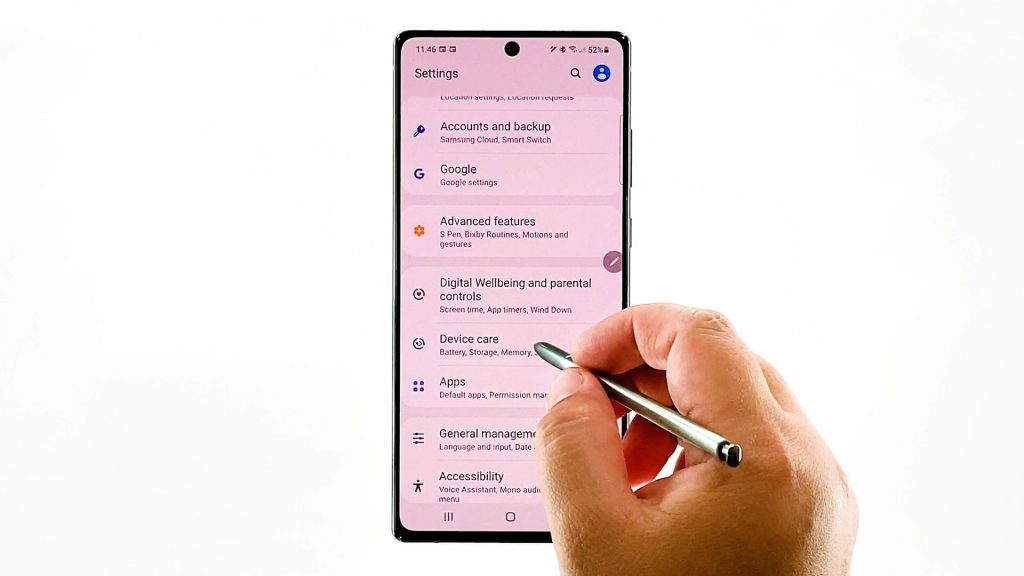 4. Tap to open the Storage directory.
In the storage directory, main folders are displayed.
Next to each of these folders are the actual amount of storage space it utilized.
5. To proceed with this demo, tap Advanced.
Advanced storage options and relevant information will populate the next window with the total amount of used storage and the equivalent percentage.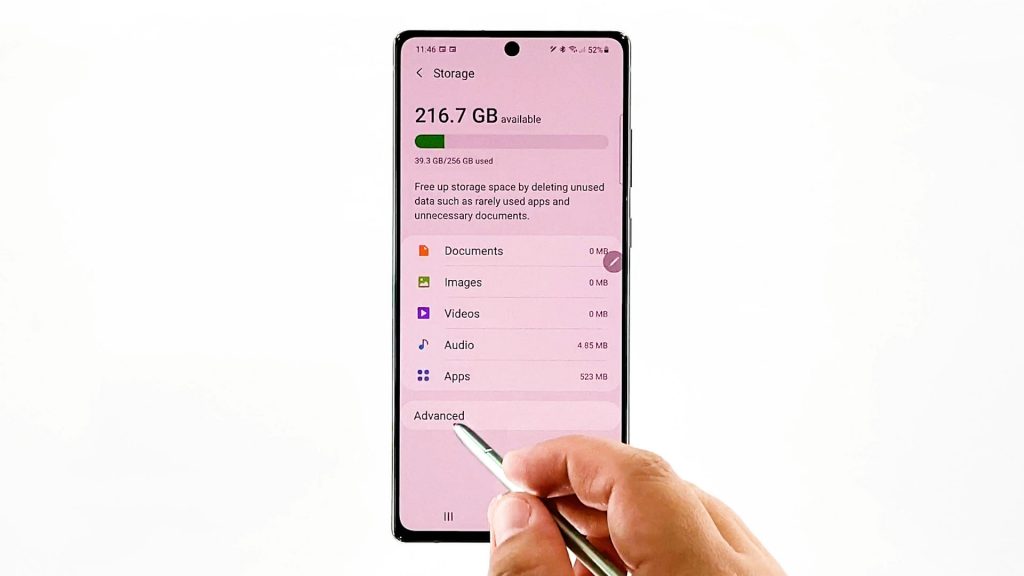 6. Scroll down to the bottom section and then tap Files.
All saved files and folders in the internal storage of the phone will be displayed on the next screen.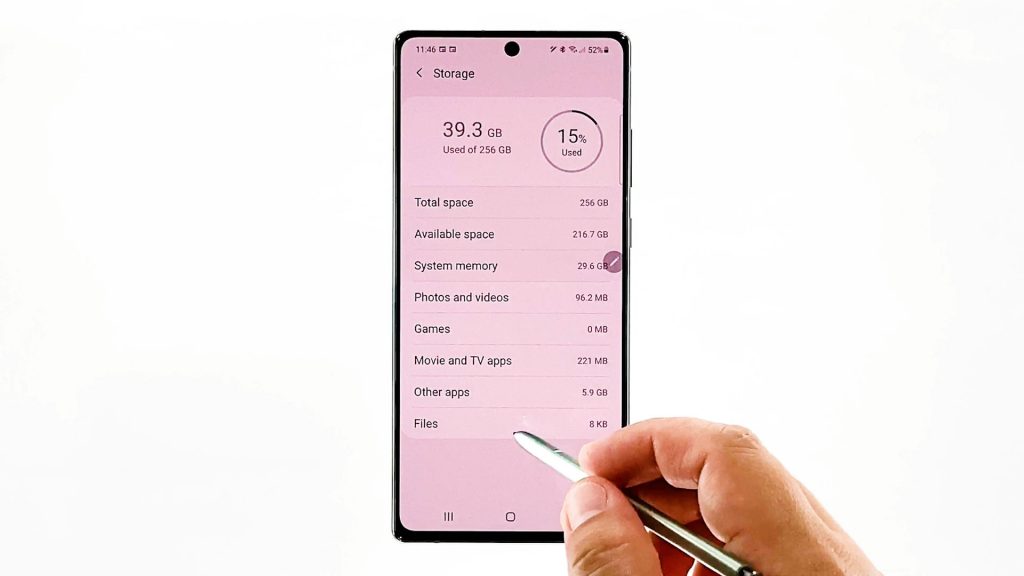 7. Navigate to the upper-right section and then tap on the triple dots.
A pop-up menu will launch with a list of additional items.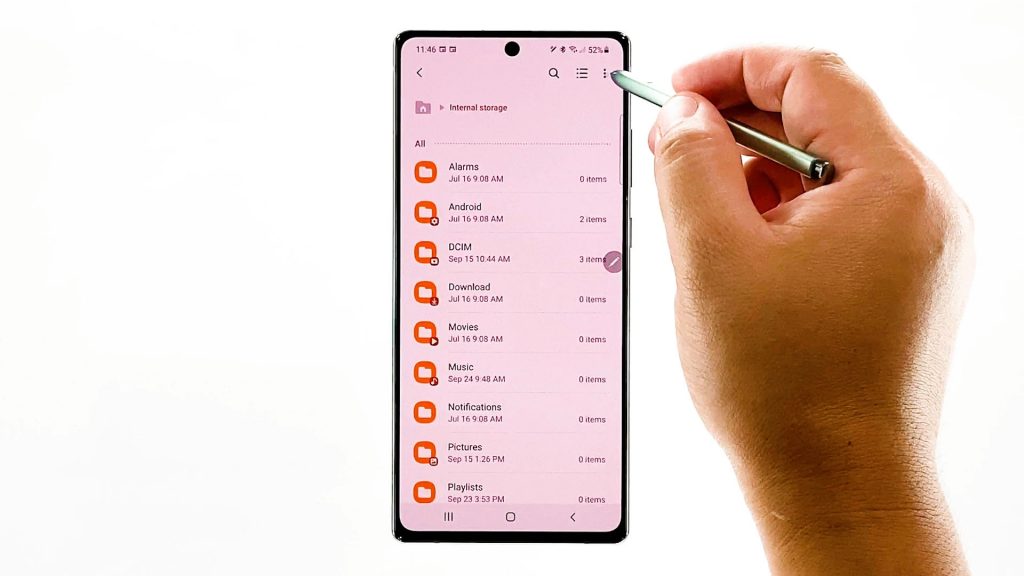 8. Tap Settings to view more advanced storage file commands.
The My Files settings window opens. Here, you will see a list of items under a certain category.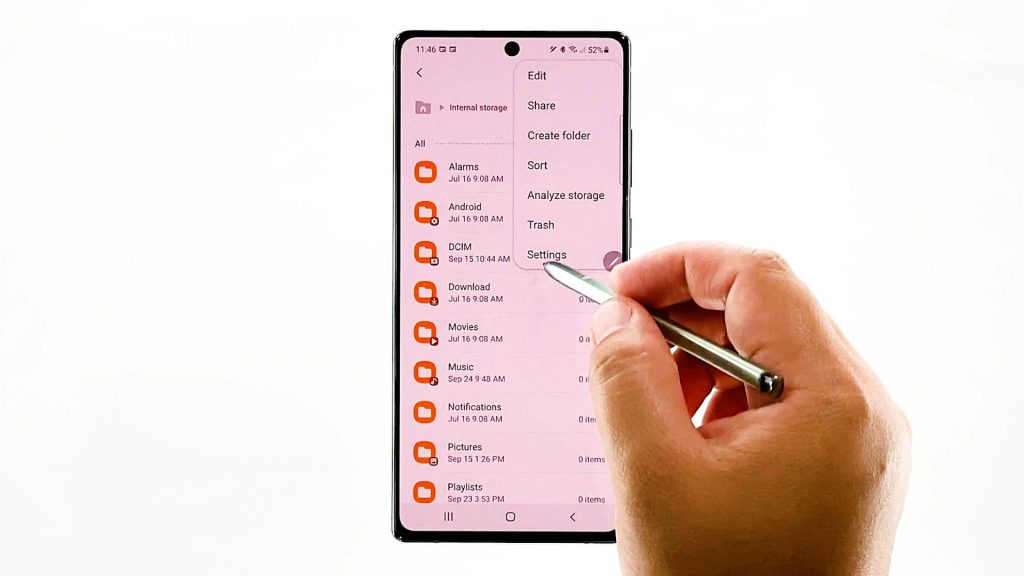 9. Scroll down to the File Management section. Then, tap to turn on the switch next to Show hidden system files.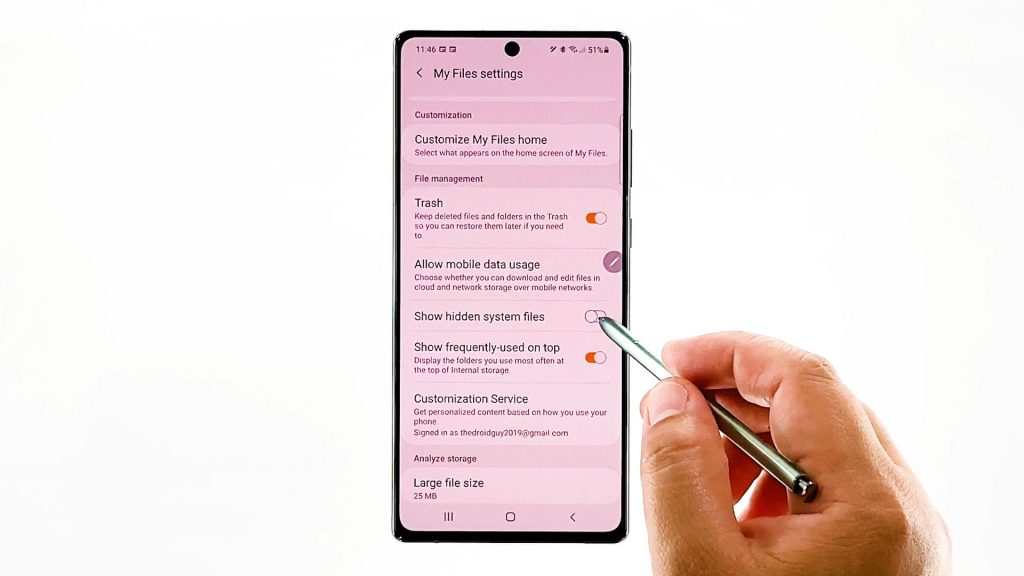 All hidden system files and folders will then be shown.
Identifying Hidden Files and Folders
To see the results, go back to the internal storage menu. You should see some files or folders with a dot before their filenames. These are the hidden files saved on the device. The appearance of the hidden file or folder is also a bit faded compared to the ones that are visible by default.
For hidden system files, they can only become visible but not editable. However, contents saved in hidden folders that are manually created on the device are accessible and modifiable. All you have to do is to open the hidden folder and then select the files that you'd like to edit, copy, move or delete.
After viewing and making use of the hidden files and folders, toggle the switch to put them back to a hidden state. This is imperative to ensure privacy and security of these sensitive information.
To do so, just head back to the advanced settings menu and then tap to turn off the switch next to show hidden files.
That should put all hidden files and folders back to their original state. That said, all folders with a dotted filename should no longer appear among other items listed on the internal storage menu.
Other Ways to Show Hidden Files in Android
Aside from the built-in command, there are also other means for you to view hidden contents from your Android smartphone or tablet.
You can use a third-party app that's specifically programmed to carry out such functions. Among these apps is the File Explorer and Astro File Manager, to name some. You can download these apps from the Play Store for free or via one-time charge.
In the case where you have manually created the hidden directory, deleting the .nomedia file from it will make it visible permanently.
File Explorer or Smart File Manager Pro is by far deemed one of the best smart apps to show hidden contents from an Android device.
Astro File Manager on the other hand offers a simple interface for you to show hidden files simply by clicking on a triple-dot icon.
More Video Tutorials
To view more comprehensive tutorials and troubleshooting videos on different mobile phones and tablets, feel free to visit The Droid Guy channel on YouTube anytime.
You might also want to read: