Are you unable to turn on your Samsung Galaxy Z Fold 4? There are several factors that can cause this problem such as a software glitch, drained battery, or even a hardware issue. To fix this you will need to perform a series of troubleshooting steps.
The Samsung Galaxy Z Fold 4 is a premium Android device that uses a foldable form factor. when folded its 6.3 inch outer display can be used just like any other smartphone however when unfolded you will be able to use its 7.60 inch inner display. Some of its best features include its use of a Snapdragon 8 Plus Gen 1 chip, 4400 mAh battery, and has a storage of up to 1TB.
Technical Specs:
Display: 7.60″ Foldable Dynamic AMOLED 2X inner display, 120Hz, HDR10+, 1200 nits (peak), 1812x2176px resolution, 10.8:9 aspect ratio, 373ppi; outer display: 6.20″ Dynamic AMOLED 2X, 120Hz, 904x2316px, 23.1:9, 401ppi.
Chipset: Qualcomm SM8475 Snapdragon 8+ Gen 1 (4 nm): Adreno 730.
Memory: 256GB 12GB RAM, 512GB 12GB RAM, 1TB 12GB RAM; UFS 3.1.
OS/Software: Android 12L, One UI 4.1.1.
Rear camera: Wide (main): 50 MP, f/1.8, 23mm, 1.0µm, Dual Pixel PDAF, OIS; Telephoto: 10 MP, f/2.4, 66mm, 1.0µm, PDAF, OIS, 3x optical zoom; Ultra wide angle: 12 MP, f/2.2, 123˚, 12mm, 1.12µm.
Front camera: Under-display: 4 MP, f/1.8, 2.0µm, under display; Cover camera: Wide (main): 10 MP, f/2.2, 26mm, 1/3″, 1.22µm.
Battery: 4400mAh; Fast charging 25W, 50% in 30 min (advertised), Fast wireless charging 15W, Reverse wireless charging 4.5W.
Fixing Samsung Galaxy Z Fold 4 not turning on problem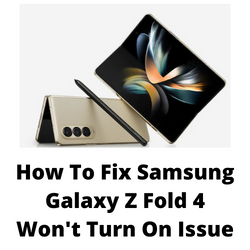 One of the issues that you might experience with your new Samsung Galaxy Z Fold 4 is when you are unable to turn it on. This can be a frustrating issue coming from a premium smartphone. What happens in this case is that the Android device might not turn on when pressing the power button or it might just simply randomly turn off and not turn back on anymore.
Here's what you need to do to fix this power issue you are experiencing on Samsung phones.
Solution 1: Check for signs of physical or water damage
The first thing you have to do with your Samsung Galaxy Z Fold 4 when it does not turn on is to check for any signs of damage to the device.
You might have dropped your phone causing it to have a cracked display or some internal component might have been damaged due to the drop.
Another factor to consider is water damage. Although this is an IPX8 rated device this only means that you can use the phone even when caught in the rain. This doesn't mean that the device is water proof as there's still a chance that water might get in and damage its internal components.
You can verify if your Galaxy Z Flip 4 has suffered from water damaged by checking its Liquid Detection Indicator located inside the SIM tray slot and is visible when the tray is removed. When the device has contact with liquid the X marks become pink or red.
In case the issue is caused by physical or water damage then you should contact Samsung and have this phone repaired.
Solution 2: Soft reset your Samsung Galaxy Z Fold 4
Sometimes the problem can be caused by a minor software glitch which is why you should try to do a soft reset. This refreshes your phone's operating system and will fix any issues caused by a firmware crash or software glitch.
This process will reboot the operating system of the phone and reload all of its services. Your personal data, files, and apps will remain unchanged.
Soft reset Samsung Galaxy Z FOLD 4
Simultaneously press and hold the Power key and Volume down button on the right edge for approximately 15 seconds.
Release the buttons when the Samsung Galaxy logo appears.
If your Galaxy Z Fold 4 boots and the Samsung logo appears then the problem is most likely fixed.
Solution 3: Charge your Samsung Galaxy Z Fold 4
One of the reasons why Android phones won't turn on is because of a drained battery. Trying to press the power button will not work no matter how many times you do it if the battery life has been completely drained.
What you will want to do if the battery of your phone is drained is to charge the device.
Make sure to use a charger that's working. You can check this out by trying to charge another Samsung device with it.
Charging the Galaxy Z Fold 4 battery
Plug the power adapter to a working electrical outlet.
Use the original charging cable to connect your Galaxy Z Fold 4 to the charger.
Leave the phone connected to the charger for at least 30 minutes. Make sure that the battery charging indicator is present.
Alternatively, you can also use the wireless charging feature of the Galaxy Z Fold 4 if you have a wireless charger.
You don't have to fully charge your phone. Once the device's battery has sufficient battery life and with the phone still connected to the power adapter, press and hold the Volume Down button and the Power key for 15 seconds.
If your Galaxy Z Fold 4 turns on then the issue is most likely caused by a drained battery.
Solution 4: Contact the Samsung service center
If the Samsung Galaxy black screen of death issue persists even after performing the steps listed above then you should have your Android device checked at a service center as it's possible that this might already be caused by a faulty hardware component. If your Android phone is still under warranty then it should be fixed or you might be getting a replacement unit.
Why is my Samsung Galaxy Z Fold 4 not turning on?
In case the issue with your Galaxy Z Fold 4 not turning on keeps on occurring even after performing the troubleshooting steps we have listed above then here are the additional steps you need to do.
Take note that the steps listed below will require your Samsung Galaxy Z Fold 4 device to be powered on.
Check for software updates
One of the reasons why your Samsung Galaxy Z Fold 4 will experience power related problems is because it is running on an outdated software version.
You need to manually check for any new software updates available for your Samsung device and apply them immediately. It's best to manually check for major Android updates regularly as sometimes the automatic update feature is delayed.
Go to your phone Settings.
Scroll down and tap on Software update.
Tap Download and install.
The Samsung Galaxy Z Fold 4 will search for any new software updates available. It will automatically be downloaded and the previous version will be replaced.
Check if a third party app is preventing the Galaxy Z Fold 4 from turning on
There's a possibility that a third party app you downloaded from the Google Play Store can cause this particular problem. In order to check if a downloaded app is the culprit you will need to start the phone in Safe Mode.
Safe Mode
Turn the Samsung device off.
Press and hold the Side key past the model name screen appearing on the screen.
When SAMSUNG appears on the screen, release the Side key.
Immediately after releasing the Side key, press and hold the Volume down key.
Continue to hold the Volume down key until the device finishes restarting.
When Safe mode appears in the bottom left corner of the screen, release the Volume down key.
Wait for up to 30 seconds for the process to complete. When your device reboots "Safe Mode" will appear on the lower left side of the home screen.
Try observing if the Samsung power problem occurs when your phone is running in this mode.
In case the issue does not occur then you will need to find out the specific app that is causing this problem and uninstall it.
After uninstalling the app you can exit from safe mode.
Exit Safe Mode
Press and hold the Side key.
Tap Restart > Restart.
The device will restart in standard mode and you can resume normal use.
Perform a factory reset
A factory reset or hard reset is performed when your device is experiencing issues caused by a corrupted operating system.
This procedure will erase your phone data and bring it back to its original condition. Any corrupted data stored in the operating system which could be causing this problem will be completely removed.
Before proceeding with this procedure it is recommended that you backup your Galaxy Fold 4 data. Any photos, files, contact lists, or notes just to name a few that you have saved in your phone will be deleted so make sure to make a backup copy of these.
Turn off your Samsung Galaxy device.
Simultaneously press and hold the Volume up and side buttons until the device vibrates and the Android Recovery screen appears then release all buttons. Allow up to 30 seconds for the recovery screen to appear.
From the Android Recovery screen, select Wipe data/factory reset. You can use the volume buttons to cycle through the available options and the side key to select.
Select Factory data reset. Allow several seconds for the factory data reset to complete.
Select Reboot system now. Allow several minutes for the reboot process to complete.
Set up your Android phone.
Try to check if this fix Samsung power issue.
Frequently Asked Questions
Why does my Galaxy Z Fold 4 keep turning off?

There are a number of factors that can contribute to this problem such as software issues, a drained battery, or a faulty hardware component.

Why does my Galaxy Z Fold 4 battery drain quickly?

This can be caused by too many apps running in the background or apps that are not optimized yet. Try to update the apps installed in your phone and restrict some of them from running in the background and accessing the internet even when not in use.

How to enable power saving mode on Galaxy Z Fold 4?

Open Settings.
Tap on Battery and device care.
Tap on Battery.
Tap on Power saving mode and toggle it On.

How to limit notifications on Galaxy Fold 4?

Tap and hold on the app icon you want to disable notifications.
Next click on App info.
Then tap on Notifications.
Now tap on Show notifications and toggle it off.

Does the Z Fold 4 support wireless charging?

The Galaxy Z fold 4 supports fast wireless charging speeds of up to 15 watts. It also supports fast wired charging speeds of up to 25 watts.