The #Samsung #Galaxy #S8 is the latest flagship model of the South Korean company which is becoming quite popular today. The phone is an improvement over last year's model and uses a new design architecture. The front of the device is mostly occupied by the display while the fingerprint sensor has been moved to the back. It comes with several upgraded components while retaining the waterproofing, dustproofing, and microSD card slot feature. Although this phone has proven itself to be quite a reliable device there are instances when certain issues can occur which we will be addressing today. In this latest installment of our troubleshooting series we will tackle the Galaxy S8 water has entered the phone issue & other related problems.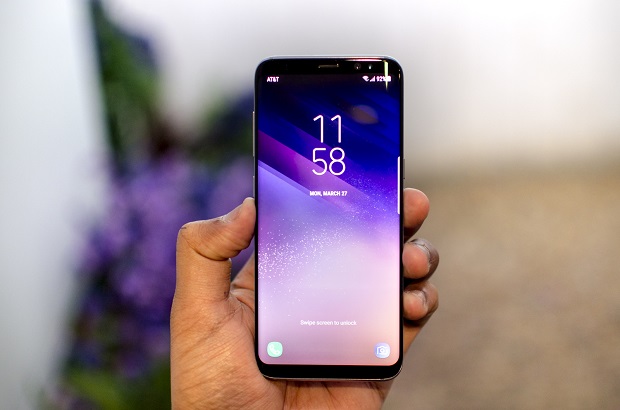 You may also reach us at our Facebook and Google+ social media accounts.
S8 Water Has Entered The Phone
Problem: Bought the Samsung galaxy S8 , and I was traveling and it rained and I received a call while it was raining , after some time the phone's camera started showing fog , then it showed a msg of moisture in charging port , then the screen started to become dull and then the phone became dead (blank ) it was just 12 days old phone . The service centre opened the phone and says there is water detected in the phone so it's not under warranty . When I asked them that how did the water enter inside when it's water resistant up to 1.5 meters of water and submerged in 30 minutes the phone has got certification of ip68 , they don't have any reply to that and giving me a bill for repairing the phone which is nearly the same price of the new phone . I am filing a case against them as there might be a manufacturing defect or the certification department has not checked the phone before giving the certificate
Solution: Although this phone has an IP68 rating which can make it withstand being immersed in up to 1.5 meters of water there are instances when water can enter the device. The main culprit in this case is the seals which prevent the water from entering the phone. The seal of your phone might not be perfectly placed or it might be faulty which is why water has entered the phone. Since the hardware has been damaged the best way to proceed in this case is to have the phone repaired at a service center.
S8 Water Droplet Appeared On Screen
Problem: Hello, I hope you can help me. Today I went to the beach but my phone didn't really get wet, the only thing was that a girl splashed and some drops fell on my screen's phone but it was almost nothing really. After that, everything was working good until the night that I went to charge my phone. A yellow triangle with "!" Keeps appearing and a water drop picture on my phone, not letting it charge. I tried drying it out but the signs keep appearing. The thing is, it didn't really got wet it was just small few drops on the screen like 3 to 4 drops.
Solution: It looks like there is moisture in the charging port of your phone. What you will want to do right now is to make sure that this port is dry by using a vacuum. Other owners who had this same issue also tried using their hair dryer in making sure that the port is dry. Once this is done try charging your phone again. If it doesn't charge then follow the troubleshooting steps listed below.
Try using a different charging cord and wall charger to charge your phone.

Check if a software glitch is causing this problem by doing a factory reset. Make sure that you have backed up your phone data before doing this.
In case the above steps fails to fix the problem then you need to bring the phone to a service center and have it checked.
S8 System UI Has Stopped Error After Software Update
Problem: Hello, I've had my galaxy s8 for about a week or two. The other day a new software update arrived which gave us users the ability to hide navbar with a simple touch among other things. My problem is that, now i can't use landscape mode anymore, because then i get "system ui has stopped" ??? I cannot turn the camera, youtube, netflix etc etc. I tried soft reset and clearing cache etc but the problem remains…. Heard from more ppl..?
Solution: For this particular problem you should try clearing the cache and data of the System Interface app first from the application manager.
Go to your device "Settings"

Select "Applications", tap on "Menu"

Select "Show system application" in pull-down menu

Find "System Interface" among all applications. In "Memory" section perform clearing all data and cache.
Another factor that can cause this problem is a bad Google App update. If this is the case then all you need to do is to navigate to Home> Apps> Settings> Application> Application Manager> Google App> Uninstall Update.
If the issue still remains then the problem could be caused by old software data that has not been completely removed during the update process. What you will want to do right now is to backup your phone data and do a factory reset.
S8 Space Is Added Before Typing First Word
Problem: Almost every time I begin to type text in any app (text, messenger, email, etc…), a space is immediately inputted before my first word and I have to erase my first word completely to get rid of that space (which also starts my first word off uncapitalized until I do the delete the first word thing). I have tried to find a way to get rid of that but can't seem to do so! Any advice on how to fix this irritating issue?
Related Problem: Hi:  I have the Samsung Galaxy S8 phone.  All of the sudden there is an indention when I am writing a text or sending a message thru messenger. It wasn't like that when I first got the phone.  Now it indents automatically and the first letter is not capitalized.  I always have to hit the "back" button to get it to start at the beginning of the sentence… It is frustrating.
Solution: This could be a problem caused by the stock keyboard app that you are using. Try clearing the cache and data of this keyboard app then check if the issue still occurs. If it does then try uninstalling the update to this keyboard app as this could be causing the problem.
In case the above steps fails to fix the problem then consider doing a factory reset. Make sure to backup your phone data before doing the reset.
You should also consider using a third party keyboard app which you can download over at the Google Play Store.
S8 Not Starting After Doing Software Update
Problem: After doing a software update the phone didn't restart and now it wont power on at all. I have attempted to reboot by doing a power/down volume for 10+ seconds but it still wont turn on. I have had the phone for approximately 2 months.
Solution: Since you have already attempted a simulated battery pull which doesn't fix the problem then you should proceed with the steps listed below.
Clean the charging port of your phone using a can of compressed air.

Charge your phone for at least 20 minutes using a charging cord and wall charger that's been tested to work on another device.

If you get no response from your phone then try charging it from a computer USB port. If your phone charges this way then one of the pins of the charging port might be damaged. You need to have this checked at a service center.
In case the phone charges then proceed to turn it on. If the phone does not turn on or charge then you need to bring this device to a service center and have it checked.