Welcome to another installment of our troubleshooting series where we help our readers who own the #Samsung #Galaxy #S7 fix the issues that they are experiencing with their device. Today we will tackle the Galaxy S7 no text message notification issue & other related problems. What happens in this case is that the phone doesn't have a message notification sound whenever a text message arrives. We will address this issue as well as other text messaging related problems that have been sent our way by our readers.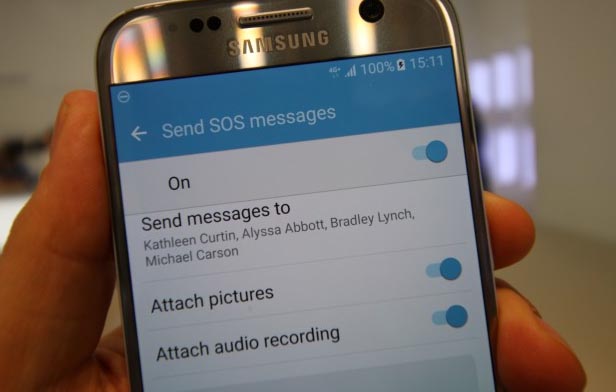 If you own a Samsung Galaxy S7 or any other Android device for that matter then feel free to contact us using this form. We will be more than happy to assist you with any concern that you may have with your device. This is a free service we are offering with no strings attached. We however ask that when you do contact us try to be as detailed as possible so that an accurate assessment can be made and the correct solution can be given.  
If you would like to browse the previous parts in this series then check out this link.  
You may also reach us at our Facebook and Google+ social media accounts.
S7 No Text Message Notification
Problem: For some reason i can send and receive texts but no notification at all. Went and changed the volumes to high and still nothing. I have to randomly look down at my phone to see if i have a message. All my other notifications still work tho like fb messenger and stuff
Related Problem: Hi, I am not receiving notifications when I recieve texts. My phone doesn't vibrate or anything, so the only way i know if i have a text is if i unlock my screen and see that there's a new message. how can i fix this problem?
Solution: Try checking the notification setting of the messages app and make sure that it is turned on. To do this go to Settings – Notifications – Make sure that the switch is on for Messages.
Try also changing the notification sound for messages as the current notification sound might have a problem. To do this go to Settings – Sound and vibration – Notification sound – Messages Notification.
If the above steps don't work then proceed with the troubleshooting steps listed below.
Start the phone in Safe Mode. Check if the issue occurs in this mode. If it doesn't then you might have installed an app in your phone that's causing this problem. Find out what app this is and uninstall it.

Backup your phone data then do a factory reset.
S7 Text Message Just Says Downloading
Problem: Good morning, I just purchased this phone about 2 weeks ago and I often receive text messages and it just says downloading.  I received two messages last night and it is still showing downloading this morning.  I am using the sms app.  Please help! Thanks so much!
Solution: If it says downloading when you receive a message then you are most likely getting an MMS. To be able to download or send an MMS you should have an active mobile data connection and you should turn on the mobile data switch of your phone. The APN settings of your phone should also match the settings being used by your network.
S7 Invalid Recipient Error In Group Messaging
Problem: I just got a new Samsung S7 yesterday and I can make and receive calls as well as sent individual text messages with no problem. But when if I try to send a text to multiple people or respond to a text with multiple people on it, I always get a failed message that says "invalid recipient." I've tried restarting my phone, turning on my mobile data, checking the phone numbers I'm trying to text back, force stopping my messenger app, clearing the cache on my messenger app…
Solution: If the phone numbers of your contacts are correct and you have already cleared the cache and data of the messages app then proceed with the troubleshooting steps listed below.
Start the phone in Safe Mode. When the phone works in this mode only the pre-installed apps are allowed to run while apps you downloaded are prevented from running. Check if the issue occurs in this mode. If it doesn't then app could be causing the problem. Find out what app this is and uninstall it.

Wipe the cache partition of your phone from the recovery mode.

Backup your phone data then do a factory reset.
S7 Stopped Sending SMS To Premium Numbers
Problem: My s7 all of a sudden stopped sending SMS (the numbers to get coupons, like target, 95730 type of numbers) I have been to the Verizon store and they called tech support. I was there for over an hour and the problem is still not fixed. I can't even reply to the messages to opt out. We even reset my settings and it did nothing. Tech support said there was nothing on my account. I need this fixed!
Solution: You can change this setting by  going to Settings – Applications – Application Manager – Messages. From here look for Permissions and on the Send Premium SMS portion set it to always. Now there are some owners of this device who don't have this setting, probably due to a software bug. Try checking if your phone is running on the latest software version. If it is and you can't find the setting to change the way you send a premium SMS then your only other option is to do a factory reset. Make sure to backup your phone data before doing the reset.
S7 Cannot Send Group Messages To iPhones
Problem: Hi, I just bought an unlocked Samsung S7 SM-G930U. I cannot send or receive group messages with iPhones through MMS. Mobile data is on. I previously had the S5 and group messaging worked fine. Is the issue related to converting from a Micro SIM to a Nano SIM? Do the iPhone's need to delete the original group chat with my number in it?
Solution: Can you send a group message to Android phone users? If you can and the issue only occurs when sending out to iPhone owners then have them delete the previous group message in their phone's. Make sure that when they send you a group message it is sent as a text message and not as an iMessage.
S7 Randomly Stops Sending/Receiving Text Messages
Problem: Phone randomly stops sending/receiving messages. Sometimes even stops receiving data even though I consistently have LTE signal. Then the floodgates open and I receive all of them at once.
Solution: It's very likely that this issue is caused by some form of corrupt data. Try performing the following troubleshooting steps listed below to fix this problem. Move to the next step if the issue still occurs.
Clear the cache and data of the messaging app.

Wipe the cache partition of your phone from the recovery mode.

Backup your phone data then do a factory reset.
S7 Lag In Opening Conversation Of One Contact
Problem: One of my contacts specifically is extremely slow to open our conversation in the messages app. It's slow for the keyboard to pop up and slow to hop out of the keyboard to scroll through our msgs. All others are fine. I'd prefer not to delete our msg history as some of it is important to me.
Solution: you should try clearing the cache of the messages app and see if this works. If it doesn't then you will have to backup the text message conversation of the particular contact then delete your conversation thread.
S7 Old Text Messages Are Attaching To New Ones
Problem: Random really old text messages are attaching to news ones as they come in – similar to issue I saw on your forum relative to old pictures. The old message is not even from same sender. I followed advice for random picture attaching issue but not fixed. Really do not want to have to reset phone or delete all texts as this is a work phone and I need messages.
Solution: This issue is usually caused by some form of glitch in the phone software. Try clearing the cache and data of the messages app first then check if this fixes the problem. You should also try wiping the cache partition of your phone from the recovery mode. If the problem persists then you should consider doing a factory reset. Just make sure to backup the data stored in your phone.
Feel free to send us your questions, suggestions and problems you've encountered while using your Android phone. We support every Android device that is available in the market today. And don't worry, we won't charge you a single penny for your questions. Contact us using this form. We read every message we receive can't guarantee a quick response. If we were able to help you, please help us spread the word by sharing our posts with your friends.