I will address some of the problems with the Samsung Galaxy S6 (#Samsung #GalaxyS6) that is related to its firmware or operating system including the issue wherein the device gets stuck on the Android System Recovery screen after an update. More of more users are experiencing this specific issue especially that Samsung and respective carriers started rolling out updates in preparation for the upcoming Marshmallow update (#MarshmallowUpdate) for the Galaxy devices.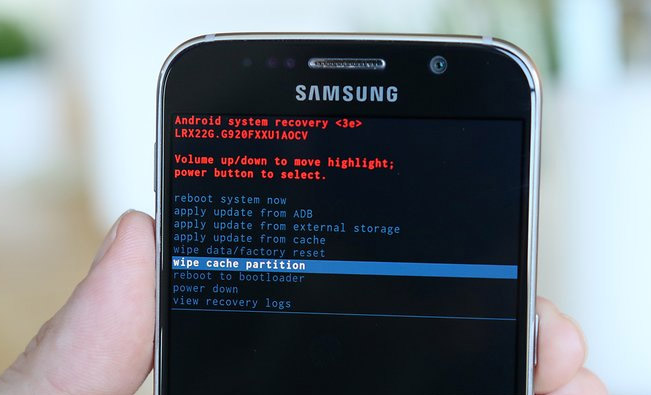 Other issues include failed firmware updates, random reboots, app crashes, and other service-related issues. Read on to learn how to tackle these problems. If, however, you are looking for a solution to a different problem, visit our Galaxy S6 troubleshooting page for it contains hundreds of issues we already addressed. Find ones that are related to yours and try the solutions we suggested. If they won't work for you, then contact us through this form.
Here are the problems I cited here…
---
Galaxy S6 failed to update its firmware
Problem: Everyday the phone ask me of I'd like to update. I always select Yes, later during the over night hours. When I wake up the phone indicates the update failed. This has gone on for over a week now.
Troubleshooting: Many of us want to update our phones unattended for a very obvious reason. However, not all the time the process will be successful. I, too, have encountered it a couple of times and it was because my phone was set to disconnect from my Wi-Fi network when it becomes idle. This is the first thing I want you to check; make sure your Galaxy S6 has its Wi-Fi "Always" connected to the network when it sleeps and then try again.
The first phase of the update process is the download. Depending on your connection, it will take a few minutes to a few hours to download firmware updates especially major ones. So, making sure your phone stays connected to the network even if the screen turns off should be the first priority. If the download is interrupted, the phone will redownload the files over and over without finishing it.
If all else fails, try attending to your phone while it's updating. It's very time-consuming but if that what it takes to make the update successful, then it's worth it.
Galaxy S6 keeps rebooting, apps crash
Problem: Hello, the "reboot" issue I have with my Samsung isn't a hard reset, but an irritating "soft reset" every few seconds, ranging from 2 to around 20 seconds. To put more detail, every time you're viewing your images/facebook/twitter and scrolling down, the phone will hiccup and stutter, then it will bounce back to the top of the page. With applications such as Snapchat, if it hiccups after you took a photo, the photo will be wiped before you get a chance to save it. If you're using twitch, the application will crash, and you'll be asked to send a report. Games such as Clash of Clans will close completely and bring you back to the home page. I have attempted everything up to a factory reset and this issue still persists. This phone is no more than 3 months old. What should I do to fix this? Thank you for reading this.
Troubleshooting: What happens when you boot the phone in safe mode? Does it do those things, too? In case you haven't done it yet, then follow these steps to boot in safe mode and observe how the device performs when all third-party apps and services are disabled.
Turn off your Galaxy S6.
Press and hold the Power key.
When 'Samsung Galaxy S6 Edge' appears, immediately release the Power key and then press and hold the Volume Down button.
Continue holding the Volume Down button until the phone finishes the restart.
When you see Safe Mode on the lower left corner of the screen, release the button.
If the problem persists in safe mode, then it must be a firmware issue. Try to search for updates and if there's none, call your provider or go to the store and have a tech take a look at it. Reflashing the firmware may fix this problem as it seems like it's corrupt or something. If the tech can't do anything, you really have to call Samsung and seek support from its techs.
Galaxy S6 stuck on recovery screen after an update
Problem: Hi, my brother has the exact same phone as me same carrier and everything so the info I filled was referring to his phone. He downloaded a new update at 3 this morning (10-3-2015) and now when he turns his phone back on it doesn't get past the main Samsung Galaxy S6 logo screen. We tried soft resetting it and hard resetting and neither have worked. When we tried soft resetting it, it just went back to the same stuck screen. When we tried hard resetting it the andriod guy popped up and then, for lack of a better term, died with a triangle and an exclamation point in it above his head. Not really sure what else to do.
Troubleshooting: The screen where you can see that little Android robot with a triangle and an exclamation point is called the recovery screen or officially called the Android System Recovery. There have been a lot of reports from owners who encountered all sorts of issues after an update and your brother's phone is lucky just to get stuck in that screen and wasn't bricked.
Here's what I want you to do based on your description:
First, since you said the phone "died with a triangle and an exclamation point," I would assume the term "died" means that the phone turned off and refused to come back on. With that assumption, I want you to connect the phone to its charger and plug the latter to the power source and then left the device to charge for, at least, an hour.
After charging, attempt to turn the phone on and if it goes straight to the screen with that little Android robot with a triangle and exclamation point, press the Power key once and you shall see some options.
Choose 'wipe cache partition' to delete all caches used by the previous Android version. If the wiping of the caches were successful, the phone reboot on its own and it should bring you to the Home screen.
However, if the problem persists after wiping the cache partition, repeat the process but this time choose 'wipe data/factory reset' to do the master reset again and if the problem remained after that, it is safe to assume that the update process wasn't successful.
If you are confident enough, you can manually flash (install) the same firmware to the phone with the help of ODIN, otherwise, seek assistance from a technician.
Related Problem: Tried to update to the newest version available via system update. I started the up date walked away and when I came back phone was stuck in a boot loop. I tried a soft reset no luck tried to attempt a hard reset but I can't access the recovery mode it only comes up with the android logo and a orange explanation mark above it. I can get it into download mode. Any help would be much appreciated.
Galaxy S6 stops working while using mobile data
Problem: When looking through Facebook, watching videos on youtube or basically anything that uses mobile data it will just stop loading. It won't send texts, snap chats or even make a phone call when it's like this. I turn airplane mode on and off and it will start working again, but sometimes it will only last a few minutes. It doesn't matter if I'm inside or outside for this to happen. My carrier is Viaero.
Troubleshooting: How often does this problem occur within a day? If it happens every single time you use apps or services that require the use of mobile data, then it's either a network problem or a firmware issue. But since we cannot rule out network issues (I'm sure your provider won't admit it's their fault), we need to rule out the latter. Here's what I want you to do:
Boot your phone in safe mode first. This will rule out the possibility that one or some of the third-party apps installed on your phone is causing the problem and it also gets rid of complications while troubleshooting.
While in safe mode, try to use the same apps or services you were using and make sure mobile data is enabled. If the problem persists, then try wiping the cache partition first and then do the master reset should the problem remain.
After the reset and your device is still suffering from the same issue, it's time you called your provider and ask for help.
How to wipe Galaxy S6's cache partition
Turn off the device.
Press and hold the following three buttons at the same time: Volume Up key, Home key, and Power key.
When the phone vibrates, release the Power key but continue to press and hold the Volume Up key and the Home key.
When the Android System Recovery screen appears, release the Volume Up and Home keys.
Press the Volume Down key to highlight 'wipe cache partition.'
Press the Power key to select.
When the wipe cache partition is complete, 'Reboot system now' is highlighted.
Press the Power key to restart the device.
How to master reset Galaxy S6
Turn off your Samsung Galaxy S6.
Press and hold the Volume Up, Home and Power keys together.
When the device powers on and displays 'Power on logo', release all keys and the Android icon will appear on the screen.
Wait until the Android Recovery Screen appears after about 30 seconds.
Using the Volume Down key, highlight the option, 'wipe data/factory reset' and press the Power key to select it.
Press the Vol Down button again until the option 'Yes — delete all user data' is highlighted and then press the Power key to select it.
After the reset is complete, highlight 'Reboot system now' and hit the Power key to restart the phone.
Galaxy S6 asking for backup password for fingerprint
Problem: I want to reset the so called 'back-up password' that my Samsung Galaxy S6 is asking for when I try to set up the fingerprint method of accessing my phone. All I get is a request for a backup password which I never set in the first place! I've Googled this but nothing works. This seems to be a problem with thousands of new Galaxy S6 users. Is it a fault with the phones system or what? I've tried everything I can think of but without any success – HELP ME!
Answer: All Galaxy S6 (even S6 Edge and S6 Edge Plus) owners are being asked to enter their backup password when they try to setup fingerprint security for their phones but it's never a problem. When your phone asks you to enter a backup password, it means that you need to nominate a password to be the backup password in case you couldn't unlock it using your fingerprint. So, no, it's not a fault with your phone but an added security measure.
Galaxy S6 crashed and won't respond
Problem: Hello, my phone crashed so I did a factory reset which appeared to work. I didn't use the phone for a day then when I went to use it again it had crashed. I fully charged it and then tried to reset again but it won't respond. Is there anything else I can do?
Troubleshooting: Yes, there's something you can do. First, charge your phone as the battery may have been drained that's why it won't respond or come back on. Second, after you've charged it, press and hold the Volume Down and Power keys together for 20 seconds to force reboot your phone. If the system crashed and left your phone unresponsive, the force reboot procedure is very effective since it performs the simulated battery disconnect. If your phone won't respond to that either, then seek help from a technician.
Galaxy S6 asking to be updated for the third time
Problem: Received notification of update. Updated this morning. Then it asked me to update again so I assumed that I had inadvertently interrupted it. Went through the whole process. Now it is asking me to update again. I assume that there would not be three new updates within an hour of each other?  Thanks!
Answer: Are they firmware updates or for apps? It is possible that you'll get more than one update and you can always check the version of Android that's installed on your phone before the update and check it again after the update is installed to see if there's a difference. Also, included in the notification is the kind of update that would be installed on your phone, so you will know if it's the same update that's trying to install on your device.
Connect with us
We are always open to your problems, questions and suggestions, so feel free to contact us by filling up this form. We support every Android device available and we are serious in what we do. This is a free service we offer and we won't charge you a penny for it. But please note that we receive hundreds of emails every day and it's impossible for us to respond to every single one of them. But rest assured we read every message we receive. For those whom we've helped, please spread the word by sharing our posts to your friends or by simply liking our Facebook and Google+ page or follow us on Twitter.