In this post, I will tackle a few sound related problems with the Samsung Galaxy S6 Edge (#Samsung #GalaxyS6Edge) including the issue wherein the device automatically changes sound mode and plays the default notification sound even if there are no notifications. Other issues I addressed here are common and there's always a chance that you will experience them in the future.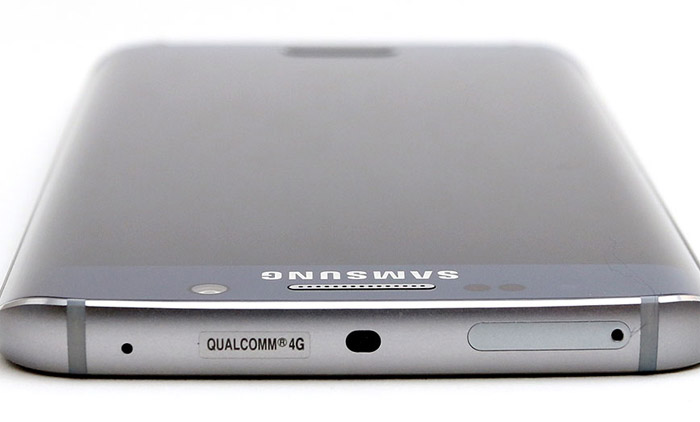 Continue reading to learn how to tackle these problems. If you are trying to find a solution for a totally different issue, then browse through our S6 Edge troubleshooting page where we keep all problems and solutions together. Find issues related to yours and try the suggested solutions. If they don't work, contact us by filling up this form and hitting submit button after.
Here are the problems addressed here…
---
Galaxy S6 Edge changes sound mode, plays default notification sound
Problems: I downloaded the app called Samsung's Smart Switch on my old Galaxy S4, and so transferred everything (settings, contacts, etc.) from that phone to my new Galaxy S6 Edge phone. So I have exactly the same applications on my new phone as I had on my old phone – I haven't installed anything new or different.
Issue 1: the phone's Sound Mode changes several times a day, from Sound to Vibrate to Mute, on its own. I've tried everything (checked all my settings; deleted some third-party applications such as Vodacom's Protect, etc), but I cannot get it to stay on the sound mode that I set it at.
Issue 2: the phone makes a General Notification sound several times a day, without there actually being any notification. I've disabled notifications for all third-party applications that I do not want to see notifications for (eg. for Word Game), but enabled notifications for all those I would like to receive notifications for (eg. for Facebook). This has not helped me though – I still get General Notification sounds without there being any actual notification.
Troubleshooting: Samsung actually did a great job in developing an app that will make it very easy for you to migrate from one Galaxy (or any Android for that matter) device to a new Galaxy. For contacts, files, pictures, videos and other miscellaneous data, the Smart Switch app actually works great, however, for apps, there might be a little problem especially if the data of each app is transferred over to the other phone–compatibility.
As you said, you previously have a Galaxy S4, so if the caches and data of all apps were transferred over to the new phone, the system not be able to create new caches and data for those apps and there lies the problem. To isolate the issue, the first thing I need you to do is boot the phone in safe mode:
Press and hold the Volume Down and Power keys for 20 to 30 seconds.
Once you see the Samsung logo, release the Power key immediately but continue pressing the Volume Down key.
Your phone should continue booting up and you will be prompted to unlock your phone as usual.
You will know if the phone successfully booted in safe mode if the text "Safe mode" is displayed at the lower-left corner of the screen.
Once in safe mode, observe your phone to see if those problems still occur. If so, then it's now clear it's a firmware problem but may have been triggered by apps, otherwise, you need to go after the third-party apps. Now, before you do anything else, try wiping the cache partition to get rid of all the caches and to force the phone to create new ones:
Turn off the device.
Press and hold the following three buttons at the same time: Volume Up key, Home key, and Power key.
When the phone vibrates, release the Power key but continue to press and hold the Volume Up key and the Home key.
When the Android System Recovery screen appears, release the Volume Up and Home keys.
Press the Volume Down key to highlight 'wipe cache partition.'
Press the Power key to select.
When the wipe cache partition is complete, 'Reboot system now' is highlighted.
Press the Power key to restart the device.
As long as it's the caches that are causing these problems, the procedure above will fix them. But if they remained after all these, you don't have any other option but to do the master reset and build your apps up from scratch on your new phone.
Turn off your Samsung Galaxy S6 Edge.
Press and hold the Volume Up, Home and Power keys together.
When the device powers on and displays 'Power on logo', release all keys and the Android icon will appear on the screen.
Wait until the Android Recovery Screen appears after about 30 seconds.
Using the Volume Down key, highlight the option, 'wipe data/factory reset' and press the Power key to select it.
Press the Vol Down button again until the option 'Yes — delete all user data' is highlighted and then press the Power key to select it.
After the reset is complete, highlight 'Reboot system now' and hit the Power key to restart the phone.
Galaxy S6 Edge volume goes to zero when using wired headphones
Problem: While running using headphones my music volume automatically goes down to zero. It only happens with corded headphones. it does not happen when running using blue tooth headphones. This issue happened with my S4 then i upgraded to the S6 hoping the issue would be resolved.
At first, I figured it was a headphone issue being affected by sweat, so i tried various brands and had the same problem. i also kept the phone in a waterproof pouch while running but had the same issue. I have seen many people online with this issue but no solutions. Any advice would be welcomed.
Troubleshooting: We did receive several emails of the same nature and while Samsung didn't acknowledge it as a bug, I think it is because it can actually be fixed by disabled SoundAlive. Open the Music app > go to Settings > turn it off.
You may find some answers in my previous post: Galaxy S6 Edge volume adjusts automatically.
Galaxy S6 Edge speaker not sounding off when playing music
Problem: I don't know how serious this problem is but my new Galaxy S6 Edge doesn't sound off when I play music through its speakers. Of course, I checked the volume and it's set to the max level. There's no headphones plugged in and the icon isn't showing on the status bar, so it's not that. I just don't know what and where to look at so please help me. Am I missing a setting or do I have to turn on or off something? Help me.
Troubleshooting: Play a video clip that you know has audio and see if the speaker sounds off. If not, try recording your voice and play it back. If the phone played through its speakers before, there's a chance the loudspeaker has been busted and needs replacement. If, however, the phone has this problem out of the box, you need to have it replaced.
Galaxy S6 Edge has no audio during calls but can hear callers on speakerphone
Problem: When I receive or make a call and use the typical phone function wherein you stick the phone to your ear, I can't hear a sound. When I use a headset or something, I can hear well and the same thing when I use the speakerphone. I don't want to stick a headphone to my ear when making or answering calls nor turn on the speakerphone for every one to hear about our conversation. All I want is for the phone to function like it should. How can I fix this? Can you give me a straight answer please.
Answer: Well, the straight answer is you can't fix it yourself; you need a technician to do it for you. The earpiece may have been damaged and it's a hardware issue.
Original headphones don't work with Galaxy S6 Edge
Question: So my new Galaxy S6 Edge came with its own headphones but I can't hear through them. Can it be replaced?
Answer: I think the retailer or your provider may be able to replace it with a new one that works, that is if that's really the problem. What if the issue is with the phone? To know if it's merely a headphone issue or with the phone, try to use a third-party headset that you know works. If it doesn't work with your phone, then it's the device that needs replacement, otherwise, request new headphones.
Of course, make sure the volume is set high enough for you to hear any sound. So, check the volume before demanding a replacement because that might just be the problem.
Callers can't hear Galaxy S6 Edge owner
Problem: You might have encountered or answered this problem several times but I just want to get a straight response from you guys. My phone is a Galaxy S6 Edge and since day 1, I have to use a headset so that my callers or the people I call to can hear me. When I stick my phone to my ear and speaker through the tiny mic hole at the bottom, I could not be heard. What is the problem with my device and what must I do?
Troubleshooting: The problem could be the microphone so try to isolate the problem first by making a call and turning on the speakerphone. The person on the other end should be able to hear you as the speakerphone uses a different microphone. If it's the case, then our suspicion that it's the other microphone that has a problem is confirmed but it doesn't mean it's damaged or something. There's a possibility that something is blocking that little hole. So, physically check it for lint or dirt and clean it or have it cleaned if you found something. If there's none, then have the phone replaced than having it repaired. It's new and your provider should replace it.
Connect with us
We are always open to your problems, questions and suggestions, so feel free to contact us by filling up this form. We support every Android device available and we are serious in what we do. This is a free service we offer and we won't charge you a penny for it. But please note that we receive hundreds of emails every day and it's impossible for us to respond to every single one of them. But rest assured we read every message we receive. For those whom we've helped, please spread the word by sharing our posts to your friends or by simply liking our Facebook and Google+ page or follow us on Twitter.