If you are looking for solutions to fix Samsung Galaxy S5 update error and issues, you're reading the right post. Whether you getting annoying system update notifications or your #SamsungGalaxyS5 device is not updating at all, this post should be able to help, or at least point you to the right direction in your troubleshooting task.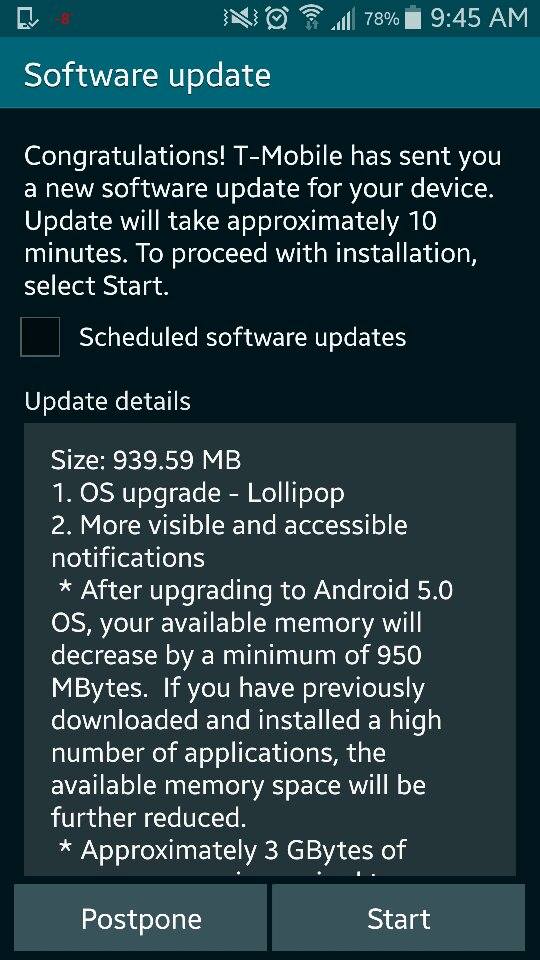 If you have other Android problems you want to share with us, please use the link provided at the bottom of the page.
#GalaxyS5updateerrors
---
Problem #1: Galaxy S5 unable to download an update due to error "Failed to update software. Use SKT USIM to progress update"
Cannot update software. After going to settings -> Update Software I get the message "Failed to update software. Use SKT USIM to progress update"  However I don't know what this means and to do next. I bought my S5 on eBay directly from Korea it's model SM G900S. — Terry
Solution: Hi Terry. This Samsung Galaxy S5 update error usually pops up if you try to update the phone with SIM card inserted. Try to turn off the phone, remove the SIM card, and download the update over Wi-Fi.
Problem #2: Galaxy S5 keeps showing "Software update error logs have been collected. These will be uploaded to the server." error
My phone advised me that there's a software update available for downloading. It downloads the update with no issues, reboots my phone then gives me the following message:
"Failed to Update Software."
Then it goes straight to another screen saying:
"Software update error logs have been collected. These will be uploaded to the server."
What do I do? I keep getting notifications to update my software and it keeps happening. — Shima
Solution: Hi Shima. This problem happens from time to time due to an issue with the phone's updater. To fix the problem, you need to delete the cache partition and/or restore the phone's defaults via factory reset. Below are the steps on how to do them.
Clear the cache partition of Galaxy S5
Wiping the cache partition, also known as the system cache, is an effective solution for most app-related problems. This can be done safely and won't affect the files stored in your phone's storage devices. Here's how to do it:
Turn the phone off.
Press and hold the following buttons together: Power, Volume Up and Home.
Release the buttons once the Android system recovery menu appears.
Use the Volume buttons to navigate to Wipe Cache Partition option.
Press the Power button to confirm selection.
Select Reboot System Now option after deleting the cache. Wait for the phone to reboot.
Galaxy S5 factory reset
If you can't restore the normal phone functions after deleting the cache, you can proceed to factory reset. Factory reset will delete all contents in your phone's internal storage so make sure to back them up first before you proceed.
Power down the Galaxy S5.
Press and hold the Volume Up button, the Home button, and the Power button together until you see the Android on screen.
Use Volume down to highlight the wipe data/factory reset option and press the Power button to select it.
Use Volume down again to highlight Yes – delete all user data and press Power to select it.
Use the Power button to select Reboot system now.
When the S5 restarts it should be completely wiped and ready to set up again.
Problem #3: Samsung Galaxy S5 keeps getting update notifications
I got a brand new Sprint Galaxy S5, after frantically trying to replace my last (broken) one. I received the phone in the mail and activated it myself. Not being a phone expert, after finally successfully activating my phone I did what I thought was normal for any new phone and began downloading a few basic apps such as: Snapchat, Instagram, Facebook, etc.
Meanwhile a notification popped up for a system update; I thought yeah why not? So once I had personalized my new phone to my liking I opened the notification that said Software Update: the update has been downloaded, it will be installed now. So without any question I pressed install. The phone went through its updating phases, it took a few minutes, and once the phone said the update had been successful it said it had to reboot to apply the changes that the update had provided. Once my phone came back on I was able to use it without any problem, the apps worked, no glitches really… but then another "Software Update" appeared and I thought, "well that's weird."
So again not really questioning it, thinking it was probably just because the phone was brand new, I pressed Install again. It went through all the same phases it had before and once rebooted I started using it again (everything seemed to work normal), and then to my surprise another one of these "Software Update" messages had appeared in my notifications… again! I have had the phone for about three days and have restarted it, taking the battery out, even tried installing the download a few more times but it WILL NOT go away. It is really starting to bug me as to the fact this "Update Software"" message s constantly in my notifications and cannot be removed. I need some guidance or else this update thing is going to drive me crazy.
Thank You, I hope you can get back to me soon. — Chris
Solution: Hi Chris. There are two types of updates you need to download from time to time: app and system (operating system) updates. These two often receives different notification depending on the carrier firmware on the device. We believe that the notifications that keep on bugging you are for apps updates. Your phone's update options are set to automatic so everytime there's an available update, it notifies you.
How to disable automatic apps updates on Samsung Galaxy S5
If you want to prevent the phone from notifying you of any pending apps updates, you can do the following steps:
Open the Google Play Store app.
Tap the menu icon (three dotted lines) or simply go to Settings.
Go to Auto-update apps.
These three options should appear:

Do not auto-update apps
Auto-update apps at any time. Data charges may apply.
Auto-update apps over Wi-Fi only.

Make sure to select the first option.
If you don't use Wi-Fi often but would like to receive automatic update notifications from time to time, you can select the third option.
How to disable operating system update notifications on Samsung Galaxy S5
Another way to stop update notifications on your phone is by turning off the OS update notification. This can done by going to Settings >Apps> All> Software Update.
Note: It is recommended to download and install updates whenever they become available to fix existing bugs and enhance phone's security.
Problem #4: Samsung Galaxy S5 update error "UNFORTUNATELY, CONTACTS HAS STOPPED" 
Less than 12 hours ago, I was required to do a system update. Now my phone is stating "UNFORTUNATELY, CONTACTS HAS STOPPED".  I cannot make a phone call at all.
I have cleared cache in both contacts and phone, restarted, completely turned off the phone. I didn't clear contacts because I don't know how to back it up. — Megan
 Solution: Hi Megan. This Samsung Galaxy S5 update error has baffled us as well as there seems to be no clear causal pattern that we can cite. It also happens on almost any Samsung or Android device. We think that an app or update may be the trigger for this problem.
Force stopping the app may work in this case. Here's how:
Go to Settings.
Proceed to Applications.
Select Manage Applications.
Tap the All tab.
Look for the Contacts app and tap on Force Stop button.
After force stopping the Contacts app, make sure to soft reset the phone by turning off the S5 and removing the battery for at least 10 seconds before turning it on again.
Problem #5: Galaxy S5 becomes unresponsive after it got dropped
Ok i see a bunch of similar problems but not quite the same as mine. ok i have I Galaxy S5. I got it about 4 months ago from AT&T. 1 week later i had dropped it doing no damage other than a cracked screen which i got fixed.
A week or two later it slipped from my hand, in its lifeproof case that cost 80 bucks that was supposed to protect the phone from minor slip ups like this. But the screen blacked out which was ruled out as the LCD being broken, which again, with the case, should not have happened. But i again got that fixed.
I'm not sure how relevant that may be to my current issue but i thought i should give you a clear background in hopes you can help me better.
For months, the phone has been just peachy until yesterday it glitched minorly but still new behavior for the phone to be doing.
i did not update or add anything to my phone recently so I'm not sure what is the cause for the random glitch. But anyway the phone was fine until i tried to access my moble data and it blacked out and proceeded to be stuck on the reboot loop after i took out the battery and restarted it and what not.
I took it to AT&T, my carrier, and they tried the same thing  and refer me to a phone repair shop they recommend, which was not a part of AT&T. I took it to the phone repair and they also told me it is broken and that they tried to reboot but was unresponsive.
now i go home and plug it into the wall. voila!! it works!! Only it doesn't really because in order for it to turn on at all i had to remove the SD card and if i unplug it from the wall it will go back to the reboot issue and if i plug it  into my laptop it will charge and my laptop will make the be bop noise BUT the phone itself is nowhere to be found. It only functions when plugged into the wall. will factory reset fix this? or the recovery mode? I do not want to try too much and make the problem worse. What do you recommend. — Karina
Solutions: Hi Karina. Unintentional dropping of an electronic device should be avoided at all times, even if you are using a special case to supposedly protect it from damage. All electronic devices can only withstand fall damage so much. While most seem to work normally without any sign of damage after a drop, some may show indications of problems right away. Such phenomenon is attributed to a few a factors like hardware and construction quality as well as state of the motherboard and components. That said, there's no telling what can happen to a device after a significant fall. While your S5 did not immediately show problem indications at first, the second fall may have the real killer blow.
We don't think doing any firmware or software troubleshooting will help. The way you describe the situation and the circumstances leading to the problem demonstrates that you have a hardware issue at hand.
Your best bet here is to either get a replacement phone, or have someone fix the device for you.
Unfortunately, we don't offer hardware troubleshooting and diagnostics in our blog to help you isolate what is the hardware point of failure. If you want to know more about hardware diagnostics, please use Google to look for resources in the internet.
---
Engage with us
If you are one of the users who encounters a problem with your device, let us know. We offer solutions for Android-related problems for free so if you have an issue with your Android device, simply fill in the short questionnaire in this link and we will try to publish our answers in the next posts. We cannot guarantee a quick response so if your issue is time sensitive, please find another way to resolve your problem. 
When describing your issue, please be as detailed as possible so we can easily pinpoint a relevant solution. If you can, kindly include the exact error messages you are getting to give us an idea where to start. If you have already tried some troubleshooting steps before emailing us, make sure to mention them so we can skip them in our answers.
If you find this post helpful, please help us by spreading the word to your friends. TheDroidGuy has social network presence as well so you may want to interact with our community in our Facebook and Google+ pages.