The Samsung Galaxy S5 (#Samsung #GalaxyS5) is a powerful phone with really cool features but many owners reported to have experienced sending and receiving text messages, which is one of the most basic functions of a phone. It's a shame a smartphone as good as it is can't even transmit 1kb worth of data over a cellular network.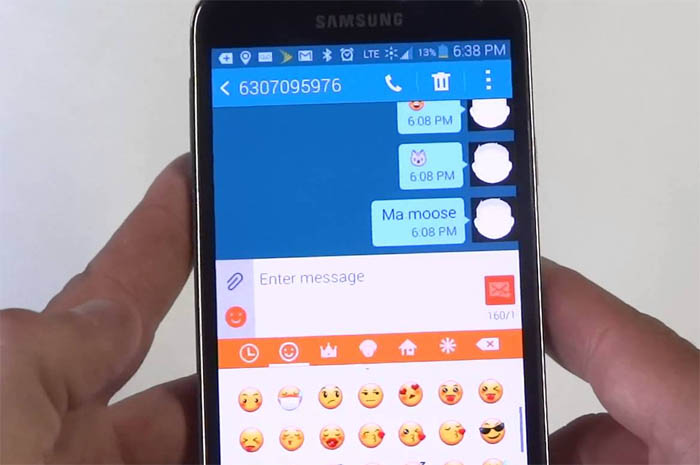 This post is all about texting problems. I included six issues reported by our readers and I will tackle each one of them. If you emailed or contacted us, read on as I might have included your concern.
The first problem is about a Galaxy S5 under the umbrella of Straight Talk that keeps prompting the user that mobile data is turned off even if it's on. If it's really the case, then it's a glitch either in the firmware or the hardware and it can easily be fixed.
The second issue is about the messaging app that keeps freezing, although the owner included two more issues which points to internet connectivity being the culprit. The next issue is about a message that couldn't be sent when emojis are included. These special characters are actually considered images so if you attach one emoji to your SMS, it will be converted to MMS.
Read on to find out other problems I addressed in this post. If you have other issues, however, feel free to contact us by filling up this form and hitting submit once finished. We are always willing to help our readers and we're doing it for free, so don't hesitate to get in touch with us. You may also visit our Galaxy S5 troubleshooting page as it contains hundreds of problems we have tackled in the past.
Straight Talk Galaxy S5 says mobile data turned off
Problem: I have a Galaxy S5 and use Straight Talk. I was receiving pictures in text and could send pictures. But now when I try to send picture in text or receive picture, my phone says mobile data turned off. I checked my phone settings and it says it's on. Can you please tell me how to fix this problem?
Troubleshooting: I don't want to discredit you when you said that mobile data is on but the thing is, when the phone says something specific about a service being off, it is often accurate as it is programmed to do that. That being said, I want you to double-check if mobile data is really enabled:
From the Home screen, tap the Apps icon.
Find and tap Settings.
Scroll to and touch More networks.
Tap Mobile networks.
Touch Mobile data.
If it's greyed out, it's disabled; otherwise, it's on.
After verifying that mobile data is enabled and you're still getting the same error, then it's time to clear some caches. Yes, it's just all about the cache.
Turn off the device.
Press and hold the following three buttons at the same time: Volume Up key, Home key, and Power key.
When the phone vibrates, release the Power key but continue to press and hold the Volume Up key and the Home key.
When the Android System Recovery screen appears, release the Volume Up and Home keys.
Press the Volume Down key to highlight 'wipe cache partition.'
Press the Power key to select.
When the wipe cache partition is complete, 'Reboot system now' is highlighted.
Press the Power key to restart the device.
Messaging app freezes, Maps not connected to server, email not synced
Problems: 1. Native Messaging app freezes constantly while having ongoing text conversation. Cannot type text while receiving messages. Cannot type after sending messages. Strange keyboard reactions after sending a message and after messaging app unfreezes.
Maps not connecting to server. Pulls up accurate map with traffic info. Cannot search. Can type in search box and hit enter but no results pop up. True of general searches and specific address search. I do not allow location services to run for the majority of my mobile use.
Google Inbox not syncing. Cannot see current emails. Does not refresh. Does not load additional messages after scrolling down one or two pages. No results when searching. "Sorry, there was an error retrieving search results."
Troubleshooting: All these problems seem to point to one direction–no internet connectivity. So, the first thing you need to do is make sure your phone has an active internet connection. Browse some websites, download apps, or do anything that would prove the phone is connected to the internet because unless you can rule out this possibility, you cannot continue your troubleshooting.
Assuming your phone has an active internet connection, you also have to fix one problem at a time. For example, try solving the problem with the messaging app first as it is easier than the others. All you need to do is clear its cache and data:
From any Home screen, tap Apps.
Tap Settings.
Scroll to 'APPLICATIONS,' then tap Application manager.
Swipe right to the DOWNLOADED screen.
Scroll to and tap Messages.
Tap Clear cache.
Tap Clear data, OK.
For the Maps app, try to see if there's an available update for it. Open Play Store and go to My Apps and you'll know right there and then when the app needs to be updated or not. If it's already the latest version, then try to uninstall it and just reinstall it back. It often works.
As to the email problem, just make sure master sync is enabled. If it is and this problem still happens, then re-setup your account.
Galaxy S5 cannot send text messages
Problem: I have a problem sending text messages . I receive them, and then when I try to send it back the little circle spins and finally it fails. I saw a tip that if you turn the airplane mode on and then back off it will send. I did this, and it did send after that, but a few minutes later it would fail again. It is annoying to have to turn the airplane mode off and on all the time. Sometimes I have to turn it on and off just to make a call go through. I have already done a factory reset which didn't seem to help. What else can I do?
Troubleshooting: If you're having difficulty sending plain text messages, then I suggest you go over this troubleshooting guide I wrote a few months ago or you may call your service provider. If the phone was recently reset, the problem might have something to do with the message center number or even the firmware. Talk with your provider first and verify it's not account related.
However, if you were trying to send text messages with pictures or special characters that will trigger the phone to convert it into an MMS, then you have to double-check that mobile data is enabled. If it is and you're still having this problem, try to verify that the phone has the correct APN settings. You may also call your provider and inquire about the correct APN for your phone.
Galaxy S5 Emoji not working
Problem: Recently whenever I have been using the regular factory installed texting app on my Galaxy S5, it will not let me use any emoji of any sort whenever I text. You know the cute little smiley faces, hearts, & the like. I have even tried some of the sort codes for them, with no luck. I can see them if someone texts me but I can't use them myself. Whenever I open the window for them to choose one my favorite emoji, all it does it sit there with the little tab for it lit up like when the window for them should be showing, but the window never shows up.
Troubleshooting: If you include Emojis to your text, the message should be converted to MMS for them to show up properly and sent successfully. By default, your Galaxy S5 was set to automatically convert texts messages to MMS if it detects you're using special characters or attaching images. It looks like that settings was changed so try to go over the Messages settings and look for input mode and change it to automatic. Also, make sure mobile data is enabled before sending the message.
Galaxy S5 messages not appearing in chronological order
Problem: When I text people their responses to my text appears before or above my text to them. So if I text my wife & say morning & she texts right back her text bubble will appear before my original text.
Troubleshooting: Can you believe this problem has nothing to do with the Messages app? Yes, all you need to do is set the time and date correctly. Then, your phone will receive and display messages in proper order.
Related Problem: As I was walking my phone started to butt dial, and by the time I realized, it switched to a new time zone, and military time. When I got home I tried sending a message and its sent, but not appearing. Also, I am getting notifications for texts received, and can read them in the bar, but they disappear in the messages app.
Galaxy S5 with Straight Talk service can't receive texts
Problem: Hello, I have recently purchased a Verizon Wireless Samsung Galaxy S5. I transferred my Straight Talk service from Walmart over to the Galaxy S5 from my Galaxy Centura. Everything has been outstanding and I love the new phone except for the fact that I cannot receive SMS messages. I can send SMS and multi media, but can only receive multi media messages. I have factory reset the phone, called Straight Talk customer service and was even sent to a supervisor and they could not solve the problem. They were saying that it is potentially the phone that has the problem itself. I can call and receive calls as well and I have sufficient signal. Please help!
Troubleshooting: First of all, try to send a text message to your own number to verify if you really can't receive text messages. It's necessary because you might end up troubleshooting a problem that doesn't exist. Next, try to delete previous text messages and if you're using a third-party app, uninstall it and use the stock app while you're troubleshooting.
If you were able to receive text messages before with your Galaxy S5, then it must be a service-related issue and I'm afraid there's not much we can do to fix it. You need to call Straight Talk over and over again until someone will take responsibility and provide a permanent fix.
Connect with us
We are always open to your problems, questions and suggestions, so feel free to contact us by filling up this form. We support every Android device available and we are serious in what we do. This is a free service we offer and we won't charge you a penny for it. But please note that we receive hundreds of emails every day and it's impossible for us to respond to every single one of them. But rest assured we read every message we receive. For those whom we've helped, please spread the word by sharing our posts to your friends or by simply liking our Facebook and Google+ page or follow us on Twitter.