The Galaxy S22 is Samsung's flagship device in 2022, launched on February 9 and started shipping on February 25.
It has a stunning 6.1-inch AMOLED display with 120Hz refresh rate.
Performance-wise, the phone is one of the most powerful devices available in the market with 8GB RAM and runs on Snapdragon 8 Gen 1 or Exynos 2200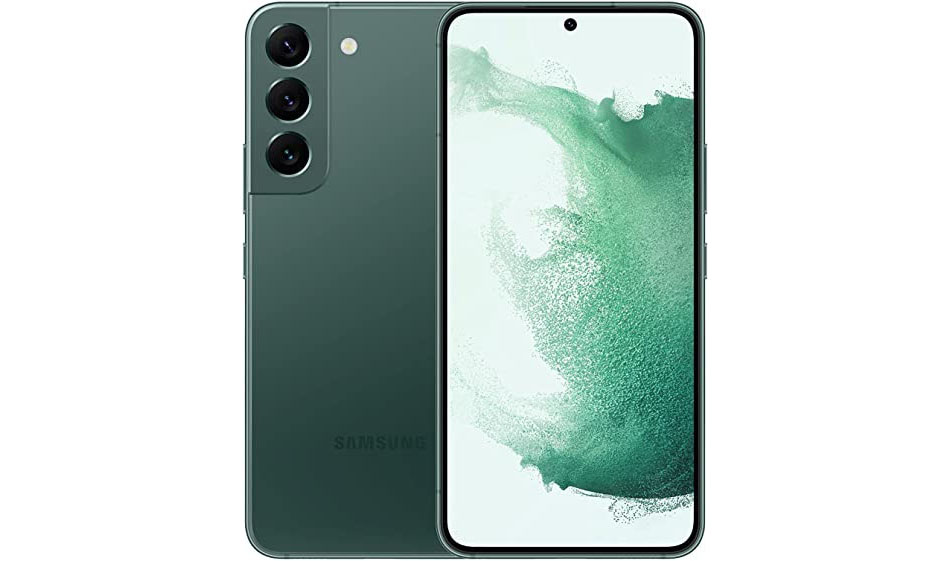 Features
Wallpaper color phone theming
Gesture navigation
Always on display
App permissions log
Silent notifications while driving
Reverse wireless charging
Lift to wake
Director's View
Add camera modes
Shot suggestions
Record HDR10+ video
Hands-free selfies
Specs
6.1in, 120Hz, FHD+, AMOLED display
128/256GB storage
Snapdragon 8 Gen 1 or Exynos 2200
8GB RAM
3700mAh battery
50Mp, f/1.8, OIS main camera
12MP, f/2.2 ultra-wide camera
10Mp, f/2.4, OIS 3x zoom telephoto camera
10Mp, f/2.2 front camera
Android 12 with One UI 4.1
IP68
Should you buy a Galaxy S22?
The new Galaxy S22 is undeniably a very powerful Android smartphone and if you decide to buy it, it's gonna be worth it, especially if you're upgrading from mid-range devices.
You will surely be able to notice the difference in performance and you will appreciate how responsive Samsung's flagship devices are. Not to mention the many features you cannot find in any entry-level and mid-range phones.
However, if you're an owner of a Galaxy S20 or S21 and wondering if it's worth it to upgrade to the new S22, then we can tell you that you might not be able to notice that much of a difference in the overall impression and performance.
It's because Samsung makes it a point that its flagship devices run on the latest Android version with the updated One UI interface. Considering the fact that the S22 is very similar to the S21 design-wise, you might want to wait for the S23 to decide whether you want to upgrade to a new device.
But then again, if money isn't a problem for you, you can shoot for the Galaxy S22 Ultra, which is a hybrid of the S Series and the Note series.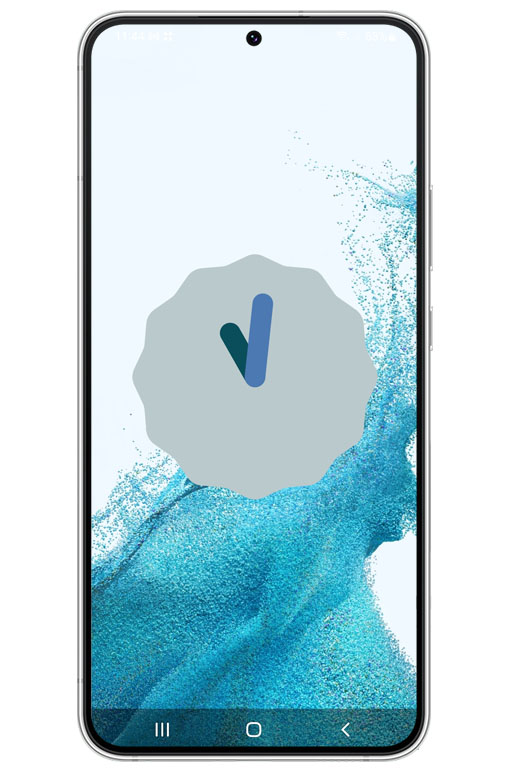 Galaxy S22 Overview
Samsung announced the Galaxy S22 on February 9th during its annual Galaxy Unpacked event much to the frustration of many who've been anticipating for a new design. Apparently, the S22 packs a more powerful hardware specifications, which are, actually impressive compared to its competitors.
The phone has a strong build with its aluminum frame but also looks delicate and elegant with its glass front and back. It has a 146 x 70.6 x 7.6 mm dimension, which translates to just .30 inches thickness and only weighs 167 grams. It is thin enough for a device that's more powerful than many laptops in the market today.
The Galaxy S22 boasts of its 6.1-inch display panel with Dynamic AMOLED screen and variable refresh rate from 1Hz to 120Hz, which makes animations a lot smoother. It has a resolution of 1080 x 2340 pixels, which is 19.5:9 ratio and gives you around 425 PPI density, making the images crisp and the colors more vivid.
Since it's Samsung's flagship, it's the first of all the company's smartphones to run on Android 12 with One UI 4.1 interface out of the box. The phone is generally very responsive thanks to the improvements Samsung made to its interface.
It you're in Europe, you will probably get a Galaxy S22 that runs on Exynos 2200 (4 nm) chipset but the rest of the world will get the Qualcomm SM8450 Snapdragon 8 Gen 1 (4 nm).
It is already expected that the Galaxy S22 won't have an SD card slot but you can choose between 128GB and 256GB for the storage and both variants have 8GB of RAM.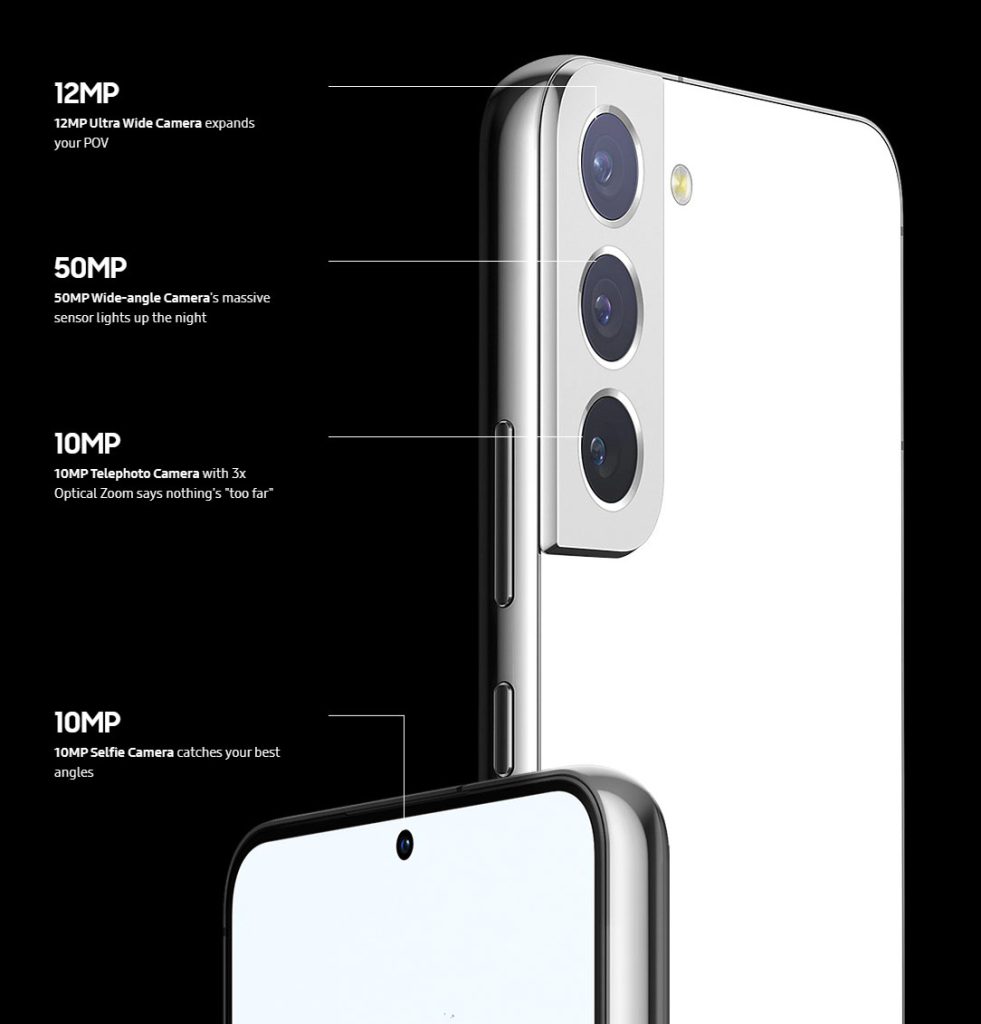 The main camera of the base model is also impressive with the following specs:
50 MP, f/1.8, 23mm (wide), 1/1.56″, 1.0µm, Dual Pixel PDAF, OIS
10 MP, f/2.4, 70mm (telephoto), 1/3.94″, 1.0µm, PDAF, OIS, 3x optical zoom
12 MP, f/2.2, 13mm, 120˚ (ultrawide), 1/2.55″ 1.4µm, Super Steady video
It can record 8K videos at 24FPS, 4K videos at 30/60 FPS and Full HD videos at 30/60/240FPS.
The secondary or the front-facing camera has the following specs:
10 MP, f/2.2, 26mm (wide), 1/3.24″, 1.22µm, Dual Pixel PDAF
It can also record 4K videos at 30/60FPS, which is the highest it can do.
The Galaxy S22 has a Li-Ion 3700 mAh non-removable battery, which is can handle 25 watts wired charging and 15 watts Qi wireless charging. As to its reverse charging feature, it can deliver up to 4.5 watts of charging power, which is enough to charge your smartwatch or earbuds, if any.
Galaxy S22 Price and Availability
The Samsung Galaxy S22 officially became available on February 9th and Samsung started receiving pre-orders a day after the device was launched.
While Samsung wanted the S22 to have a price close to the S21, it hasn't been able to do that due to a few factors and one of them is the global chip shortage.
So the new base model is $100 more expensive at $899 than the model released a year earlier.
The Galaxy S22 can be purchased online from Samsung website and Amazon. You can also buy it from Samsung retail locations and third-party retailers in the U.S. like Best Buy, Walmart and Target.
Galaxy S22 Reviews
The Galaxy S22 doesn't shake things up like the S22 Ultra but considering the fact that it's way cheaper than its big brother, its specifications are justifiable.
In fact, that's what many reviews say about the base model of Samsung's 2022 flagship devices.
Tom's Guide gave the S22 4 stars out of 5 citing the battery life and the camera, which still trail the cameras of Pixel and iPhone 13, as among the things that can still be improved. But still, almost all aspects of the phone have gotten the nods of many reviewers.
TechRadar, on the other hand, said that the Galaxy S22 lives up to the expectations of owners who are looking for a powerful device that you can operate with one hand. The design, which isn't much of an improvement from the S21, is still satisfying enough for owners who upgraded from mid-range and entry-level phones, not to mention a noticeable difference in performance.
Apparently, the S22 is a phone you should get if you're looking for a device with high hardware specifications, lots of new and cool features but not as expensive.
And while its camera doesn't fare much versus the Ultra, it's actually more than enough if you're looking to capture good photos or record 4K videos.
Galaxy S22 Issues
Battery issues
Some Galaxy S22 models have some battery issues and most of them are boil down to shorter battery life than normal. While the phone has a smaller battery than the S21, Samsung's new interface and the chip used are far more power efficient.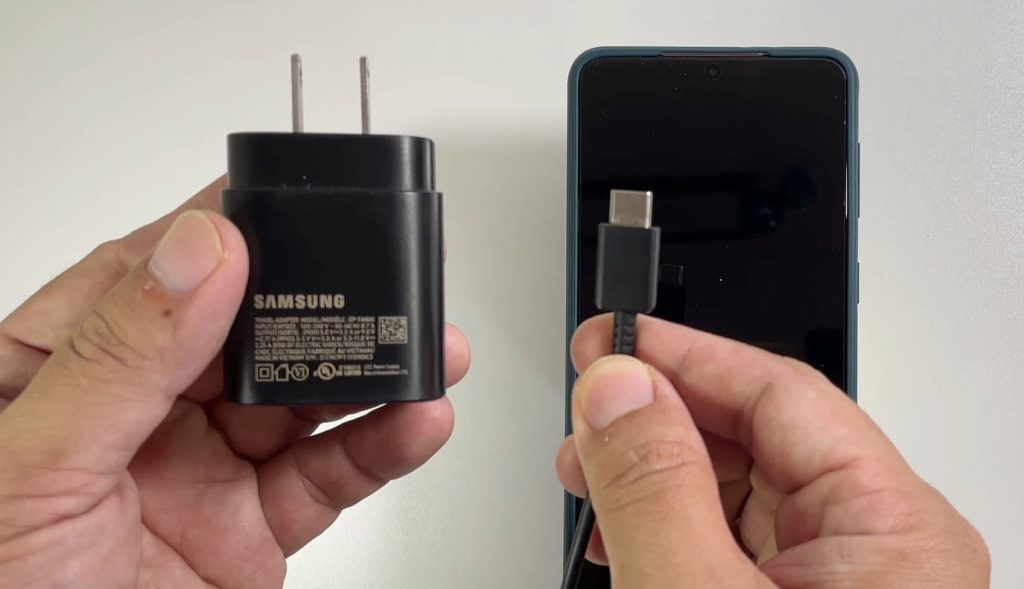 Issues with the phone's battery are fixable. In fact, you might only need to do a couple of procedures to make the device last longer. Aside from that, if it's a common issue, Samsung will definitely roll out an update to fix it.
Black screen, won't turn on
Another problem that's haunting some Galaxy S22 users is that the phone powers down and stops responding. Thus, it's stuck on a black screen, won't turn on and won't respond anymore.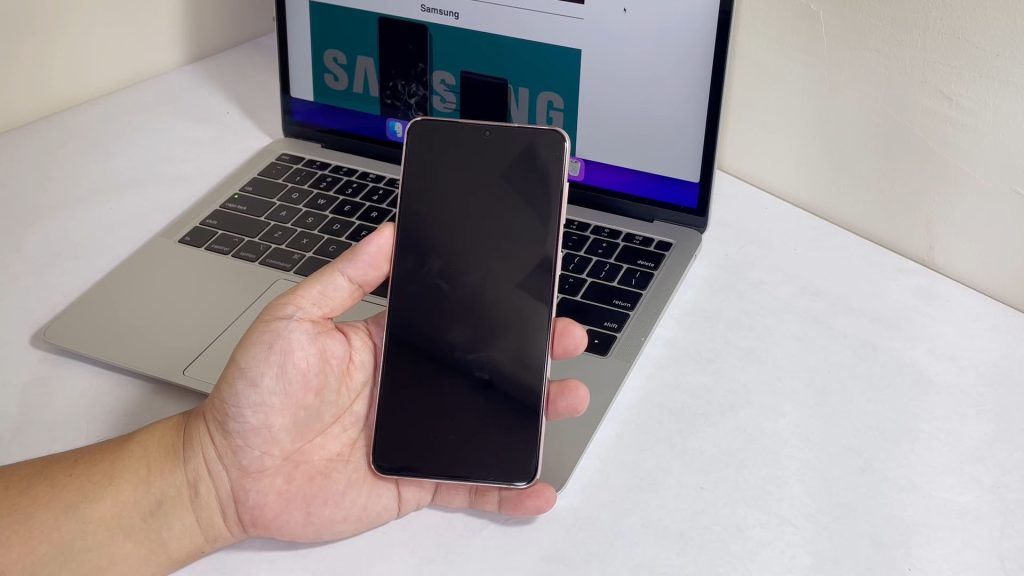 While it can be a hardware problem, most of the time, it's just a minor issue with the firmware, which can also be fixed by simply doing the Forced restart, provided that the problem isn't due to physical or liquid damage.
Performance issues
Performance-related problems are also among the common issues users reported, especially lags and freezes. It seems that at some point, some models just become so sluggish or take too long to open the apps.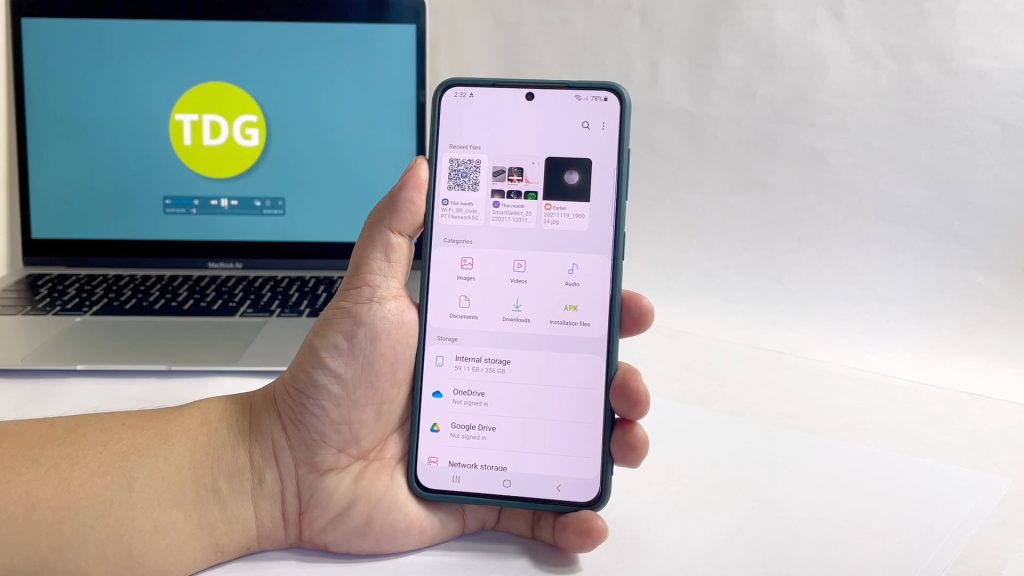 Closing background apps and doing the forced restart can sometimes fix the problem. But if it's due to low storage, then the best course of action would be to delete some of your files or uninstall big apps and games. Moreover, you can also reset the settings of your device to bring everything back to their factory defaults.
Time Needed : 4 minutes
Doing the forced restart will refresh your phone's memory and reload all apps and services, which what you might need to fix your phone's performance issues. Here's how it's done:
Press and hold the Volume Down button and the Power key at the same time for 8 seconds.

This will trigger the phone to shut down and turn back on.


When the Samsung logo shows, release both keys.

Then allow your phone to continue the boot process until it reaches the lock or home screen.

Connection issues
Connectivity issues might also occur every now and then but most of the time, they can be due to the router not being able to broadcast the signal properly, although it's also possible that your device has an issue with one of its wireless services.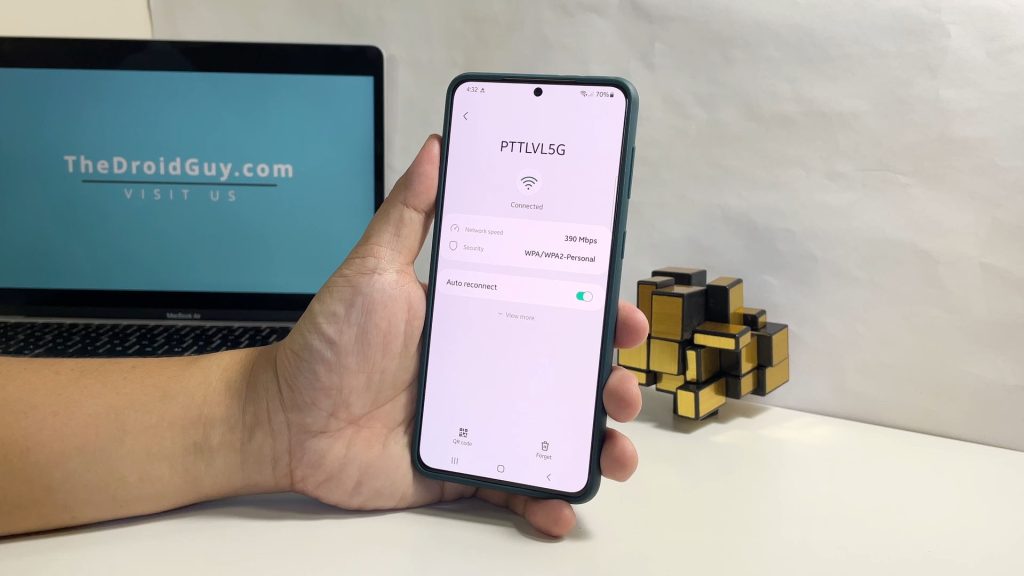 It doesn't matter whether your Galaxy S22 cannot connect to the Wi-Fi network or keeps on dropping the connection, you can actually fix those issues by simply rebooting your router and your phone, provided you're troubleshooting your own network.
App crashes
Perhaps, one of the easiest problems with the Galaxy S22 that you can fix without doing complicated solutions is the app crashes. Apps like Facebook, Twitter, Instagram, etc. have a tendency to crash from time to time.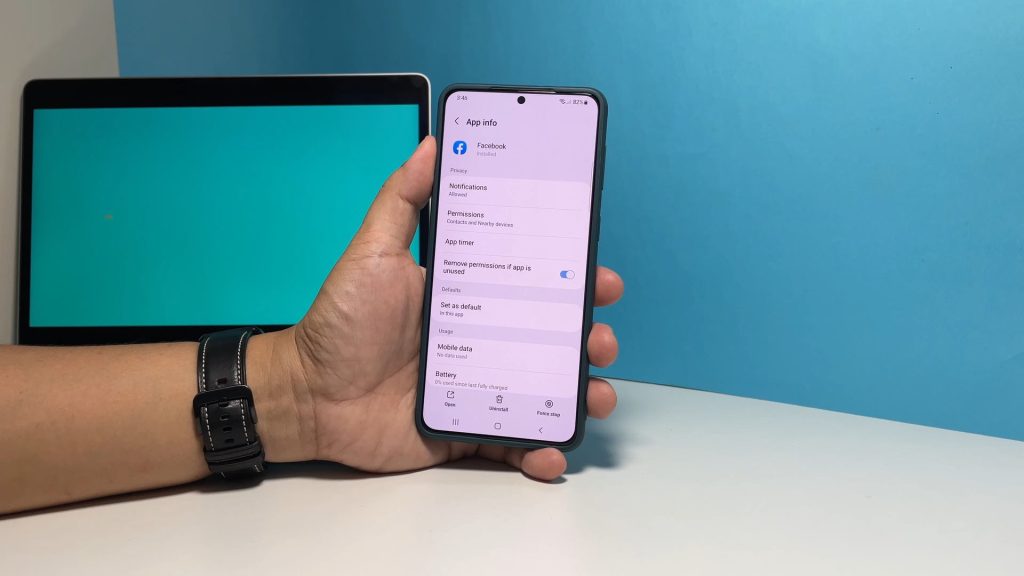 When such a problem occurs, it can be due to server issue wherein the client cannot connect to the servers and download data. Aside from, it can also be due to some corrupt installation files, caches or data files. Clearing the app's cache and data can often fix such issues so you really don't have to worry about it too much.
Design
The Galaxy S22 doesn't look much different than its S21 predecessor when it comes to physical features, although it is in fact a little "flatter" than the latter. The new model is minimalistic but it's still curvy in some key aspects.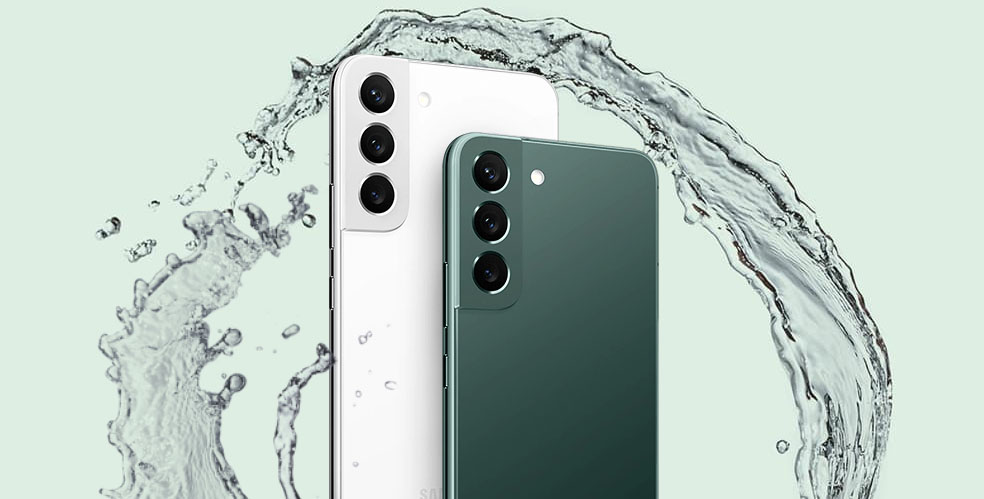 While the design of the S22 might not really impress the S21 owners who want to upgrade, it will definitely make users of entry-level and mid-range devices happy once they held it in their hands and feel how comfortable the phone feels.
The glass front and back designs make the phone glossy and well-protected as Samsung used Gorilla Glass Victus+ for them.
Size
The Samsung Galaxy S22 is the smallest among its siblings with dimensions of 146 x 70.6 x 7.6 mm and weighs only 167 or 168 grams.
So it can fit perfectly in your hand; it's light and it's thin with so much computing power. You will surely appreciate the comfort when you hold the phone in your hand because it's size is just perfect for anyone with small to medium hands size.
Color options
The Galaxy S22 is offered in four basic colors; Phantom White, Green, Pink Gold and Phantom Black. The middle frames as well as the camera islands are matched to these colors so that each variant will have one color.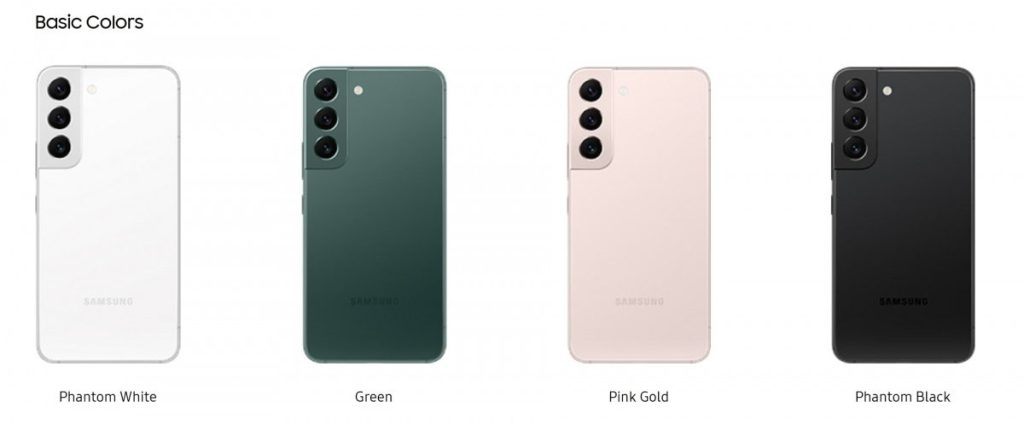 Now, if you wish to purchase your unit from any of the Samsung Experience stores or at Samsung.com, then you will have a different set of colors; Graphite, Cream, Sky Blue and Violet. Aside from that, these units have varying frames and color accents. The violet unit is couple with soft gold, whereas Graphite have darker accents, and Sky Blue and Cream get silver accents.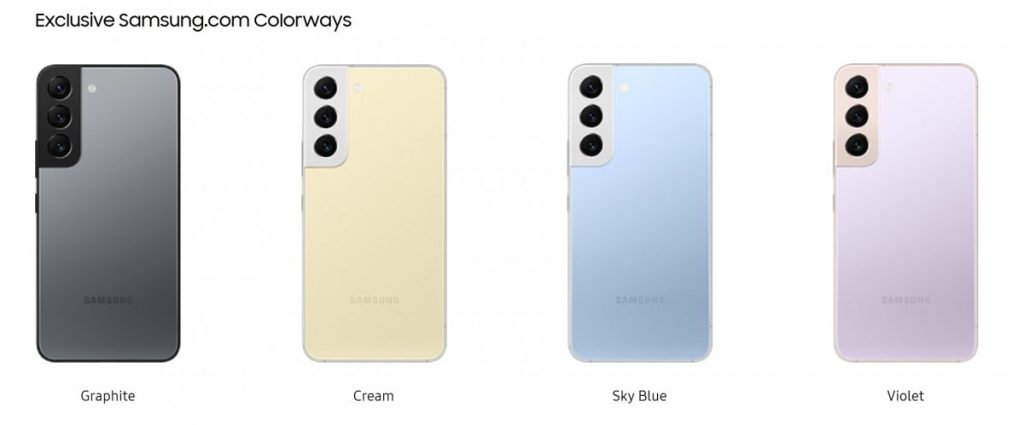 Water resistance
The Galaxy S22 is not waterproof, it's water resistant. The IP68 certification, makes your phone dust and water resistant but there are conditions. You can only submerge your phone about 1.5 meters and soak it not longer than 30 minutes.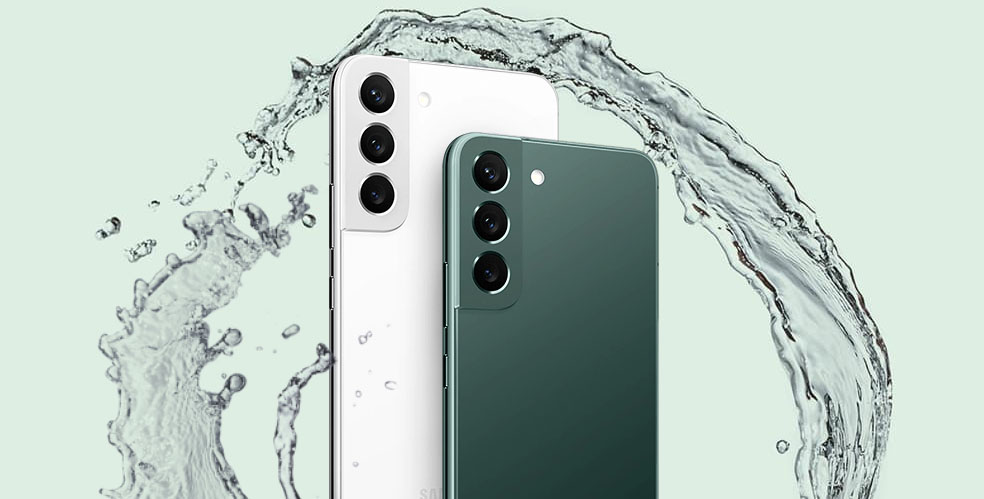 You should know that the waterproofing methods used for these devices are done using glue, which deteriorates over time. So depending on the integrity of those sealants, the 30 minutes can turn into 5 minutes or less. The good news about this new model is that it uses Armour aluminum frame with tougher drop and scratch resistance.
Display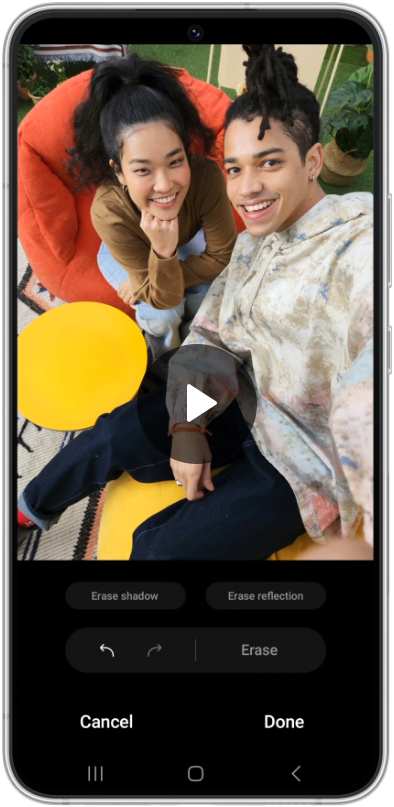 If there's something you can always count from Samsung on when it comes to its smartphones, it would the display. Its flagship devices always have better displays than their competitors and that goes for the Galaxy S22 as well.
The 6.1-inch Dynamic AMOLED display of your Galaxy S22 has a variable refresh rate from 1Hz up to 120Hz, capable of rendering HDR10+ and has a brightness of up to 1300 nits.
It has a resolution of 1080 x 2340 pixels or 19.5:9 ratio, which gives you roughly 425 ppi density. All that technicalities basically boils down to a screen that's vivid, bright, smooth and crisp, and all that is protected with Corning Gorilla Glass Victus+.
Platform & Memory
Samsung's flagship phones are expected to sport the latest chips in the market for the year they're released as well as the latest version of Android that's already available. In the case of the Galaxy S22, it already runs on Android 12 with One UI 4.1 out of the box.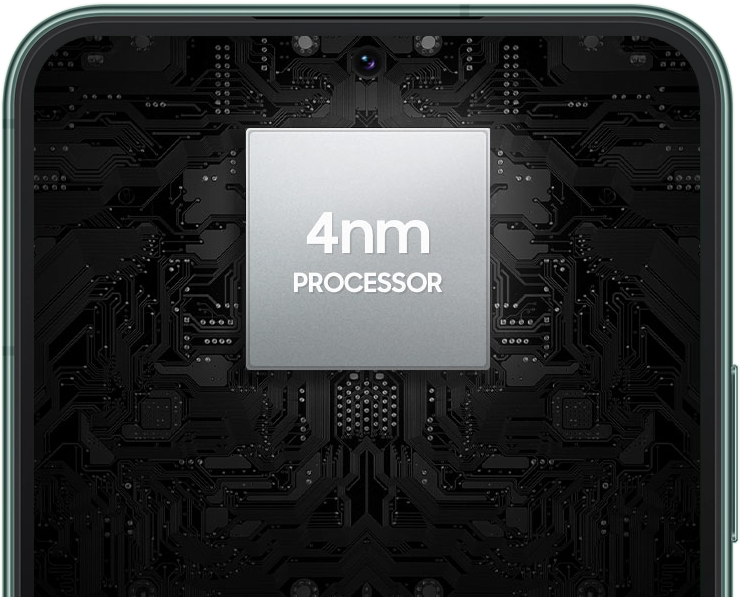 Units released in Europe will sport the Exynos 2200 (4 nm) chipset with Octa-core (1×2.8 GHz Cortex-X2 & 3×2.50 GHz Cortex-A710 & 4×1.8 GHz Cortex-A510) CPU and Xclipse 920 graphics processor.
The rest of the world will get Qualcomm SM8450 Snapdragon 8 Gen 1 (4 nm) with Octa-core (1×3.00 GHz Cortex-X2 & 3×2.40 GHz Cortex-A710 & 4×1.70 GHz Cortex-A510) processor and Adreno 730 GPU.
Potential buyers can choose between units with 128GB storage and 8GB RAM, and 256GB storage with 8GB RAM.
Cameras
The camera is one of the selling points of the Galaxy S22 and it has always been like that ever since Samsung started making smartphones. The device actually has four camera sensors; 3 at the back and 1 in front.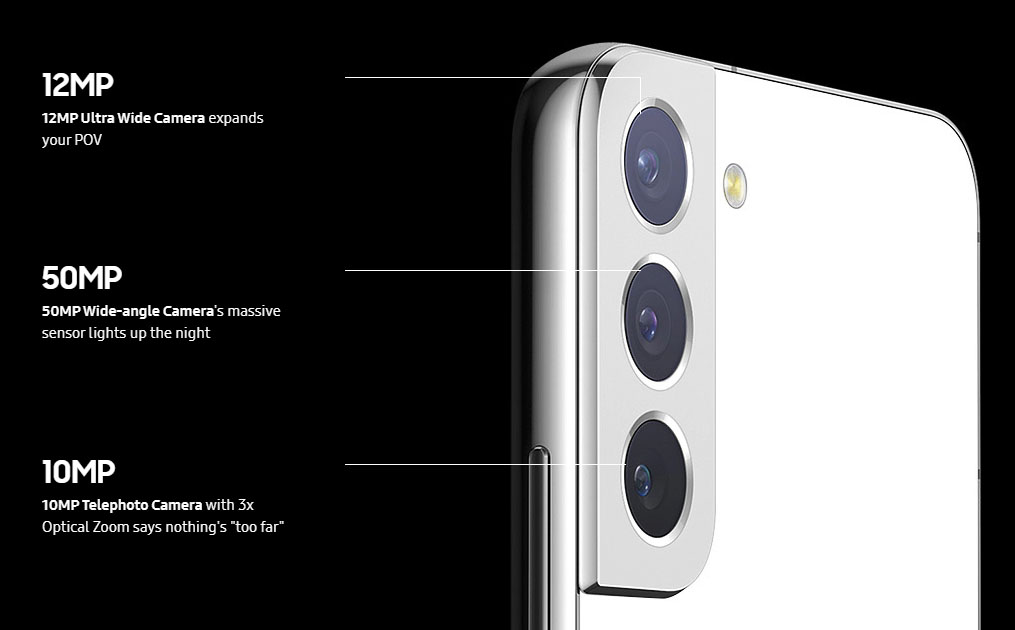 It has a 12MP Ultra Wide Camera to expand your point of view and that's the first one at the top on the back. The second one is a 50 MP Wide-angle Camera sensor which allows you to capture stunning photos or record videos even at night. And the third one is a 10 MP Telephoto Camera with 3x Optical Zoom, which allows you to take photos of something from afar.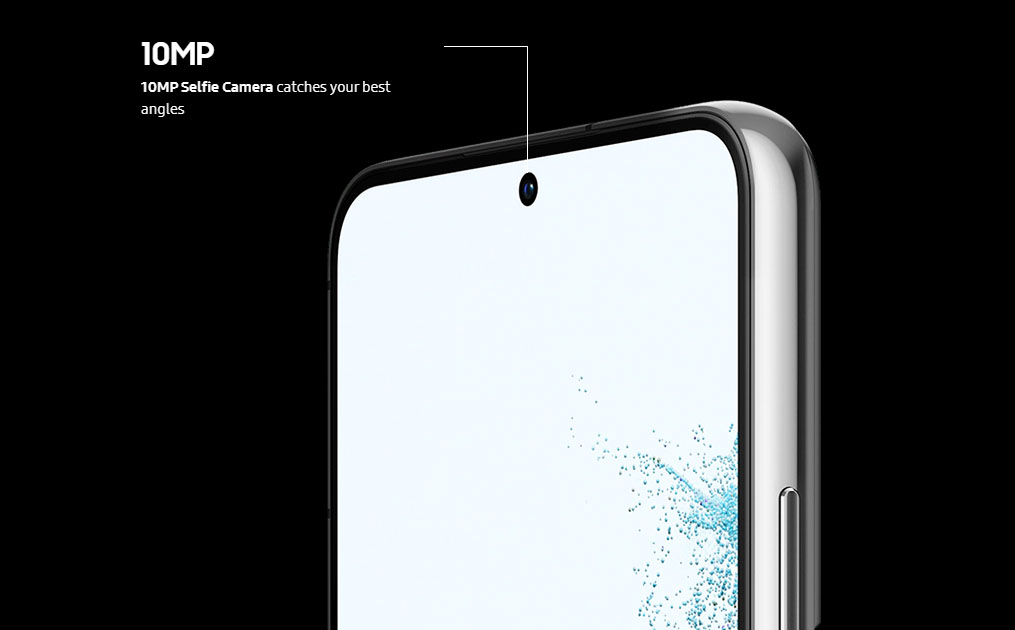 The one in front is a 10 MP Selfie Camera, which catches your best angles especially if you're just a few feet away from your phone. While these cameras still trail behind iPhone 13 or the Pixel 6, they're actually pretty good enough for your day-to-day snaps and recordings.
Battery life
The Galaxy S22 has a smaller battery at 3700 mAh than its S21 predecessor at 4,00 mAh. Samsung decided to do so to make better use of the power efficiency of the 4nm chipsets its devices are using not to mention the revamped One UI, which is at version 4.1 when the flagships were launched.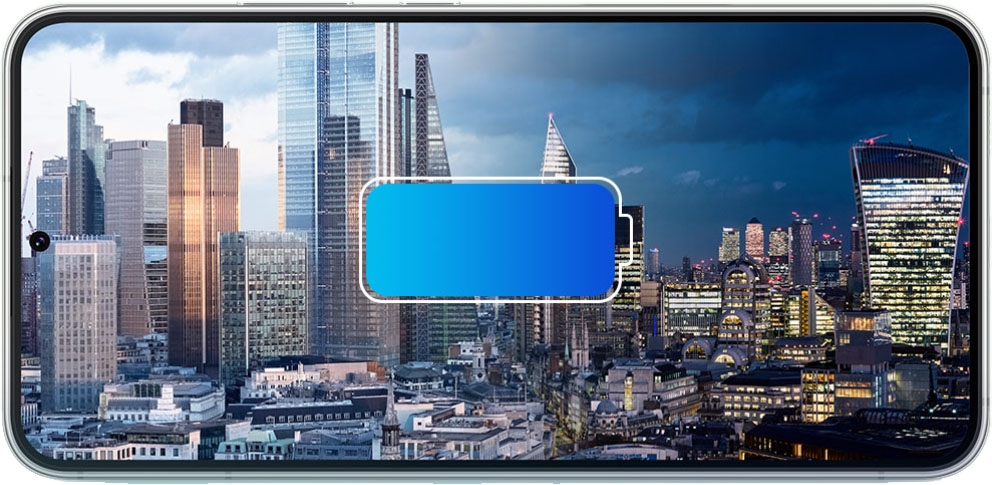 GSMArena's battery tests say that the S22 has a score of 85h endurance rating, which gives you around 25 hours of talk time over 3G, 11 hours web browsing 14 hours video playback.
5G Connectivity & Wi-Fi
The new Galaxy S22 is already capable of transmitting data over 5G networks, which allows faster upload and download speeds. This results in faster loading of webpages, less video buffering and faster file downloads.
There's no denying that phone makers are already shifting over to faster networks but the S22 still supports 2G, 3G and 4G bands with the following speed outputs:
HSPA 42.2/5.76 Mbps
LTE-A (7CA) Cat20 2000/200 Mbps
5G (5+ Gbps DL)
It also has a dual-band Wi-Fi that allows you to connect to either 2.4Ghz or 5Ghz bands through a,b,g,n,ac and 6 standards. Your S22 can transfer files through Wi-Fi Direct and can even share its connection with other devices through hotspot service.
Frequently Asked Questions
What should I do if my phone is not responding?

Try doing the Forced restart. It will simulate battery removal which will refresh your phone's memory and reload all its apps and services. Most of the time, it's enough to fix such a problem.

What if the screen keeps flickering?

The first thing you have to do is close all apps that are left running in the background as some of them might be causing the flickering.
After that, try doing the forced restart to refresh the memory and reset all the settings without deleting any of your files and data.

My phone is slow, how should I fix it?

First of all, try to check the storage of your phone because if there's not enough, then that would be the reason why it's running slow.
The next thing you should do is close the apps that are left running, and then do the forced restart.
You can also just do the factory reset to fix it.
Latest posts