Your #Samsung Galaxy Note 5 (#GalaxyNote5) is one of the smartest phones in the market today and it comes packed with features that you can't just find from other devices. But have you recently encountered an issue wherein the phone plays the notification sound and when you unlock it there was no message?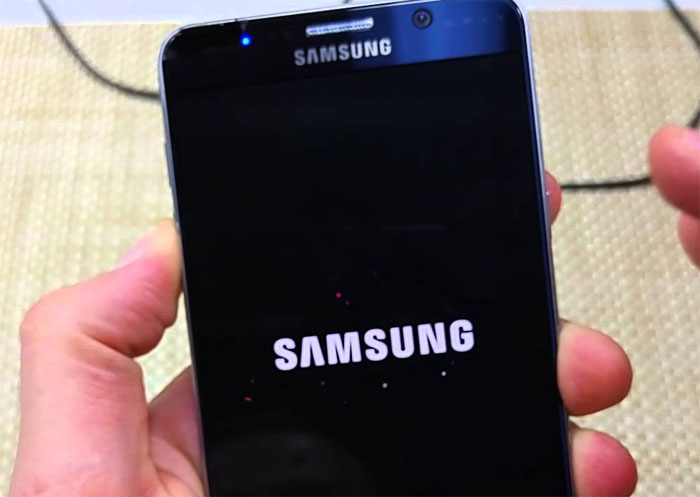 A lot of owners have experienced this issue that's why I included it in the list of problems below.
Before we go any further, if you have other problems with your device, you can get help by either contacting us or visiting our troubleshooting page.
Should you choose the former, make sure you provide us with the details of the problem by filling up this questionnaire. Things like when and how the problem started are very helpful, so if you think you understand what the problem is, speak your mind and we'll help you figure it out.
On the other hand, if you choose the latter, then visit our Note 5 troubleshooting page where we list down every problem we address each week. Find ones that are similar to yours and use the solutions we provided.
---
Note 5 SMS notification sound can't be changed
Problem: Sound notification for text messages comes through as "temple bell" regardless of what it is set at. Have changed default notification as well. No third party notification apps are installed. Thank you.
Related Problem: I have several custom notification files that I'd like to use. I can change the notification right from Settings but it defaults back to default ringtones or those that come installed on the device. Why is my phone acting weird? Is this a problem with operating system? Can it be fixed?
Related Problem: Unable to connect to server" notification every time I attempt to change a ringtone or notification. It has done this since i  got the phone 3 months ago before and after latest update. Therefore,  I still have the factory settings ringtone and notification.
Solution: It's more likely that the directory where ringtones are saved have been deleted, replaced, renamed, or whatever. The phone searches for ringtones from that directory and if it doesn't exist, then there's nowhere to search from.
You have to create such folder. Open My Files and go to Device Storage. Create a folder named Ringtones (capital R). Then, restart your phone. Once rebooted, try changing the notification sound again. It should work this time.
Note 5 keeps notifying but there's no message
Problem: Recently my phone started to have an issue where it would ding or beep like I have a new notification but I have nothing i even tried airplane mode and same thing I'm about to factory wipe it I cant get help or find a solution.
Related Problem: After having  my phone for a  month, I have been  receiving an unknown  notification EVERY HOUR, on the hour at 12:38,1:38,2:38,etc.
A Verizon support tech tried to  troubleshoot to no avail. He did all he knew but the  problem  persists. Please  help! I'm  going crazy with  this  phone!
Solution: There's actually a feature that will keep reminding the owner about unread notifications from certain apps. The notification will either be in the form of vibration or sound. Disable this feature and you will be able to stop your phone from sounding off anytime it wants. Go to Settings > Accessibility settings > Notification reminder.
Note 5 won't mute when flipped over even if Settings are on
Problem: Since I started using the Samsung themes the mute feature of flipping the phone over to silence it isn't working anymore when I receive texts (I have partial songs assigned to my favorite contacts).  The feature is turned on in my settings.
Troubleshooting: Try booting your phone in safe mode to see if the feature still won't work and if so, then it must be a firmware issue and master reset is necessary.
How to boot Note 5 in safe mode
Turn off your Galaxy S6.
Press and hold the Power key.
When 'Samsung Galaxy S6 Edge' appears, immediately release the Power key and then press and hold the Volume Down button.
Continue holding the Volume Down button until the phone finishes the restart.
When you see Safe Mode on the lower left corner of the screen, release the button.
Booting in safe mode will disable all third-party apps and services. Sometimes, even built-in features are affected if there are issues with third parties. If the feature works in safe mode, then all you got to do is find the app that's causing the issue and uninstall it. Or, you can go ahead and do the master reset.
How to do master reset on Note 5
Turn off your Samsung Galaxy Note 5.
Press and hold the Volume Up, Home and Power keys together.
When the device powers on and displays 'Power on logo', release all keys and the Android icon will appear on the screen.
Wait until the Android Recovery Screen appears after about 30 seconds.
Using the Volume Down key, highlight the option, 'wipe data/factory reset' and press the Power key to select it.
Press the Vol Down button again until the option 'Yes — delete all user data' is highlighted and then press the Power key to select it.
After the reset is complete, highlight 'Reboot system now' and hit the Power key to restart the phone.
The reset works most of the time.
Note 5 launches One Drive when adding ringtone
Problem: I'm trying to customize/personalize my phone and was trying to use my existing music on the phone as a ringtone . However, every single time I go to "Add ringtone," it goes to One drive and even I cant exit unless I close or exit the app. signing in to one drive does nothing either… for some reason I'm unable to access my music files. 
Solution: For some reason, the One Drive app was set to be the default app to be opened when trying to add a ringtone. All you need to do is revert it by going to Apps > Settings > Default Applications > tap the Clear button next to One Drive. That's it.
SnapChat audio is distorted on Galaxy Note 5
Problem: The sound on my SnapChat app doesn't work very well. It sounds distorted so bad I can't post a video with music playing in the background.
Troubleshooting: Just make sure it isn't the phone that's distorting the sound. You may record a video and play it back to verify. Once you've ruled out the phone issue, all you got to do is either update the app or uninstall and reinstall it. It's more likely a SnapChat issue.
Note 5 doesn't sound off when headphones are plugged in
Problem: Sound working fine when I use my Radio app. When I plug in my head phones (several tried) there is no sound from the device or more important from the head phones.
Troubleshooting: Try plugging different headsets or headphones and see if the problem remains. If so, the problem is with the headphone jack of your phone. Try to inspect if there is a debris or lint. If there's nothing in there, verify the volume is turned all the way up.
It might be a hardware issue so you need a technician to check the device more thoroughly.
Note 5 speaker doesn't work intermittently
Problem: My speaker doesn't work intermittently I tried *#0*#, still speaker not working but according to Samsung technical support in iCare there's no problem? How is that possible?
Answer: If something isn't working with the device, then there's a problem, although, I understand why Samsung reps are hesitant to troubleshoot their own devices–the company wants them to convince the customers to buy new products if something is wrong with their device. Let's face it, there's more money to sales than tech support.
Now about your problem, it seems you are already convinced that there's really an issue with the device but you need to convince tech support and one thing they often want customers to do is master reset. So, backup your data and do that. If the problem wasn't fixed, then call tech support again and this time request to speak with a manager. Managers may still lie but they have a direct liability to the company so they will do their best to help you.
Note 5 sound comes out on the left side only but not on the right side
Problem: I am having a problem with my headphone. I've tried multiple different phone from the ones you plug into the phone to Bluetooth ones. Doesn't matter which ones the sound does not come through right side. I use headphones at work and they were working fine and just stopped. I had my friends try all the headphones i used on their phones and there is nothing wrong with the headphones. the speaker on the phone works just fine. Please help. Thank you.
Troubleshooting: First off, boot your phone in safe mode and play music with headphones plugged in. I don't know what apps you installed on your phone but there are some out them that can manipulate the device's audio like equalizer apps. Booting in safe mode will disable all third-party apps and so if the issue was caused by one of them, then the phone should be able to play sound through left and right speakers (stereo). If the problem, however, remained even in safe mode, then it's most likely a hardware problem and you need a technician to check it for you.
On the other hand, if the problem was fixed in safe mode, then you have to look for apps that's causing it and begin your search with music and equalizer apps. If you can't find it, backup your data and reset your phone.
Note 5 audio gets muted for a second
Problem: The problem occurs when I use headphones. The sound gets muted for a second. For example while writing this message i was using headphones, the keypad typing sound get muted for a second in a minute interval. Same happens while I listen to music, the music gets muted for a second between 1-2 minutes interval. I had tried using different headphones. The problem continues. Till the time i completed this description, it happened 5 times. Its really annoying.
Troubleshooting: Since we don't know what's causing it, it's necessary to further observe the device and you can do that better by booting the device in safe mode to temporarily disable all third parties.
Observe closely if the sound gets muted every 1 or 2 minutes. If so, you have no other option but to do the master reset.
However, if it was fixed while in safe mode, it means one or some of your apps is causing it. You just have to find that app and uninstall it or you can also do the factory reset.
Connect with us
We are always open to your problems, questions and suggestions, so feel free to contact us by filling up this form. This is a free service we offer and we won't charge you a penny for it. But please note that we receive hundreds of emails every day and it's impossible for us to respond to every single one of them. But rest assured we read every message we receive. For those whom we've helped, please spread the word by sharing our posts to your friends or by simply liking our Facebook and Google+ page or follow us on Twitter.