There are only a few smartphone models that are still popular two years after their initial release. The #Samsung #Galaxy #Note4 is one of these devices. Sporting a Snapdragon 805 chipset, 3GB of RAM, a 5.7 inch Super AMOLED display, and a 16MP camera among others, this device is still being used by quite a lot of people. The constant software updates that this phone is getting also helps in making it popular. While this phone has proven itself as a reliable daily driver there are instances when  certain issues can occur which we will be addressing today. In this latest installment of our troubleshooting series we will tackle the Galaxy Note 4 battery drains fast issue & other related problems.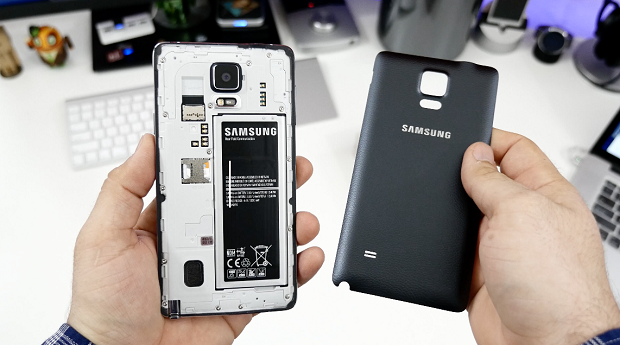 If you own a Samsung Galaxy Note 4  or any other Android device for that matter then feel free to contact us using this form. We will be more than happy to assist you with any concern that you may have with your device. This is a free service we are offering with no strings attached. We however ask that when you do contact us try to be as detailed as possible so that an accurate assessment can be made and the correct solution can be given.  
If you would like to browse the previous parts in this series then check out this link.  
You may also reach us at our Facebook and Google+ social media accounts.
Note 4 Battery Drains Fast
Problem: This is an unlocked, international (Singapore) Note 4 Battery Drains Fast. Started 2-weeks ago after i removed battery and changed SIM card (I reinstalled the original card after 5 minutes as I wanted to check my account on another SIM card I use while travelling overseas. 1). Screen Battery usage at 46% regardless of display settings (including gray scale). Performed system cache reset, safe mode app check, most apps on sd card, reduced screen timeout. Performed battery analysis (good and temp good). I have lots of google play/drive etc apps. Will do app cache reset for each app. Drainage problem persists. 2). Sound playback on video calls extremely low. volume settings at maximum. Thank you for any feedback.
Solution: Does your phone have a microSD card installed? If it has then try removing this. The card might have some corrupt sectors causing the phone to constantly try getting the data from the card which in turn drains the battery.
Once you have eliminated the microSD card as a possible cause to this problem the next step is to determine if this problem is caused by a battery or software issue. To do this you will need to backup your phone data then do a factory reset. Once the reset is complete do not install any apps in your phone just yet. Charge the phone until the battery reaches 100% then observe if it still drains fast. If the issue doesn't occur then some software glitch could be causing the problem. If the issue still occurs then you should consider getting a new battery.
Note 4 Turned Off Then Keeps Rebooting
Problem: Hi…I have a Samsung Galaxy Note 4 which i bought just 6 months ago…My phone was working all fine until it suddenly just turned off and then it just kept on rebooting never turning up..I tried doing everything from the Troubleshooting (power button+Volume up+ home key) and i also did a factory reset.. before the reset my phone would only turn on when attached to the power supply and as soon as i took it off it started rebooting again..after the reset the phone remained on for about half an hour until it suddenly turned off while i was still using it and the problem started all over again and the phone doesn't get past the initial galaxy note 4 sign ..plz help..is there anything i can do ??
Solution: Since you already tried doing a factory reset then it's safe to say that the phone software is not causing this issue. Try replacing the battery of the phone as this could be causing the problem. If the problem still occurs even after replacing the battery then you should bring your phone to a service center and have it checked.
Note 4 Keeps Shutting Down With Battery Life Left
Problem: Good Morning: I have a Samsung Galaxy Note 4 – and I love it! I have had it a couple of years….love the pictures/camera, love the keyboard etc. etc. however I'm not a fan that my phone keeps shutting down with 50-82% still showing on the battery life. It will often shut down if I am taking a picture and then it will attempt to reboot itself over and over and over looping this procedure several times until it finally dies. At times it also "clogs up" when I'm trying to send a text and one is being received it will not let me type and I have to wait until texting has cleared to send my message. Any suggestions?
Solution: One of the causes of a phone shutting down when taking a picture is a faulty battery. Try getting a new battery then check if the problem disappears. If it still occurs then follow the recommended troubleshooting steps listed below.
Check if an app you downloaded is causing the problem by starting the phone in Safe Mode. If the phone does not reboot when in this mode then the problem could be caused by an app you downloaded. Find out what app this is and uninstall it.

Try wiping the cache partition of your phone from the recovery mode. This will erase the temporary system data which if corrupt can cause this problem.

Backup your phone data then do a factory reset.
Should the above steps fail to fix the problem then I suggest that you bring your phone to a service center and have it checked.
Note 4 Will Not Restart
Problem: Hello, I have been having issues with my phone for about two weeks, first it started shutting off and on by itself. I bought a new battery and issue still continued, I deleted most of my apps also. It seemed to be overheating and if I but in a fresh battery or let it sit it would restart, but yesterday it restarted and now it will not turn back on. I tried doing all the safe starts and no power at all, is there a way to restart it?
Solution: I suggest connecting your phone to a charger that is known to work and let it charge for at least 20 minutes. If the phone does not have a charging indicator then try cleaning the charging port first using a can of compressed air. You should also try using a different charging cord. If the issue persists then I suggest that you bring your phone to a service center and have it checked.
Note 4 Not Working Unless Plugged In Charger
Problem: My Samsung Galaxy Note 4 says battery fully charged. I unplug it… It begins to and continues to reboot itself until I plug it in. As long as it is connected to the charger it works… I have done a factory reset & I have done the cache partition wipe.  Any further recommendations or do I just need a new battery?
Related Problem: OK so I have a note 4, and I'm thinking I have a faulty battery, once the phone gets below 30% it suddenly shuts off, and I turn it on, it turns on, marks 0% battery then shuts off, I plug it in and charge it and it goes up from 0 to 100% but if I take out the battery when it turns off and put it back in it shows the battery percentage of where it was, and I can charge it from there, but yet it still keeps turning off, this should be the battery no? Thanks in advance.
Solution: It's possible that you might just need a new battery. Try replacing the battery first then check if the issue still occurs. If it does then you should bring your phone to a service center and have it checked.
Note 4 Turns Off When Using Camera
Problem: My note 4 has a problem, it dies off at 40% when you use the camera, we have tried replacing the battery with a new one, and also done a restore factory setting, aside from removing third party apps, but still the same issue persists. We previously also tried doing a safe mode and cache cleaning.
Solution: It's very likely that this problem is already caused by an internal component that is failing to work. I suggest that you bring your phone to a service center and have it checked.
Feel free to send us your questions, suggestions and problems you've encountered while using your Android phone. We support every Android device that is available in the market today. And don't worry, we won't charge you a single penny for your questions. Contact us using this form. We read every message we receive can't guarantee a quick response. If we were able to help you, please help us spread the word by sharing our posts with your friends.