We've already seen a lot of charging related issues with Samsung Galaxy S5 (#Samsung #GalaxyS5). Some owners complained their phones don't charge at all, some said theirs charge very slowly, others reported their devices sporadically stops charging, and a few or our readers told us theirs continue draining the battery even if plugged in.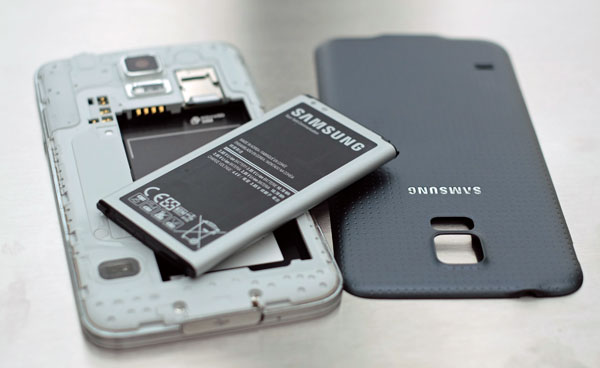 Charging problems may be caused by several factors and the key to fixing them is proper troubleshooting. Good thing Galaxy S5 has a removable battery because it is often one of the causes. A busted charger or a broken USB cable may also lead to this issue so they must be checked thoroughly before anything else.
I will include a few charging-related issues in this post. If you've emailed us regarding this problem, try to check below as your concern could be among the ones I addressed here. In case you have other concerns, visit our Galaxy S5 troubleshooting page as we've already addressed hundreds of problems before. We may have already answered your questions but if not yet, find issues related to yours and try the solutions we provided. If they won't work for you, then contact us as we are always willing to help.
Battery drains while charging
Problem: I am having problem charging my phone Galaxy S5 , when I connect the charger my phone shows the lighting bolt the red light and charging: 36% appears at the bottom but it is not charging instead its like the charger drains the whatever battery I have like if it is 36% it will go to 35% in no time. I know nothing is wrong with the USB port of my phone because when I connect it with USB cable to my laptop it is charging and I also know the charger is working because when I take out the battery put it in the extra battery charger and connect the same charger which is not charging my phone to the extra battery charger it charges the battery. Can you please help I don't want to take out my phone battery every time it needs to be charged and neither can I connect my phone to the laptop to charge it every time.
Troubleshooting: There's one very basic thing to do–turn the phone off and charge it. Assuming the phone charges fine when it's off, then the problem can be traced down to either the firmware or some apps. In this case, you need to isolate the problem by booting the phone in safe mode. By doing this, you will know if some apps drain the battery faster than the charger can push or if it's the firmware that has some issues.
Turn the device off.
Press and hold the Power key.
When 'Samsung Galaxy S5' appears on the screen, release the Power key.
Immediately after releasing the Power key, press and hold the Volume down key.
Continue to hold the Volume down key until the device finishes restarting.
Safe mode will display in the bottom left corner of the screen.
Release the Volume down key when you see Safe Mode.
If the phone charges at a normal in safe mode, then it must be some apps that drain the battery. There were a lot of reports of problems like this and you have two options here: either to uninstall suspected apps or to immediately perform a hard reset.
Hard reset will delete all your apps and that will take care of the problem. However, you need to backup all your data as they'll be lost during the process including your photos, videos, files, music, etc.
Turn off the device.
Press and hold the following three buttons at the same time: Volume Up key, Home key, and Power key.
When the phone vibrates, release the Power key but continue to press and hold the Volume Up key and the Home key.
When the Android System Recovery screen appears, release the Volume Up and Home keys.
Press the Volume down key several times key to highlight 'wipe data / factory reset.'
Press Power button to select.
Press the Volume down key until 'Yes — delete all user data' is highlighted.
Press Power button to select and start the master reset.
When the master reset is complete, 'Reboot system now' is highlighted.
Press the Power key to restart the device.
But in case the phone won't charge properly when turned off or if in safe mode, you still need to reset it and if the problem remains, then you need help from a technician.
Galaxy S5 randomly turns off
Problem: My phone will just turn it's self off and the only way to get it back on is if I take the battery out or if I plug in the charger. And also it won't show me my sent text messages but only on certain contacts. I can't use maps and Pandora at the same time because it will reset my phone and half the time my phone just won't work. I use to love android but this is making me want to get a different brand. I really hope you can help me.
Troubleshooting: The random shutdown is a serious one, or at least, more serious than other problems you mentioned, so let's try to fix that problem first.
More often, cases like this are caused by a damaged battery. I don't know how old your phone is but if the phone turns off without warning and the battery percentage fluctuates, then it's time you bought a new battery.
The other possibility is that the battery is just somehow loose and the random shutdowns occur when the phone is shaken up a bit or held in a certain way. While it's recommended to buy a new battery that fits perfectly, the unconventional way of fixing this issue is by inserting a piece of paper so the battery wouldn't move and loses contact with the receptors.
This one's a long shot but there were reports that random shutdowns may also be caused by a firmware issue. Thus, a hard reset is necessary. This, too, will fix other problems you have. The steps are provided above.
New Galaxy S5 drains battery quickly
Problem: Well I recently bought an S5 and I've noticed that the battery drains quite quickly. On standby the battery drains slowly it drops 1% every hour, but when I'm on Wi-Fi, on various social media and a pinch of brightness the battery drops like 1% every 2 minutes or maybe less. I'd like to know if it's how I recently got the phone that the battery drains this way and after some charging cycles the battery may drain slower while I'm using it or if i need to purchase a new battery. Are there any tips you all can give me in which I can improve my battery life? Is there anyway I can calibrate my battery which a specific charging routine? On what percent should I charge my phone to ensure proper battery life?
Answer: Battery consumption is totally dependent on how you use your phone or how many apps are running in the background. As you said, if the phone is on standby, the battery drains slower. That's an indicator that the battery is probably fine. But continue observing the phone. You may try doing a factory reset and observe the pace when no third-party apps are installed.
Galaxy S5 won't turn on
Problem: After backing up my S5 I decided to factory reset and wipe my data using the 3 button method where you press the volume, home and power key after doing so I then used the same method and rebooted my phone via the three button method… Once restarted I realized I forgot to change my sim card and so I removed my battery and switched simple cards … Once replaced my battery my phone wouldn't switch on, the battery was pretty low at the time so I let it charge a bit (even though I couldn't see any LED lights ) and after a while tried switching it on again and even attempted the three button method but nothing happened, tried switching batteries and even checking for dirt in the charging compartment but was to no avail… Please help!
Troubleshooting: The first thing I would do if it were my phone is to remove the battery, press and hold the power key for a minute. And then, replace the battery and make sure it's connectors touch the phone's connectors (or just make sure it's properly mounted), and attempt to turn it on. If this simple procedure failed, try these troubleshooting guides:
Connect with us
We are always open to your problems, questions and suggestions, so feel free to contact us by filling up this form. We support every Android device available and we are serious in what we do. This is a free service we offer and we won't charge you a penny for it. But please note that we receive hundreds of emails every day and it's impossible for us to respond to every single one of them. But rest assured we read every message we receive. For those whom we've helped, please spread the word by sharing our posts to your friends or by simply liking our Facebook and Google+ page or follow us on Twitter.