This post highlights a number of workarounds that can help you deal with various Bluetooth problems on the Galaxy A32 smartphone. Read on to learn what to do if you cannot pair your Samsung Galaxy A32 with a Bluetooth accessory.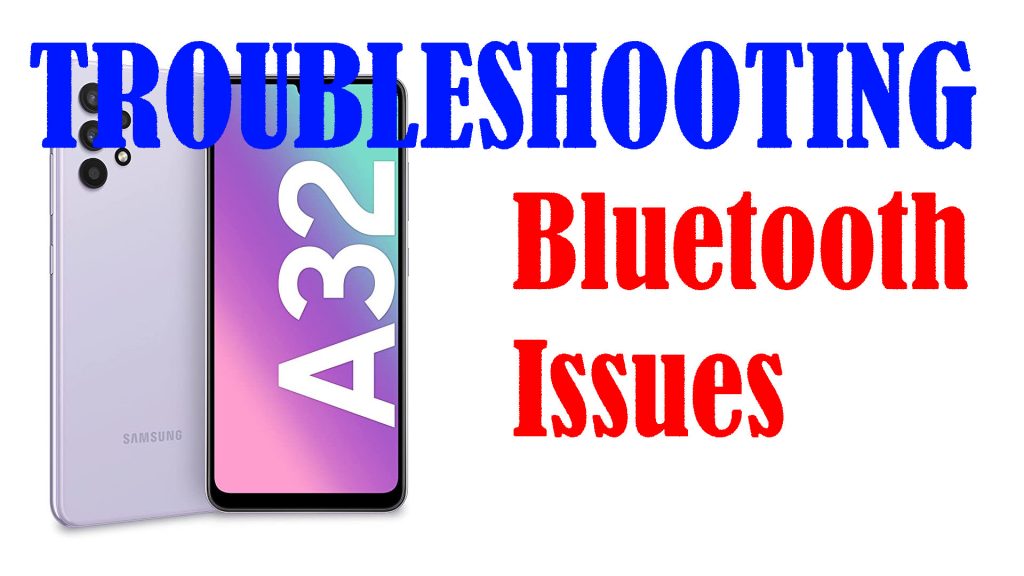 What causes Bluetooth issues?
Bluetooth pairing issues in mobile devices can be attributed to many factors. Among the common culprits include incompatibility, proximity, and random software glitches.
Incompatibility is when the devices to pair are not compatible. An example of this is when the Galaxy A32 does not support the Bluetooth accessory.
Proximity on the other hand is when the devices to pair are way far from each other. The Bluetooth range depends on its class. For Class 1 devices, the range must be within 100 meters. For Class 2 devices, it should be within a 10 meter range and Class 3 devices must be within a range of less than 10 meters.
Random software glitches on either device may also be the underlying cause of the problem.
In worst case scenarios, the root cause of the problem is a faulty component or hardware damage on either device.
Troubleshooting Galaxy A32 Bluetooth Issues
Unless hardware damage is present on either of your devices, the problem will likely be resolved on your end.
Lined up below are the widely used tweaks to eliminate software-related factors that might have caused Bluetooth pairing issues.
Before you begin troubleshooting, verify and ensure that your devices are compatible. You can do some quick research to see whether or not your Bluetooth accessory is compatible or supported with the Galaxy A32. After confirming that your devices are compatible, make sure that they are within the 10-meter range to rule out proximity.
Don't forget to retry pairing your devices after performing each of the given methods to determine whether or not the problem is fixed.
First solution: Restart your devices.
This is the simplest way to eliminate random software errors that might have caused Bluetooth pairing issues. That said, give your Galaxy A32 and your Bluetooth accessory a quick reboot to clear out minor glitches and to refresh both systems. After restarting the devices, try pairing them again.
Make sure that both of your devices are in discoverable mode.
Second solution: Turn Bluetooth off and on again.
Another way to deal with minor pairing issues between smartphones and mobile devices is to disable and re-enable the Bluetooth switch.
On your Galaxy A32, just follow these steps:
Go to your Home screen and then tap the Settings icon.
On the Settings menu, tap Connections.
Select Bluetooth then toggle the Bluetooth switch OFF. That disables the Bluetooth feature of the phone.
After a few seconds, toggle the Bluetooth switch to turn it ON again.
Wait for your phone to show all available Bluetooth devices within range, then select the device or accessory that you want to pair or connect with your phone.
If your Bluetooth accessory does not show up in the list, place it next to your phone then restart it. After restarting the accessory, put it in discoverable mode so it can be detected by the phone.
Then, go back to your Galaxy A32's Bluetooth settings menu and then select the Scan function. That will prompt the device to re-scan for available Bluetooth devices.
If prompted to verify the code, enter the given code and then select OK to proceed.
Wait for your devices to establish Bluetooth connection.
Alternatively, you can toggle the Airplane Mode switch on your Galaxy A32 ON and OFF again. It's another helpful tweak to deal with wireless connectivity issues in modern smartphones including Bluetooth problems.
This is how it's done:
On your Galaxy A32, go to the Home/Apps screen and then tap Settings.
From the Settings menu, tap Connections.
Then, tap the Airplane Mode switch to turn the feature ON.
When enabled, all wireless features of the phone are disabled simultaneously.
After a few seconds, turn the Airplane mode switch OFF again to re-enable all wireless features including Bluetooth.
Perform another scan sequence to refresh the list of Bluetooth devices within range. Then select the accessory that you want to connect with your phone.
Third solution: Forget Bluetooth device(s).
If you were able to pair your phone with the same Bluetooth accessory before and then suddenly it doesn't connect, the existing connection is probably corrupted. To fix the problem, simply forget the Bluetooth devices on your phone and then pair them again as new. Here's how:
Tap the Settings icon from your Home or Apps screen.
Tap Connections.
Tap Bluetooth to access the Bluetooth menu.
Tap the Settings icon (cogwheel) next to the name of the Bluetooth accessory that you'd like to forget/delete.
Tap Forget this device or Unpair.
The selected device/accessory will then be removed from the list of paired/connected devices.
To pair them again, just restart your Bluetooth accessory then scan for available Bluetooth devices on your phone again.
Select the accessory that you'd like to pair with your phone then follow the rest of the onscreen instructions to pair the devices again.
Other Recommendations
Resetting the network settings on the phone is also a potential solution to Bluetooth pairing issues attributed to incorrect/invalid network settings. This reset will delete all your current network configurations including APNs, saved Wi-Fi networks, Bluetooth devices and other relevant information. Any associated errors are likewise rectified in the process. After the reset, you can reconnect to Wi-Fi and repair Bluetooth devices like the first time.
Installing new software updates is also recommended to ensure that all system functions on the phone are optimized. Updates also contain essential patches to fix existing bugs including those that caused Bluetooth hiccups.
Also note that connectivity issues may likewise stem from the Bluetooth accessory. To clear this out, try to connect your phone to another Bluetooth-enabled accessory and see if the problem persists. If the connection is successful with another accessory, it means that the problem is not with the phone but rather on your other Bluetooth device/accessory.
Hope this helps!
Please visit our YouTube channel to view different troubleshooting and tutorial videos that might be helpful to you.
You Might Also Want To Read: