Roblox is one of the most popular games around the world, especially for kids between 5 and 12 years of age, but also for some adults. With the game supporting multiple platforms – mobiles, PCs, and consoles – Roblox is not really a game but a wide range of different virtual worlds that players can dip in and out of. Although the game has been generally stable for years, it still suffers from glitches and random connection issues from time to time. If you think that Roblox is down on your device and you have no idea what to do, there's a basic step that you must take in order to jump start your troubleshooting – checking the server status.
In this quick guide, we'll show you the 3 easy ways to know if the problem you're facing with Roblox is totally fixable on your end, or if you need to wait until the server issue is fixed by the developer.
Why is Roblox not working?
There can be many reasons if Roblox suddenly stops working for you. For the most part, maintenance and technical issues are the usual causes. Roblox servers may be taken offline by the developer to fix bugs while at other times, outages may be to blame. Most of the time, server problems don't exceed 24 hours so the best thing that you can do in this situation is to wait.
For some users, their Roblox game is down due to an issue with the app, or the device they're using. An example of this is when you're having trouble logging in to your account using a web browser but there's no known server issues at the moment. In this case, the problem might be caused by an issue with the web browser, or there's a problem with your internet connection at home.

If your friends can play the game and there's no server issues whatsoever but you're having difficulty connecting, it may be a sign of a connection problem. Most connection problems in Roblox are indicated by a "Could not connect" error or a particular error code. Such issues can occur due to a wide variety of factors including problems with your own internet connection, your computer's firewall, your wifi signal, the web browser you're using, and game bugs that may have developed in the system.
If Roblox is down on your device, it's important that you know how to troubleshoot the issue and one of the first things that you must do is to determine whether there's a problem with the Roblox servers or not.
Signs that Roblox is down
There are obvious indicators that you can take note of that may suggest an online service interruption with Roblox.
Cannot join a game or server.
This is a common occurrence for many players who happen to be playing when Roblox servers are down, or have suddenly stopped working. A user will most likely get an error message or code as well suggesting an issue with the servers.
Delays in loading Roblox website, apps, or platform.
Another sign to watch out for is an unusual lag or delay when visiting the Home menu of your account, or when visiting the Roblox website.
Purchased items are not shown right away.
If you bought an item or product in the game but it does not reflect in your game, inventory, or account right away, it's possible that there's an issue with the servers. There's no need for you to report the issue right away though as Roblox will apply the product to your account as soon as possible. At times, it may take at least an hour for some products to be reflected in your inventory, even though there's no problem as far as their website is concerned.
Methods on how to check if Roblox is down
There are at least 3 ways to determine the status of Roblox servers if all your games have stopped working for you.
Method 1: Visit the official Roblox website.
The most accurate and reliable way to determine the status of Roblox services on your platform is to check the official Roblox page.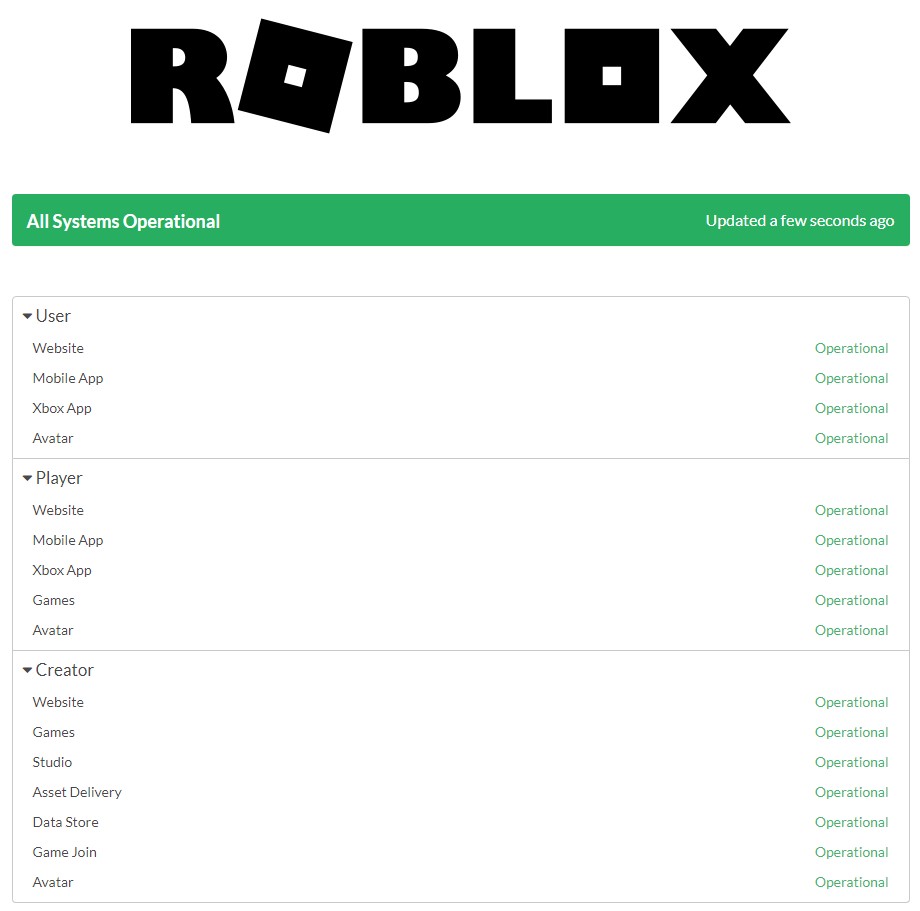 Make sure to go to http://status.roblox.com/ site and see if there's inoperational service that directly impacts your game or server.
Method 2: Check the Roblox social media account.
Roblox maintains several social media accounts so it's another way to know if there's currently a service interruption. The good thing about their social media accounts is the fact that it also provides additional information and updates about Roblox and not just the issues.
Below are the links that you can use to check their official social media accounts:
Twitter: https://twitter.com/Roblox
Youtube: https://www.youtube.com/user/roblox
Instagram: https://www.instagram.com/roblox/?hl=en
Facebook: https://www.facebook.com/Roblox/
Method 3: Use third party websites.
If, for some reason, you don't want to use the first two methods, you can always opt utilize information from third party websites Downdetector, Isitdownrightnow, Servicesdown, among many others. Just search for the keyword "Roblox is down" in Google and you'll find these websites easily.
OTHER INTERESTING ARTICLES:
Visit our TheDroidGuy Youtube Channel for more troubleshooting videos and tutorials.