One of the common errors that many Roblox players encounter is the error code 524. The full error messages reads:
Join Error. Not authorized to join this game (Error Code: 524).
If you're getting this bug and you have no idea how to go about it, this troubleshooting guide will help you.
What does Roblox error code 524 mean?
The Roblox error code 524 usually shows up when trying to join a multiplayer game or if you're trying to join a VIP server and there's something that blocks the connection from getting through. Most of the time, the cause of this error code is a server issue although there are many other factors that might block a connection.
Some of the common reasons for Roblox error code 524 includes the following:
Roblox servers are down
home internet connection issues (no connection, slow connection, or intermittent connection)
VIP server is not accepting invitations
damaged registry keys
Banned Roblox account
IP address issue
web browser problems
In order to know the real reason why you may be getting the Roblox error code 524 on your device, you'll need to do a set of troubleshooting steps and solutions. Check out what you can do to fix this problem below.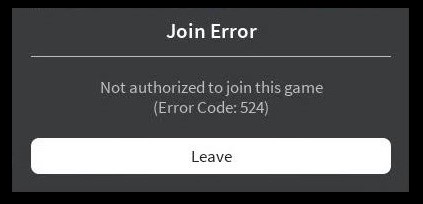 How to fix Roblox 524 error code?
If you are getting the Roblox error code 524 everytime you join a VIP server, or when trying to join a particular game, these are the solutions that you can try to fix it:
Fix #1: Check the Roblox server status.
In order to fix Roblox error code 524, the first thing that you need is to ensure that there's no on-going server issues with the game. You can verify the Roblox server status by going to the official website.
Keep in mind that Roblox server problems are not fixable on a player's level. If you've confirmed that there's currently an issue with the servers, you simply have to wait until it's fixed by the developer.
Fix #2: Try using another Roblox account.
In order to lessen the impact of hackers and players who were previously banned, certain Roblox games may not allow newly created accounts from joining, especially in VIP servers. If you have another Roblox account that was created over 30 days ago, try that to see if you have an account issue.
If the older account lets you join a server or any game you want, that means that the VIP server is probably blocking new accounts from joining. What you need to do is to wait until the prescription period (usually 30 days) is up before using you new account.
Fix #3: Troubleshoot your internet connection.
If you encounter other issues with other online games on your PC or any device, there's a chance that you may have an internet connection issue at home. Make sure that you restart your network devices such as modems, routers, switches, etc. to refresh them.
Once you've done that, run a speed test on your device to determine if you have a slow connection problem. In order to play Roblox reliably, make sure that your device can maintain a minimum of 5 Mbps download and upload. If your internet speed is slower than that, you may get connection issues like the error code 524 Roblox.
Part of troubleshooting your network is to check for a possible intermittent connection problem. If you're using wifi, make sure that your device does not experience random or persistent connection disconnections.
If you need any help troubleshooting or fixing your internet connection at home, we suggest that you get help from your Internet Service Provider or ISP.
Fix #4: Make sure you're account is permitted to play on VIP servers.
If you're experiencing the error code 524 only when trying to join VIP servers, you have to make sure that you go into your account's Privacy settings and allow it to play on private servers.
Here's how:
Open a web browser, go to Roblox website and sign in to your account.
Click the Settings icon at the upper right (gear icon).
Select Settings.
Select Privacy in the left panel.
Go to Other Settings section and click on the drop down arrow beside Who can invite me to private servers?
Select Everyone.
Restart Roblox and check for the error again.
Fix #5: Use a Virtual Private Network.
If you continue to get the 524 Roblox error code at this point, the next good thing that you can do is to try to use a VPN. This can be an ideal solution if you also experience connection issues with your other online games. Some Internet Providers may block their subscribers from certain game servers or websites and getting a VPN is a great way to work around this limitation.
Keep in mind that some premium VPNs are not free and using any of them won't guarantee that you can fix this error. We suggest that you try the free trial version first to know if a service will work for you.
Fix #6: Ensure that your account is not banned.
If you keep on getting the "Not authorized to join this game" error all across Roblox, which means that every game won't let you in, it may be an indication that you Roblox account has been banned.
There are two types of account ban in Roblox. The less serious one is a Room or Map ban and the other is a perma or permanent ban.
If you suspect that your account has been banned, try to contact the Roblox support team to get more details on what you can do.
Fix #7: Delete and reinstall Roblox.
If none of the things we mentioned in this guide helped so far, consider deleting and reinstalling Roblox. The game may have damaged or corrupted files which a reinstallation can fix. 
OTHER INTERESTING ARTICLES:
Visit our TheDroidGuy Youtube Channel for more troubleshooting videos and tutorials.