Are you having an issue with your Nintendo Switch Joy-Con controller that won't charge? In this article, we'll explain to you why charging problems happen and how best to fix them.
Causes for Nintendo Switch controller charging issues
There are several reasons why a Joy-Con controller may stop charging. By far, most power-related issues on Nintendo Switch controllers, both first party and third party ones, are usually caused by minor firmware glitches or poor connection. As such, a large number of these cases are fixed relatively easily by users themselves.
However, there are also situations caused by more serious issues with the controllers or consoles themselves that result in charging issues.
Let's talk about each of these causes below.
Poor connection between Joy-Con controller and console.
If your Joy-Con controller feels loose when connected to the sides of your Nintendo Switch, there may poor connection between the controller and the metallic contacts on the sides of your console during charging. Some users were able to restore charging by simply moving the controller in another direction while attached to the console while it's charging.
Joy-Con hardware malfunction.
Despite its tiny size, the Joy-Con Controller is actually a pretty durable controller. However, an accidental drop or a serious physical blow to it may damage its internal circuit or chip the sides that hold it to the console. If the Nintendo Switch controller or console was dropped before you started having charging issues, this can lead to serious hardware issues.
Water- or moisture damage.
The Nintendo Switch or its controllers are not water-resistant so if any of them has come in contact with liquid or water before, this may be the reason why you are experiencing charging issues.
If your Switch or Joy-Cons got wet accidentally, be sure to turn them off right away. Press and hold the Power button down for about 12 seconds to fully shut down the system.
Slight liquid on the screen, sides, or back part of the console or Joy-Cons are harmless as long as you wipe it out right away.
Just like in any electronic device, moisture, liquid, or water can cause serious hardware malfunction. If you think that moisture or water has seeped inside, especially when the Switch got submerged, make sure to dry the device right away. The best way to do that is let a professional handle the repair for you as it may require special tools to fully dry the components inside.
If you are not 100% that your controller or console is fully dried, NEVER turn it back on to check.
Firmware glitch.
Some Joy-Con controllers may stop charging because of outdated or corrupted firmware. You can try to update the firmware version on your Joy-Con controllers to see if that will help.
Broken AC adapter (charger) or cable.
If both the Nintendo Switch console and Joy-Con controllers are not charging, it's possible that you may have an issue with AC adapter, the thing that you connect to the power outlet or strip. Try to do a quick check on the adapter, cable or even the Switch Dock to see if there's any sign of obvious hardware damage.
How to fix Nintendo Switch controller won't charge issue
Fixing non-charging Joy-Con controllers is generally easy as long as the real cause is not hardware-related. Below are the solutions that you can try if your Joy-Con has stopped working, not turning on, or won't charge at all.
Fix #1: Be sure to update the Nintendo Switch software.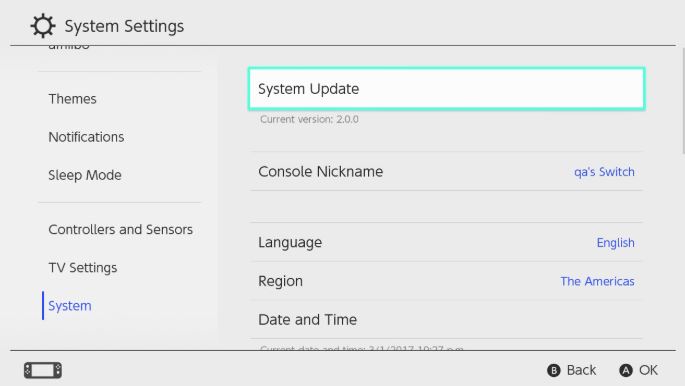 This is a basic step that must be done even when you're not experiencing any problems on your Nintendo Switch at all. To check for the latest software update, just go to System Settings>System>System Update.
Fix #2: Check for battery indicator fault.
Sometimes, the battery indicator for each of the Joy-Con controllers may not show the true battery level. This can be attributed to a corrupted firmware, battery malfunction, or an unknown console software bug. 
To fix the issue, try charging the controllers again for about 3 hours while the Nintendo Switch is in the Dock. Alternatively, try using a different charging method such as the Joy-Con charging grip.
If that won't change anything, then consider updating the controller's firmware.
Fix #3: Update controller firmware.
Some Nintendo Switch owners have reported to have fixed their Joy-Cons charging issues by doing another simple solution: updating their controllers' firmware.
Learning how to update your own Joy Con controllers is not necessary but it can save you precious time and effort when dealing with possible issues.
Fix #4: Ensure that the Joy-Con controller is connected properly.
If you are not the only one using your Nintendo Switch, try to double check that the controller is actually connected properly to the side of the console or to the Joy-Con charging grip. If necessary, try disconnecting the controller and carefully connect it again.
Fix #5: Check the charger and cables.
If your Joy-Con controller/s are still not charging at this time, the next good thing that you can do is to disconnect the charging cable from the charging dock or from the Joy-Con charging grip. If you're using the AC adapter, unplug the adapter from the power outlet and from the dock for a few seconds before plugging the ends back in.
It's also important that you check for any signs of damage to the cable, AC adapter, and to the rest of your hardware, especially if you know of an instance when the console or controllers were dropped.
Fix #6: Resync the controller.
Another simply solution to Joy-Con controller charging issues is to reset each of the affected controller. To do that, simply press the SYNC button once on the controller. This will briefly disconnect the controller from the console and hopefully clear any minor firmware bug that prevents it from charging.
To pair the same controller afterwards, follow these steps:
Go to your Nintendo Switch Home screen.
Select Controllers.
Select Change Grip and Order.
While in the Change Grip and Order screen, press and hold down the SYNC button on the controller.
Fix #7: Use a different charger.
If your Joy-Con controllers are still not charging, you can consider checking if you have an issue with the AC adapter. If possible, try charging your controllers using another console or AC adapter, cable, or Joy-Con charging grip.
What to do if your Joy-Con controller is still not charging?
If none of the solutions in this guide has helped fix your Nintendo Switch controller charging problem, you can assume that the issue is most likely caused by a bad hardware such as damaged controller, busted battery, or even a malfunctioning console.
In any of these situations, repair is necessary so we highly recommend that you reach out to Nintendo to schedule an appointment for you.
If your controller or console is still within the replacement period from the store, try to see if you can have it replaced instead.
Alternatively, you can contact the Nintendo technical support team using any of these numbers:
1-800-255-3700 (US)
+44 (0)345 60 50 247 (Europe)
+61 3 9730 9900 (Australia)
+81-75-662-9600 (Japan)
+30-210-685-4220 – CD Media S.E. (Official distributor for Greece, Cyprus, and the Balkans)
Other interesting articles:
Visit our TheDroidGuy Youtube Channel for more troubleshooting videos and tutorials.