MLB The Show 21 is one of the most popular baseball video games today and if you're a baseball fan, you would not want to miss it on your PS4. But just like any new game, this one is released with some bugs, with some cases resulting to crashes, freezing, and other similar issues. If MLB The Show 21 keeps crashing and you have no idea how to fix it, this article will help you. 
Why does MLB The Show 21 keep crashing?
There are several reasons why MLB The Show 21 may be crashing on your PS4. Below are the common causes of the reported crashing issues for MLB The Show 21.
Random game glitch.
New games are prone to crashes and MLB The Show 21 is not an exception. Some players experience a crash due to a randomly triggered bug while others may have to deal with inefficient coding issues that developers are yet to fix. In general, all games may crash at random points simply because the device it's running on encountered a unique error that the system can't handle.
If the game seems to crash sparingly and there's no clear pattern why, it may be because of a random bug.
PS4 system cache is corrupted.
All consoles including the PS4, PS5, Xbox One, and Xbox Series X|S use a system cache to load apps quicker. Sometimes, this cache may become corrupted, which can then lead to issues like crashing, slow performance, low FPS, and sometimes, even random disconnections.
Corrupted game data.
Another type of data that may lead a game to crash is game data or local save data. Game data includes game progress, DLCs, local save data, game settings, etc. If your local saved data are corrupted, the game may not load properly or at all. At other times, the game may initially load but then crashes shortly after.
Game is not updated.
If the MLB The Show 21 game client or app is not updated, it can also potentially lead to problems such as crashing and certain error code, such as CE-34878-0. To lessen the chances of bugs, glitches, and random problems, be sure to check for game updates.
Damaged PS4 database.
Another reason why MLB The Show 21 keeps crashing can be attributed to a corrupted PS4 database. This database allows the console to do its tasks faster. Sometimes, factors that can affect the integrity of the database occurs, resulting to a crashing problem. Like the system cache and game data, the database must be maintained to be always in top shape in order to avoid crashing issue and other gaming troubles.
Hard drive issue.
Although it's rare, crashing problem may also be a direct result of a hardware malfunction, particularly that of a hard drive. In general, a hard drive issue may manifest in crashes, overall poor performance, disconnections, freezing or games failing to load.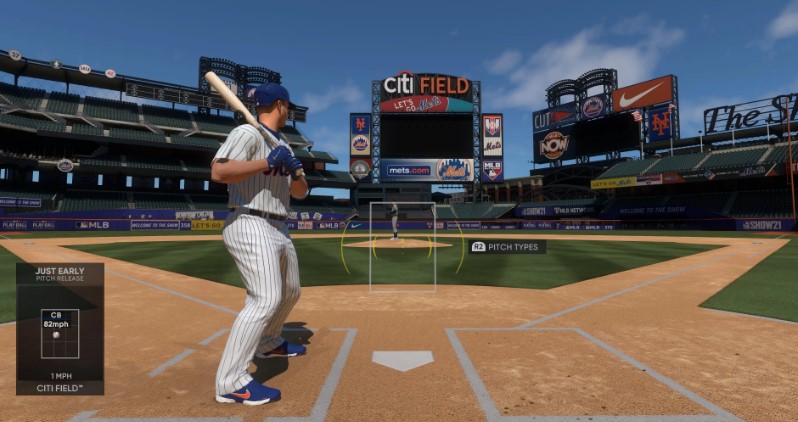 How to fix MLB The Show 21 crashing issue On PS4?
If MLB The Show 21 is crashing on your PS4, there are a number of solutions that you must try in order to fix it. Some of the solutions below are easy but a few require drastic steps.
Fix #1: Clear the system cache.
The first solution that you should try is to ensure that your PS4's system cache is refreshed. Here's how to do that:
On your controller, press and hold the PS button.
Once the Power menu shows up, select Turn off PS4.
Wait until the PS4 is powered down then unplug the power cable from the outlet for 30 seconds.
After 30 seconds, turn the PS4 back on and check for the problem.
Fix #2: Update MLB The Show 21.
Some players reported to us that their MLB The Show 21 crashing issue was fixed after updating. That's because some issues require intervention from developers. Updates not only bring new changes but also patches for known bugs.
If you only play MLB The Show 21 by yourself and you don't go online to play with others, you may forget to take note that the game was last updated. Make sure to connect your PS4 to the internet to see if the game has an available update to be installed.
Fix #3: Check for PS4 firmware updates.
Another update that you should not miss is the one intended for your PS4 firmware. Sony releases major OS updates for the PS4 and PS5 consoles and these updates, if not installed, may impact some games in terms of performance. At other times, PS4 updates are meant to address issues with certain games. This is often the case of updates that contain new drivers.
Follow these steps to check for PS4 firmware:
Select Settings at the top of the PlayStation XMB home screen.
Select System Software Update and allow any system updates to install.
Reboot your PS4 console.
Fix #4: Reinstall MLB The Show 21.
MLB The Show 21 continues to crash after it's been updated, and after your PS4's software has received the latest updates, you'll then need to try to delete and reinstall the game. This would be an effective solution if the main reason for the crashes has something to do with your local save data.
To delete MLB The Show 21 game:
Go to the PlayStation XMB home screen.
Highlight the game MLB The Show 21 and press the [Options] button on your controller.
Select Delete.
Confirm your action to uninstall the game.
Fix #5: Rebuild the PlayStation 4 Database.
Another solution that anybody with this problem would try is troubleshooting of the database. Here's how:
Press and hold the Power button for 3 seconds to turn off the console.
Once the console has powered down, press and hold the Power button in front again. Make sure to hold the Power button for about 7 seconds until you hear two beeps–the first beep should occur after you press the button and second after 7 seconds.
After the second beep, release the Power button.
Once you've reached Safe Mode, select Option 5 [Rebuild Database].
Press the X button to start the rebuild.
Fix #6: Initialize the PS4.
If MLB The Show 21 is still not playing normally and the crashing issue remains, then it's time that you factory reset the console. Like in the previous solution, you'll need to go to Safe Mod and then select Option 6 [Initialize PS4].
Factory reset will erase the contents in your hard drive so be sure to back your important game saves and other contents before doing it. 
OTHER INTERESTING ARTICLES:
Visit our TheDroidGuy Youtube Channel for more troubleshooting videos and tutorials.