Imagine that you have a Wi-Fi tablet that doesn't support SIM cards, but you still want to make phone calls. Buying a new device just to say 'hi' to your grandmother doesn't really seem like an efficient solution. After all, it's 2016, so there has to be a better way, right? There is. With Hangouts Dialer from Google, you can make free Wi-Fi calls to Canada and the U.S. in a matter of minutes.
Note: if you plan on ditching your phone carrier and want to use your phone without a SIM card, you will need constant Wifi connection, so ideally you would spend most of your time where wifi is accessible.  We tested the method on this phone without a SIM card and worked great.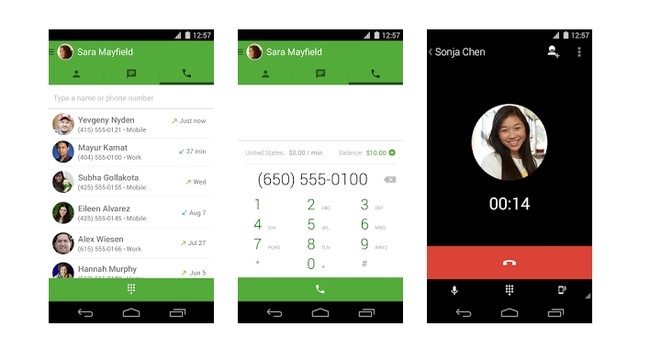 All of this has been actually possible since 2014, when Google announced better integration between Google Voice and Google Hangouts. This means that you need to have Hangouts version 2.3 or higher. If you are not sure, don't worry. We will show you step-by-step how to install the latest version from the Play Store.
Advantages of Wi-Fi Calls with Google Hangouts Dialer
You can get rid of your cellular plan: if you spend most of your time connected to Wi-Fi and communicate mostly via email or various instant messengers, you could consider getting rid of your cellular plan and only pay for data. You would still retain the ability to make phone calls even when not connected to a Wi-Fi network, thanks to 3G and 4G cellular networks.
You can make international phone calls: Hangouts users can make free calls to the U.S. and Canada from all countries where Hangouts calling is available. The cost can vary greatly for destinations outside of the U.S., but it's always far lower than what you would get from the local competition.
You have a reason to use your old device again: smartphones and tablets age quickly, and it takes just a few years for once new and shiny device to become obsolete and useless. Google Hangouts can run even on a rusty hardware, turning it into a convenient phone.
How to Use Google Hangouts Dialer to Make Wi-Fi Phone Calls
Make sure you have a reliable wifi connection, you can boost your wifi connections with these devices if needed.
The first thing you need to do is download the Google Hangouts app and the Hangouts Dialer app. To do so, simply follow the links or search the Play Store to find the apps. Then, click on the green Install button and follow the instructions.
Once installed, launch the Hangouts Dialer app. You can do this from your home screen, app drawer, or directly from the Hangouts app. You will be asked to sign-in using your Gmail address, which you most likely already have, since you are using an Android device to begin with.
Then it's time to open the keypad by clicking on the little green circle with nine dots in the middle, which allows you to dial any Canadian or American phone number you would like to call. The call screen will look very similar to the one you use to make regular phone calls, so you will feel right at home.
Alternative Solutions
Google Hangouts isn't the only app that allows you to talk to your friends and family without a SIM card. Other popular solutions include, using WhatsApp, Google Duo, GrooVe IP, Skype, or Line, among many others.
Their shared limitation is that you cannot call a real phone number – the other person has to have the same app installed on their device. As such, these apps are perfect if you only need to talk to a selected group of people who all agree on using a single app.