Do you experience Instagram lag on iPhone and android device? Several factors can cause this issue on your Instagram account such as a temporary glitch due to bugs, corrupted cache or an outdated app version. To fix Instagram lag on iPhone and android device, you will need to perform several troubleshooting steps.
Instagram is one of the popular social media platforms where users may connect with friends or the general public to exchange pictures and videos. It enables users to engage with one another through features like liking, commenting, direct messaging, following, and even bookmarking. It was first made available in 2010, and Facebook later bought it in 2012. There are currently more than 1.5 billion users worldwide.
Fix Instagram App Lag On iPhone Or Android Device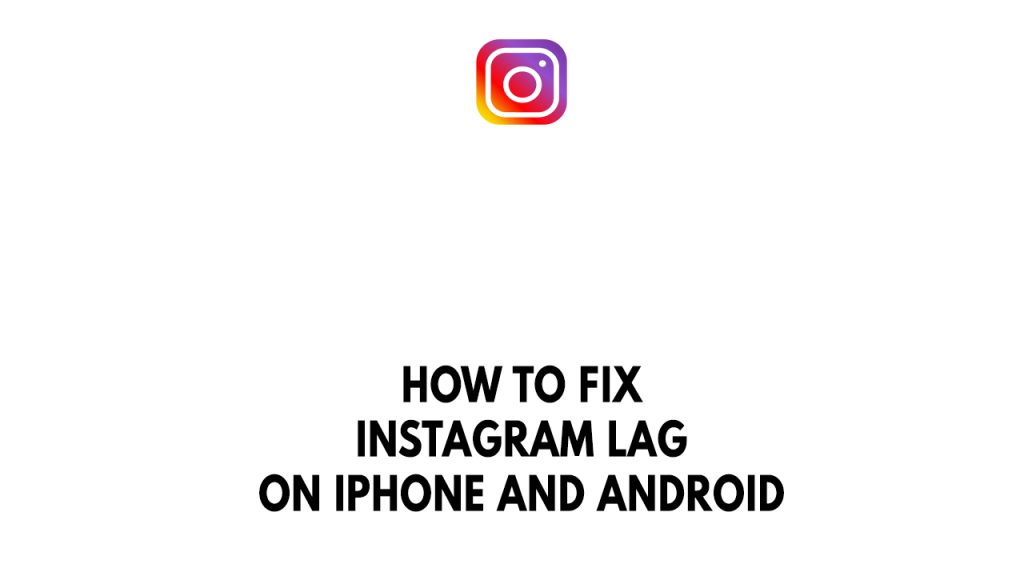 One of the issues you might experience when you use Instagram app on your iPhone and android phone is the lagging issue. This can be a frustrating experience when you are browsing Instagram feed.
Here's how to fix Instagram lagging issue on iPhone and android phone.
Fix #1 Check internet connection
The first thing to do is to check your phone's internet connection. Instagram lag on iPhone and android device can be experienced if you have slow network connection or intermittent connection. You can check your internet connection speed by doing a speed test on your iPhone and android device.
Checking internet connection
Step 1: Open your browser on your smartphone.
Step 2: Type speedtest.net to have your internet speed check.
Step 3: Press the Go button. Pressing Go button will start the speed test.
Step 4: Wait for the results of the speed test to be completed. Find out how fast is your download and upload speed.
If your Wi-Fi network connection is unstable, you can check if your network devices are responsible for the issue by doing a power cycle of your network devices.
Step 1: Unplug the power cords from the power socket on your Modem and Router. This will power cycle your network devices.
Step 2: Reconnect your modem and router to the power supply after a minute and turn on the devices.
Step 3: Wait for the lights to come on again.
To have a stable wi-fi signal with your internet connection. You can do these steps to fix Instagram lag:
Step 1: While using Instagram, try to disconnect any other devices that are connected to the Wi-Fi router. This allows the gadget to utilize the maximum amount of bandwidth.
Step 2: Bring your phone closer to the modem. This will allow the devices to receive a significantly stronger reception.
If you are using mobile data to use Instagram then make sure you have a 4G or 5G signal on your phone. Apps shouldn't generally be used on mobile data connections because these typically give you slow connection.
Fix #2 Force Stop Instagram
The next thing to do to fix Instagram lagging is to force stop Instagram. The issue might be a temporary bug in the app. Most android apps or mobile apps that you encounter that have lag will need to be restarted.
Force close instagram on Android devices
Step 1: Long tap Instagram app icon on your phone.
Step 2: Tap on the info button and go to the Instagram app info menu.
Step 3: Hit Force Stop.
Force close instagram on IOS devices
From the Home Screen, swipe up from the bottom of the screen and pause in the middle of the screen.
Swipe right or left to find Instagram.
Swipe up on the app's preview to close the app.
Try to see if it remove Instagram lag on iPhone and android device.
Fix #3 Restart your phone
To fix Instagram lagging you can restart your smartphone device. This step will reboot your phone so that it can refresh its operating system which can fix any temporary bug that you are encountering with the app.
Restarting your Android
Step 1: Press and hold the Power button.
Step 2: Tap Power off or Restart.
Step 3: Press and hold the Power button until your device turns on again.
Restarting IOS device
Press and hold either volume button and the side button until the power-off slider appears.
Drag the slider, then wait 30 seconds for your device to turn off. If your device is frozen or unresponsive, force restart your device.
To turn your device back on, press and hold the side button (on the right side of your iPhone) until you see the Apple logo.
Fix #4 Update Instagram
If you have an outdated Instagram on your iPhone or Android device then this maybe one of the reason your Instagram is lagging. Update Instagram to the latest version to fix issues that you are encountering with your Instagram account.
Updating instagram on google play store
Step 1: Open Google Play store.
Step 2: At the top right corner, tap the profile icon.
Step 3: Tap Manage apps & device. Apps with an update available are labeled "Update available."
Step 4: Tap Update.
Updating instagram on apple app store
Open the Apple App Store.
Tap your profile icon at the top of the screen.
Scroll to see pending updates and release notes. Tap Update next to an app to update only that app, or tap Update All.
Fix #5 Clear Instagram cache files
Your Instagram may have corrupted cached data which could be the cause of the lagging issue. You should clear Instagram's cache files to ensure that there are no corrupted data files.
You will need to re-login your Instagram after you clear Instagram cache and data.
Clearing cache and data
Step 1: Open Settings Menu.
Step 2: Select Apps.
Step 3: Choose the app.
Step 4: Select Storage.
Step 5: Tap the Clear Data icon.
Fix #6 Disable high quality uploads
You can disable high-quality uploads on your app as it might be the issue you are getting Instagram lag on iPhone and android. When you upload higher-quality videos you will use a lot of your phone's system resources to process the uploading of large files, you can disable high-quality uploads to fix the Instagram lag.
Fix #7 Disable less mobile data
If you are using mobile data and use less mobile data is turned on, it may affect your experience with Instagram such as your photos and videos might take longer to load on your Instagram. Disable less mobile data to fix Instagram lag issue.
Fix #8 Reinstall Instagram
If at this point you are still getting the issue then you can reinstall the app to fix the issue. Reinstalling will give you a fresh install and will fix any issues you are encountering