Does the Instagram app keep on crashing or freezing on your Samsung Galaxy Z Fold 4? There are various factors that can cause this issue such as a software glitch, software bugs, or even an outdated software. In order to fix this, you will need to perform several troubleshooting steps.
The Samsung Galaxy Z Fold 4 is a flagship smartphone that is popular for its use of a foldable display form factor. It's designed for individuals looking for a powerful phone that has a large display allowing for easy multitasking between different apps. Some of its best features include its use of a Snapdragon 8 Plus Gen 1 chip, 4400 mAh battery, and has a storage of up to 1TB.
Why does my Instagram app keep crashing on my Samsung phone?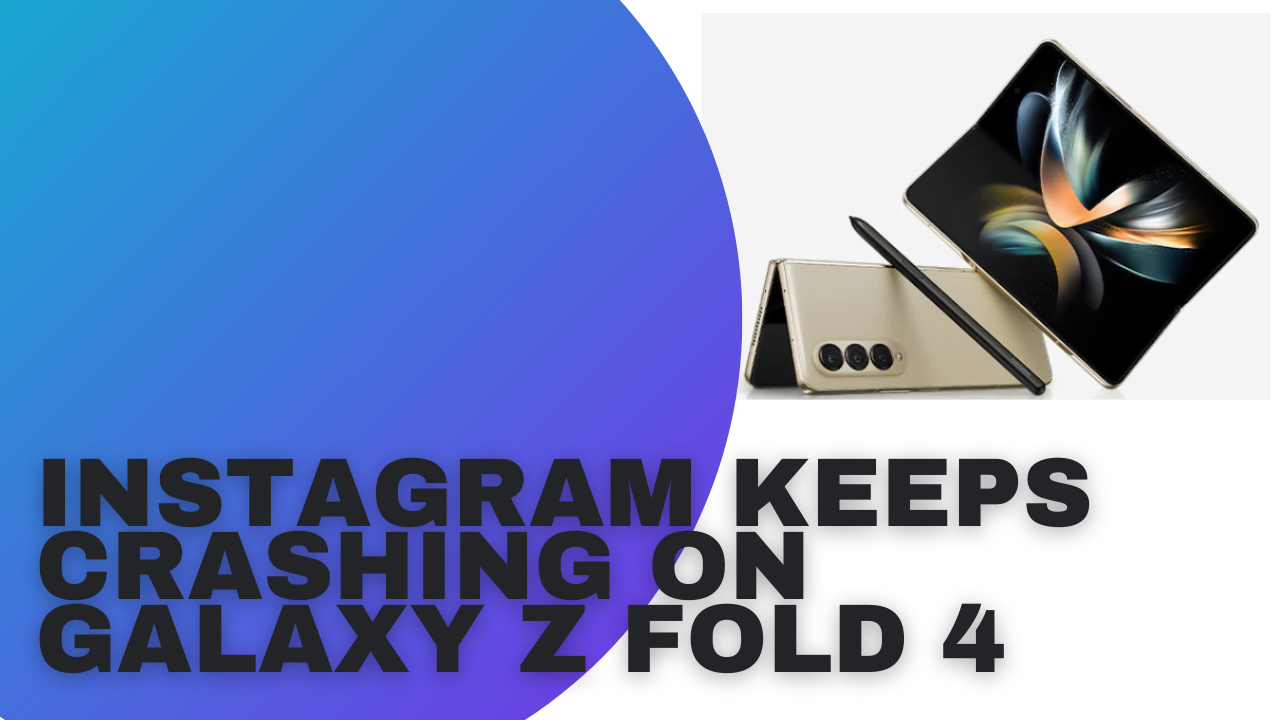 One of the issues that you might experience with your Samsung Galaxy smartphone is when the Instagram app keeps crashing or freezing. This can be an annoying problem as you won't be able to use the app properly.
Here's what you need to do to fix Instagram app crashing issue in your Android phone.
Solution 1: Force stop the Instagram app on your Samsung Galaxy Z Fold 4
Does the Instagram app keep on crashing on your Samsung device? The first troubleshooting step you should do is to restart the app. This refreshes the app and fixes any temporary glitches that could be causing the problem.
Force stop Instagram App
Tap on Settings
Tap on Apps.
Find and tap on the Instagram app icon.
Tap Force stop found on the bottom right corner.
Tap Ok.
Start the Instagram app then check if it still crashes.
Solution 2: Soft reset your Samsung Galaxy Fold 4
If restarting Instagram doesn't work, then the next step is to restart your Samsung phone. This action refreshes its operating system which should fix any issues caused by a software glitch.
Restart Samsung Galaxy Z Fold 4
Turn off the Samsung Galaxy smartphone by pressing and holding the Bixby button and the volume down button on the side of the device.
Choose Power off.
Choose Power off again. The phone will turn off.
Wait for a few seconds.
Press and hold the Bixby button on the side of the device to turn on the Samsung device.
After the restart has completed try to check if the Instagram crashing issue still occutd.
Solution 3: Check for any Instagram server issues
It's possible that the problem is caused by issues with the Instagram server such. This usually happens if the server is undergoing a scheduled maintenance, or an unexpected server outage has occurred.
You can check if Instagram servers are online by checking it using the DownDetector website. If a widespread issue is reported, then you will just have to wait for this to be resolved.
Solution 4: Clear the cache and data of Instagram
One factor that can cause Instagram to crash is because it has corrupted cached data stored.
To make sure that this app is free from corrupted data you will need to clear cache and data of the app.
Take note that when you perform this troubleshooting guide your app login credentials will be deleted. You will need to login again to your account after performing this procedure.
Clear App Cache
Tap the Settings icon from the Home screen.
From the Settings menu, tap Apps
Select Instagram from the list of Apps.
On the Instagram App info, tap Storage.
Tap Clear cache at the bottom to clear cache from the app.
Tap Clear data to delete all residual data accumulated when using Instagram.
After clearing the app cache try checking if it still crashes.
Solution 5: Check for Instagram app update
If you are using an older version or a beta version of any app on your Android smartphone, then it's very likely that it will crash due to incompatibility issues as well as bugs.
Using an updated Instagram will most likely have fewer bugs and will also come with enhancements that will improve the overall user experience.
Update Instagram application from play store
Swipe up on an empty area from the Home screen, to launch the Apps viewer.
Tap the Google Play Store icon.
While on the Google Play Store app screen, tap the Menu icon and then select My apps & games from the menu options.
Tap Update next to the name of an app to update each application.
If multiple app updates are available, tap Update All instead.
Try checking if Instagram still crashes after it has been updated.
Solution 6: Uninstall then install Instagram
Sometimes the app crashes issue you are experiencing can already be caused by a corrupted app installation. The best way to fix this is to uninstall the app then install a fresh version from the Google Play Store.
Reinstall an app
From the Home screen, launch the Apps viewer and then find the Instagram icon.
Tap and hold on the app icon until the Quick Options menu appears.
Tap Uninstall from the list of options and tap OK to confirm.
Once the app is successfully uninstalled, open the Play Store app.
While on the Google Play Store, search for Instagram, and then tap Install.
Once the latest version of the app has been installed try checking if the issue still occurs.
Solution 7: Perform a system update on your Samsung Galaxy Z Fold 4
Make sure your phone is running on the latest software version as this will have several new enhancements as well as bug fixes that is not present in the older software version.
Manually getting software update
Open Settings and scroll all the way down.
Find and tap Software update.
Tap Download and install to check for a new update.
Take note that your device will need a stable internet connection to get the update. It's best to use a Wi-Fi network connection and not a mobile data connection as the former is more stable and faster.
Once the software updates have been installed and your phone is running on the latest version try checking if the issue still occurs.
Solution 8: Send an error report using Samsung Members app
If Instagram keeps crashing even after reinstalling it, then you can send an error report to Samsung so that they can look further into the problem.
Launch the Samsung Members app.
Tap Support.
Scroll down and tap Error reports.
Choose the Application category.
Choose a category of error report to submit.
Solution 5: Perform a factory data reset on your Galaxy Z Fold 4
The final troubleshooting step you should consider doing is a factory reset.
Before proceeding with this step, you need to back up your phone files.
Factory reset
Turn off your Samsung Galaxy device.
Simultaneously press and hold the Volume up and side buttons until the device vibrates and the Android Recovery screen appears then release all buttons. Allow up to 30 seconds for the recovery screen to appear.
From the Android Recovery screen, select Wipe data/factory reset. You can use the volume buttons to cycle through the available options and the side key to select.
Select Factory data reset. Allow several seconds for the factory data reset to complete.
Select Reboot system now. Allow several minutes for the reboot process to complete.
Set up your Android phone.
Install the latest Instagram app then try to check if it still crashes.
Frequently Asked Questions
Why does Instagram keep crashing on my phone?

App crashes are mainly caused by software issues such as corrupted data, outdated version of the app, or interference from other third-party apps.

My Instagram is constantly crashing

If the app keeps on crashing, then you should try reinstalling it.

How do I force stop an app in my phone?

You can perform this procedure by going to Settings > Apps > Select the App > Force Stop at the bottom > OK.

How do I clear app cache data in my phone?

Open your Settings and tap Apps.
From the list of Apps that appears, tap on the app that is causing the issue.
Tap Storage > Clear data or Clear cache.

Can I access my Instagram account without using the app on my Z Fold 4?

You can login to your Instagram account using the mobile web browser on your phone.