One of the best ways to get rid of any minor issues on the Samsung Galaxy Watch 5 is by turning the watch off then on again after a few seconds. We will be showing you the correct way on how to perform this step.
The Samsung Galaxy Watch 5 is a premium wearable devise running on Google's Wear OS that's currently available in the market. Designed for the active individual, it can easily keep track of daily activities thanks to its various health and fitness features.
Technical Specifications:
Display: 1.19″ Sapphire Crystal Glass AMOLED 396 x 396px (40mm) or 1.36″ Sapphire Crystal Glass AMOED 450 x 450px (44mm)
CPU: Samsung Exynos W920
RAM: 1.5GB
Storage: 16GB
Battery: 284mAh (40mm) or 410 mAh (44mm)
Connectivity: NFC, GPS, Bluetooth 5.2, Wi-Fi (2.4Gz & 5Ghz), LTE (optional)
Durability: IP68, Waterproof to 50m (5ATM), MIL-STD-810H
Software: One UI Watch 4.5 atop Wear 3.5
Health sensors: Optical Heart Rate, Electrical Heart Sensor (ECG), Bioelectrical Impedance (BIA), Continuous SpO, Skin Temperature Sensor
Mobile payments: Samsung Pay, Google Wallet
How to power off your Samsung Galaxy Watch 5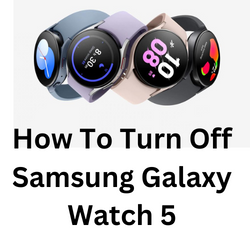 There are several ways for you to turn off the Samsung Galaxy Watch 5. This is actually quite an easy procedure and can usually be done in seconds.
Turning off Samsung Galaxy Watch 5 using the hardware key
You can easily turn of your Galaxy Watch 5 using its hardware key by pressing and holding the home key (Power key), and then tap Power off option on your watch display.
Turning off Samsung Galaxy Watch 5 from Quick panel
Another way of turning off your Galaxy Watch is from the quick panel. Open the quick panel by dragging downwards from the top of the watch screen and tap the Power off icon.
Turn on your Galaxy Watch 5
When it's time to turn on your watch all you need to so is to press and hold the Power key until the Samsung Galaxy Watch logo appears, then release.
Troubleshooting Samsung smart watch power issues
If you are experiencing any power related issues on your Samsung Galaxy Watch5 series wearable device, then here's what you need to do.
Charge your Galaxy Watch 5 smartwatch
The first thing you will need to do is to make sure that your Samsung Galaxy Watch 5 battery has sufficient charge.
To properly charge your Samsung Galaxy Watch
Place the smartwatch on top of the wireless charger.
Allow the watch to charge for at least 1 hour.
If the charging indicator does not appear then press the Home key (Power key) once.
If an error occurs while charging remove the watch from the charger then place it back on the center.
If your watch heats up while charging disconnect it form the charger then close all running apps. When the watch cool down try charging it again.
If your Samsung Galaxy Watch does not charge, then here are the additional steps you need to do.
You should make sure that the wireless charging pad you are using is compatible with your Samsung Galaxy Watch 5. Don't use a wireless charging dock designed for another model this might not work.
Make sure that the charger cable and power adapter you are using is not damaged.
Try plugging the power adapter to another wall outlet.
Perform a software update
You need to make sure that your watch is running on the latest software update to avoid any bug relates issues that could be causing this problem.
Make sure the watch has at least a 30% charge.
On the connected phone, navigate to and open the Galaxy Wearable app.
Tap Watch settings.
Tap Watch software update.
If your watch displays a Home tab, swipe to and tap Watch software update or Band software update.
Tap Download and install.
Factory reset your Samsung Galaxy Watch 5
If the above troubleshooting steps fails to fix the problem then you should perform a factory reset on your Galaxy Watch. Make sure to back up your watch data before proceeding.
Factory reset
Ensure your watch is powered off.
Press and hold the Power/Home button (right-edge) until 'Rebooting' appears at the bottom of the screen then release.
Press the Power/Home button repeatedly until the 'Select REBOOT MODE' screen appears.
Select Recovery. Press the Power button to cycle through options
When 'Recovery' is highlighted as seen in the image above, press and hold the Power/Home button until the device reboots again. Allow several minutes for the reboot process to complete.
Set up your device.
Contact Samsung support
In case your Samsung Galaxy Watch 5 still experiences power issues then this might already be caused by a hardware problem. You will need to contact Samsung support regarding this matter.
Frequently Asked Questions
How do I activate power saving mode on Samsung Galaxy Watch?

From the watch Apps screen, open Settings
Tap Battery.
Tap the Power saving slider to turn on or off.
Tap Watch only to get even more battery life.

Why is my Galaxy Watch not charging?

You might experience the Galaxy Watch not charging issue because of a defective wireless charger, defective charging dock, or even a software glitch.

What is the battery capacity of the Galaxy Watch 5?

Your Galaxy Watch 5 uses a 410 mAh Li-Ion non-removable battery.

How to install apps on Galaxy Watch 5?

Open the Galaxy Wearable app on the connected phone. Swipe to and tap Store to open the watch version of the Play Store.
Find the app you want, tap it, and then tap Install. It will automatically install on your watch.

How do I soft reset Galaxy Watch 5?

Press and hold the Power button and Back button for approximately 7 seconds or until the watch power cycles.