Are you experiencing the Instagram couldn't refresh feed error? There are several factors that can cause this problem such as a slow internet connection, an outdated app, server issues, or even a corrupt cache memory. To fix this you will need to perform several troubleshooting steps.
Instagram is a popular photo and video sharing social networking app that's available for iPhone and Android devices. The Instagram app is free to download and allows users to edit and upload photos and short videos using the app . They can also place captions to each post and use hashtags and location-based geotags to index these posts and make them searchable by other users within the app. It's popular among businesses as it allows their brands products to be promoted.
Fix Instagram couldn't refresh feed error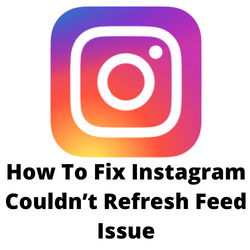 The Instagram feed is where users can share and connect with the people. When the Instagram app is opened its is the Instagram feed that you will see first.
One of the issues that you might experience when using Instagram is that the Instagram feed does not appear to refresh. This can happen on an Android device or even for iPhone users.
Here's what you can do to fix Instagram couldn't refresh feed error.
Solution 1: Check Internet connection
In order for the Instagram feed to refresh your Android phone or iPhone should have a strong internet connection. If your smartphone has a choppy internet connection then there's a possibility that the Instagram feed will not refresh.
You can check the status of your internet speed with the help of online speed checkers such as speedtest.net.
Time Needed : 2 minutes
Checking your internet speed
Open your mobile phone browser.

You can use any browser you want. I will be using Chrome for this example.

This is an online speed test tool that is free to use.

Click on Go.

This will start the speed test with the ping, upload, and download results shown.
Take note of the ping, download, and upload results. These results will determine if your connection is good.
In order to prevent the refresh feed error Instagram the download speed and upload speed should be good. The download and upload results in particular should be almost the same as what your are subscribing for from your internet service provider.
If you have an unstable internet connection then you can check if it is caused by your networking equipment by following these steps.
Turn off your mobile device.
Unplug your Modem and Router from the power source.
Wait for a minute then plug your modem and router back into the power source.
Wait until the lights turn back on.
Turn on your mobile device.
Reconnect your Android or iPhone to the internet.
Here are some tips to get a stable internet connection.
Try to disconnect other devices connected to the Wi-Fi router while you access Instagram. This will allow your device to use the maximum internet bandwidth.
Move closer to the router when you use Instagram. This will allow the device to get a much stronger Wi-Fi signal.
If you have a dual band router try to connect to the 5Ghz band instead of the 2.4 GHz band.
You can also try to use your mobile data subscription in case the problem is caused by the Wi-Fi connection.
Solution 2: Instagram servers might be down
Sometimes you will be experiencing the Instagram couldn't refresh feed error because of server related issues. The Instagram servers might be under maintenance or there might be an unscheduled down time. If the issue is caused by an offline Instagram server then you will need to wait for the sever to be fixed before your Instagram feed will be able to refresh again.
Check Instagram server status
Open your mobile web browser.
Go to https://downdetector.com/status/instagram/.
Check if any outage is experienced by other users.
Solution 3: Update Instagram app
In order to get the most stable and reliable version of the Instagram app you need to make sure to use the up to date version of the app. The old Instagram app version you are using might not have the recent bug fixes that's causing this Instagram feed issue.
To refresh Instagram feed you should update the Instagram app.
Update Instagram on Android devices
Tap on Google Play Store to launch the app.
Inside the Google Play Store, tap your profile icon.
Tap Manage apps and device
Google Play Store will automatically check for an update of all the apps installed on your device.
Tap the Update button on the side of the Instagram app if an update is available.
Update Instagram on iOS devices
Open the App Store on your iOS device.
Tap your profile icon at the top of the screen.
Scroll to see pending updates and release notes. Tap Update next to an app to update only that app, or tap Update All.
Once you have the latest Instagram app update on your Android or iOS device try to check if the refresh feed error still occurs.
Solution 3: Enable mobile data for Instagram app on iPhone
If you are experiencing the Instagram couldn't refresh feed error on your iPhone while connected to mobile data then it's possible that the app is restricted from using mobile data in the phone settings. You need to enable mobile data for Instagram in order to prevent this refresh feed error.
Enable data for Instagram
Open the Settings app on iPhone.
Scroll down and tap Instagram.
Turn on the mobile data switch.
Solution 4: Force stop the Instagram app for Android device
There's a possibility that you are experiencing the Instagram couldn't refresh feed error because the Instagram app on your Android phone has crashed. Android users should try to force stop the app then try to open Instagram again.
Force stop Instagram
Long press the Instagram app icon from the home screen or app drawer.
Go to the App info menu.
Tap on Force stop and confirm your decision.
Reboot your phone then open Instagram and try to check if you still get the refresh feed error message.
Solution 5: Clear Instagram cache for Android
Instagram will usually collect data in the background to make sure that you can immediately load pages and accounts that you visit frequently. You will experience the Instagram couldn't refresh feed error if Instagram's cache files are corrupted. Try to clear cache and storage of the app to fix this problem.
Clear app's cache
Long press on the Instagram icon and go to the app info menu.
Tap on Storage & cache.
Select Clear storage and Clear cache
Once Instagram's cache has been cleared open the app and check if you still get the same error message.
Solution 6: Allow unrestricted data usage of Instagram app on Android
If you have enabled the data saver mode on your phone then you don't need to disable this in order to fix the Instagram error you are getting. You can simply give the Instagram app unrestricted data usage to function normally.
Instagram unrestricted data usage
Long press on the Instagram icon and go to the app info menu.
Go to Mobile data & Wi-Fi and enable Unrestricted data usage toggle.
Solution 7: Check your phone date and time settings
Instagram will not work properly if your phone has an incorrect date and time setting. This is because some of the security features of the server needs the correct time to send you the latest Instagram posts. Make sure that your phone has the correct date and time. It's recommended that you set the date and time settings of your phone to automatic so that it will sync automatically to your network.
Solution 8: Log out then log in to your Instagram account
Sometimes a glitch on the Instagram servers can cause Instagram users to experience errors when accessing the feed. Refreshing your connection to the Instagram server will usually fix this problem.
To log out of your Instagram account just open the app, go to settings, then tap on log out. Once you are logged out of your Instagram account you should log back in again then check if the problem still occurs.
Solution 9: Reinstall Instagram
If you are getting the refresh feed error then there's a possibility that this is caused by a corrupted app. You can try to uninstall the app then install Instagram from the Google Play Store or App Store. with the new app installed try to check if the same error message shows.
Solution 10: Contact Instagram support
After going through all of the troubleshooting steps we have provided and the refresh feed error still occurs then it's time to contact Instagram support regarding this matter.
Instagram users can contact the support team from the Instagram settings.
Open the Instagram app.
Tap your profile picture in the bottom-right corner.
Press the three lines at the top-right and hit "Settings."
Select "Help" and choose "Report a Problem."
Follow the on-screen instructions and submit your request.
Frequently Asked Questions
What posts do I see in my Instagram feed?

You will usually see posts from the accounts you follow. There will also be instances when relevant posts and businesses that you might be interested in will be shown.

In what order are the posts shown in my Instagram feed?

Instagram uses different ways to determine the order of posts in your feed. These include likelihood you'll be interested in the content, date the post was shared, previous interactions with the person posting.

How do I get verified on Instagram?

You can request verification in the app and Instagram will review your account. There isn't a certain follower count or virality needed for an account to be verified.

What's the best time to post on Instagram?

The best time to post is when your target audience is awake and most active.

Why am I seeing older posts on my Instagram feed?

You might see a post that's old on your feed. This is to make sure you don't miss a post from someone you follow or a suggested post.