Is your profile picture not appearing on the Instagram app? There are several factors that can cause this problem such as a glitch in the app, corrupted cached data, or an issue with the photo itself just to name a few. To fix this you will need to perform a series of troubleshooting steps.
Instagram is a popular free social media platform that allows its users to share photos and videos to their friends or the public. It allows people to connect with one another by allowing them to like, comment, send direct messages, follow, or even bookmark posts just to name a few. First released in 2010 and later acquired by Facebook in 2012, it now has almost 1.5 billion users worldwide.
What does it mean when the profile picture disappears on Instagram?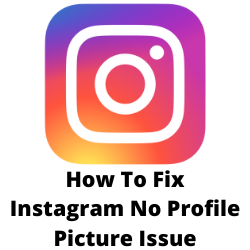 Is your Instagram profile picture not showing in the app? As a businessman or influencer its important to have an eye catching profile image on your Instagram account as this gives a better chance of users following you.
If you are having an issue viewing the picture of your Instagram account then here's what you need to do.
Solution 1: Log out then log back in to Instagram
One of the reasons why profile pictures can't be viewed is because of a glitch in the app. Try logging out of Instagram on your Android or iPhone then log back in again. This refreshes the app and usually fixes the problem.
To log out
Tap your profile picture on the lower left.
Tap the three horizontal lines found on the upper right.
Tap on Settings.
Tap Log out.
After logging out of the app log back in then check if you can now view yor Instagram picture.
Solution 2: Clear the cache of the Instagram app
One of the main causes of the profile image not showing on your phone is because of corrupted cached data in the app. Try removing this cached data to fix the problem.
Clear app's cache
Long press on the Instagram icon and go to the app info menu.
Tap on Storage & cache.
Select Clear storage and Clear cache
Once Instagram's cache has been cleared open the app and check if you can view your profile picture.
Solution 3: Upload a new Instagram profile image
Sometimes you won't be able to view your profile picture because it has the wrong format (you should use JPG or PNG files only) or it contains scenes that are prohibited in certain locations. Try uploading a different image and check if this will fix the problem.
Change current picture in Instagram
Tap your profile photo in the bottom right to go to your profile.
Tap Edit Profile.
Tap Change Profile Photo, then select where you'd like to import your picture from.
Tap Done after making your changes.
Solution 4: Reinstall the Instagram app
Sometimes this problem can already be caused by a corrupted app. If this is the case you should uninstall the app then install a fresh version from the Google Play Store or the Apple App Store.
Solution 5: Contact Instagram support
If you are still experiencing issues with the image of your Instagram username not displaying then you should try asking help from Instagram support.
Open Instagram settings.
Select Help.
Tap on Report a problem.
Explain what is not working.
Frequently Asked Questions
Can a blocked person see your profile image?

If you have blocked a person or some of your followers then they can still see your profile image. Blocking followers only prevents them from seeing your posts.

What to do if Instagram runs slow?

If you own an older generation smartphone that's already having a problem loading the regular app then try accessing your Instagram account using the Instagram Lite app.

Why can't I see all images on Instagram?

There might be a problem with the internet connection. Try connecting your phone to a different Wi-Fi network or use your 4G or 5G mobile data subscription.

Can I upload photos using a computer browser?

Yes you can access your account and upload photos using a browser.

What is the format of pictures allowed on Instagram?

You can upload JPG or PNG format.