Are you experiencing the can't post on Instagram issue? There are several factors that can cause this problem such as a poor internet connection, outdated Instagram app, using a third party app, or the post violate Instagram policies. To fix this you will need to perform several troubleshooting steps.
Instagram is one of the best social media platforms which anyone can join for free and share their photos and videos to their followers and friends. Instagram users are also able to like, comment, and bookmark posts made by others as well as end private messages using the Instagram Direct feature. his service which started in 2010 for the iPhone initially was later on acquired by Facebook and now boasts of more than 1.45 billion monthly users.
Why Can't I Post on Instagram? Here's The Fix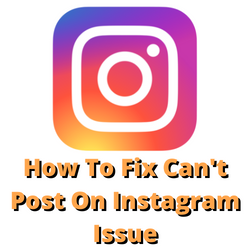 One of the issues that you might encounter when using the Instagram app is when you are unable to post. This can occur on your Android device or iPhone and can be quite a frustrating experience.
Here's what you can do to fix Instagram posting issue.
Solution 1: Check your Internet connection
The first thing you need to do when you are unable to post on Instagram is to check your Internet connection. You nee to have a fast internet connection in order to upload photo's and videos to your account.
If your smartphone has a poor internet connection then there's a possibility that you will be unable to post pictures or even post comments on Instagram.
You can check the status of your internet speed with the help of online speed checkers such as speedtest.net.
Time Needed : 2 minutes
Checking your internet speed
Open your mobile phone browser.

You can use any browser you want. I will be using Chrome for this example.

This is an online speed test tool that is free to use where you can check speed.

Click on Go.

This will check the ping, download, and upload speed.
Take note of the ping, download, and upload results. These results will determine if your connection is good.
In order to post photos, videos, or stories on Instagram the upload speed should be good. The download and upload results in particular should be almost the same as what your are subscribing for from your internet service provider.
If you have an unstable internet then you can check if it is caused by your networking equipment by following these steps.
Turn off your mobile device.
Unplug your Modem and Router from the power source.
Wait for a minute then plug your modem and router back into the power source.
Wait until the lights turn back on.
Turn on your mobile device.
Reconnect your Android or iPhone to the internet.
Here are some tips to get a stable internet connection.
Try to disconnect other devices connected to the Wi-Fi router while you access Instagram. This will allow your device to use the maximum internet bandwidth.
Move closer to the router when you use Instagram. This will allow the device to get a much stronger Wi-Fi signal.
If you have a dual band router try to connect to the 5Ghz band instead of the 2.4 GHz band.
You can also try to use your mobile data subscription in case the problem is caused by the Wi-Fi connection.
When using a mobile data connection make sure that you are using a 4G or 5G network.
Solution 2: Make sure your post does not break the community guidelines
You should make sure that your post does not violate the guidelines of Instagram. Certain posts that can contribute to harm, bullying, harassments, promote hate speech, or nudity just to name a few are not allowed on the platform. There are however instances when these content are allowed for public awareness.
Here are some of the guidelines that you should take note of.
You should only share photos and videos that you've taken or have the right to share.
Post photos and videos that are appropriate.
Follow the law.
Respect other members of the Instagram community.
Don't promote self-injury.
Be thoughtful when posting newsworthy events.
There are also certain hashtags that are banned. If you use these hashtags then you might get shadowbanned. This is when your accounts, posts, or hashtags get blocked without your knowledge. Your posts and accounts become invisible to users who don't follow you. Sometimes, even your followers don't see your posts.
When making a post on Instagram make sure that you don't act like a bot as this will cause issues on your account such as having your account permanently banned. Actions such as making too many posts, comments, or following too many people in an hour might get your account banned.
Some of the actions that are frowned upon include the following:
Following or unfollowing over 60 people an hour.
Liking more than 300 posts in an hour.
Posting over 60 comments in an hour.
Posting the same comment on multiple posts.
Using images that violate copyright infringement rules.
Tagging people who shouldn't be tagged in your posts.
Sending unsolicited sales messages to non-followers.
Uploading poor quality images or videos.
You can check further details on Instagram's community guidelines here.
Solution 3: Check if your Instagram account is blocked
If your Instagram account is blocked then you will not be able to make any posts. When your Instagram account is blocked you will be unable to perform any activity for 24 to 48 hours or even up to a week.
After the block time is over you will be able to post on Instagram unless an error message will appear that notifies you that the block time is extended.
Solution 4: Instagram servers might be down
Sometimes you will be experiencing the Instagram couldn't refresh feed error because of server related issues. The Instagram server might be under maintenance or there might be an unscheduled down time. If the issue is caused by an offline Instagram server then you will need to wait for the sever to be fixed before you can make a post again.
Check Instagram server status
Open your mobile web browser.
Go to https://downdetector.com/status/instagram/.
Check if any outage is experienced by other users.
Solution 5: Clear Instagram cache for Android
The Instagram app collects data in the background to make sure that you can immediately load pages and accounts that you visit frequently. There are times when this data can get corrupted which can prevent you from making any posts. Try to clear app cache and storage to fix this problem.
Clear Instagram cache on Android device
Long press on the Instagram icon and go to the app info menu.
Tap on Storage & cache.
Select Clear storage and Clear cache
Clear Instagram cache on iPhone
Go to Settings.
Scroll down to General.
Tap iPhone Storage.
Tap the Instagram app icon.
Tap offload app.
Once Instagram cache has been cleared open the app and check if you can post stories or post multiple pictures.
Solution 6: Update Instagram app
In order to get the most stable and reliable version of the Instagram app you need to make sure to get the latest Instagram version. The old Instagram app version you are using might not have the recent bug fixes that's causing this Instagram posting issue.
To refresh fix Instagram posting issue you should update the Instagram app.
Update Instagram on Android devices
Tap on Google Play Store to launch the app.
Inside the Google Play Store, tap your profile icon.
Tap Manage apps and device
Google Play Store will automatically check for an update of all the apps installed on your device.
Tap the Update button on the side of the Instagram app if an update is available.
Update Instagram on iOS devices
Open the App Store on your iOS device.
Tap your profile icon at the top of the screen.
Scroll to see pending updates and release notes. Tap Update next to an app to update only that app, or tap Update All.
Once you have the latest Instagram app update on your Android or iOS device try to check if can now post updates.
Solution 7: Free device storage
If your iPhone storage or Android storage is full then Instagram won't let you upload photos or videos. To free up storage space yo should try uninstalling apps that you don't use.
On Android devices you just long press on the app icon then slide the app to the trash icon.
On iPhone just long press the app and when a menu appears just click on remove app.
Solution 8: Uninstall third party apps
If you are using third party apps that allows you to increase your followers or likes then there's a possibility that your account will get banned.
Third party apps are also a security risk as it allows hackers to access your account easily.
If you are using any Instagram third party apps then I suggest that you uninstall these apps.
Solution 9: Check your photo and video size
If you are trying to upload photos or videos and Instagram is not processing it then this could mean that the file size is too large. Instagram might be having a problem reducing the file size of the photo or video you are trying to upload.
For vertical videos here are the recommended properties:
Minimum Instagram vertical video dimensions are 600 x 750.
Maximum Instagram file size is 4GB.
Maximum frame rate is 30fps.
No minimum length for vertical videos however the maximum Instagram video length is 60 seconds.
For horizontal videos here are the recommended properties:
Minimum Instagram landscape video dimensions are 600 x 315.
Maximum Instagram file size is 4GB.
Maximum frame rate is 30fps.
There is no minimum length for vertical videos however the maximum Instagram video length is 60 seconds.
Photos on Instagram should be between 320 and 1080 pixels wide. Supported aspect ratios range from 1.91:1 up to 4:5 format. To maintain a maximum width of 1080 pixels, the height of the photo will vary from 566 to 1350 pixels.
Solution 10: Allow unrestricted data usage of Instagram app on Android
If you have enabled the data saver mode on your phone then you don't need to disable this in order to fix the Instagram posting issue. You can simply give the Instagram app unrestricted data usage to function normally.
Instagram unrestricted data usage
Long press on the Instagram icon and go to the app info menu.
Go to Mobile data & Wi-Fi and enable Unrestricted data usage toggle.
Solution 11: Enable mobile data for Instagram app on iPhone
If Instagram won't let you post using your iPhone while connected to mobile data then it's possible that the app is restricted from using mobile data in the phone settings. You need to enable mobile data for Instagram in order to prevent this posting error.
Enable data for Instagram
Open the Settings app on iPhone.
Scroll down and tap Instagram.
Turn on the mobile data switch.
Frequently Asked Questions
Why can't I post photos on Instagram?

Try to check if the file size of the photos is too large. You should also check the dimensions of the photo you are trying to upload. Restarting the smartphone and clearing the Instagram app cache also helps fix this problem.

What to do if Instagram account is blocked

If your Instagram account is blocked try checking if your account has been hacked. If it has, then you should immediately reset the password. If it has not been hacked then you might have violate Instagram policies.

Can I unblock my Instagram accounts?

Yes you can. Go to the Settings page on the app and select Account. Click on the Blocked Accounts tab and then click Unblock next to your account.

How do I reactivate my disabled Instagram account?

You can reactivate a disabled Instagram account by logging in to the website. If you have the username and password, then you can go ahead and log in. Once logged in, click on "Forgot Password?" and enter your username. Once you have your password, you can go ahead and log back into your account.

How long is a temporary block on Instagram?

The block usually lasts from 24 hours to a week.