Are you experiencing the Hulu keeps skipping forward issue? There are several factors that can cause this issue such as a slow internet speed, faulty files, Hulu needs app updates, or even a problem with the Hulu servers. To fix this you will need to perform a series of troubleshooting steps.
Hulu is a subscription streaming service that's available in the United States which carries an extensive library of TV shows and movies. It carries original content from several providers such as Disney, Fox, BBC America, Showtime, TLC, CBS, ABC News, Animal Planet, Complex, Freeform, and FX just to name a few. It competes directly with the likes of Netflix and Amazon Prime Video with more than 45 million users subscribing to the service.
Why does my Hulu skip forward?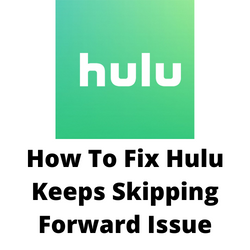 One of the issues that you might experience when using the Hulu app is when it is skipping episodes. This has become a common issue lately and can be a frustrating experience as you won't be able to properly understand the show you are watching.
Here's what you need to do to fix this Hulu app skipping issue.
Solution 1: Power cycle your device
The first thing you will need to do when the Hulu app is skipping episodes is to power cycle your devices . This will get rid of any corrupted temporary data that could be causing the issue and refreshes the Hulu app.
Power cycle Samsung Smart TV
Turn off the Smart TV using the remote control.
Unplug the power cord of the Smart TV from the wall socket.
Wait for at least 5 minutes.
Plug the power cord into a wall socket and then turn on the Smart TV.
Try checking if this fix Hulu skipping episodes issue.
Solution 2: Check your internet connection
The Hulu app in your streaming device requires a fast and stable internet connection to work properly. If you have a slow internet speed then there's a possibility that Hulu will not work on your Smart TV.
What you will want to do is to check the internet connection speed of the network that the device is connected to.
Checking your internet speed
Open a browser on your streaming device.
Go to speedtest.net. This is an online speed test tool that is free to use.
Click on Go. This will start the speed test.
In order for Hulu to stream content you should have a stable internet connection. The results should match your subscription plan from your internet service provider.
The recommended speed to view shows on Hulu are as follows:
3.0 Mbps — Standard streaming.
8.0 Mbps — Live TV streaming.
16.0 Mbps —UHD (4K) streaming.
If you have a slow or no internet then you can check if this is caused by an issue with your Wi-Fi network. The internet modem might need to be refreshed.
Power cycling internet devices
Turn off your device that has the Hulu app.
Unplug your internet devices such as modem and router from the power source.
Wait for a minute then plug your modem and router back into the power source.
Wait until the lights turn back on.
Turn on the device.
Reconnect your device with Hulu to the internet.
Try watching Hulu and check if it is still skipping episodes.
Here's what you can do to get a stable internet signal.
Try to disconnect other devices connected to the Wi-Fi router while you watch Hulu. This will allow the Samsung TV to use the maximum internet bandwidth.
Move the streaming device closer to the router . This will allow the device to get a much stronger Wi-Fi signal strength.
If you have a dual band router try to connect the streaming device to the 5Ghz band instead of the 2.4.
Solution 3: Clear cache and clear data of Hulu application
One of the main causes of Hulu skipping forward the episodes is a corrupted cache data. In order to get rid of this corrupted data you will need to clear the cache of Hulu. Take note that you should know your Hulu account name and password before proceeding as you will need to input this after performing the this troubleshooting step.
Clearing cache on Samsung Smart TV
Press the home button on your Samsung tv remote.
Select the setting option.
Scroll down and select support.
Select the device care option.
Select manage storage.
Select Hulu from the list and click on the view details option.
Select clear data and then clear cache and press enter button on your remote for clearing cache and data.
Clearing cache of Hulu on Android
Go to Settings.
Navigate to the applications section.
Go to System Apps.
Select Hulu.
To confirm, select the clean cache option and press OK.
Try checking if Hulu is still skipping forward.
Solution 4: Check the Hulu servers
Sometimes a server outage can cause the Hulu streaming services issues such as the skipping of episodes. Hulu service's servers might be undergoing a maintenance or an upgrade. You can use a third party website such as DownDetector to check the status of the Hulu servers.
Solution 5: Delete watch history
Hulu users will usually experience the skipping episodes issue if the service registers the episode as having been watched even though it has not been watched yet. This watch history information is stored locally in your device and should be deleted to check if this is what's causing the problem.
Clearing watch history on Smart TV'Open the Hulu application.
Tap on the thumbnail to see the history of the particular show or movie.
Select the Manage Movie option to remove a movie, but the 'Manage Series' option to remove any series.
Select 'Remove from watch history' from the drop-down menu.
Click Confirm to erase any selected TV show or movie from your watch history list. You can also select cancel to return to the previous screen.
Solution 6: Update Hulu
In order to fix the skipping forward issue you need to make sure that you are not using an outdated Hulu application. The latest app update will have several improvements as well as bug fixes that could possibly fix the problem.
Update Hulu on Samsung
Press the home button on your Samsung tv remote.
Go to apps and then select the settings icon from the top right side of the screen.
Make sure auto-update is turned on.
Launch Hulu then check if it is still skipping episodes.
Solution 7: Reinstall Hulu
Sometimes the problem can already be caused by a corrupted app. In order to fix Hulu skipping episodes issues you will need to reinstall the Hulu application on your streaming device.
Proper way to reinstall app on smart TV
Uninstall Hulu app.
Restart the Smart TV.
Install the latest version of Hulu on your smart TV.
Login to your Hulu account.
Try checking if the black screen on Hulu skipping episodes issue still occurs.
Frequently Asked Questions
What internet service speed do I need to access Hulu?

3.0 Mbps — Standard streaming.
8.0 Mbps — Live TV streaming.
16.0 Mbps —UHD (4K) streaming.

I have a Hulu account but I can't use it overseas

Hulu is only available in selected locations outside the US such as in Puerto Rico, military bases, and some areas in Japan.

Can I use Hulu without an internet connection?

Unfortunately you will not be able to use Hulu if you don't have a Wi-Fi internet.

Why is Hulu not loading?

If Hulu is not loading then you should try to update the app or the web browser you are using. If you have web browser extensions then try to disable them.

How many users can access Hulu at the same time?

By default only two people at the most can have access to a Hulu account at the same time on two different device.