Your Samsung Galaxy S6 Edge (#Samsung #GalaxyS6Edge) sports an impressive display and sensitive #touchscreen. However, touchscreen- and display-related problems happen all the time due to a firmware glitch, a hardware problem or an app that keeps freezing.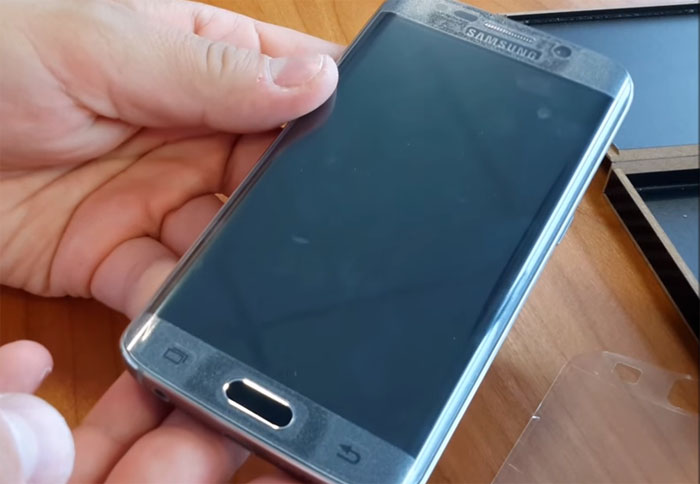 I addressed some of the problems sent by our readers and the first issue is about the touchscreen that stopped working after the device fell into the toilet. In this case, the problem could have been caused by either physical or liquid damage.
Read on to learn more about these problems and how to fix them. Here's the list of the issues I included in this article…
For those who need further assistance, feel free to contact us by filling up this form. Make sure you provided us with necessary information about the problem. You may also visit our S6 Edge troubleshooting page and try to find issues that are similar to yours and use the existing solutions.
---
Galaxy S6 Edge screen not working after being dropped in toilet
Problem: Hello, I recently dropped my phone into the toilet but after 2-3 seconds I immediately took it out and wiped it with a tissue. Phone seems to be a bit frozen and the screen was acting weird. I blew dried it for a bit and left it dry out in a rice bowl for more than a day. After I charged it and it worked normally. The problem here was, that the screen doesn't work at all. I cannot touch a display nor doing anything with it. Although, everything seems to be fine, all the buttons work and sounds. Can you please give me some advices before going to service ? Much appreciated! — Linh
Suggestion: There's only one thing we know for sure; your phone fell into the toilet. But we don't know if it was the water that caused the problem or the impact of the fall. Regardless what the cause was, there's nothing we can do about it as it is a hardware issue now. There is, however, one procedure you can do–master reset.
It's a long shot but it's worth it because if a tech gets ahold of your phone, the first he would do is that. So, try to see if it would make a difference and save yourself from the hassle of going to a local shop and explaining what happened over and over again without a guarantee that the problem will be fixed:
Turn off your Samsung Galaxy S6 Edge.
Press and hold the Volume Up, Home and Power keys together.
When the device powers on and displays 'Power on logo', release all keys and the Android icon will appear on the screen.
Wait until the Android Recovery Screen appears after about 30 seconds.
Using the Volume Down key, highlight the option, 'wipe data/factory reset' and press the Power key to select it.
Press the Vol Down button again until the option 'Yes — delete all user data' is highlighted and then press the Power key to select it.
After the reset is complete, highlight 'Reboot system now' and hit the Power key to restart the phone.
I hope this helps because if not, you really have to see a technician about that.
Smart Remote popped up and S6 Edge screen became unresponsive
Problem: This is what happened. Something at the side of my screen came up it said "remote TV" or something like that I clicked it because there was no other choice than to click it, so I did. The phone then freezes and then I can't do anything with it. The buttons all work but the screen itself won't work (I can still get the screen to turn on though) but when I try to type in my password you can't. I am really worried and I definitely getting worried. Please help!
Troubleshooting: You must be referring to the Smart Remote app. Since you cannot operate your phone as the screen became unresponsive, you need to boot your phone in safe mode to disable the app temporarily. Here's how to do it…
Turn off your Galaxy S6 Edge.
Press and hold the Power key.
When 'Samsung Galaxy S6 Edge' appears, immediately release the Power key and then press and hold the Volume Down button.
Continue holding the Volume Down button until the phone finishes the restart.
When you see Safe Mode on the lower left corner of the screen, release the button.
Once the phone is in safe mode, try to delete all remotes you setup by following these steps:
Open Smart Remote app.
Tap the More options icon (three dots) on the upper-right.
Touch Settings and scroll to the bottom.
Touch Reset Smart Remote.
Then, do this…
From any Home screen, tap Apps.
Tap Settings.
Scroll to 'APPLICATIONS,' then tap Application manager.
Swipe right to the ALL screen.
Scroll to and tap Smart Remote.
Tap Clear cache.
Tap Clear data button, then OK.
The problem should be fixed by now but if it continues to bug you over and over and if smart remote isn't that important to you, then uninstall it to make it stop for good.
A little Android guy sits on the middle right of the screen
Problem: I get a little ghost looking android guy that sits on middle right of my screen. In fact right over the send button on Messaging and Texting arrows. It also sits their on all screens. If I accidently tap it, it freezes my screen and I have to hit the battery pull feature to clear it.
Answer: Verify that it's not the Facebook Messenger because if it is, you can just drag it to the bottom-center of the screen to close it. If it's not, then it must be one of your apps and it's only you who have the capacity to know what it is. Find it and uninstall or disable it.
Galaxy S6 Edge screen not responding completely but buttons still work
Problem: It happened two times already. The whole touch screen area is not responding but the back key, home key and recent button seems to be working. I waited for the device to shutdown by draining the battery and after charging, I turn on the phone and it's back to normal. What's causing this? Is there away to switch off the phone without using the screen? Tried holding the power button and with combination of volume keys doesn't seem to work. Please help.
Answer: You're not really expecting us to know what's causing the problem when you didn't provide more information about it, are you? The thing is, it might be a touchscreen issue or it could also be a problem caused by one of your apps. For the latter, try to read the second problem as you may have the same issue caused by the Smart Remote but if not, then you have to find the app that's causing that and uninstall it.
In case it happens again, you don't have to wait for hours to drain the battery; just press and hold the Volume Down button and the Power key together for 10 to 15 seconds and your device should reboot.
S6 Edge has a faint line across the middle of the screen
Problem: I brought my phone from CEX. I noticed my phone has a faint line across the middle and a Small little sort of black blob has appeared on the Edge.
Answer: It might be a hardware issue. Things like that happen all the time and there's no way you can fix that. You need to have the phone replaced assuming you didn't drop it or anything.
Some text or characters are missing until the device restarts
Problem: Text is missing until reboot.  Frequently, and in various applications, text is missing characters.  For example, t st when it should be test.  As soon as I reboot, all is well.  Any hints on what I might do to solve the problem.
Answer: And what do you see instead of the character? Is there some kind of dead pixels on the screen? Does your phone works normally if it occurs? What apps were you on when it happened? And how frequent does it occur?
These are just some of the questions we technicians would ask. And since there's not much information here, it's better you have a tech to take a look at it so he can run some tests and further observe the device.
S6 Edge has grey and white lines on the screen, won't respond
Problem: Phone was working this morning at 2 am. Then alarm did not go off this morning. Looked at phone and it has grey and white lines on it. Tried to reboot by holding down power/volume. Nothing works. Phone is not even a year old.
Answer: Apparently, it's a hardware issue. You need to have a technician check it for you.
Edge screen's handle stopped working but reboot fixes it momentarily
Problem: The "handle" for my edge screen stops working unexpectedly. The "handle" appears on the side of the screen but you can not slide it over to access the contacts, etc. It will work upon rebooting the device but only temporarily then when I go to use it, I notice it doesn't work again. Any Suggestions?
Answer: I'm sure the Android 6.0 Marshmallow will fix this issue but in the meantime, try clearing the cache and data of the PeopleStrip service.
From any Home screen, tap Apps.
Tap Settings.
Scroll to 'APPLICATIONS,' then tap Application manager.
Swipe right to the ALL screen.
Scroll to and tap the PeopleStrip.
Tap Clear cache.
Tap Clear data, then OK.
S6 Edge back button seems to be pressing itself
Problem: Hi. The button next to the home screen on the right is going wild and pressing by itself all the time while I am on the phone and about every 5 minutes I quit a game or surfing the net because of that problem.
Answer: Try pressing it many times because there's a chance it's stuck or something. If it can't be fixed by doing that, have it checked immediately. I can't imagine how the phone works if the back button is always acting up.
S6 Edge apps icons are huge, apps can't be moved into folders
Problem: The icons are huge and do not want to move into folders or be removed from the screen. Usually  when long touch an icon, a trash can appears.  It doesn't anymore. I uninstalled Touch wiz but problem remains. I do not want to loose videos, photos, etc. and can't therefore reset factory settings. PLEASE can you help me?
Answer: Make sure the phone isn't in Easy Mode, first of all. Just go to Settings > scroll down to Personal > and make sure Standard mode is ticked.
Once you've verified that, try changing the grid size of the icons. Long touch anywhere on the Home screen (not on an app), at the bottom of the screen you'll find four new buttons, tap Screen grid. Now, choose the grid size that works best for you and hit Apply once you've made your choice.
Connect with us
We are always open to your problems, questions and suggestions, so feel free to contact us by filling up this form. This is a free service we offer and we won't charge you a penny for it. But please note that we receive hundreds of emails every day and it's impossible for us to respond to every single one of them. But rest assured we read every message we receive. For those whom we've helped, please spread the word by sharing our posts to your friends or by simply liking our Facebook and Google+ page or follow us on Twitter.