While the Samsung Galaxy S6 Edge was released with some glitches in its firmware, we never heard of a glitch or a bug affecting its capability to send and/or receive emails. So, if you are experiencing any of the email-related issues I cited below, you might want to double-check the settings in the email app itself or with your account especially if you are using a corporate email.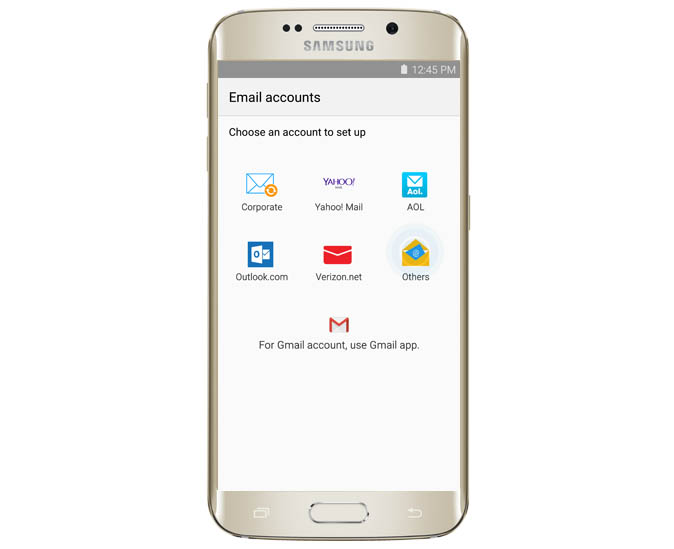 If you have other issues with your Galaxy S6 Edge, I suggest you visit our troubleshooting page as we've listed all problems we already addressed since the release of the device. However, if we haven't addressed issues like yours or if the solution we provided didn't for you, feel free to contact us at [email protected] and we will do our best to help you find a fix.
The following are the most common email issues you may encounter if you own an S6 Edge. Click on the link to jump to its section:
How to setup corporate email on Galaxy S6 Edge
Problem: The company I work for provided us our own email and it so happen I just purchased a brand new Galaxy S6 Edge. I want to make the device receive all my emails as our boss sends us memos and schedules every day. I also want to be able to respond to those emails through my phone. Tried setting up the email on my own but everything is just Greek to me. I don't know where to put in the settings our IT guy gave us. Can you help me please? I really am not a tech savvy person so I don't understand most of the things I'm doing. You don't have to walk me through entering every letter, I just want you to point me where I can put all settings given to me. They said to be incoming and outgoing server settings. I don't know where to put those. Thank you! — Karen
Tutorial: Hello Karen! Since you are setting up a corporate email, you have to manually set the server settings for your email to work. You may follow the steps below:
From the Home screen, tap the Apps icon.
Find and touch Email.
Now touch Others.
Enter your email address and password.
Instead of tapping Next, tap Manual Setup.
In this example, let's use POP3 account so tap on it.
This is where you enter the incoming server settings provided by your IT such as Username, Password, POP3 server, Security type, and Port number. Once everything is set, tap Next.
Now, enter the outgoing server settings such as the SMTP server, Security type, Port number, and the email address and password if the checkbox next to Require sign-in is ticked.
Tap Next.
Set the sync frequency.
Give the account a name, then Next.
Tap Done with accounts.
If you have further questions, don't hesitate to email us back.
Galaxy S6 Edge can send emails but can't receive
Problem: Hello droid guy! I have a weird problem with my Galaxy S6. My email is actually working because I can send one but can't receive. Well, at least, the emails I tried to send show in the Sent folder and I don't get error messages, so I guess that's working.
Now, the problem is it's been about a week now since I received an email and there this error message that pops up sometimes especially when I force the app to receive incoming emails. I can still view my emails through a browser using the username and password given by our IT but I just want my phone to work the way it should. And besides, using the browser is very inconvenient as the texts are very small and my fingers are so large that I often tap different messages to open. Can you help me, please? — Jessica
Troubleshooting: Hello Jessica. The problem is with the incoming server settings. You've got to edit the settings in your email app but before you actually do that, as your IT guys if they changed the settings. If not, just re-enter those settings and that should fix it. As you said, you can send but can't receive so it's just the incoming server settings that you have to edit. Or, better yet, let your IT guys take care of the problem for you. After all, they are your tech support for everything that related to your company.
Galaxy S6 Edge can receive emails but can't send
Problem: Hi guys. I'm so happy I found your site. Actually, I was reading a couple of articles via drippler than they led me to your site. I have a problem with my phone. It seems like it's an internet connection problem because I can receive blast emails sent by our boss in daily basis but I can't respond to them. There was a time when I can respond to every email I receive but now, it's impossible. And oh, there's an error that pops up every time I reply to emails. What's wrong with my phone and how can I fix it? — Josh
Troubleshooting: Hey, Josh! Actually, this is just another variation of the second problem I cited in this post. The only difference is that the previous issue can't receive but can send, yours is the opposite. Issues like this boil down to incorrect server settings with the account set up in the email app. In your case, it's the outgoing or SMTP server settings that have a problem. I don't know what email you use let alone the server settings provided to your by your company's IT. I suggest you ask your company's tech support or administrator to see if the settings were changed. If so, you need to enter the new settings to your phone, otherwise, just try to setup the account again and this time make sure all settings are correct.
Galaxy S6 Edge emails disappear after reading
Problem: Ever since I started working for my company, I've been using the email with my company's domain and never had a problem with my computer. I recently purchased a Galaxy S6 Edge and setup my email account on it. It worked! I can receive and send my emails. The problem is, when I open a message and read it, the moment I go back to the inbox, it's gone but when I check my computer, they're still there. There are also emails that can't be received by my phone but show in my computer. How can I fix this?
Oh by the way, I'm using a Windows computer and use the Outlook program. On my phone, I use the native Email app. Help me, please. — Miles
Troubleshooting: Hi Miles. If your phone can receive and send emails, then there's no problem with it. Actually, there's no problem whatsoever with your computer and phone, it's just that there's one setting in your computer that needs to be changed so that your phone can receive all emails before they are deleted in your company's servers.
Since you are using Outlook, try to go to Files > Account settings > highlight your account and click Change > click More settings > click the Advanced tab > make sure the checkbox next to "Leave a copy of messages on the server" is ticked.
That's it! That's all you need to do to fix this issue.
"Unfortunately, Email has stopped" error pops up
Problem: I really need your help guys. The problem just started today and my phone is a Galaxy S6 Edge from Verizon. Already called the tech support but the rep wanted to reset my phone immediately without even explaining what the problem is. I refused because I have a lot of documents stored in my phone.
The problem is with the email. At first, there were error messages telling me that the app can't login to my account. By the way, I'm using my company's email on my phone. After the error messages pop up, the phone freezes, lags and sometimes reboots. But now, instead of rebooting, it's giving me an error message "Unfortunately, Email has stopped." What's wrong with it? I really need to use my emails but I don't want to reset my phone. Not until I make a copy of my files to my computer. If you guys know a workaround, please help me. Thank you! — Stacy
Troubleshooting: Hello Stacy! Since you were getting error messages that your phone can't login to your company's servers, it seems like it's a credential issue. The first thing you should do is call your company's tech support department and ask if they changed the server settings or if there are new ones. If not, then ask them if your account has some kind of restrictions. Then, make sure the password you have is the correct one. After verifying those information, boot your phone in safe mode and open the email app. If the error messages still pop up, it's time you clear the cache and data of the Email app, and re-setup your account.
During the setup, if you have incorrect username, password or server settings, you can't successfully set up your account. If this is the case, then call your IT again and ask for correct settings. I think you don't have to go as far as resetting your phone to fix this problem.
Connect with us
We are always open to your problems, questions and suggestions, so feel free to send them at [email protected] We support every Android device available and we are serious in what we do. This is a free service we offer and we won't charge you a penny for it. But please note that we receive hundreds of emails every day and it's impossible for us to respond to every single one of them. But rest assured we read every message we receive. For those whom we've helped, please spread the word by sharing our posts to your friends or by simply liking our Facebook and Google+ page or follow us on Twitter.