Welcome to the 8th part of our Samsung Galaxy S6 Edge Troubleshooting series where we address problems or questions sent by our readers. In this edition, I addressed a dozen of common problems that any Edge owner can experience. Read on to know how to address each one of them.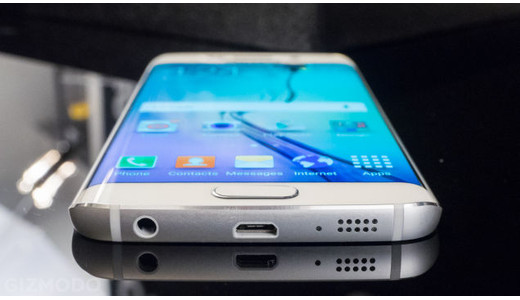 For those who are bugged with issues, we are willing to help you. Just contact us via [email protected] and provide all necessary information and we will dig into those problems.
Here's the list of the problems addressed in this post. Click on a link to jump to a specific issue.
Sprint Galaxy S6 Edge is laggy with ads randomly popping up
Problem: I have a Sprint Galaxy S6 Edge and although i love the phone, I'm having some issues.
The phone seems really laggy. Slow to switch in and out of screens.
Random pop up ads. Not only when in the web browser, but also just random when on the home screen.
Hope you can help. Thanks. — Anthony
Troubleshooting: Hey Anthony. There is one thing I want you to do first before we begin troubleshooting; boot your Galaxy S6 Edge in safe mode.
Turn off your Galaxy S6 Edge.
Press and hold the Power key.
When 'Samsung Galaxy S6 Edge' appears, immediately release the Power key and then press and hold the Volume Down button.
Continue holding the Volume Down button until the phone finishes the restart.
When you see Safe Mode on the lower left corner of the screen, release the button.
Once the phone is in safe mode, observe closely if it is sluggish and if ads still pop up. I have a feeling that both problems are caused by a third-party app. The ads that randomly pop up may be attached to one of the apps you downloaded. Find that app and uninstall it.
Now, if the phone is still sluggish, try booting it is recovery mode and wipe the cache partition. If the problem persists, proceed with master reset. However, if the performance improved while in safe mode, it means there is an app or a group of apps that's causing all this. Find it and you can fix the problem.
Galaxy S6 Edge auto screen rotation won't function
Problem: Hey my s6 edge has a problem with the screen rotation. My pictures automatically rotate when taking a picture and my Web browser won't rotate at all. I called Samsung support and they said to take 4 pictures rotating 90 degrees between each picture. That has fixed my pictures but not my browser. They said I'd have to mail it in for it to get fixed but can't be without my phone for that long. I do have a case but took it off and its still doing the same thing. Any advice would be greatly appreciated. — Matt
Suggestion: Hey Matt! I hate to break it to you but there are S6 Edge units that have a defective gyroscope out of the box and it seems like your unit is of them. The only thing you can actually do is factory reset and if that won't fix the problem, then you really have to send the phone to Samsung to be checked or replaced.
Deleted emails reappear on Galaxy S6 Edge
Problem: I am having a trouble with my email. I use Microsoft Outlook. I have been deleting emails on my Samsung Galaxy S6 edge and they continue to reappear in my inbox on my phone. They are no longer on the server as they have been deleted from there. Please help! I have tried deleting them from trash in my phone I have swipe them left I have swiped them right I have gone into the email and deleted it from there as well. No matter what I do, there are still emails that reappear after they have been deleted numerous times. Thanks for the help. — Alan
Troubleshooting: It's apparently a glitch with the email app you use. For this problem, clearing the cache and data of the email app will fix it, however, your account will also be deleted, so you will have to set it up again. Once you've done that, deleted email won't reappear considering they've already been deleted from the server.
Galaxy S6 Edge has issues receiving MMS
Problem: Hello, I've had the S6 edge for two months now and consistently have issues receiving MMS messages. The messages require me to click "download" to view. I've ensured auto retrieve is turned on and that I accept text messages when roaming. Has anyone else reported this? Thanks, Larik.
Troubleshooting: Larik, when it comes to issues with MMS, it always boils down to mobile data being off or the APN settings aren't correct. Picture messages or MMS will automatically download one the phone is set to do so. However, if the device can't connect to your provider's network due to incorrect APN, that's the time you will have difficulty downloading those pictures.
So, make sure mobile data is enabled, then call your service provider and ask for the correct APN. After that and issue still persists, it's either the problem with the network or the phone itself is faulty.
Galaxy S6 Edge heats up due to water damage
Problem: I went for a swim with my phone in my pocket by accident. I immediately got out and realized what I had done. I went straight home and put it in a cup of rice and completely buried it. I left it in there over night and in in the morning I went to check on it. I tried to turn it on but it didn't. So I plugged it in to the charger and it got hot within 20 min and really HOT. So I un plugged it and tried to turn it on. It turned on but it said to hot to open any accessories so it shut its self down. I let it cool off without plugging it in until it was cold or room temp.. I plugged it in to the wireless charging pad/station. I didn't check on it for a while. Hours later I came to check back on it I turned it on and it hadn't charged and when I put it on the charging pad it said to hot or unable to charge. PLEASE HELP! — Peyton
Suggestion: When it comes to liquid damage, we really can't tell as to what extent the damage is. So, the straight answer is, you have to have the phone checked by a technician because I think it hasn't totally dried off yet that's why it heats up when you turn it on or plug in to charge. The more instances you turn it on while it's wet, the higher the probability some components will be fried. So, let the professional handle is for you and the worse thing is, liquid damage isn't covered by warranty so you'll have to pay for the service and if it beyond economical repair, you won't be provided with a replacement unit.
Can Motorola Assist be installed on Galaxy S6 Edge?
Question: Good morning, I recently got the S6 Edge, replacing my Motorola Turbo. Motorola had an app that I loved where it knew when I was driving and when I got a text it asked if I wanted to listen to and then if I wanted to reply…all hand free(I think it was called Motorola Assist). I have been unable to find something similar either through the Play Store or Samsung. Is there any app available for the S6 Edge like this? I drive a lot and it is a super useful tool for me. Thanks for the help, Michael.
Answer: Hi Michael! Actually, Motorola placed Motorola Assist on Play Store but I think it's not compatible with your device. I'm not sure if there are apps out there that may come close to the features you were looking for but as far as handsfree mode is concerned while driving, I suggest you try download Car Mode from Samsung Apps. Samsung didn't include Car Mode in its new flagship.
Galaxy S6 Edge can't be recognized by computer
Problem: I have a T-Mobile galaxy s6 edge and my problem is I cannot get usb debugging to work. Using the charger that's supplied with the phone it will charge but computer won't recognize phone. I've enabled developer options and usb debugging. I've downloaded drivers from Samsung site. Nothing happens when I press usb debug tab from notification shade.
I have tried this with a nexus 7, nexus 10 and first generation moto x and they all work just fine. Any idea what could possibly wrong.
FYI: I did perform a couple of factory resets to fix lag and battery issues. I never tried usb debugging before resets so I don't know if it ever worked on this phone. — Charles
Troubleshooting: Hey Charles! It's apparently a driver issue. I understand you already tried downloading drivers from Samsung website to no avail. We can spend a lot of time troubleshooting driver incompatibilities and with your computer without a guarantee that the problem will be fixed. So, to make it easier for both of us, just download Samsung Kies and install it on your computer. That works every time as far as driver issues are concerned.
"Unfortunately, IMS service has stopped" error
Problem: Hello, I am receiving a message on my device that states "Unfortunately IMS service has stopped". It does it every couple of seconds and even after clearing the cache in the Contacts and com.sec.ims it still continues to come up every second. I had to actually boot my phone into safe mode in order for it to stop. Help would be greatly appreciated. Thank you. — Arielle
Troubleshooting: Hi Arielle! The com.sec.ims is one of the core services that handles instant messaging apps including the Phone and Contacts apps. I understand you already tried clearing the cache of the Contacts app and the IMS service itself to no avail. The thing is, it is impossible for us to pinpoint what other services contributed to this issue, so we'll have to perform a more general troubleshooting procedure–try clearing the cache and data of the Google Services Framework and the Phone app. If this fails either, you have no other option but to perform full hard reset.
Galaxy S6 Edge pops up "Unauthorized Action Detected" error
Problem: Hello. I wish you can help me thanks. I have had my s6 edge barely a week, I got the first one from the store and after a while, am getting this pop up security unauthorized notice, it comes up every 5 to 10 mins, and the pop up says restart the phone, and when I do restart it, it will end up not restarting but frozen on the Samsung powered by Android logo,
so I went back to the store and complained and got the phone swapped to a brand new one and after some couple of minutes the device security pop up starts again, the store have done everything the could but it wouldn't stop and the had tried factory reset and it will only be secured for some couple of minutes and the pop up will come up again, this is happening without using the phone or logging into any gmail account or downloading any apps. Please help me out, its quite frustrating. Thanks. — Cassie
Troubleshooting: Hi Cassie! The security notice that keeps popping up is caused by Samsung KNOX. An app is may be trying to access some restricted directories or files. There's no way for us to know which app is the culprit but to address this problem permanently without intervention from Samsung, you'll have to uninstall Knox. However, your phone has to be rooted so that you can get rid of it. I am sure that is not a perfect idea for users who don't want to void their warranty. So, the other workaround is to disable pre-installed apps that can be disabled.
Go through each app on your phone. Just remember not all pre-installed apps can be disabled but I suggest you disable apps added by your service provided to the stock firmware. If all else fails, you really have to talk with your service provider or Samsung as this is one problem only them could provide permanent fix.
Prevent Galaxy S6 Edge from converting SMS to MMS
Problem: Hi. I am referring to one if your webpage about SMS and MMS details by using Samsung S6 Edge.
However I find out from my friends that some of my SMSs are not received. One of the reason is their phone wont support MMS. SAMSUNG S6 is automatically converting some of SMS to MMS which leads this problem. Please help how to disable auto conversion to MMS. Thanks. — Kumar
Troubleshooting: If you didn't attach pictures to your message then the culprit are the emojis. Once you insert an emoji to your SMS, the phone will automatically convert it into MMS. To prevent that, don't use emojis.
Issue with camera settings in Samsung Galaxy S6 Edge
Problem: My friend good afternoon. I recently purchased the S6 Edge (version G925I) and suddenly I have an issue with the camera settings. It appears that when I open the camera and then I click the settings icon, the settings page comes up and then it closes by itself about a second later. In other words, it does not stay open.
I tried clearing camera cache data and even stopping it and rebooting the phone, and nothing. Please let me know if you find a solution to this odd behavior. Regards, Johnny.
Troubleshooting: Camera issues were among the bugs acknowledged by Samsung. The company promised to fix them through a minor update, so try to search for available updates for your device. In the U.S., some carriers already rolled out updates for the Galaxy S6 and Edge. I don't know what your service provider is but if you can't find an update through the Settings, try using Kies. An update will fix your problem.
Galaxy S6 Edge screen randomly turns on
Problem: I have the Samsung Galaxy S6 Edge. I noticed sometimes my screen will randomly turn on and stay on for long periods even though I have the option off for "wake up" in notification settings. — Marcus
Troubleshooting: Hey Marcus. This problem is caused by a wakelock that may have come with one of the apps you installed. There's no way for us to know what app caused this but there's an app that will be able to detect wakelocks–the Wakelock Detector. Download the app from the Play Store, scan your phone and get rid of apps that cause this issue.
Connect with us
We are always open to your problems, questions and suggestions, so feel free to send them at [email protected]. We support every Android device available and we are serious in what we do. This is a free service we offer and we won't charge you a penny for it. But please note that we receive hundreds of emails every day and it's impossible for us to respond to every single one of them. But rest assured we read every message we receive. For those whom we've helped, please spread the word by sharing our posts to your friends or by simply liking our Facebook and Google+ page or follow us on Twitter.